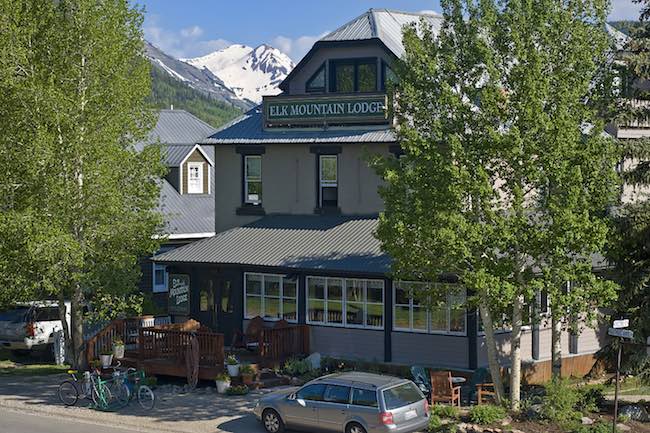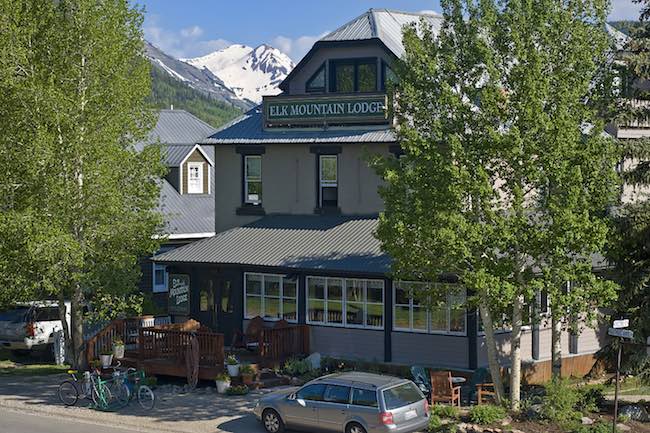 History of Elk Mountain Lodge
If you like historic inns as much as I do, you will love Elk Mountain Lodge, a delightful early 20th-century former boarding house in Crested Butte, Colorado.
Gold and silver mining brought miners to the Rocky Mountains in central Colorado, incorporating the town in 1880. When those metals played out, coal mining took over, bringing the giant Rockefeller-owned Colorado Fuel & Iron to the area. In 1919, the company built the lodge as a boarding house and hotel for its miners, mostly European immigrants. As many as 65 stayed at Elk Mountain House at one time. I can picture them sitting on the (then) large wraparound porch soaking in the sun following dinner after a day's work in the dark mine. It was a hard life.
Elk Mountain Lodge Today
When the mine closed in 1952, CF&I sold the building, and after many renovations, the inn now is a charming Bed and Breakfast with 19 guest rooms, each with private bathroom, and has all the modern amenities an old building can allow. Since 2000, local owners Mike and Amy Nolan have lovingly been its stewards, and it's obvious they care about preserving its past while keeping up with the present.
Several groupings of comfy furniture make you want to curl up with a book or engage in conversation. This one is in front of the fireplace with the dining room in the left background where you can perk up with coffee and tea any time of day. A warm and friendly staff lays out fresh cookies in the afternoon.
And another cozy spot by the piano with the sunroom in the background. There's also a library with assorted games and local maps.
Honoring Miners
Above the piano hangs this painting honoring the miners who were low skilled immigrants, exploited for their cheap labor and their inability to contest what was essentially an indentured servant system. CF&I purposely mixed immigrants of different nationalities in the mines to prevent communication that might lead to organization.
This tyrannical and harsh environment was the backdrop for the infamous Ludlow Massacre on April 20, 1914, an attack by the Colorado National Guard together with coal company guards and strike-breakers on 1,200 striking coal miners and their families. The miners had formed a tent colony after being evicted from their company-owned homes. Here, in their tents, 25 men, women and children were shot and burned to death in the carefully planned assault.
This incident was in southeastern Colorado, five years prior to CF&I building the boarding house in Crested Butte. Perhaps by then the company was on a path to better labor relations.
Rooms at Elk Mountain Lodge
Spread over three floors, every room is different. Most on the third floor have dormer ceilings and balconies; these are the most expensive. Second-floor rooms feature high ceilings, and first-floor rooms have only showers in the bathrooms and are pet-friendly. Our room is crisp, clean and cozy with just a few pieces of furniture. WiFi is free.
Breakfast at Elk Mountain Lodge
Staff lays out a full buffet breakfast every morning. It includes homemade granola and other cold foods as well as hot dishes like egg casseroles, pancakes, French toast and bacon or sausage. Specialty coffee drinks can be ordered as well. You can eat at the dining room table or in the sunroom.
A small bar opens for apres ski and after dinner drinks.
What To Do in Crested Butte
Since the closing of the mine, Crested Butte has become a popular ski town with skiing and mountain biking on nearby Mt. Crested Butte. The lodge is two blocks from Elk Avenue, the main street in Crested Butte where you can catch a free bus to the mountain. In addition to winter sports, a slew of activities like biking, hiking, fishing, rafting and boating take place in warm weather. The area is so abundant with summer wildflowers that it's called "Wildflower Capital of Colorado."
Crested Butte is 231 miles from Denver. It's 30 minutes from Gunnison Airport and 4.5 hours from Denver International Airport.
Elk Mountain Lodge, 129 Gothic Avenue, Crested Butte, CO 81224; 800-374-6521; www.elkmountainlodge.com
Claudia Carbone is an award-winning travel writer based in Denver. Read about other hotels she's visited in Sleepin' Around.
Latest posts by Claudia Carbone
(see all)