Tucked away on a hillside in the Rocky Mountains of Colorado, Della Terra Mountain Chateau rests in the pine trees just enough to make it secluded and special.
The family-owned boutique inn oozes Old World charm in its setting high above Estes Park. The family (who comes from a background of custom home builders) modeled the brick and stone building after castles in Scotland, hoping to bring a sense of romance and intimacy. Well, they nailed it! Think nooks and crannies, wall tapestries, arched entryways, glowing fireplaces and antique-looking furniture. It is likely the most romantic mountain inn in Colorado. And it was built green.
Suites at Della Terra Mountain Chateau
Della Terra means "of the earth" in Italian. Hence, 14 named luxury suites honor the seasons, the sky or the elements. For example, our suite is L'illuminazione with the sky theme. Located in the upper top floor, an arched window opens to an unobstructed view of the sky and mountain. Light bathes the room in an amber glow at dusk.
Our suite, like all the others, is over-the-top with romantic touches that we immediately experience. The first is a two-person hot tub, as intimate as you can get on a private deck just outside the door. As if on cue, snow softly falls around us, creating a blissful scene. After our soak, we wrap ourselves in provided fluffy robes and sink into the love seat where we watch romance movies culled from the inn's large free library. A two-sided fireplace glows across from the bed and sofa.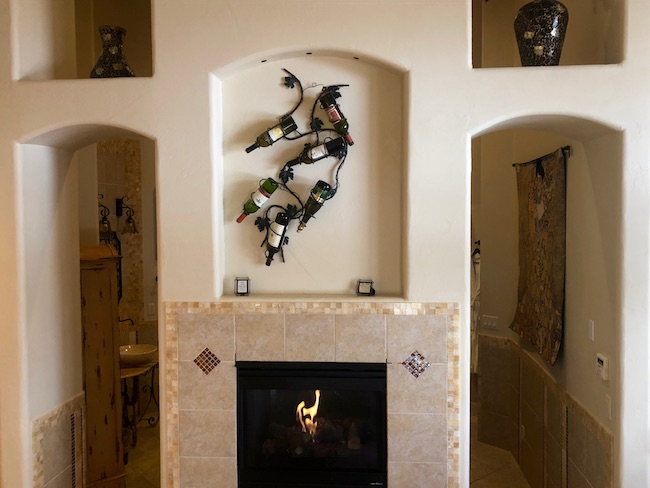 The other side warms us when we bathe in the egg-shaped tub next to a soothing waterfall in the fabulous bathroom. Behind the water feature is a walk-through shower with every kind of shower head you could want.
The rest of the bathroom is a piece of art with decorative tiles and stonework.
Dining at Della Terra Mountain Chateau
Breakfast is included in the price of a stay. But instead of going down to the breakfast area, we opt to have breakfast in bed delivered complimentary to our cozy room (that we never want to leave – can you blame us?). Today it's a hot egg dish, with a yogurt fruit parfait, pastry and juice and coffee.
The Loft Bar is a small space where you can get a cocktail, chat with other guests and order a snack or small meal like grilled cheese sandwich.
Other Amenities at Della Terra Mountain Chateau
Yes, there is a spa – it's one treatment room where you can get a couple's massage ($290 for 90 minutes) or individual massage ($145 for 90 minutes). There's also a complimentary dry heat sauna on the third floor. Just wrap in your robe and go.
Another cool feature is the Theatre Room, where you can watch movies or shows on DIRECTV. You have to reserve the room in advance, which we didn't do, and it was booked. So disappointed! But for a wedding party or family gathering (or romantic movie for two!), what a fun amenity! 
Speaking of weddings, Della Terra hosts about 150-175 weddings a year. They have two beautiful ceremony spots from which to choose – one outside and one indoors. In addition, there's a full-service salon for the bridal party. Weddings are their specialty – it's easy to see why!
What To Do in Estes Park
As the gateway to Rocky Mountain National Park, Estes Park offers many guided tours for mountain activities like snowshoeing and hiking, climbing and mountaineering, fishing, boating, horseback riding and llama backpacking. Culturally, there's the Historic Park Theatre and Cafe (the oldest operating single house movie theater in the country) and Stanley Live – concerts at the historic (and haunted) Stanley Hotel. A number of signature festivals take place in warm months, such as Elk Fest during rutting season, Longs Peak Scottish Irish Highland Festival and Fall Back Beer Festival. Oh, and expect to share your vacation with a few friendly elk who meander around town. 
Recommended restaurants: Bird and Jim, Wapiti Pub & Grill, Seasoned American Bistro.
For more about Estes Park, visit visitestespark.com.
Della Terra Mountain Chateau, 3501 Fall River Road Estes Park, CO 80517; 970-586-2501; dellaterramountainchateau.com
Claudia Carbone is an award-winning travel writer based in Denver. Read about other hotels she's visited in Sleepin' Around.
Latest posts by Claudia Carbone
(see all)