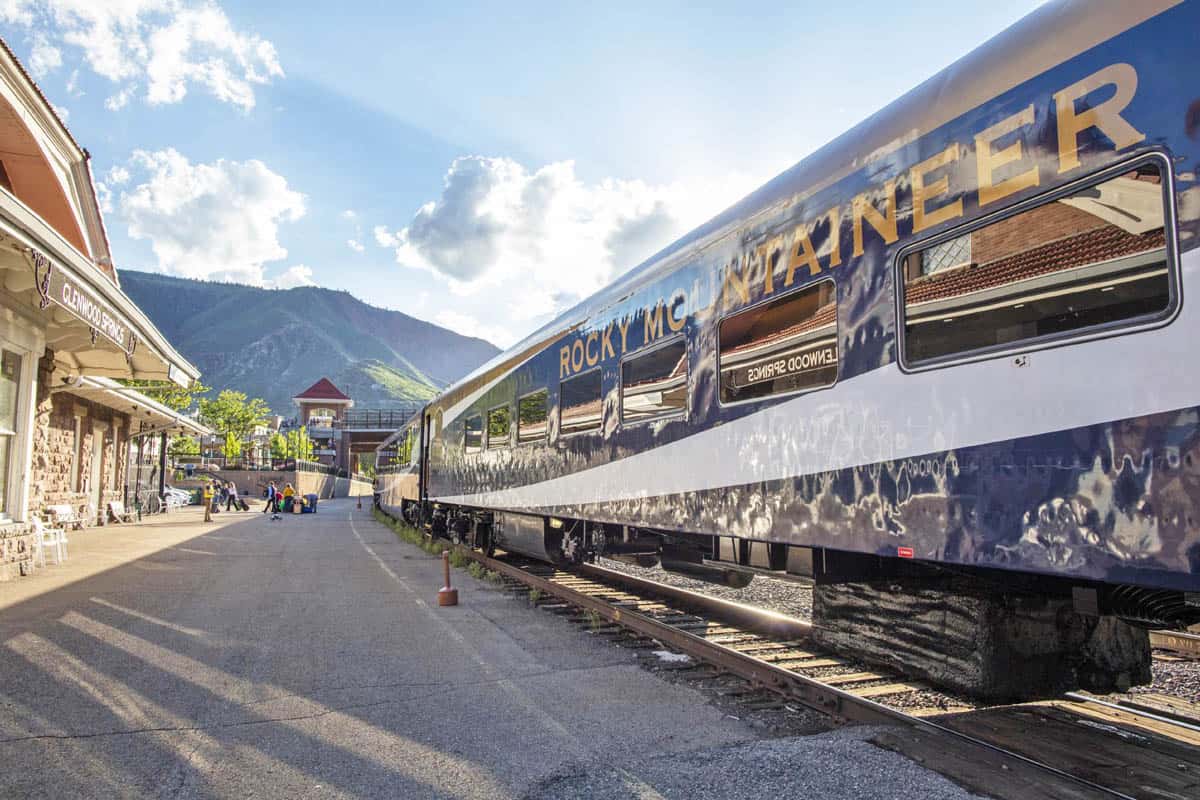 In the United States, train travel is often a forgotten option. Sure, we have a romantic past with rail travel. After all, it helped build the Old West and bring life to communities in the vast American plains.
But as automobiles took hold and highway travel became a norm, train travel across vast distances – at least in the American west – took a backseat. The country has many shorter popular train itineraries, of course, such as Cumbres & Toltec in Colorado, but today, Amtrak is about the only option if you want to travel a long distance by train across states.
Happily, a Canadian rail company has brought the romance of train travel back to the American Southwest.
What is the Rocky Mountaineer?
Rocky Mountaineer, known for its scenic rail packages in British Columbia and Alberta, Canada, opened a new rail journey in 2021 between Moab, Utah and Denver, Colorado.
Rockies to Red Rocks
The Rockies to the Red Rocks route runs through some of the wildest and beautiful scenery in the country, from Ruby Canyon, a 25-mile-long canyon on the Colorado River to Mount Logan and across the Continental Divide.
Rocky Mountaineer Rail Packages
The Rocky Mountaineer offers 2-day, 4-day, 5-day, 6-day or 8-day trips from April to November. You can choose from packages that include luxury hotel stays, as well as outdoor adventure and sightseeing in some of Utah's iconic national parks.
Several friends and I recently experienced the Rockies to the Red Rocks Classic package, which included two days of rail travel and three nights at hotels along the way. It also included several custom adventures provided by Southwest Adventure Tours, Rocky Mountaineer's tour partner in Utah.
Starting the Journey in Moab, Utah
Our journey began in Moab. Many reach this rugged adventure town by flying into Salt Lake City, but I flew into tiny Canyonlands Airport in Moab. From the airport, it was just a few minutes' drive to Hyatt Place Moab Hotel, where Rocky Mountaineer had booked us for the night. The Hyatt Place Moab Hotel is new and very comfortable.
With a population of 5,200, Moab is small but mighty. It's the gateway to two popular national parks and several state parks. Adventurers flock to Moab for four-wheeling adventures, as well as climbing, hiking and river sports.

Moab has a dry climate, and clear, dark skies are one of its assets. We had a star-gazing adventure planned with Southwest Adventures Tours and Moab Astronomy Tours for that evening, but sadly, Moab had one of its rare rainy nights.
Arches National Park
It was sunny and clear that next morning, though, when our guide picked us up for a day of exploring. Our first stop was Arches National Park, home to more than 2,000 documented arches, some spanning more than 300 feet.
The arches are so iconic that you've most likely seen photos of them. Yet seeing them in person is something quite different.
After hiking the trail to Delicate Arch, I felt so tiny standing beneath the giant formations. The contrasting colors and spectacular vistas are a photographer's dream. We sat for almost an hour near Delicate Arch, soaking in the dramatic views.
Later, we followed the shorter .8-mile trail to Double Arch, one of the park's largest formations. Located in "The Windows" section of the park, it has two dramatic arches which are a favorite with visitors. With so much beauty all around you, it's almost hard to take it all in.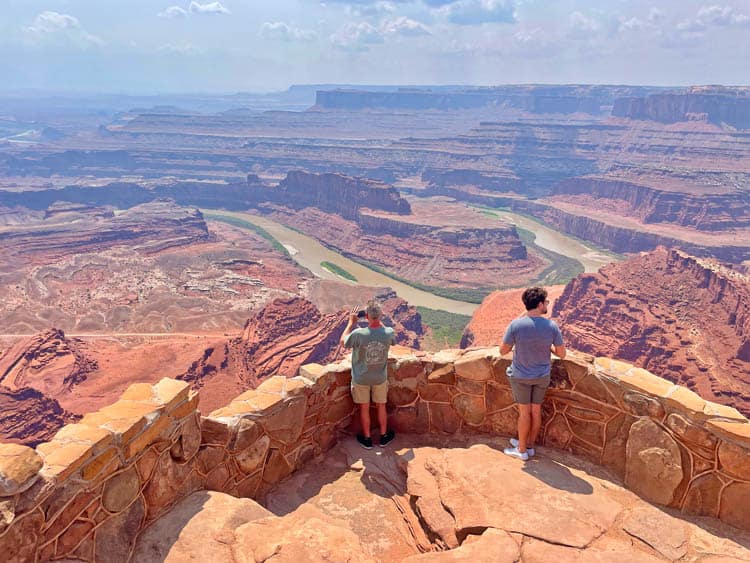 Dead Horse Point State Park
While we didn't have time to visit Canyonlands National Park, we visited Dead Horse Point State Park later that afternoon, which offered incredible overlooks of the Colorado River and Canyonlands National Park.
Southwest Adventure Tours had packed us picnic lunches, which we ate while enjoying views of the Colorado River below.
Another top attraction in Moab is the Dinner and Jetboat Excursion with Canyonlands by Night and Day. The excursion starts with a relaxing boat ride on the Colorado River through the canyons.
When the sun goes down, a unique light show illuminates the canyon walls as you float by, accompanied by stories and the history of the region. The evening ends with a BBQ dinner along the riverbank.
The Rocky Mountaineer Rail Journey Begins
That next morning, it was time to begin the rail journey to Colorado. Rocky Mountaineer offers complimentary luggage transfers, so I left my bag for them at the hotel and boarded the train.
The railcars on the Rocky Mountaineer have expansive glass-dome trains, offering sweeping views of the scenery. The seats are large and comfortable, with trays for dining and drinks.
Two Classes of Service
The Rockies to the Red Rocks rail journey is available in two classes – Silverleaf and Silverleaf Plus. Each includes top service, panoramic views, delicious meals and beverages brought to your seat, along with complimentary baggage transfers.
Silverleaf Plus includes access to the lounge car, an additional course served with meals and premium cocktails and beverages.
The Rocky Mountaineer's routes in Canada include Goldleaf service, with double-tiered rail cars. However, the historic Moffat Tunnel in Colorado was just six inches too short for the Goldleaf cars.
Rockies to Red Rocks Route
The train tracks follow the Colorado River through Utah, and the scenery is spectacular. While I have driven back and forth between Moab and Denver several times, this route was a totally new experience.
We passed along the dramatic red sandstone cliffs of Ruby Canyon, seeing occasional rafters, kayakers and fishermen on the river, then past the dramatic Book Cliffs near Grand Junction and then through Colorado's peach and wine country in Palisade.
Service Onboard the Rocky Mountaineer
During the ride, we enjoyed phenomenal service, starting off with a champagne toast and then hors d'oeuvres and a delicious three-course dinner. The food was fresh and flavorful, and the drinks flowed freely.
Glenwood Springs, Colorado
By evening we had arrived in the small town of Glenwood Springs, Colorado, a popular destination known for its hot springs and beautiful location.
While Rocky Mountaineer transferred our luggage, we walked to the historic Glenwood Hot Springs Resort, just across the street from the famous Glenwood Hot Springs.
Glenwood Hot Springs
The vast Glenwood Hot Springs pool is the world's largest mineral hot springs pool. Wellness seekers and travelers have come to soak in these relaxing waters since 1888. Today, the town and its hot springs are popular with Coloradans and visitors from around the world.

Soaking in the pool under a star-filled night was a soothing experience. There are several pools that vary in temperature, and their large sizes provide plenty of space to spread out.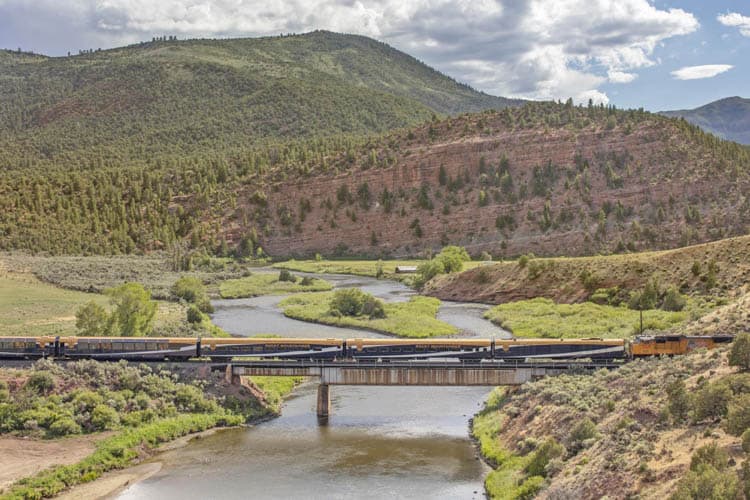 Train Journey Through Colorado
The ride from Glenwood Springs is stunning, whether you're in a car or train. The route runs through winding Glenwood Canyon, known by Coloradans as one of the prettiest drives in the state.
Our group was almost silent as we passed through, as there was so much to see. We enjoyed breakfast on the train and later a delicious lunch.

Eventually, the train route wound along the cliffs of Gore Canyon, then into the ski town of Winter Park and through the historic Moffat Tunnel before crossing the Continental Divide.
Heading to Denver, Colorado
From there, it was a scenic ride down into the city of Denver. Traveling through the valleys and mountains near Denver by train was a new experience for me. I could almost imagine what it must have felt like to arrive in this Old West town a hundred years ago.

Today, Denver looks even better. Colorado's state capital has enjoyed a renaissance during the last 20 years, with a gleaming skyline, a wealth of great dining and entertainment options, clean streets and an optimistic outlook.
Union Station
Denver's Union Station, a historic train depot built in 1881, is a beloved icon in Denver. Beautifully restored in 2014, it's now home to hip restaurants, bars and shops – and it's still Denver's transportation hub.
After arriving in Denver, we headed to the upper floor of Union Station for drinks at the lovely Cooper Lounge.
Dinner was at the Mercantile Dining and Provision, which is also in Union Station. One of Denver's top restaurants, it is led by award-winning chef Alex Seidel.
Rocky Mountaineers partners with several hotels for their guest lodging in Denver, including the Crawford Hotel, a luxury property inside Union Station, and the historic Oxford Hotel.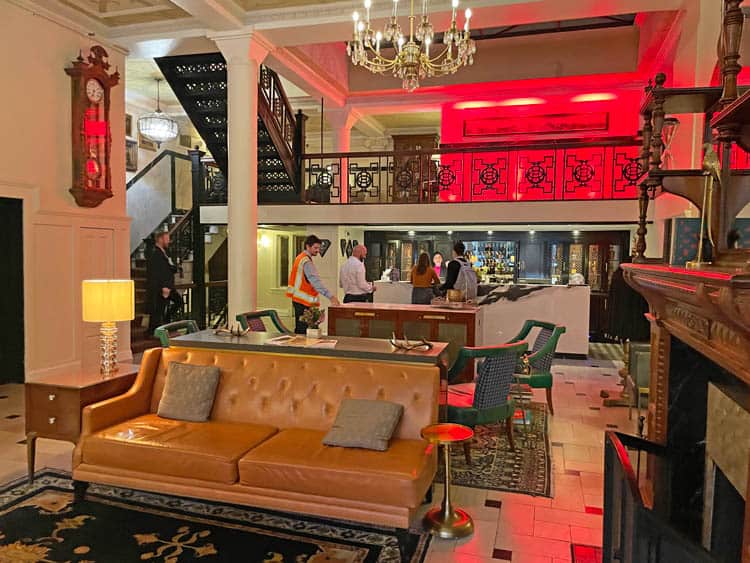 The Oxford Hotel
The Oxford Hotel was originally built in 1891 and is just a few minutes' walks from Union Station. While it has every touch of modern luxury, the hotel has retained its historic charm.
My room was large, with views of Union Station and Denver, a frontier settlement that has grown into a world-class city.
Though I grew up in Colorado and have traveled this region for many years, exploring the Moab to Denver route by train was a fascinating experience.
I can understand the romance of train travel – you see things differently from the window of a train. The journey with Rocky Mountaineer gave me a new perspective that I'll savor for years to come.
If You Go
During your trip book some tours and activities through GetYourGuide. Find more information and reserve your dates here.