Editor's Note: We're all dreaming of travel ahead. Here's some inspiration for future adventures. We share places, products and activities we recommend. If you make a purchase using a link on our site, we may earn a commission.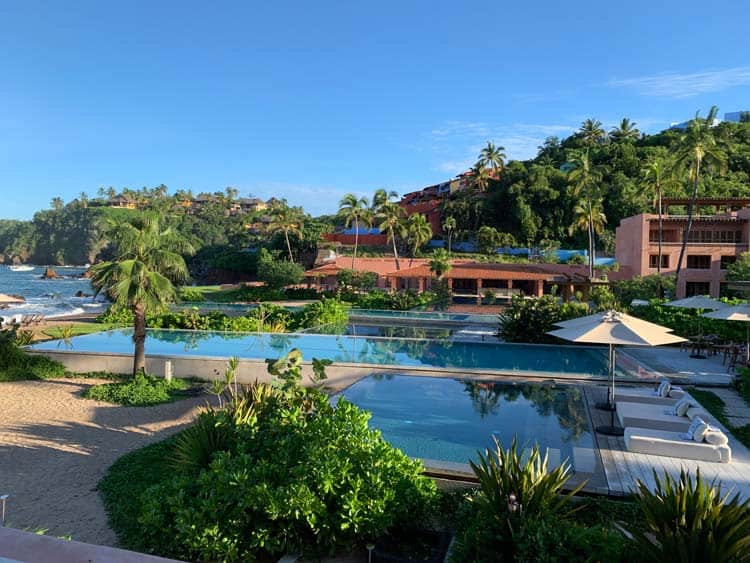 In Careyes, one man's vision of an idyllic seaside retreat has evolved into an exclusive, eclectic community rich in nature, architecture, culture and the eeriest sound bath I've ever encountered.
Curiosity brought me to El Careyes Club & Residences on Mexico's Costalegre (Happy Coast) south of Puerto Vallarta—pre-COVID, of course. I'd long heard about gatherings of international artists, authors and musicians at this exclusive resort, and wondered why it attracted such creative types.
The Costalegre's rugged jungle is home to expansive private communities surrounded by bird-filled nature reserves. The 35,000-acre Careyes estate is one of the most legendary, with suites, casitas and villas scattered on hillsides through dense vegetation facing crystalline coves and the open sea.
During my brief stay, I cruised along the rugged coastline and admired stunning villas from afar before touring a few. I released baby turtles at sunset and descended into a giant art installation for a reverberating sound bath. It was easy to see the lure of Careyes.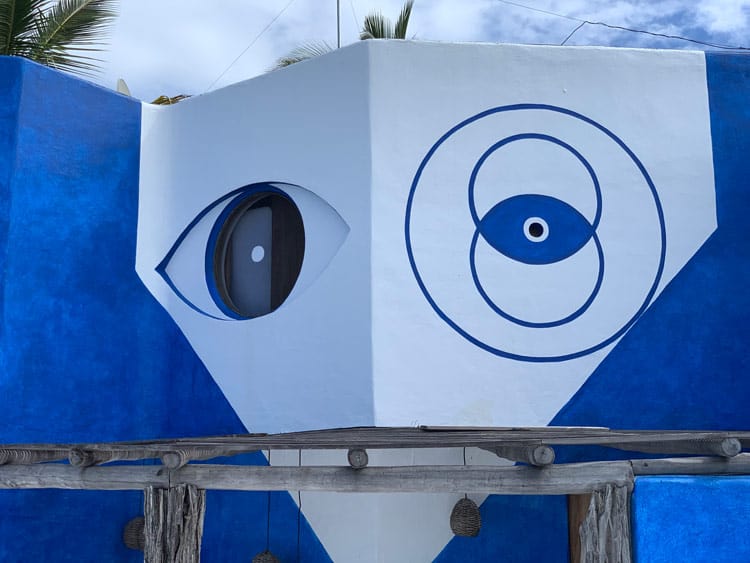 Creating a Community in Careyes
Visionary Italian banker Gian Franco Brignone conjured an idyllic community at Careyes while soaring over the coast in a private Cessna in 1968. He spotted the ideal combination of jungle and beach and hired noted Mexican architects to help design dream villas.
Artists, writers and creative types followed his lead, drawn by the natural beauty and inspirational ambience. Befitting his esoteric interests, Brignone commissioned artworks scattered throughout the property and held grand soirees with artists, spiritualists, celebs and all manner of fascinating folk.
Over time, homeowners from some 42 nationalities succumbed to Brignone's vision, creating a collection of Coastal Mexican villas and "ocean castles" hidden on lush cliffs and coves.
The resort area of Careyes has gone through many incarnations over the decades. Hotel buildings, originally designed in 1976, have been totally remodeled to house luxury multi-bedroom suites. The makeover seemed the perfect reason to finally check out Careyes.
Careye's Artful Setting
On my first morning, I surveyed my surroundings from my suite's wraparound balcony under ominous gray clouds. Sand-toned, low-rise buildings framed five glossy swimming pools and a curving beach. Vivid blue and yellow casitas dotted low green slopes at the edge of a long cove. The jungle seemed to tumble down hillsides.
I got an idea of the magnitude of Careyes on a subsequent boat ride on choppy seas. The jagged coastline revealed beaches and coves edged by dramatic rock piles. Palms towered over dense bushes on steep bluffs. There were occasional glimpses of villas high above the shore.
Careyes frequently serves as a backdrop for photoshoots, thanks to its dramatic architecture and natural setting. Dwellings take full advantage of sea views with open living areas under soaring palapas beside free-form pools edging rocky points. Color abounds, with endless shades of blue echoing the sky and sea.
I toured a few outstanding examples including Mi Ojo (My Eye), Brignone's art-filled home. A scary suspension bridge linked the villa with a wild private island. I lunched with friends at another villa with a towering palapa shading the open living room and decks. Stunning fuchsia hammocks and day beds faced the sky and sea beside a long blue pool. No wonder creative types gravitate to Careyes. Inspiration is everywhere.
The Releasing of Baby Turtles at Sunset
Feeling ever so mellow, I joined a van tour and rode along dirt roads etching coastal cliffs to a turtle camp on the beach. Naturalists monitor and protect the sea turtles that bury their eggs at Careyes. They collect thousands of delicate rubbery eggs and bury them under awnings in a fenced-in farm.
Dozens of turtle babies were ready to emerge from their sandy nests. Our guides gathered the squirming hatchlings in buckets and guided us to the edge of the beach. We set handfuls of turtles onto the sand and watched them find their way to the sea, sometimes quite awkwardly. The sun slowly set as the babies reached the water. With any luck, the darkness would protect them from birds and other predators.
Our tour group headed to dinner at a rustic chic restaurant somewhere in the hills. We settled in at a long picnic table and shared ceviche and other small plates. All around us friends greeted each other with air kisses and everyone looked utterly fascinating.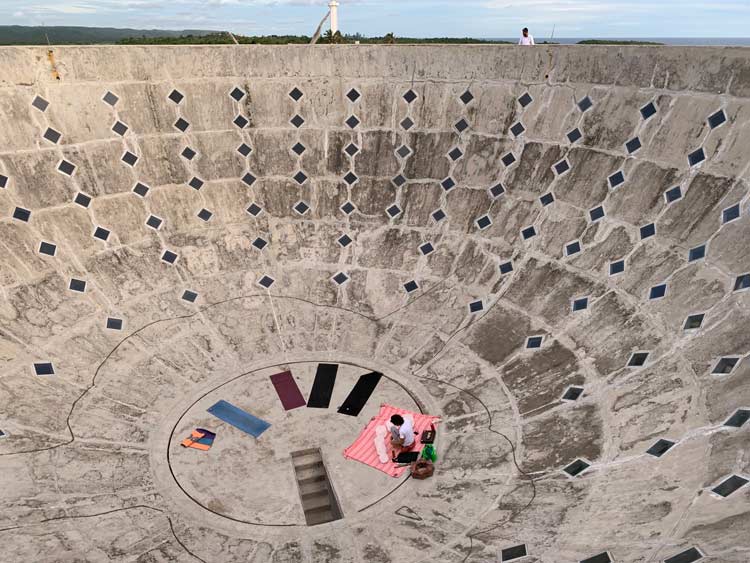 Surround Sound at La Copa in Careyes
The oddest sight on my boat ride was a giant gray cement bowl called La Copa (the cup) perched on a hilltop above the windswept Pacific. The installation, commissioned for Brignone's 80th birthday, was a striking sight from land as well, as I discovered the next day.
As I walked toward it, La Copa looked like a bizarre UFO dwarfing the few humans gathered for a sound bath. We entered the base of the bowl, where yoga mats were laid out around sloping walls. A bearded shaman had us lie on our backs, eyes closed.
The music from singing bowls, rain sticks and other implements swirled around me as I watched clouds drift in the evening sky and soaked up the Careyes vibe.
If You Go
The nearest airport to Careyes is in Puerto Vallarta (PVR), about a two-hour drive to the north. Careyes can arrange transportation.
There are several types of accommodation available through El Careyes Club & Residences, including multi-bedroom suites. Amenities include five sleek swimming pools with plenty of relaxation and swimming space, an open-air restaurant (with fabulous ceviche) and a peaceful beach.