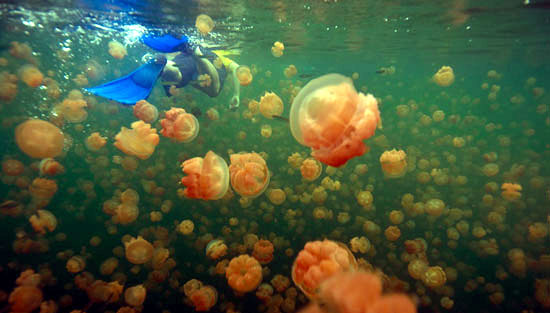 Dear Readers: Our travel shop contains products selected from trusted partners. If you make a purchase, we may receive a small commission. All opinions are our own and we only share things we recommend.
Forget the aquarium. When it comes to the exploring the ocean's splendor, there's nothing like the real deal. Grab your snorkel, dive gear or just your curiosity. Here's how—and where—you can experience some of the ocean's most unusual creatures up close. Be sure to follow local guidelines for viewing the animals.
1. Jellyfish, Jellyfish Lake, Palau
If you've ever wanted to see jellyfish up close, you can do just that at Jellyfish Lake in Palau –and no, you won't get hurt. Over the last millennia, the golden jellyfish (Mastigias) and the moon jellyfish (Aurelia) in this enclosed body of water have developed a mild, almost unnoticeable sting. This offers a rare opportunity to swim with thousands of these unique creatures. Access to the lake is only permitted with a local tour company, and there is a $35 entry fee per person. Popular packages include snorkeling, a lunch in the Rock Islands and a visit to Milky Way, a beautiful cove famed for its white, skin-rejuvenating mud.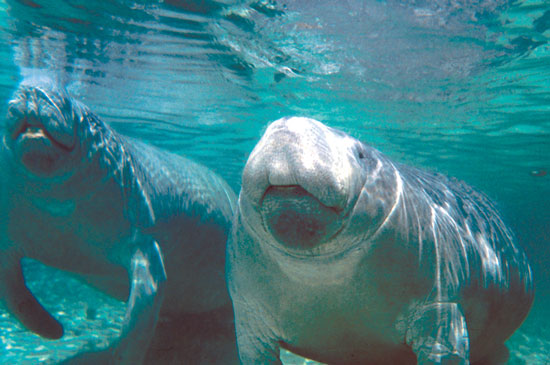 2.  Manatees, Crystal River, FL, USA
The warm, spring-fed water of Citrus County, Florida is a favorite destination for manatees—and one of the only places where nature lovers can legally swim with these gentle giants. More than 400 manatees congregate in these waters during the winter, but the animals can be seen year-round. Swimming with manatees is something you'll never forget.
Snorkeling or diving in the Crystal River offers the rare opportunity to view the animals in their own habitat. Be sure to go out with the assistance of a tour company. They'll supply a wet suit and gear, and show you how to view the manatees without disturbing them. Manatees seem unafraid of humans, and react to swimmers and divers with characteristic good nature.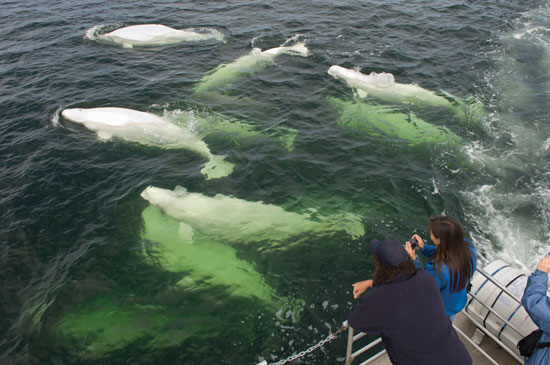 3. Beluga Whales, Churchill, Manitoba
They have been called "ocean canaries" because these white beluga whales seem to sing like birds when you hear them underwater. And you can do just that in Hudson Bay, near the tiny town of Churchill, Manitoba, Canada. Each summer, thousands of belugas come to the bay to molt. You can snorkel with the whales (you'll need to go out with an outfitter, who will provide a dry suit to keep you warm), or view them by boat or kayak.


The whales react to snorkelers with indifference or curiosity, and sometimes swim near to get a better view. You can even stand on the shore and watch these amazing creatures, which often swim in pods of 8 to 12.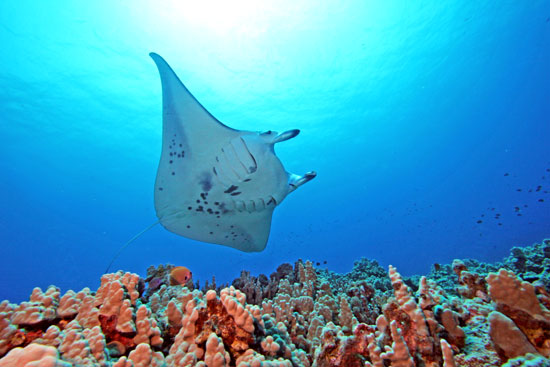 4. Giant Manta Rays, Big Island, Hawaii, USA
With wing spans that reach up to 15′ across, giant manta rays look like awesome birds in flight. The Big Island of Hawaii is one of the few places where you can view these amazing ocean creatures up close. In Hawaii, giant manta rays frequent the clear waters of Keauhou Bay, and local outfitters will take you out at night to snorkel or dive with the manta rays. After donning a wetsuit, you float near a string of lights. Plankton is drawn by the light, and the manta rays feed on the plankton. The graceful manta rays are unimpressed by visitors and go about their nightly feeding, gliding near snorkeler to the delight of their audience.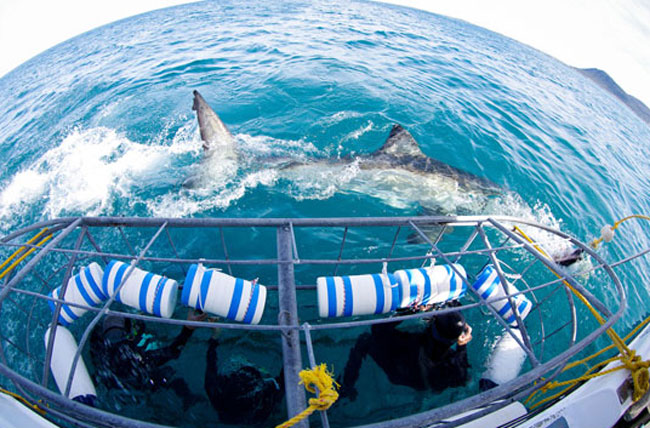 5. Great White Sharks, Dyer Island, South Africa
Five miles out to sea on the southernmost tip of South Africa is Shark Alley, a favorite hunting ground of the Great White Shark. The waters are teeming with Cape Fur Seals and Jackass Penguins, a smorgasbord for these magnificent beasts. Shark cage diving has become a popular sport, offering the rare opportunity to see the sharks up close. Outfitters provide the cages, the gear and the know-how. All you need to have is some courage. No scuba experience is required. For the feint of heart, the great white sharks can often be seen from the boat, sometimes even breaching above the water while hunting.
6. Green Sea Turtles, Maui, Hawaii, USA
Turtle Town is stretch of coastline between Nahuna Point and Black Sand Beach on the Hawaiian Island of Maui. It's known for its high concentration of Hawaiian Green Sea Turtles. The turtles often frequent the waters right off Maluaka Beach, feeding near the coral reef, even in the shallows. Grab a snorkel and you're likely to see one—or several. Green sea turtles are endangered, so give them plenty of room and don't harass them in any way. Green sea turtles can live up to 80 years.
7. Dolphins, Bimini, Bahamas
The two small islands that make up Bimini, Bahamas are known for sports fishing, reef diving and swimming with the wild dolphins that call these warm clear waters home. Local outfitters take guests out by boat and provide snorkel gear. Snorkelers drop into the water, and dolphins often choose to come near for some playful interaction. It's not unusual for them to swim alongside snorkelers, or flip and jump from the water. You can look, but don't touch. The experience is unforgettable.
READ MORE: Swimming with Whale Sharks in the Sea of Cortez
Helpful Travel Info
Travel insurance gives you peace of mind.
Travel Protection For Unforeseen Situations That May Occur Worldwide from Allianz Global Assistance. Get a Quote Now.
Do you love to travel? Then GoWorldTravel.com is for you! We cover travel in more than 90 countries around the world. Feel free to look around. You'll find hundreds of destinations and experiences in the menu above. Happy travels!