Although my wife and I really love traveling, we sometimes need little breaks in between our crazy and exhausting backpacking adventures.
For us, such breaks are usually short trips to new and nearby destinations that neither require a big effort to get to nor cost a lot of money.
Malta: a Quick European Summer Getaway
When looking for a quick summer getaway (while checking out the large world map hanging on our living room wall), Malta suddenly piqued our interest.
The small European island, which is located in the Mediterranean ocean, is less than 2 hours away from the Greek city of Athens, where I was about to attend a science conference. A few Google pictures and flight comparisons later, the tickets were booked and we got super excited!
As soon as my conference was over, my wife headed over from Germany to meet me at the international airport of Athens and we boarded our flight to Malta's capital, Valletta.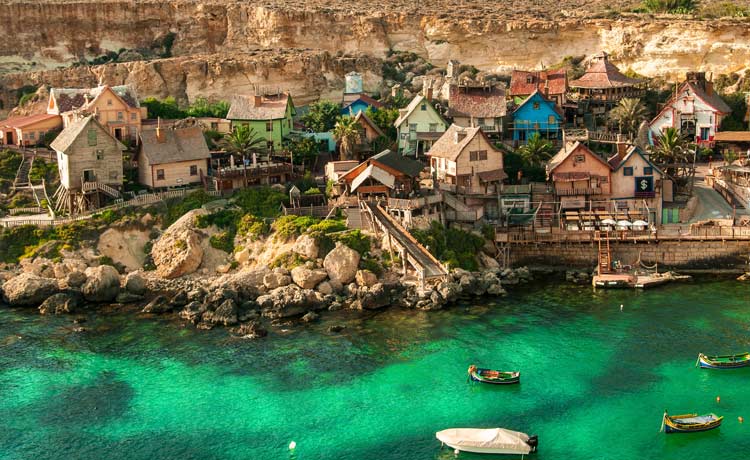 Getting Around Malta
With only 5 vacation days to spare, we had a hard time deciding which places we should visit. Valletta as a capital was surely worth a day of exploring, but not more. For an island with so many nice nature spots, we didn't really want to get stuck in between architectural sights, museums, and nightlife activities.
In other words: We wanted to keep everything as simple as possible while still getting the most out of Malta's nature. "As simple as possible" also meant "not getting a rental car this time".
Fortunately, getting around Malta with public transportation was super easy (if you are deeply relaxed). Although busses were not really on time (ever!), they did show up eventually and therefore represented an affordable alternative to renting a car.
In fact, Malta offers a so-called "Explore" card, which costs about 20 Euros and allows unlimited bus-traveling for 7 days throughout the entire country. Awesome, right?
Utilizing this amazing offer, we explored both Malta's main island (which is also called "Malta") as well as its neighboring and smaller island in the north, Gozo. Although we didn't really plan out anything in particular, there was one specific place we wanted to desperately see: The Blue Lagoon.
Friends talked about it, locals recommended it, and the pictures we found online were absolutely stunning. With all these factors in mind, we decided to make this our last stop before heading back home to Germany. One last day in paradise. At least that's what we wanted it to be.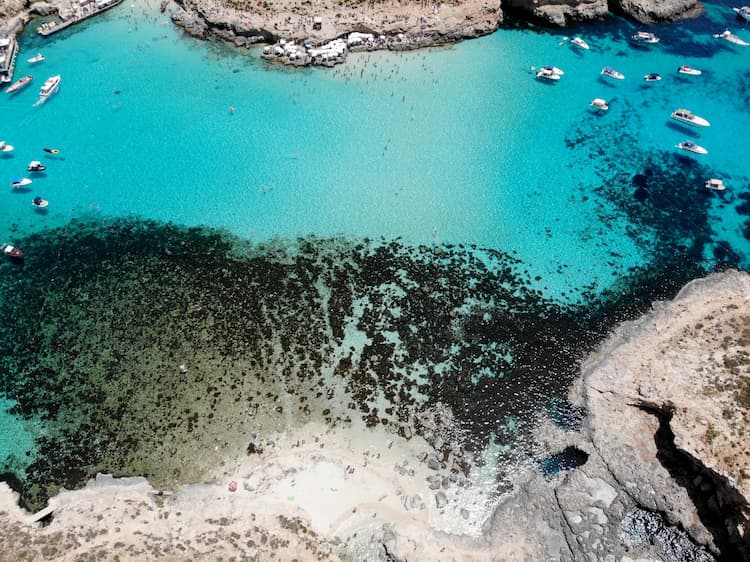 Taking the Ferry to Comino
The Blue Lagoon is located on Comino (a small islands in between Malta and Gozo) and can easily be reached by boat from the Cirkewwa Ferry Terminal of Malta main island. Stunning cliffs, waves crashing against the rocks surrounding the island, light beams of the morning sun reflecting in the sparkly water.
The short journey was very pleasant and beautiful in every way. About 20 minutes after our departure, we started to circle around the northernmost part of Comino and stood speechless on the deck of the boat with both our mouths wide open.
What welcomed us must have been the clearest and most turquoise water we have ever seen (at least in and around Europe).
Once our boat stopped at the Comino Ferry Service Terminal, it took us only about 2 minutes of walking to reach the actual beach (Comino beach). It was early, about 10 a.m. and yet and the place was absolutely packed already.
Dozens of boats in the lagoon and easily hundreds of people walking around the beach area. As usual, my wife and I did what we always do: We tried to find a spot with as few people as possible.
A brief orientation revealed that there was in fact another island on the other side of our beach, named "Cominotto". Its beach was directly facing Comino Beach and we only spotted a few people there. Not entirely secluded but still nothing compared to the overcrowded beach we were standing on at the time.
The water was calm and warm, and the distance didn't seem too great. After all, we wanted to go for a swim anyways and brought our waterproof bag. Why not try? A few moments later, we entered the water through one of two ladders that were located on both sides of the lifeguard tower.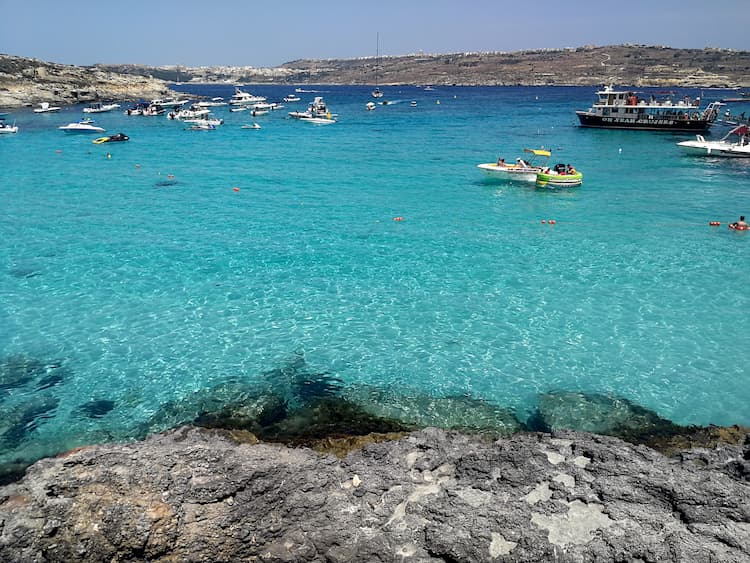 Swimming to Cominotto Beach
For a few minutes, everything seemed fine. As we slowly floated away from the tourist-packed Comino Beach, it got quieter and more peaceful with every breath we took. We stopped to enjoy the moment. At this point, we had reached the halfway point of the swim after only 4 minutes or so.
It felt strange. Although we still saw the massive number of people on the beach in front of us (the one we came from), we could barely hear any noise. The only thing we could hear was the talking of some people in the water closer to us. All in all, a very peaceful moment.
A moment that wouldn't last for long. I took a deep breath and immersed into the crystal-clear water to take some GoPro videos.
The very moment my head surfaced, I noticed a splash right next to me and heard a scream that I can only describe as that kind of a scream nobody should ever experience in their lives. I looked at my wife and kept asking her what happened.
No response. She couldn't answer and started to hectically swim towards the shore of Cominotto while frequently making painful sounds.
It was hard for me to keep up with her. Although something serious must have happened to her, she still managed to pull all skills learned in swimming team during college.
After what felt like forever (and probably only was 1 or 2 minutes), we both reached the shore of Cominotto island. My wife immediately ran out of the water.
At this point, I noticed that she was holding her shoulder. Once I finally caught up with her, I held her and calmed her down. What happened? I still didn't know.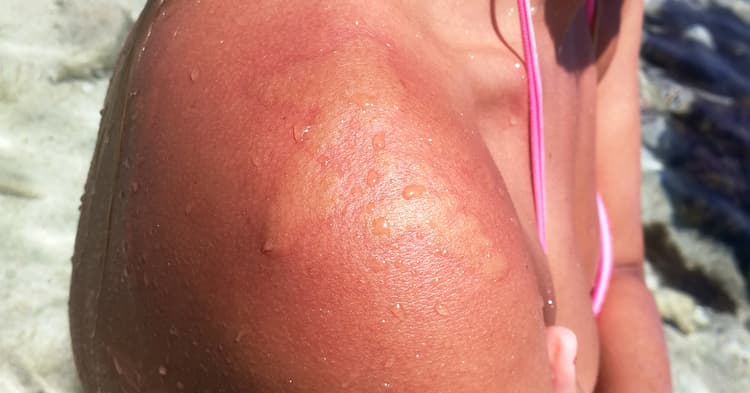 Watch Out for the Jellyfish of Malta
"I don't know what happened, I heard a buzzing sound and then felt pain. So much pain! Like a thousand needles striking my shoulder over and over again", she said. After a few calming words and a gentle hug, I moved her hand from her shoulder.
It took me only one second to identify the cause of her pain. It must have been a jellyfish. The fresh burn wound on her shoulder had the perfect outline of a Jellyfish's tentacle (or oral arm).
People often describe that contact with a jellyfish can sometimes feel like an electric shock, which explained the buzzing sound my wife claimed to have heard.
When I asked my wife if she remembered anything else about the actual incident, she told me that she quickly grabbed whatever was on her shoulder and threw it away after experiencing the pain. Oh boy! I wish I hadn't asked that question.
All of a sudden, I remembered that splash I briefly noticed when surfacing from my little GoPro dive. It was the actual jellyfish that my wife ripped off her shoulder and then threw away. I rather not think about the possibility that the animal almost landed on my face.
About half-hour later, my wife's pain slowly started to diminish. We started to explore the little island and even took some dips in the shallow water again. Our highlight was hiking up to the top of Cominotto.
Although it was a bit steep, the short uphill hike only took us about 3 minutes. At the very top, we got rewarded with a breathtaking 360° view over both beaches as well as the calm sea.
As we sat on top of Cominotto and stared into the distant horizon over the open ocean, we almost forgot about what happened. The reminder came promptly when we decided to head back home.
"Heading home" now also meant that we had to swim back through the lagoon in order to get to our ferry on Comino Beach. However much we didn't want to, there was no other way.
I decided to swim in front of my wife with my eyes open underwater. Every time I would spot a jellyfish (and there were a lot now!), I navigated us around the animal while also warning others in the water close to us.
Since we had to go really slow, the whole trip took us about 10-15 minutes. Once we arrived at Comino beach, we wanted to talk to one of the lifeguards to see whether there was anything we needed to know about the jellyfish wound and how to treat it.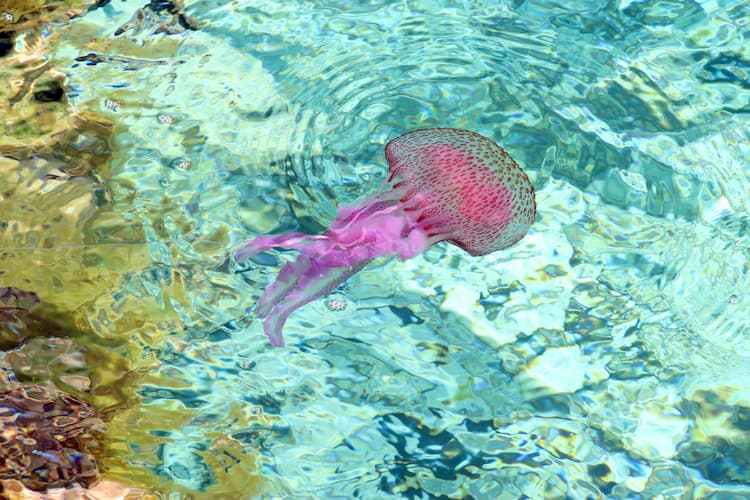 Surprisingly to us, there was a line of people with the same issue. Six people in front of us also wanted to get their jellyfish wound treated with some vinegar spray, which apparently helps the wound to heal.
Once we talked to the lifeguard, we learned that the "jellyfish invasion" started about the time when we were in the water.
If we had arrived just 1 hour later, we would have seen the warning flags that the lifeguards put up. Unfortunately, we arrived right in the transition time. Exactly when the jellyfish arrived but no lifeguard was aware of it yet.
At the end of the day, we still enjoyed our experience at the blue lagoon. Such an incredibly beautiful nature spot. However, the incident could have easily ended worse.
Fully unaware of the animals, the jellyfish could have easily come in contact with either my wife's or my face as we were carefreely splashing around in the crystal-clear water.
Not only a ruined vacation, but severe health issues could have been the consequence. Besides this unfortunate accident, I highly recommend visiting the blue lagoon, which can only be described as "paradise".
Just keep in mind to always talk to the lifeguards first, otherwise, there may only be a fine line between fun and disaster.
Ready to Dive into the Crystal-Clear Waters of the Blue Lagoon?
In order to get to Malta, the easiest way is definitely flying out of Athens. Flights depart multiple times a day and can be as cheap as 70 US$. Once you arrived in Valletta, you have several options to get to your first destination (which should be Valletta city).
You can travel by taxi, private shuttle, or even walk. However, as previously described, I highly recommend buying the "Explore" card, which allows you to use the bus unlimited times for 7 days. This offer even makes sense for a much shorter time.
Although it is very easy to get the card upon arrival, it can also be purchased online on the Maltese website for public transportation. When it comes to accommodation, I highly recommend either Airbnb or private guest houses when booking through websites such as hotels.com or booking.com.
In the middle of the pricing range, hotels are not great. So, my suggestion is to get a local feel. The people are super friendly and, based on our experiences, always try to make your stay as good as possible.
When in such a safe country, why not get to know people and culture a bit better? For any travel to either Gozo or Comino by ferry, check out the online schedule, provided by Comino Ferries Co-Op Ltd. 
Plan even more fun with truly unique Malta adventures from picturesque hikes to expert-led island highlight tours with Bookmundi.
Read our other articles about traveling to exciting destinations below:
Author Bio: Thomas Später is an experienced backpacking traveler that specializes in adventurous trips around the globe. He has traveled to remote and exotic places, such as Namibia or Mongolia and focuses on landscape and wildlife photography to share the beauty of our planet with others. In 2021, Thomas published a (German) book about Overpopulation and overconsumption (Die Überbevölkerung). With his awareness of current global issues, he uses his travels to support particularly local hotels and restaurants to raise awareness for the nature and culture of his destinations.