Big Bear Lake is both a city and a lake but it's the lake that I love to visit multiple times a year. It's just 90 miles from my apartment in Carson and an average driving time of only 2 hours.
It is a reservoir area located within the San Bernadino Mountains in southern California and can be easily reached via multiple well-paved roads originating out of the greater Los Angeles area.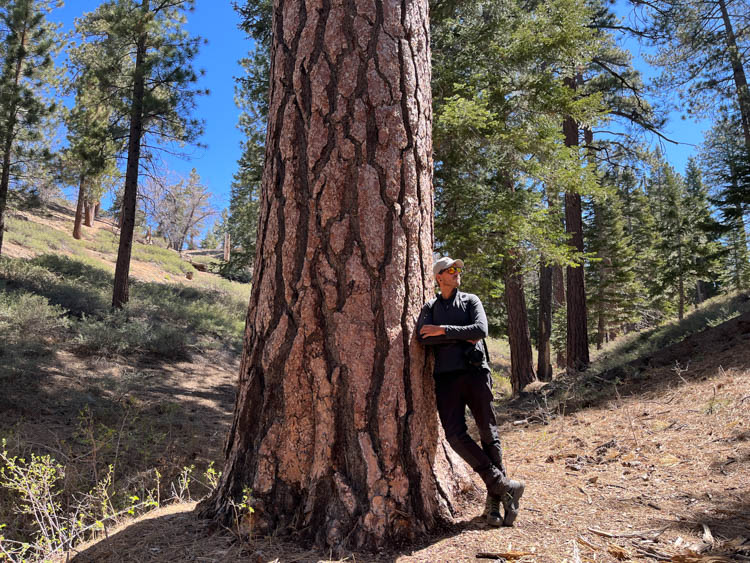 Big Bear Lake Offers Everything
Why do I love this place so much? The answer is simple: Big Bear Lake California offers everything a nature lover could think of. During winter, there are multiple slopes for skiing and snowboarding. During summer, the lake itself as well as the surrounding forest attract visitors from all over the country.
Summer activities include kayaking, standup paddleboarding, swimming, sailing, hiking, tubing, bowling, cycling, ziplining and even axe throwing.
Some time ago I started to check out all the hiking trails around the lake. Although I am not yet done with all the trails, I have recently found my favorite one: Pineknot Trail.
Interested to see what the trail is like? If so, join me on a journey through the most picturesque scenery the lakeside has to offer.
Big Bear Hike in May
Temperature-wise, anything is possible during the month of May in southern California. Although it was quite hot during the first week of that particular month, it was crucial to still keep an eye on the weather forecast.
One thing to keep in mind is the fact that Big Bear Lake lies at an altitude of almost 2100 meters (= 7,000 feet). This means that weather conditions may be entirely different when compared to the surrounding valley area in which I live.
In my case, I got quite lucky. The entire weekend was forecast to be nice and sunny with a temperature high between 19 and 22 °C (65 – 72 °F) during the day.
The emphasis here is on "during the day". In contrast to the nice daytime temperature, the night temperature still dropped down to only 7 °C (45 °F). Since I was planning to not start my Big Bear hike early in the morning, I had to prepare for both warm days and cold mornings.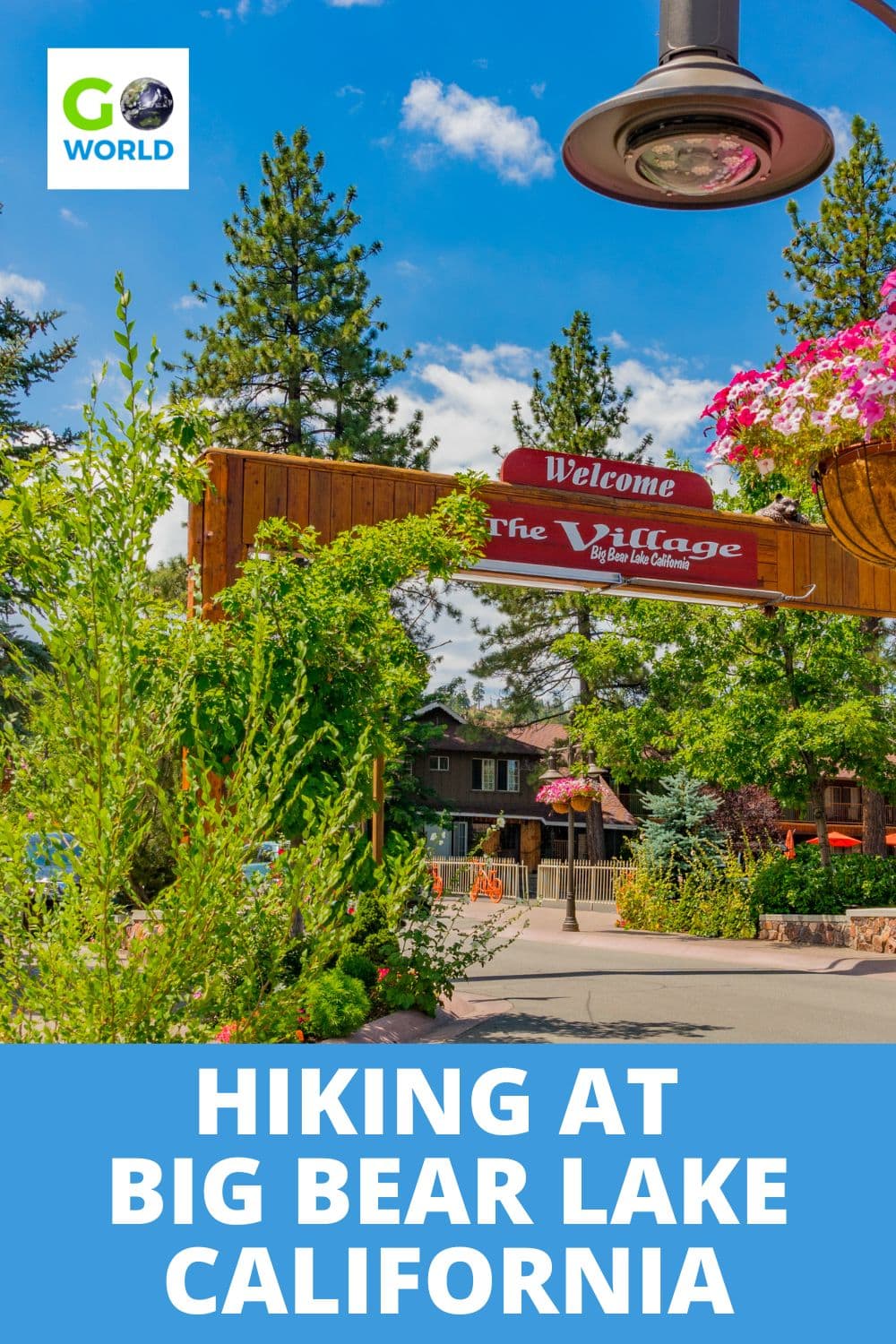 Stocking Up on Essentials is Easy at Big Bear Lake
My wife and I left our hotel by 8:30 am on a Sunday morning and hit the road. Not far from our Motel 6, there were multiple opportunities to get groceries. The quick access to food, drinks and hiking necessities at Big Bear Lake really makes everything super easy.
After only 4 minutes of driving, we reached a big parking lot right in front of "Vons" and got everything we needed in less than 10 minutes. With fresh grapes, 2 liters of water, multiple power bars and my wife's mandatory cup of coffee, we continued to the official parking lot of Pine Knot Trail which only took us another 8 minutes.
National Forest Adventure Pass is Required
As we approached the parking lot of Pine Knot Trail (Aspen Glen Picnic Area), we spotted a sign that said "fee parking". Following the instructions on the information board, we learned that Pine Knot Trail is one of the trails that require a "Natural Forest Adventure Pass". This is a recreational fee issued by the United States Forest Service.
We were not sure where to get such a pass so we drove back the way we came from until we passed a little grocery/souvenir shop. Before even getting out of the car, we saw a handwritten "passes available" sign on the wooden wall outside. The friendly shop assistant told us that we could either get a day pass for $5 or an annual pass for $30.
For someone visiting once while being on a vacation road trip, the day pass is the right decision. However, for anybody living in the greater Los Angeles area, the annual pass is the way to go.
The little detour to the shop and back only took us a total of 15 minutes, so we were back at the parking lot at 09:30 AM. We scratched the pass to mark the date of use, placed it visibly on the dashboard of the car and got ready for the hike.
As we tried to find out what clothing to start with, we were a little confused, since the temperature was deceiving at this point.
Warm enough in the sun, a bit too cold in the shade. Sometimes a bit windy, sometimes not. Indecisively, we choose to be rather safe than sorry and started with long sleeves.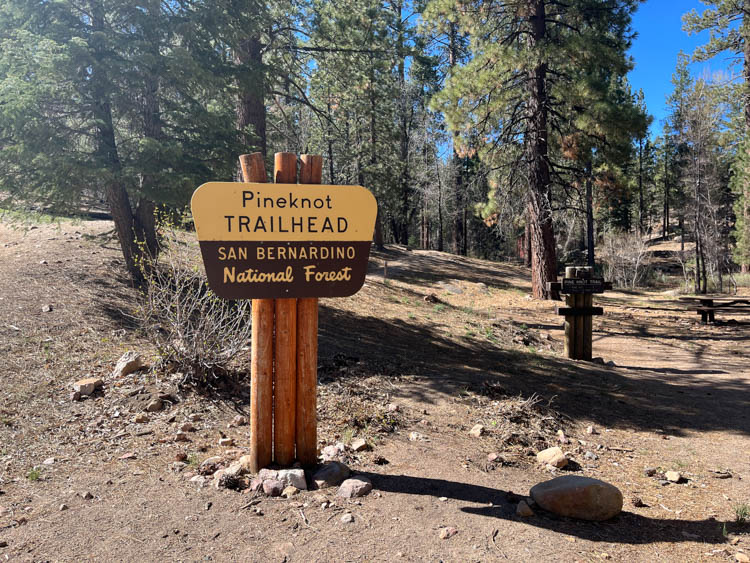 Finding the Trail
The first steps from the car led us alongside a detailed trail map and a restroom building. There were also multiple picnic tables scattered on a wide field with sporadic trees surrounding them. We immediately decided that we would have lunch there after our hike.
Following the "Trail" sign, we quickly reached the beginning of an incline that wouldn't really stop until the very end of the hike.
The uphill wasn't too bad, but it was a bit unclear where to go at first. Several trails seemed to lead up the mountain, but in different directions. "Your guess is as good as mine" was my response when my wife asked me which way we should go.
We decided to just pick one and renavigate as we moved along. Soon after the initial decision, we realized that most of these trails, if not all, came together, eventually leading to what turned out to be the main trail.
After about 10 minutes, it became clear where to walk and quite impossible to get lost on the wrong trail. Although we were hiking at a fast pace, we were still cold. Wearing the long sleeves was the right decision.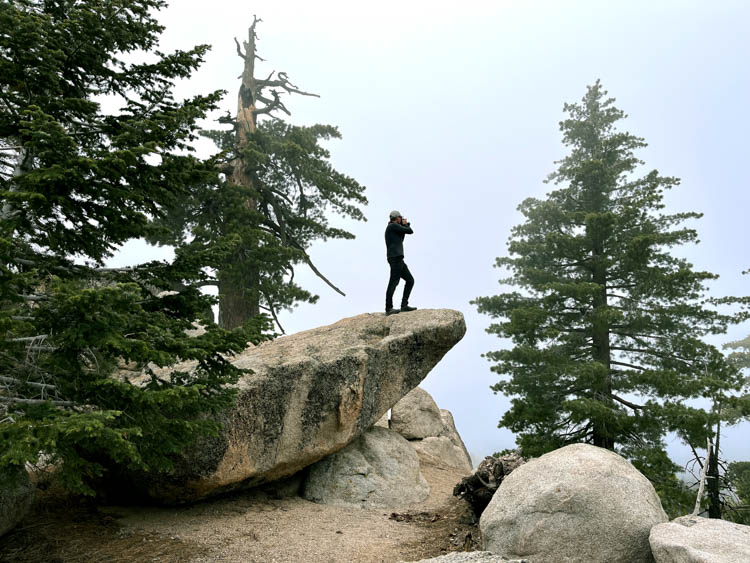 Breakfast Among the Pine Trees
About 30 minutes into the hike, we spotted a large rock to the right of the trail. Although I had already eaten a power bar and some grapes, my wife did not and had mentioned how hungry she was while parking the car earlier. My suggestion was to stop for a quick breakfast.
The rock was in a perfect sunny spot while the surrounding trees protected us from strong winds. While my wife was eating grapes, I fell asleep for a few minutes. Everything was so peaceful and quiet, just the way I  love it.
As we moved further up the mountain, we noticed an increasing number of large boulders. The rocks looked really beautiful and sometimes even a bit "out of place" since it wasn't really obvious to us how they got to where they were. And then the pine trees. Along the entire trail, we couldn't get over the beauty of the pine trees.
Obviously, as the trail name indicates, there are pine trees to see on this trail. But something about this pine forest was really special.
Maybe the way the trees looked? Could be the size of them? Possibly the way they were arranged? I can't really say what it was. I just know that it felt really special to me, particularly the larger trees.
Reaching the Half-way Point
About 90 minutes into the hike, we reached a campground in the middle of the forest. From this spot, it took us only 20 more minutes to reach "Grandview Junction", where different trails come together. This junction is located in front of "Grandview Point", which is considered the official end of "Pine Knot Trail".
Grandview Point offers an amazing and wide-ranging view of the San Bernadino high peaks. At least theoretically. As we approached Grandview Junction, we realized that we entered the exact altitude level where the fog started.
We made our way up the final and relatively steep incline towards Grandview Point and saw nothing. A white wall of clouds greeted us and only occasionally opened up a small window that revealed parts of the San Bernadino Mountain range.
The temperature also significantly dropped once more and both my wife and I expressed that we were really cold. Although we were obviously a bit disappointed to miss the great view, this did not really affect our overall mood.
Until this point, the hike was unbelievably beautiful. No stupid cloud could take that from us.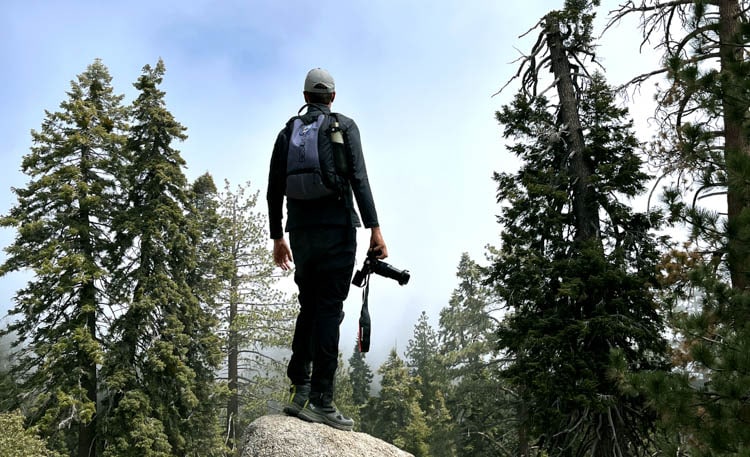 A Brief Detour on the Skyline Trail
As I was looking around, I saw some more large boulders to our right while facing the foggy wall between us and the San Bernadino mountains. Walking back down to Grandview Junction we followed a sign pointing towards "Skyline Trail". We decided to follow this trail for a while and to turn around when we got too tired.
The trail followed the mountain range all the way to the top and offered some breathtaking rock formations. The rocks were everywhere and were beautiful.
I could only imagine how this hike must feel on a clear day. Having a perfect view of the San Bernadino mountains while walking this path must be outstanding. And even in the fog, it felt great. It was somewhat mysterious. Not being able to see very far held the surprise of what was about to appear behind the next turn.
The fog also contributed to a very interesting composition in the pictures I was taking. Sometimes, I like to take "unusual" images. Everybody wants to have sunny pictures with clear blue skies. However, I like to appreciate nature in any way.
To me, there is beauty in everything. And that's exactly how my mindset works. I walked beside boulders, climbed them, took pictures of them and unexpectedly, almost fell off one of them.
The Homeward Journey
After 25 more minutes on the Skyline Trail, we decided to head back. We both started to get really tired and our feet hurt quite a bit.
Most likely due to the 10-miles uphill hike we did the day before. Just over an hour later we safely arrived at the picnic area of the trail's entrance. We also noticed that the temperature finally changed.
As promised earlier, we ended this hike with a nice romantic lunch below the impressive pine trees. We ate, smiled at each other and felt accomplished. In total, we hiked a distance of 11 miles in 4 hours. Are we done with this trail? No, of course, we are not.
We will definitely come back to see the San Bernadino Mountain Range while hiking the entire Skyline trail. Maybe we will also see you hiking the trail as well?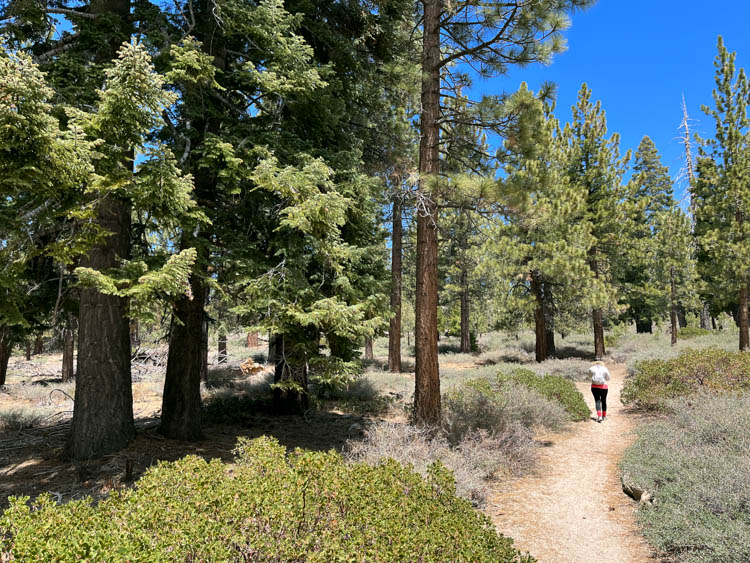 If You Go:
When it comes to planning a weekend doing a Big Bear Lake hike, the first thought should be selecting a hotel. Now here is the good thing: Big Bear Lake has so much to offer that you won't run into any problem finding a place that suits you.
We usually go for cheap accommodations, since we spend as much time outside as possible. Just taking a shower and sleeping in a bed never seems to justify the pricier places for us.
If you want to go all "nature", there are multiple campgrounds all around the lake. In fact, only 3 miles from the official Pineknot parking lot, you can spend your nights at Pineknot campground.
As for actual hotels, there are numerous choices according to your budget. Cheaper but still clean and nice places would be Motel 6 or Wolf Creek Resort. Pricier accommodations even include Spa/Jacuzzis (Castle Wood Cottages / Bluegreen – The Club at Big Bear Village).
Whether you are looking for budget, luxury or anything in between you really have it all. Plus location is not all that important because the lake is relatively small. Therefore, wherever you stay, you will never have to drive more than 15-20 minutes to get to wherever you need to be.
As mentioned before, the accessibility of grocery stores also allows you to get fresh food every morning before your hike. No need to stock up and find places with a fridge or kitchen. As far as I saw, prices are not more expensive than outside of a tourist area, so that is a big plus as well.
One thing I highly recommend, not only for this trip but for all hikes, is the All Trails App. This app is super effective when being used as a navigation tool during your outdoor activities. It does have a "paid version", but the free version is more than enough. All Trails has an intense library of hikes and is extremely helpful when being unsure while being out there.
If you want to get some information regarding the Adventure Pass you can check out the official website of the United States Department of Agriculture. They also provide a subsection that shows you exactly where to get the pass.
Book This Trip to Big Bear Lake
Start planning your nature-filled adventure to Big Bear Lake today. Get prepared with insider knowledge on the best hikes, hotel and VRBO options, local restaurant recommendations and more through TripAdvisor and Travelocity.
Plan even more fun by booking some unique California activities, expert-led tours and foodie experiences through GetYourGuide. Find more information and book your dates here.
For exclusive flight discounts, car rentals and vacation packages, check out CheapOair.
Author Bio: Thomas Später is an experienced backpacking traveler that specializes in adventurous trips around the globe. He has traveled to remote and exotic places, such as Namibia or Mongolia and focuses on landscape and wildlife photography to share the beauty of our planet with others. In 2021, Thomas published a (German) book about Overpopulation and overconsumption (Die Überbevölkerung). With his awareness of current global issues, he uses his travels to support particularly local hotels and restaurants to raise awareness for the nature and culture of his destinations.