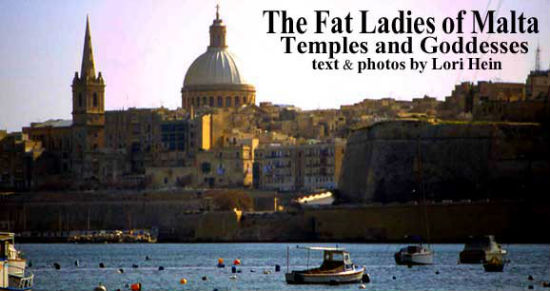 I steered our tiny Daihatsu rental, the toylike car we'd driven across Malta's network of narrow, stony roads, into the dirt parking lot near Ħaġar Qim and Mnajdra, megalithic temples set high above the Mediterranean.
I handed the parking fee to a man who looked like Popeye, his face grizzled by sun and sea spray, his teeth several short of a full set, and his sailor cap high and to one side, which called attention to his large walnut forehead.
He was delighted to see my kids, Adam and Dana, and he dug around in the pockets of his baggy green pants and produced two fistfuls of hard candy. Before we headed to the mystical structures, he promised to guard our car.
Then he pointed to the free toilets by the parking lot. "Don't use the toilets in the Ħaġar Qim Restaurant! You have to pay 50 cents each," he said, translating the Maltese lira usage fee into U.S. currency, which he thought we could better relate to.
After we saved a dollar and a half, we headed over a rise and were greeted by the magnificent sight of Ħaġar Qim and Mnajdra on a sweeping hillside above the sea. The kids took off down the path that led to the stone-age temple complex, older than Stonehenge and the pyramids at Giza.
Below the massive, 5,000-year-old limestone ruins, terraced vegetable plots ran to the cliff edge, and ship-shaped Filfla, Malta's smallest island, floated in the near distance. Gargantuan ocher boulders, cut, curved and shaped into rooms, passageways and sacred spaces, glowed gold in the sun, connecting me and other visitors through millennia to the people who once worshiped here.
Sitting in the field between the silent temples and the sparkling sea, I felt the tranquil touch of timelessness.
Malta, an archipelago of seven islands 59 miles (95 km) south of Sicily, has a rich history.
Even before the Phoenicians found it while cruising their Mediterranean world, Malta was home to an organized society of temple builders who are believed to have venerated the Mother Goddess, and erected Ħaġar Qim, Mnajdra and Ggantija on Gozo, the second-largest island in the Maltese archipelago.
Spectacular archaeological sites connected with the cult of fertility dot the island nation; some of the temples are themselves shaped like robust, pregnant women.
As we explored Ggantija, Gozo's "place of giants" thought to be the world's oldest free-standing structure, I said to Adam and Dana, "This room looks like a belly." The kids considered that for a nanosecond, then grinned at the wide space before them and staged a series of races from one side of the belly to the other. I'm sure the Mother Goddess smiled. Kids, modern or prehistoric, will be kids.
Malta's ancient temple builders celebrated their goddess in big, bold ways, but they also feted her on a small scale. They carved statues and statuettes of round, healthy women, and seven of these, including the famous and tiny — just 5 inches (13 cm) high — Venus of Malta, were found at Ħaġar Qim. The figurines are poignantly simple — stark, beautiful and unadorned, like the stony Maltese landscape.
Unearthed from their temple homes, most of these tiny statues of ancient Malta's "fat-lady culture" now rest in the National Museum of Archaeology in Valletta, Malta's capital, which is a World Heritage site.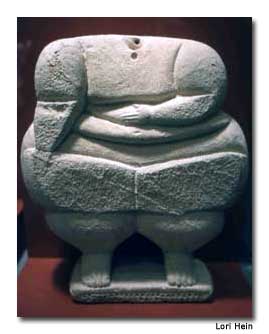 Construction of the museum — which boasts a vivid central ceiling fresco — began in 1571 as a residence for the Knights of Malta, a religious military order under its own charter established to provide care for poor and sick pilgrims heading to the Holy Land.
As you make your way through the building to view the exquisite exhibits, you walk atop sections of floor peeled back and replaced with Plexiglas to afford views of the Knights' centuries-old stone steps and vaulted chambers that now lie below street level.
Before we left the museum, I bought a copy of a Malta fat lady in the souvenir shop. She's white, headless and round. She now spends her days on a green marble tabletop soaking up sun that streams through my living room window. She shares the tabletop with another curio from my travels, a sculpture of a (Greek) Cycladic goddess, sleek, white and featureless except for her pregnant middle.
I have the girls facing each other so they can enjoy some goddess talk.
If You Go
The National Agency for Museums, Conservation Practice and Cultural Heritage
Official Tourism Site for Malta, Gozo and Comino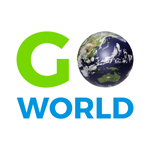 Latest posts by Go World Travel Magazine
(see all)