Editor's Note: This article was written before the recent health crisis, but Tybee Island is again welcoming visitors and many locations are reopening. Be sure to check Tybee Island's local guidelines before you go.
"So what do you think of our island?" the man beside me asks as we zip across the water.
It's a question I've been asked several times since arriving on Tybee Island, Georgia. The locals here — a quirky blend of artists, snowbirds, retirees and long-timers — seem intent on showing a good time to their visitors.
Tybee Island, Georgia
Located just 18 miles from historic downtown Savannah, Tybee Island is laid-back and unassuming. The tiny island, which is 3.5 miles long, has six miles of beach, making it a popular draw for Georgians.
Unlike the high-rise hotels and polished looks of nearby Hilton Head, South Carolina, Tybee Island is filled with beach cottages, white picket fences and quiet tree-lined streets. The combination gives off an innocent feel of yesteryear. Whether this was intentional or simply happened, I'm charmed by the island's small-town ways.
My daughter and I are on a girls' getaway. It's a special trip for us, for we are celebrating a milestone — my daughter's graduation from college. For me, this is bittersweet. I know that change is just around the corner in her life.
Traveling with Kids
Traveling with my kids has always been a priority for me. Spending time away from the busyness of life allows us to connect on a deeper level. I've been traveling with my daughter since she was just six months old, when I carried her on my back on a train trip through Europe. Since then, we've visited the hill tribes of Thailand, and sailed the fjords of Norway.
But this trip is different. Her next step is into adulthood. Now 22, she is almost the same age that I was when I carried her through Europe.
On this trip, we wanted somewhere with a slow pace, where we could relax, enjoy each other's company and try something new.
Tybee Island fit the bill perfectly.
Captain Mike's Dolphins Tours
Right now, we're soaking in the sunshine as we cruise in search of dolphins just offshore. Captain Mike's Dolphins Tours offers an hour-long dolphin cruise for just $15/person.
Within minutes of heading into the bay, we see dolphins — many of them. Some are in small groups, others just a mother and calf. We can't help but laugh with delight at their antics.
The cruise gives us a good look at the Tybee Island coastline, which is dotted with beachfront cottages. Some are tiny bungalows, others are four-stories tall.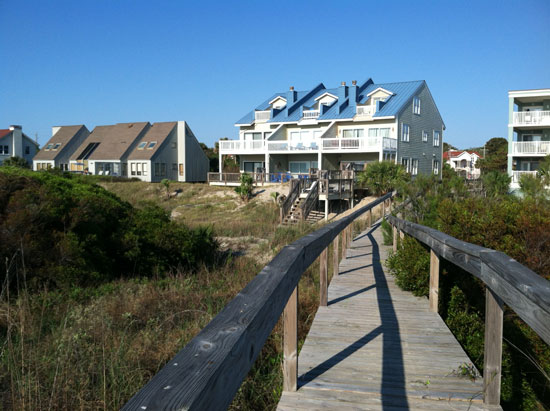 Where to Stay on Tybee Island
Beach cottages are one of the best ways to experience Tybee Island, and they are very popular with families. Vacation rental homes allow you to cook your own meals, which removes the hassles of always having to dine out and can save hundreds of dollars
Many Tybee Island cottages have their own private access to the beach; others are just a few short blocks away. This wealth of accommodations is a boom for visitors, but it's also a reflection of the island's pluck.
Like many places, Tybee Island has seen her share of hard times. In the mid-1990s, some of the island fell into disrepair. It got so bad that some visitors began to leave.
But in the late 1990s, the local residents took stock, and decided some changes were needed. They made purposeful improvements, and by the mid-2000s, visitors had come back and real estate prices were doing well.
Then came the recession in 2008, and islanders were hit hard. Many of the area's new beach homes had been built as retirement dream homes. The crashing economy changed all that, and many folks couldn't afford to retire at all. Real estate prices dropped, and many were in danger of losing their dream homes.
Oceanfront Cottage Rentals
That dark cloud had a silver lining for Tybee Island, though. Vacation home rental companies like Oceanfront Cottage Rentals, which manages 85 rental homes on the island, helped homeowners rent out and ultimately hold onto their homes. This provided Tybee Island with a wealthy inventory of vacation rental homes for visitors.
These beautiful homes are a plus for those planning family reunions or even weddings. The island has grown as a wedding destination since the completion of the Tybee Island Wedding Chapel.
Tybee Island Wedding Chapel
Originally built for the film "The Last Song," starring Miley Cyrus, the chapel has been lovingly converted into a full-featured wedding chapel, complete with colorful gardens, a fountain and thoughtful touches like stage lighting designed to make the bride and groom look their best.
Couples can get married at the beach or in the chapel, and then hold the reception at the chapel too. It has attracted couples from as far away as Ireland and Sweden, as well as many teenage girls who simply want to see the dreamy "Miley chapel."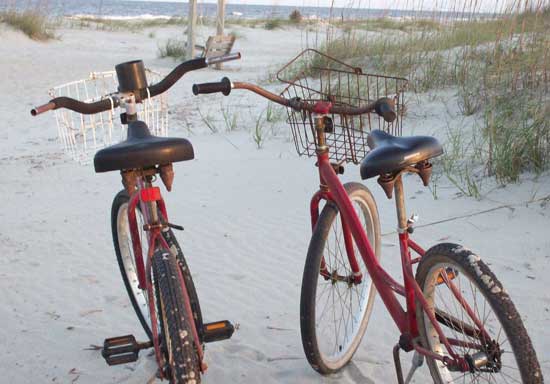 Shopping on Tybee Island
Not far from the chapel is an eclectic set of shops and galleries. Our favorite is the Seaside Sisters, which specializes in beach-inspired local arts, crafts and funky furnishings. You can go in with just $10 and come out with something unique.
Next to Seaside Sisters, we discover Funky Fish Outdoors, an unexpected, eclectic collection of art and gifts.
Biking on Tybee Island
Although we use our car for occasional trips, we use rental bikes to explore most of the island. The roads are flat, and although there are not many true "biking" trails, the island offers a marked bike path through quiet residential streets to get you where you need to go.
The bikes are especially useful when we head to Tybee Beach and the pier. All parking is paid in Tybee, but parking a bike costs nothing. We lock the bikes along a wide stretch of beach, which has lifeguards and full-facilities and walk the popular seashore.
One of the most beloved attractions on the island is the Tybee Lighthouse. Climb the 178 steps to the top, and you'll be rewarded with incredible views of the island. Even if you don't make the climb, it's still worth the trip.
The Crab Shack
On our last night on the island, we decide to treat ourselves and head to The Crab Shack, a local restaurant and icon. This sprawling dockside establishment has been a popular local favorite since 1990. Today, customers can still watch fishermen unload their catch at the former fishing camp.
The Crab Shack is famous for its hearty crab chowder and its huge seafood sampler platters. We order the sampler for two, but see when it arrives that it could easily feed more. It's piled high with steamed mussels, shrimp, crab legs, crawfish, corn on the cob, sausage and potatoes. It a seafood extravaganza, and the perfect way to end our time in Tybee.
The sun is setting along the coastline as we drive back to our cottage. As I watch a few lone walkers on the beach, a lump forms in my throat.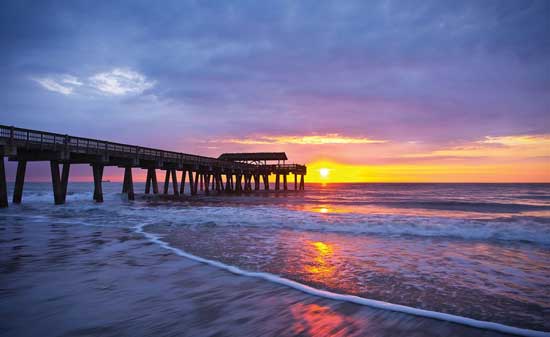 Tomorrow we'll return to our busy lives, and my daughter will begin her post-schooling life. Soon enough, she'll have a career and a place of her own.
As every parent knows, letting go is never easy. I can see still her as a toddler, splashing in the waves, and it seems like only yesterday that she and her siblings were building sandcastles on the beach. Such precious days go by so fast.
But then, in my mind's eye, I catch a glimpse of the future. I can imagine my daughter as a mom herself, chasing toddlers of her own across the sand while I watch happily from my beach chair.
Someday, I hope, there will be more family memories to be made on Tybee Island. Then I smile and sit back, taking in the last rays of sunset.
If You Go
Oceanfront Cottage Rentals
717 1st Street
Tybee Island, GA 31328
912.786.0054
Captain Mike's Dolphin Tours
808.242.0166
The Crab Shack
40 Estill Hammock Rd
Tybee Island, GA 31328
912.786.9857
Tybee Island Tourism
802 First Street,
Tybee Island, GA 31328