"Siesta Key is the most beautiful beach in the world. I walk over to the beach here each day for moon set and sunrise. There is quartz sand you can walk on and it never gets hot, but the water is warm. So you can go barefoot walking through the water and dance around in the morning. It's outstanding."
If I move to Sarasota, Florida, these will be among the reasons why:
1. It's different than its' neighboring cities
Sarasota's location may be among the sleepy sunset cities along the "retirement coast" on Florida's Gulf of Mexico, but it is not like the others in that it is vibrant, active, and has cultural opportunities. Sarasota is not entirely tourist transient, but also has plenty for vacationers to do. It's not shabby – but it is not snobby, either. Sarasota's location and downtown cityscape next to the marina district and the sea reminds me a bit of Monaco.
2. Sarasota's SRQ airport is right in town.
"Sarasota is paradise and we have nine carriers of service with Delta being our largest carrier," said Rick Piccolo, CEO and president of the Sarasota/Bradenton International Airport. "We were up 44-percent this year so we're one of the fastest-growing airports in the country. We did two-million passengers last year and our growth looks like it will continue. Sarasota has grown by 20,000 people per-year in the past six years. We work hard to keep the level of passenger convenience where it is. We're one of the nicest airports in the country.
3. Traffic management improvements.
With the aforementioned population growth plus the tourist influx, driving in many Florida cities can be a stressful, congested concern. Recognizing this, Sarasota's local government has worked to improve roadway infrastructure with traffic management techniques such as improved bridge access and ferry service to popular St. Armand's Circle; smart phone apps for downtown parking meters; widening roadways including the Hwy 41 Tamiami Trail; and the construction of roundabouts at frequent choke points will presumably help.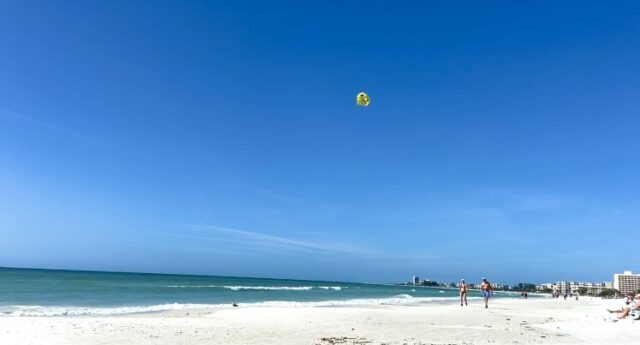 4. Siesta Key.
Civic sophistication is appreciated, but so is the Florida feel of oyster bars and shoe-less beachfront. Siesta Key is Sarasota's "let your hair down" suburb…and its long, broad beach has been described as one of the world's best.
"I walk over to the beach each day for moon set and sunrise. Siesta Key's beach is quartz sand instead of pulverized coral, so it never gets too hot, but the water is warm. So, you can go barefoot walking through the water and dance around in the morning," said Linda Becker, a snowbird from Michigan who books in for three months at the cute and casual Captiva Beach Resort.
The charming, convenient hotel is steps from the beach and bars such as the indoor/outdoor Crescent Club.
Patrick Shine is chief amazement officer of The Hospitality Advisor, the group which renovated the retro-Florida, art deco-style Captiva Beach Resort recently.
"We are a boutique hotel with 19 suites – each has a kitchenette. It's very laid-back with plenty of activities nearby, including on-site bocce ball and a heated swimming pool."
5. Raff Perna's "Clasico."
The artsy vibe and people-watching are both colorful inside and outside this fanciful, casual corner restaurant in a downtown Sarasota historic building which since 1927 gathered people as a hotel and then bookstore.
A customer spontaneously performed on Clasico's street side piano for a gathering crowd during one of my visits. During another drop by, Cuban street artist Lazaro Morera set up his easel on the corner of Main and Palm to paint Clasico's red umbrellas and accents.
"'RED' is our motto: 'relax, eat, drink,'" said Perna at a sidewalk table while we sipped red Campari and sodas from champagne glasses and nibbled from "plateau de fromage:" three cheeses, fig compote, honey toasted pistachios, and charcuterie.
6. Freedom Boat Club.
It was Perna who walked me over from Clasico to Marina Jack's harbor to show me Freedom Boat Club – the easiest way to go boating on a regular basis without owning a boat.
For an entry and then monthly fee, Freedom Boat Club makes its fleet available to its members at a moment's notice or less. Make a quick call and moments later you're on Sarasota Bay at the helm of the watercraft of your choice – a deck boat, pontoon, or sailboat – cruising, fishing or sailing.
Return the boat to a waiting dock crew who will moor the boat and bill your fuel usage on an app while you're walking into Marina Jack's, Clasico, or anywhere you wish.
7. Fun Boat Tours.
If you don't want the worry of captaining your dreamboat, Fun Boat Tours will take you on a comfortable 40-foot cruiser with no more than 40 passengers off Siesta Key and into the sunset for $50, including all the beer and wine you wish to sip and all the dolphins you can stand to see jumping alongside the boat.
"The dolphins love to show off," said first mate Jenna, an Ohioan who moved to Sarasota for the gig she has, which captain Kevin Hagerty says is a dream job.
"I don't work for a living I run a boat," said Hagerty, who captains eco-cruises all day looking for manatees and roseate spoonbills while offering snorkeling, paddle-boarding, and floating trips through the mangroves. He and Jenna serve donuts on board in the mornings.
Fun Boat also goes fishing – taking up to six people – beginners or experts – 20-30 miles out into the Gulf of Mexico.
"Pound for pound snapper are the most fun to fish for. People like to catch grouper, too, because they are very big," said Captain Josh Pritchett, who provides all the gear. "All you need to bring is sunscreen."
8. Varied dining choices in different settings.
While Marina Jack's draws the waterfront diners, the Sarasota area is dotted with dining options such as Fleming's Steakhouse for the classic, culinary carnivores and corporate crowd.
Just around the corner is a tiny, intimate spot called Andrea's – serving "the art of Italian food and wine." The small staff seemed to know each person who walked in during the two evenings I spent sampling handcrafted dishes by Chef Andrea – who also personally visited each table – including "Mama's Sunday Pasta:" rigatoni with short rib, sausage and pancetta Andrea learned to make at family dinners in Italy's Piedmont region.
Other international experiences include Rodizio Brazilian Grill near the new Comfort Inn and Suites which is just off I-75.
While serves will carve varied types of beef, chicken, ham and lamb to your heart's content (or your ticker's discontent), some diners come just for Rodizio's extensive salad, soup and sides bar which spares no expense in tastes of Brazilian culture.
For Spanish and Cuban fare in an authentic, colorful, intricate vibrant setting, Columbia, an extension of Florida's longest-serving restaurant, is right around the corner from the Lily Pulitzer store with open-air and indoor seating in St. Armand's Circle.
Regulars swear by the 1905 salad; the yellow rice, seafood paella, prepared traditionally in an iron skillet, is a Spanish specialty.
9. The Ringling Museum of Art.
On a morning I was drawn to another splashy walk on sunny Siesta Key, my better angel kept nagging me to visit Sarasota's Ringling Museum of Art. Thankfully I listened to my inner-voice and soon found myself walking the grounds of what can only be described as a 66-acre gift from circus impresario John Ringling and his wife Mable in 1930 to generations of mankind.
I immediately regretted every time I'd ever been to Sarasota without spending a little time at the Ringling. Strolling the tree-covered pathways, manicured courtyards, rose gardens, art galleries, and waterfront of the Ringling campus is a sublime, stimulating experience with eye candy for all ages.
Children will not be bored – not will those unacquainted with the arts. Iconic sculptures, including a 19th century cast of Michelangelo's David and dramatic paintings by the likes of Peter Paul Rubens are among the large collection; and the grounds themselves are reminiscent of a stroll through a European estate.
The extensive, lighthearted circus museum is the greatest on earth, and you an even tour Ca'D'Zan – the Ringling's historic home.
10. Van Wezel Performing Arts Hall
The landmark concert venue is directly on Sarasota Bay and its purple, oddly shaped exterior has been drawing curious looks from first-time visitors for 50 years.
Frank Lloyd Wright's widow suggested the color; architect William Wesley Peters used took the shape of the building from the appearance of seashells. There is a grand foyer with views of the bay and a sunset terrace.
Some concerts are held under the stars, and visitors The Sarasota Orchestra performs in the Van Wezel's 1,700-seat intimate theater, and in 2020, Paul Anka, Lewis Black, John Fogerty, Michael Feinstein, Josh Groban, Harry Connick Jr, Itzhal Perlman, the Pointer Sisters, and others will take the stage.
Travelers coming for shows might consider the adjacent Hyatt Regency Sarasota or the new Embassy Suites across the street.
Michael Patrick Shiels is a radio host and travel blogger. Follow his adventures at GoWorldTravel.com/TravelTattler. Contact Travel Writer Michael Patrick Shiels at [email protected]
Latest posts by Michael Patrick Shiels
(see all)