"Be very quiet," our guide says, pointing to a large nest in the mangroves. "You might just see him."
We're on a kayaking tour with Beach Bums on Anna Maria Island, a tiny barrier island on along the Gulf Coast of Florida. The sun shines brightly in a clear blue sky, and golden sand stretches along the beaches. Clear water makes it easy to see horseshoe crabs, oyster beds and lots of sea grass while we kayak along a fringe of red mangroves.
Our guide has pointed out a baby great blue heron in a large bird rookery. Roseate spoonbills, blue herons and white egrets can also be seen.
Edging around the rookery, we see the large dark gray fluff in a platform nest in the trees. He can't fly yet, but he eyes us warily as we float past, trying to conceal our excitement.
Kayaking around in the gulf coast waters, we decide to cool off with a dip in the 90-degree waters. It's just the right temperature for a little swim.
Anna Maria Island
Kayaking is just one adventure during our trip to Anna Maria Island. Only 2 miles wide, the tiny barrier island off the Gulf of Mexico is an excellent place to enjoy the great outdoors.
A 2.5-hour drive from Orlando, 45 minutes from Sarasota and an hour from Tampa, Anna Maria Island is worlds apart.
Old Florida lives on here, with old-fashioned fishing piers, hometown restaurants and local shops. There isn't a single big-chain hotel, and building restrictions keep the tallest building at just three stories.
Anna Maria Beach Resort
Anna Maria is popular for family vacations. You will find a variety of vacation rental homes, boutique hotels and inns along the island. An instant favorite of ours is the newly remodeled Anna Maria Beach Resort, a boutique property on Holmes Beach. The renovation retains the Old Florida charm, while adding modern touches. Comfortable beds and colorful design accent each of the 31 large rooms.
All the rooms overlook the cozy pool with a view of Holmes Beach. Hotel-provided chairs, towels and umbrellas make it easy to enjoy the sand and crystal blue water. Nesting sea turtles often lay their eggs on the beach.
One morning, we sit outside with coffee on our private balcony and watch as local volunteers cordon off new nests the turtles have laid overnight to protect them.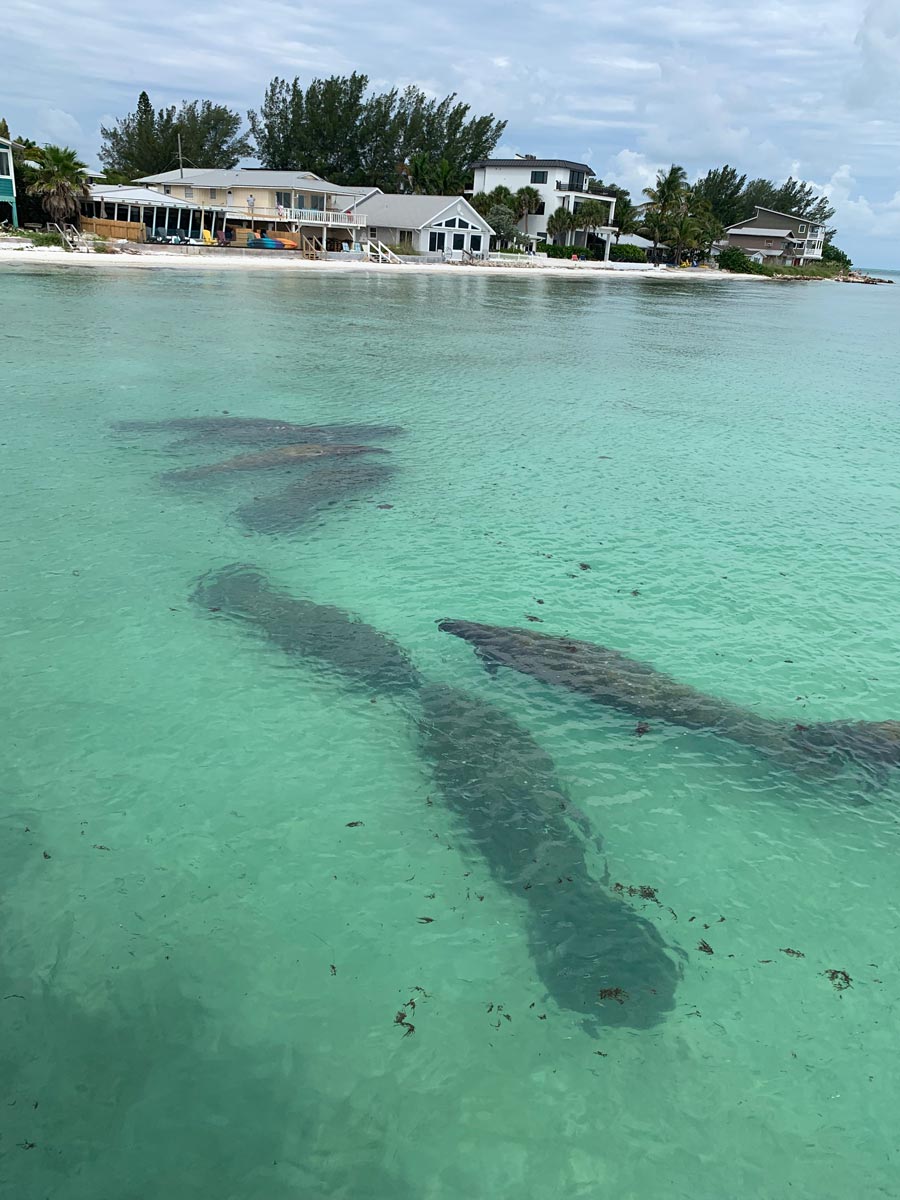 Beaches on Anna Maria Island

There are many beaches to explore on the island, each with its own amenities. Holmes Beach, where we are, offers views of the gulf. A family favorite is Manatee Public Beach, which has a concession stand, picnic tables, grills, showers and a playground. There are lifeguards on duty and a café on the beach.
Anna Maria Public Beach is also kid-friendly, although free parking can be a challenge because of its popularity. Like other beaches on the island, it's clean and has soft golden sand with great local restaurants nearby.
While the sea is popular with all ages, be sure to take care when entering the water. Watch for riptides and note the water conditions before going out. Dolphins and manatees can sometimes be seen from shore.
Horseback Riding in the Sea
"She loves to blow bubbles in the water," says our riding guide, pointing at her horse. I've never seen a horse walk straight into the water and blow bubbles, but that's what this playful horse is doing. She's just one of the water-loving horses at BeachHorses, a riding outfitter on the Gulf Coast of Florida near Bradenton and Anna Maria Island.
Not only do we get to ride along the beach, but the horse heads into the water, too. The sea offers the horses relief in the summer heat. They splash through the water, then swim out farther, drawing air into their lungs for buoyancy. I feel weightless as we ride through the water. What a fun way to spend the afternoon!
Dining on Anna Maria Island
A full day of activities can work up quite the appetite. Thankfully, this tiny island has many excellent restaurants, from family-run establishments to fine dining.
Stopping in at The Donut Experiment is a must for sugar-happy breakfast fans. You can have your doughnuts made to order. Select your own icing and topping to create your masterpiece — everything from simple glazed to fully-decked maple bacon. My favorite is vanilla icing with chocolate chips; Ben's is the Reese's pieces. Another great breakfast find is Ginnie and Jane's E's Café, where we join the quick-moving line of locals and visitors for huge, affordable breakfast plates.
Over the next few days, we visit several recommended restaurants, and we're not disappointed. Situated on Historic Bridge Street Pier and decorated in a nautical theme, Anna Maria Oyster Bar is a popular, family-run establishment that fits right into our beach vacation. The covered outdoor patio provides a refreshing breeze, with views of the water and marina on three sides. Entrees of fresh seafood and American favorites are affordable and tasty.
The Waterfront Restaurant located in a 1922 cottage house has sweeping beach views. Sipping island cocktails and eating grouper tacos and jerk-style Gulf shrimp on the patio are a must. The restaurant does its own butchering, smokes its own salmon and even bakes its own bread.
Not to be missed, Eliza Ann's Coastal Kitchen offers popular dishes including wood-grilled oysters, crab hushpuppies and pecan-crusted snapper. Located at Waterline Marina Resort & Beach Club, the restaurant specializes in Southern-style seafood. A winning combination we enjoy is the seared sea scallops and pork belly on butternut squash.
Anna Maria Island has attracted top culinary talent, and Chef Gerard Jesse at The Seafood Shack Marina, Bar & Grill is one example. Born in Germany, Chef Gerard went to culinary school in New York and gained training in New Orleans. He went on to work at top restaurants in the region, including Ritz-Carlton, Sarasota.
His expertise is evident in dishes like blue crab cakes with key lime aoli and coconut shrimp with pineapple sweet chili sauce. Truth be told, we also like the restaurant's signature Shack rum punch, although a word to the wise – drink slowly.
A visit to any island isn't complete without having at least one toes-in-the-sand dinner. For us, that meal is at the Gulf Drive Café on Bradenton Beach. Anna Maria Island is famous for its sweeping sunsets, and tonight's should be a beauty. We watch with delight as Mother Nature paints bright orange and yellow swathes across the sky. Then the sun slowly sinks and disappears into the sea.
If You Go
For more information on Anna Maria Island, Brandenton and Long Boat Key, see https://www.bradentongulfislands.com/
Latest posts by Janna Graber
(see all)