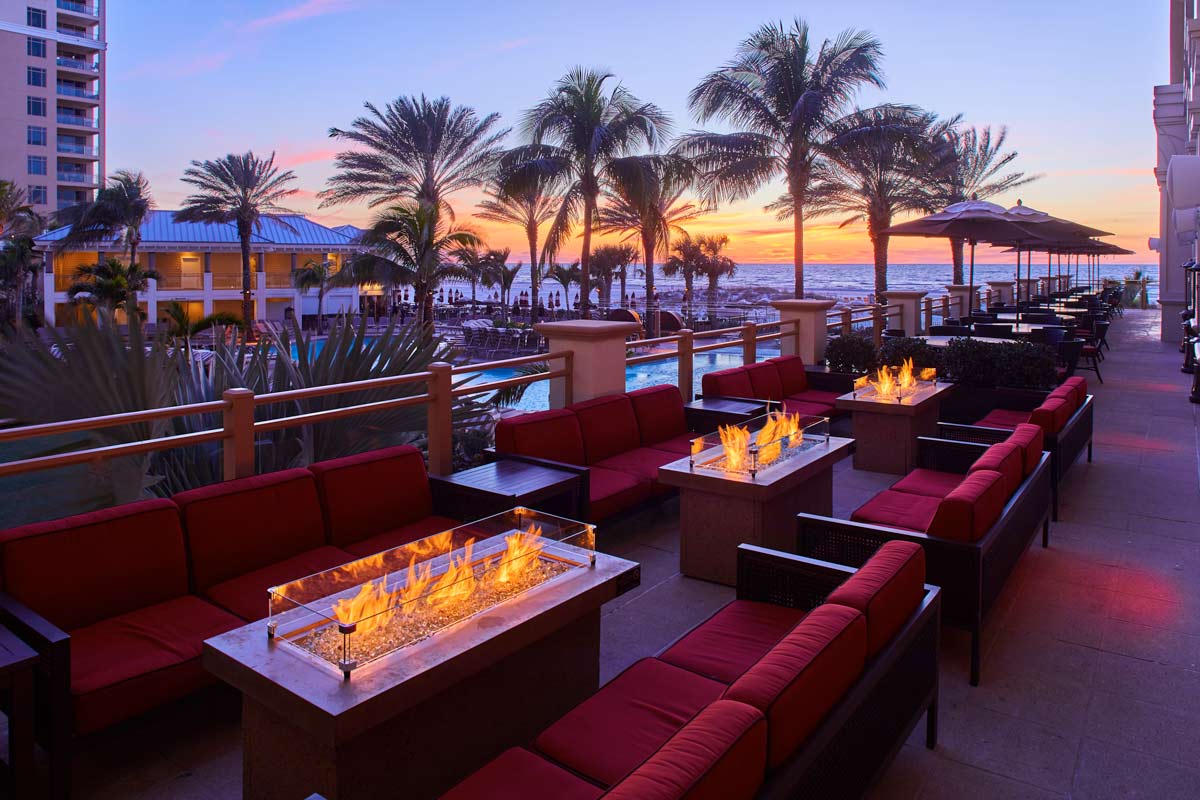 In 1977, Ed Hunter, owner of the Clearwater Beach Hotel, said of his popular beachfront property, "While we're here it will always be the place of no hurry, no worry." In 2005, Hunter's rustic hotel was torn down, making room for a new 253-room, eight-story resort.
Sandpearl Resort
While this new high-rise removed something from the past to make room for the future, it still maintains Hunter's no-hurry, no-worry philosophy. With that in mind, Sandpearl Resort offers guests historic Florida charm with modern amenities.
Environmental Stewards
Sandpearl, built for modern sustainability,  was the first resort in Florida to attain Silver LEED-certified status and is a member of the Florida Green Lodging Program.
The thoughtfully-designed building provides energy efficiency, water conservation, and natural resource conservation. One of these touches is that when you open the balcony door, the air conditioning automatically shuts off to conserve energy. And, with the amazing views and cool breezes, you'll have the door open quite a bit. No fussing with the thermostat.
A View With a Room
You can't go wrong with a beach vacation in Clearwater, Florida. Clearwater consistently ranks as one of the best beaches in the U.S., and Sandpearl makes this spectacular area a focal point with rooms and suites that overlook the Gulf of Mexico to the west and Clearwater Bay and Harbor to the east.
All rooms have luxurious amenities, from the bedding to the toiletries, and many have balconies to enjoy the amazing views.
Vacation begins at check-in, when the Sandpearl staff offers guests a welcome glass of Champagne, and continues as guests take in the spectacular views of the pool and Gulf from the grand lobby. A player-piano fills the hall with music, much of it from the bygone era of the Clearwater Beach Hotel. Abellhop will take you and your luggage to your well-appointed room. Sandpearl has everything from standard rooms to junior suites and family suites.
The Gulf-facing king bed junior suites are the right size for couples looking to escape, as well as small families looking for fun. The suites have large bathrooms, Gulf-view balconies and cozy sitting areas with queen-size sleeper sofa. The bathrooms have an elegantly shuttered pass-through above the Roman-style tub that can be opened to take in the water views or closed off for privacy. The suites also have spacious closets.
R & R = Relax and Renewal
The Sandpearl Spa is more than just massages; it's a full-service salon with a nail and skin-care services, along with body treatments and relaxing facials. Pedicures and manicures come with upgrades such as an organic honey glaze treatment, and all services come with a complimentary mimosa cocktail. Get a single treatment or enjoy a half- or full-day of pampering with a multi-treatment package.
Incredible Edibles
When it comes to dining at Sandpearl, there's fast, fun and refined to choose from. Caretta on the Gulf is the only AAA Four-Diamond restaurant on Clearwater Beach with an elegant vibe and views. Caretta, named for the loggerhead sea turtles that swim these waters, has seasonally fresh seafood and organic vegetables. Cap any meal with the decadent dessert, A Chocolate Story in Nine Chapters. It has nine variations of chocolate, including delicate sponge cake, a dark and white chocolate bar, and creamy sorbet.
Named for a former owner of Clearwater peninsula, Tate Water Grill is a casual coastal beach pub featuring fresh seafood such as grouper nuggets and crab cake sandwiches. The bar offers a variety of colorful  cocktails, including six different mojitos, seven margaritas and 12 frozen slushies. It also has tasty zero-proof mocktails for kids and non-imbibers.
For quick and easy meals on the go, The Marketplace has a variety of snacks, sandwiches, and salads, along with sundries and small grocery items. The espresso counter features Starbucks coffee.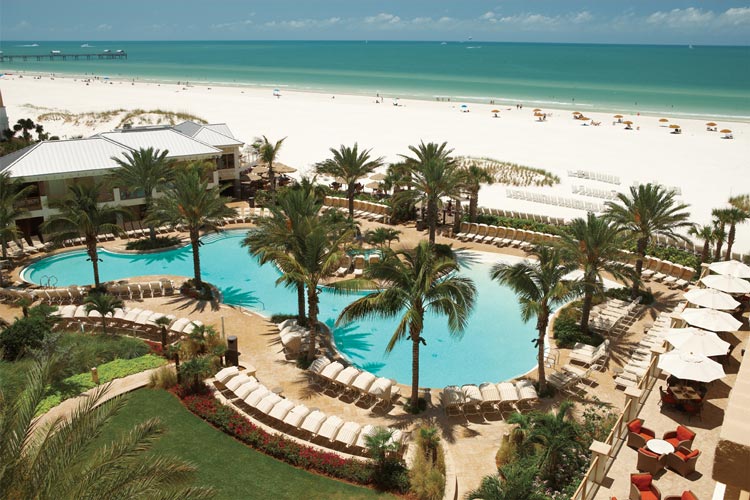 Land & Air, Sea & Sky
The resort is designed to emphasize the natural beauty around it, beginning with a stunning curvy pool that flows in and out of its surroundings with bright, active areas alongside quiet, shaded places tucked in and around. The lagoon-style main pool has a zero-entry area. There are private cabanas for rent with refrigerators, couches, HDTVs and food service from Tate Island Grill. All guests can enjoy Dive in Movies offered nightly during vacation season. If you want to feel Florida between your toes, Sandpearl has 700 feet of white sand beachfront. Jump in the Gulf Coast waves, build sandcastles or sit back on the resort's beach lounge chairs and cabana rentals. Be sure to stay after sunset for family s'more nights by the fire pit.
Clearwater, Florida: More Than a Beach
While Clearwater is the perfect Florida beach getaway, don't forget to go out and see the town as Sandpearl has a prime location on Mandalay Avenue near the Pelican Walk Plaza and Pier 60. Enjoy an abundance of surf and swim shops, bike rentals, bars, bistros, parks and seafood shacks. Snack on the Gulf's best grouper sandwiches at the classic Frenchy's Original Café. Sip on Florida craft beers and cocktails at Surfside Taphouse. Sample sushi, dumplings, noodles and more at the hip smart Sekushi Bar. Ride rental bikes to Pier 60 for seaside sunsets. You won't run out of fun here.
Just over the bridge on the Clearwater Causeway is Clearwater Marine Aquarium, a place made famous by the 2011 movie "Dolphin Tale." The movie recounts the story of Winter, an injured dolphin, and the people at the aquarium who helped her. For more than 20 years, dedicated staff and volunteers have rescued sick and injured marine life, including turtles, stingrays, sharks, otters and dolphins, providing rehab and then releasing them back into the wild.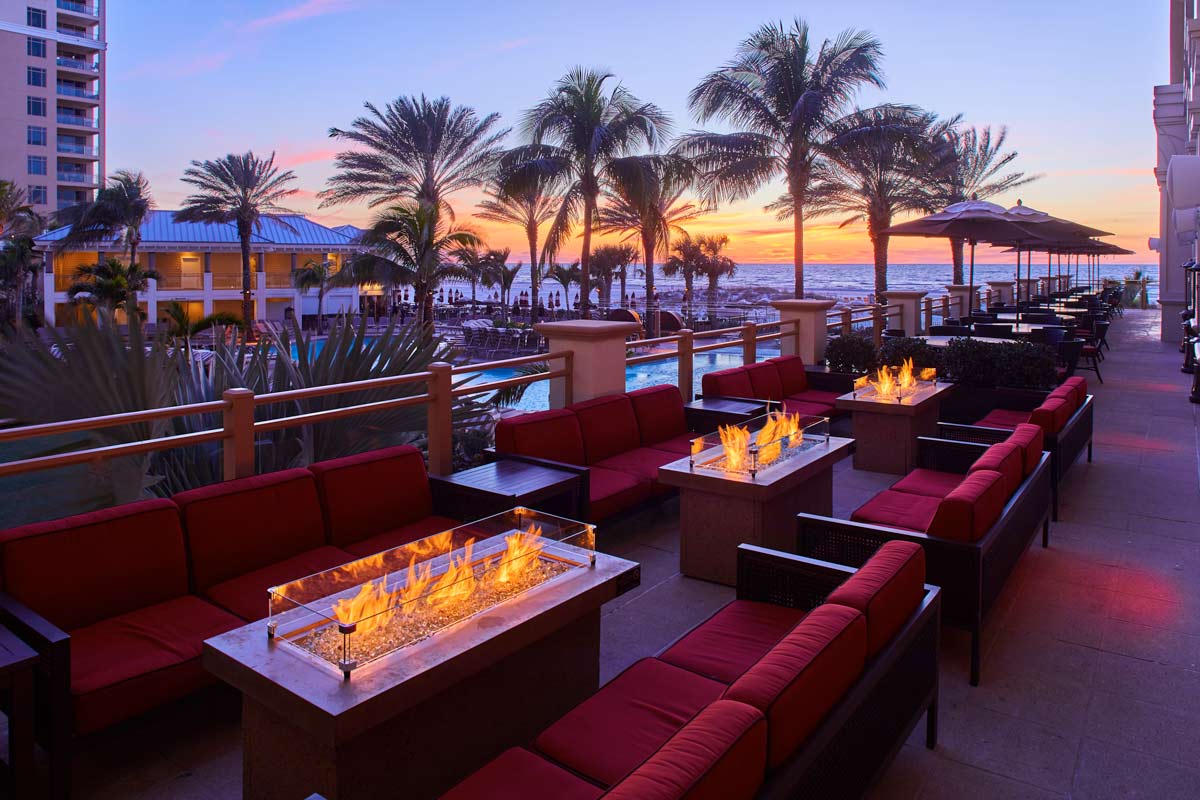 Sometimes creatures like Winter – who lost her tail after getting caught in a crab trap – are unable to return to the wild so the aquarium allows them to live out their lives in this unique place. Visitors can see the inhabitants up close, hear their stories and learn about protecting Florida's marine life, an eye-opening and educational experience for all ages.
While it may be bittersweet to leave this coastal paradise, Sandpearl Resort's hospitality and location will always draw you back. Like Ed Hunter also said all those years ago, "Thank you for today and may we wish you many happy returns."
500 Mandalay Ave., Clearwater Beach, Florida, 33767
Resort 727-441-2425, Reservations 866-384-2995
Nearest airports are Tampa International Airport and St. Petersburg/Clearwater International Airport
Author Bio: A member of the North American Travel Journalists' Association, Carrie Dow is a freelance travel writer based in Lakewood, CO. She is the local editor of DrinkDenver, a part of The Drink Nation, a website devoted to finding the best happy hours in cities across the U.S. She is also the founder of What's Pawsitive, a website covering animal welfare issues and animal-based travel around the world.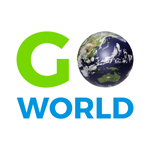 Latest posts by Go World Travel Magazine
(see all)