To say that I was perplexed by my boyfriend's decision to move to Birmingham, Alabama for a two-year fellowship is an understatement.
Born in America but raised in Syria, I would have been less surprised to hear that he was moving to Bahrain than to the heart of America's deep south.
Nevertheless, I've since been utterly charmed by Birmingham, endearingly called The Magic City. It has deep ties to culture and history, an up-and-coming food scene and spectacular nature not too far from its skyscrapers.
My most recent visit was during the last weekend of February 2022. During this time Alabama's spring weather made an early and much-appreciated appearance.
Arriving in Birmingham, Alabama
If you're flying into Alabama, chances are you will arrive at Birmingham-Shuttlesworth (BHM), Alabama's largest airport. BHM is a modern airport with one hundred daily flights to fifteen different major cities.
Furthermore, it is endowed with all the standard amenities I would have expected from a large airport. This includes free wifi, food, kids' play areas, nursing rooms and charging stations.
The weather and temperature varied during my stay. I experienced lows at night in the high thirties and highs during the day into the seventies.
I packed the kind of clothing that in New England I can't dream of wearing until May. But I also brought along a denim jacket and a pair of sneakers I didn't mind getting wet.
Transportation in Birmingham
One thing I realized very quickly is that although Birmingham is a relatively small city (a population of just over 200,600 as of 2022) it's not very walkable. The good news is that its roads and highways are straightforward to drive.
Also, everything is no more than fifteen minutes away by car. The airport, for example, is just a fifteen-minute ride from Railroad Park, the Central Park of Birmingham.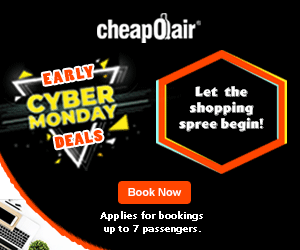 If you don't have a car, Ubers and Taxis are readily available for pick-up and drop-off at BHM. Plus, the city of Birmingham provides an on-demand ride-sharing public mobility called Via, for the unbeatable price of a flat $1.50. Just take a look at their map to make sure your pick-up and drop-off points are within the serviced areas.
As if all of the above wasn't enough, Birmingham also has shared micromobility services. They may not be the most affordable long-term option but they are certainly the most fun. Through the Gotcha or Veo app for smartphones, you can rent bikes plus stand-up or sit-down scooters.
My boyfriend and I cheated the system by both riding on the same stand-up scooter. This was great until we hit a hill. The scooter lost its battery super fast because of our combined weight. We had to walk it to the nearest scooter parking.
What to do in Birmingham, Alabama: Day 1
Breakfast and a Morning Stroll
I flew in on a Friday night and we hit the ground running on Saturday Morning. We started with breakfast at The Red Cat Coffee House on first avenue south. The cafe serves all-day breakfast, artisanal coffees, smoothies plus light lunches like soups and sandwiches.
This is a great place to try some southern breakfast favorites like grits. I loved the modern farmhouse style of the interior and their outdoor patio with a view of Railroad Park across the street. On sunny days the metal tables probably get hot very fast, but it was perfect for our February morning.
After a quick bite, my boyfriend and I finished our to-go Himalayan Latte and Blackberry Coldbrew drinks as we strolled through Railroad Park.
This green space stretches across 19 acres of Birmingham's downtown. Known familiarly as "Birmingham's Living Room," the park is a popular space for recreational activities, family excursions, events and concerts.
Even when there isn't an event going on, it's easy to enjoy its nature, plentiful seating areas and beautiful bodies of water. There is a lake and many ponds and streams. The Park is normally open between 7 am and 11 pm.
Rotary Trail
Just two blocks east of Railroad Park is Birmingham's Rotary Trail. This is a railroad track turned into a trail for walking, running or biking. It runs four blocks and is surrounded by lovely green landscaping. The trail rises and dips independently from its urban surroundings providing a unique view of the city.
We followed the trail to a sculpture called "Frank's Table" honoring Frank Sitt, a legendary Birmingham Chef who owns several well-known Birmingham restaurants. However, the most exciting part of the Rotary Trail for me was its start.
The beginning of the trail is marked by a tall (and highly Instagram-able) metal arch that reads "ROTARY TRAIL in the MAGIC CITY". If you're only going to take one picture this weekend, this is the spot.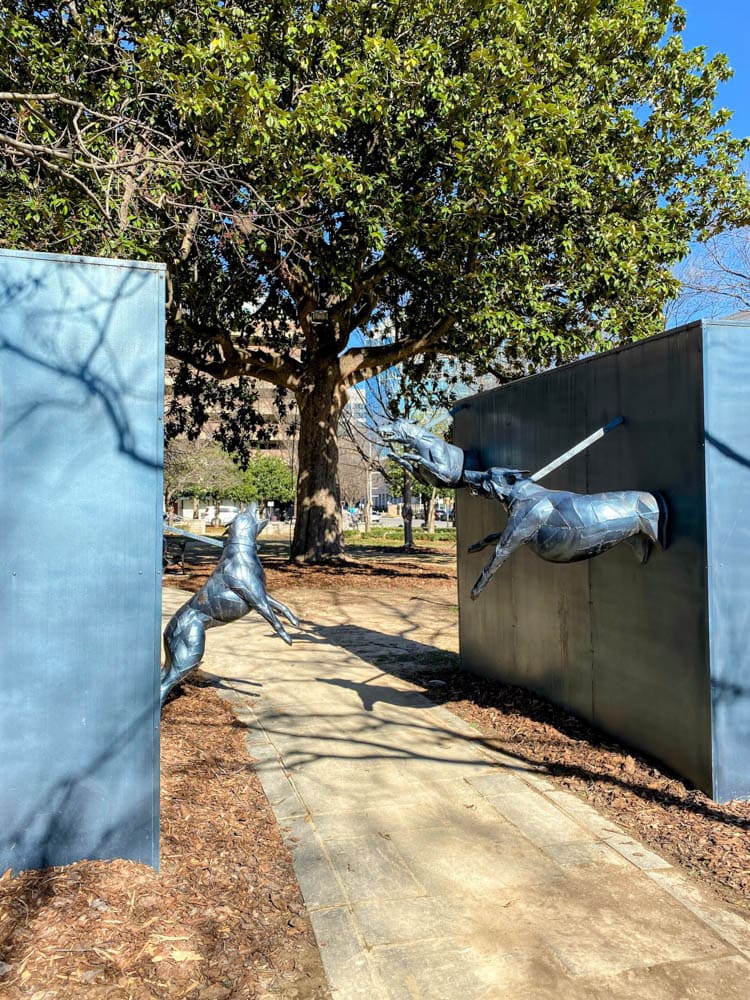 Southern BBQ and the Moving Kelly Ingram Park
After the enjoyable stroll, we doubled back to our car and got lunch at Cook Out. It's a fast-food joint renowned throughout the American South for its BBQ, burgers and a long list of milkshakes. We picked up our food at their drive-through and picnicked at Kelly Ingram Park.
The Kelly Ingram Park is the historic center of the 1960s American Civil Rights Movement. It's a site forever remembered for its role in African Americans' fight for human rights.
Also, it's the landscape of the infamous footage depicting the brutal police response unleashed upon protesters. This included attack dogs and fire hoses.
The park now displays sculptures and monuments throughout its four acres commemorating the African American community's heroic stand. One of the monuments is both striking and heartbreaking.
Statues of three dogs lunge toward passersby on the trail, an eternal reminder of the police dogs that attacked protesters less than six decades ago.
Though we preferred exploring the space on our own, it can also be viewed along with a free audio tour accessible by mobile phone (call 205-307-5455).
Taking in Some Art
Kelly Ingram Park is just a ten-minute walk from Birmingham's Museum of Art. Founded in 1951, the museum boasts more than 27,000 ancient and modern American, European, Asian, African, Pre-Columbian and Native American art pieces.
We loved walking through its outdoor sculpture garden. I also fell in love with the waning light and depth of "Looking Down Yosemite Valley, California," a 1965 oil painting by Albert Bierstadt. The museum is free (including parking), so I encourage you to make a small donation when you get your ticket.
According to Google Maps, people typically spend two hours in the museum. However, my boyfriend and I were there for more than three.
Nothing makes me hungry like an afternoon on my feet in a museum, so we headed for dinner as soon as we left the museum.
Slow Food and Fast Nightlife
We felt like treating ourselves, so we'd made a reservation at Cafe Dupont, an upscale farm-to-table bistro with a unique American South and French fusion menu. Here you can find traditional buttermilk fried chicken and duck bolognese on the same menu. We loved every bit of it.
The restaurant, whose owner and chef is the renowned Chris Dupont, embodies the slow food philosophy. The menu emphasizes locally grown produce and traditional regional recipes.
Unlike Boston, where everything closes by 10 pm, especially during the winter, Birmingham has an incredibly lively nightlife for all tastes. After dinner we felt like it was still too early to retire, so we headed over to The Garage.
The Garage is a bar loved by locals for its beer, wide variety of sandwiches and rustic setting. I especially loved their outdoor space. It has the look and feel of a magical courtyard, with mismatched furniture, Greco-roman sculptures, tangled ivy and wrought iron gates.
What to do in Birmingham, Alabama: Day 2
Breakfast in a Castle
Since our Saturday was very urban, Sunday we decided to start our day in the English Village. This is a charming neighborhood just south of the city. We got breakfast at Continental Bakery, a European-style bakery and pastry shop with a light lunch menu.
They describe themselves as "a medieval shop, where handwork and skill come together […] to make the most authentic European bread in the southeast".
The bakery is in what looks like a small medieval castle, tower and all. The interior space is very small and doesn't offer much seating. We got lucky and grabbed a table outside (thank you again, Alabama sun).
A Mammoth Statue, Epic Views and Birmingham's History
After breakfast, we headed over to the Vulcan Park and Museum. What exactly is Vulcan? It is the biggest cast-iron statue in existence. Furthermore, it is the pinnacle of an observation tower at the top of Red Mountain.
The statue is a representation of the Roman god of fire and ironworking. It was designed by Italian artist Giuseppe Moretti to commemorate Birmingham's origin and growth thanks to the iron and steel industry.
According to the website, it is made from 100,000 pounds of iron and is 56 feet tall. This is the height of just the statue, not including the observation tower. Admission tickets are $6 plus tax for adults.
This includes access to the observation tower, museum and the surrounding park. Each section has different opening hours, so make sure to check their website for the most updated visiting times.
The museum is deceptively small so we thought we'd breeze through it. However, we lingered for almost two hours learning about Birmingham's founding, history and culture. In addition, the exhibits are interactive, so it's great for families with kids.
After the museum, we took the elevator up to the observation tower for a phenomenal view of Birmingham's skyline. If you only take two pictures the entire weekend the second one needs to be at the top of this tower.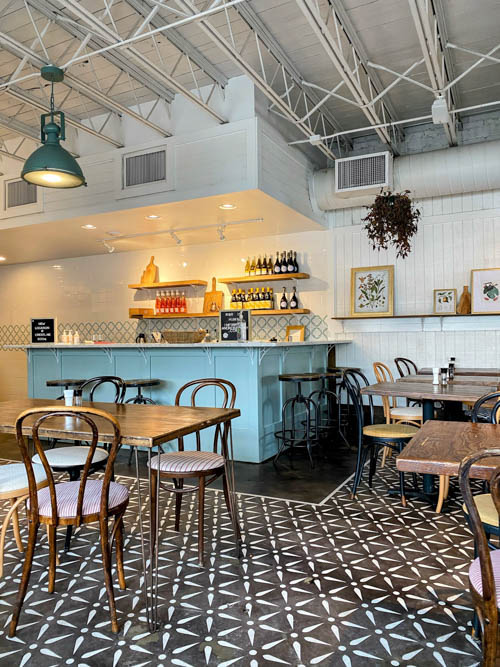 Delicious Lunch and Lovely Botanical Gardens
Just a five-minute drive away is Real & Rosemary. A bright restaurant with cafe vibes and a unique menu of elevated sandwiches, salads, entrees and drinks.
We ordered a honey ricotta dip served with apples and baguette slices as a starter. It was simply divine. This was followed by spice-rubbed chicken and flounder cakes with sides of green peas.
Sides were sweet potato casserole, brussels sprout slaw with butternut squash and fried okra. I promise you it did not disappoint.
We then decided to walk off our lovely meal at the Birmingham Botanical Gardens: 67.5 acres of more than 30 different gardens.
In addition to immense and beautifully kept green landscaping, the garden hosts many different events throughout the year. These include lectures, educational opportunities, art galleries, antique sales, a gala, plant fairs and more.
Though we loved strolling through nature, I would expect the later spring season to bring more color to the greenery, so I'm excited to come back in a couple of months. The Fall/Winter hours of the gardens are 7 am to 5 pm.
Craft Beer and Dinner at FIVE to Complete the Day
Next, we headed to Cahaba Brewing Company. This microbrewery and taproom specializes in craft beers and has lots of indoor and outdoor space for casual gatherings and events. We ordered a cider and a flight of seasonal beer and loved both.
Following our aperitif, we headed to FIVE Birmingham for dinner. A self-declared homey restaurant and bar, it's known for its simple brunch, lunch and dinner menu based on locally sourced ingredients. Why is it called FIVE? Because they have five entrees, five wines and five signature cocktails.
Their motto is everything you need and nothing more. I couldn't resist their famous chicken and waffles. My boyfriend ordered shrimp and grits. We topped it off with beignets for dessert. We can't wait to come back for lunch for their bloody Mary bar and avocado toast.
In conclusion, my skepticism regarding Birmingham, Alabama was blown away. This was due to the city's diverse character, vibrant energy, celebration of history plus culture and foodie scene.
It's one of the American South's best-kept secrets, as travelers tend to opt for neighboring Nashville or Atlanta. But take my word for it—you won't regret visiting the Magic City.
Book This Trip
Start planning your adventure to Birmingham, Alabama today. Get prepared with knowledge on the best shops, hotel and VRBO accommodations, local restaurant favorites and more through TripAdvisor and Travelocity.
For even more fun plan some unique Birmingham activities, skip-the-line tickets to major attractions and expert-led tours with GetYourGuide. Find more information and book your dates here.
Find the best flight deals, car rental options and vacation packages through CheapOair.
Author Bio: Margherita Bassi is a tri-lingual storyteller, freelance writer, and aspiring digital nomad. She has published articles, poetry, and creative prose both online and in print. You can read more of her writing at www.margheritabassi.com.