Ah, Hawaii. Just the sound of it is enough to send some of us over the top.
Beautiful beaches, swaying palm trees and gorgeous flowers — they're just part of the postcard-perfect scenery that makes up the Hawaiian Islands.
Hawaiian Resorts For Your Trip
Aside from Mother Nature, though, part of the island's beauty can be found in its beautiful hotels and Hawaiian resorts. Many Hawaiian properties take great care to reflect local culture, showcasing island art, cultural icons and indigenous flowers.
Planning a last-minute trip to Hawaii?
Top Experiences and Tours in Hawaii:
Where to stay and transportation in Hawaii:
But perhaps the most unique aspect of Hawaiian hotels is how they seamlessly blend indoor and outdoor living. Open-air lobbies, hallways that feature open windows without glass, and huge lanais (decks) allow guests to enjoy the great weather and ocean breezes.
Here are our picks for the top hotels in Hawaii.
Where to Stay on Kauai
Grand Hyatt
1571 Poipu Road
Koloa, HI 96756
808-742-1234
https://www.hyatt.com/…
The Grand Hyatt in Kauai is at the top of our list. The landscaping and architecture embrace the open air, while the pools, waterfalls and walkways are lined with lush flowers and greenery.
This luxury resort hosts many weddings each year, and that's understandable given its idyllic setting. Each of the hotel's 602 rooms is large and comfortable, with a private lanai.
If you visit only one spa during your trip to Hawaii, this is the one. The 20,000-square-foot Anara Spa features treatments that blend Hawaiian customs with the latest stress-relieving techniques.
We liked the fragrant spa products so much that we had to bring some home. Room prices start in the $600's.
Kauai Marriott Resort & Beach Club
Lihue, HI 96766
808-245-5050
https://www.marriott.com/hotels/travel/lihka-marriotts-kauai-beach-club/
This large resort is a one-stop shop, with five open-air restaurants, a huge family pool that any kid will love, and 18 holes of exceptional Jack Nicklaus golf.
The resort recently underwent a $50 million upgrade, with nice enhancements to its large rooms and guest areas. Best of all, the property has a great beach where you can take surf lessons.
You may never want to leave. If you don't want to rent a car, the resort has a complimentary airport shuttle. Rates start in the $500's.
Where to Stay on the Island of Hawaii
Outrigger Kona Resort and Spa
78-128 Ehukai St
Kailua-Kona, HI
96740
808-930-4900
https://www.outrigger.com/hawaii/hawaii-big-island/outrigger-kona-resort-and-spa
This Hawaiian resort enjoys an enviable location on Keauhou Bay on the Island of Hawaii — an area that draws some unusual guests. Giant manta rays come to feed in the bay each night, drawn by plentiful plankton.
Outrigger Kona Resort and Spa has been a leader in developing the local manta ray experience, with guest lecturers at the resort providing insight and education on these graceful creatures. Guests are not only informed but can often view the manta rays from the deck at the resort.
Want a closer look? Book a Night Manta Ray Adventure on the Big Island, Hawaii
The manta rays, unfazed by their cheering audience, come amazingly close as they feed. Trust us — it's an unforgettable experience.
Mauna Kea Beach Hotel
62-100 Mauna Kea Hotel Beach Drive
Kohala Coast, HI 96743
808-882-7222
https://maunakeabeachhotel.com/
The Mauna Kea Beach Hotel is our top pick for golfers. The resort's Robert Trent Jones Sr.'s award-winning golf course has received recent updates by Rees Jones with excellent results.
The course is known for its superior amenities (including a nice driving range and putting green) and sweeping views of the Kohala Coast. Our favorite part of Mauna Kea, though, has to be the huge, remodeled guest rooms.
The resort artfully melded three guest rooms into two, which resulted in spacious floor plans. The bathrooms are HUGE, with floor-to-ceiling glass providing gorgeous views of the ocean or golf course.
In the guest rooms, every luxury appointment has been considered, from iPod docking stations to large flat-screen TVs and top linens. You'll feel like royalty at this resort. We certainly did. Rates are typically in the $700's and up.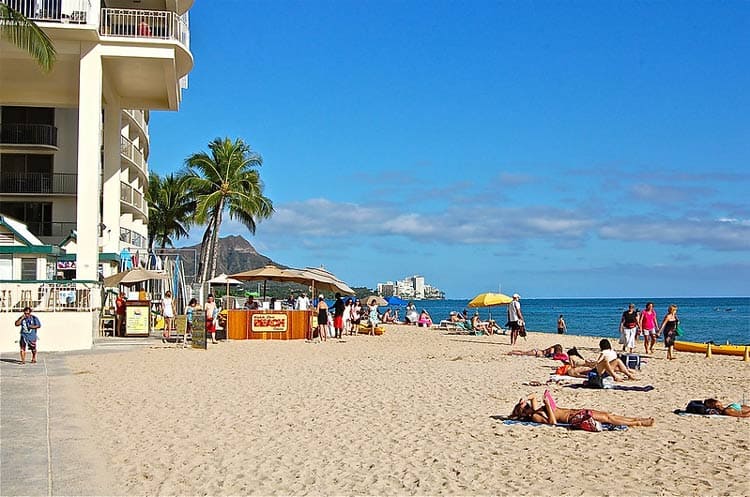 Where to Stay on Oahu
Outrigger Reef on Beach
2169 Kalia Road
Honolulu, HI 96815
808-923-3111
www.outriggerreef-onthebeach.com
For decades, Waikiki has been "the" Hawaiian resort. And that hasn't changed. This amazing stretch of beach in Oahu is a hub of activity and rarely ever sleeps. Surfers, tourists and locals come for the waves, the beaches and the shopping — not always in that order.
The Outrigger on the Beach captures that Waikiki energy, with a resort that melds timeless Hawaiian traditions with top service and comfort. Free Internet is offered in guest rooms, and daily Hawaiian activities include hula lessons and lei-making.
Local Hawaiian musicians perform each night at the Kani Ka Pila Grille. The sound of the waves and Hawaiian music are a soothing combination. Rooms start in the $300's.
Where to Stay on Maui
Kaanapali Beach Hotel
2525 Kaanapali Parkway,
Lahaina, HI 96761
800-262-8450
www.kbhmaui.com
This classic Hawaiian resort may not be the most luxurious or the most modern in Maui, but we love it for all it represents — respect of Hawaiian culture. The staff seems to truly enjoy passing their culture along to visitors.
This moderately-priced hotel takes great care to provide activities and entertainment that reflect the local history and culture, from ukulele lessons to lei making to hula every night at sunset.
As a result, many guests "connect" with the staff and resort, and come back year after year. The Kaanapali Beach Hotel has been called "Hawaii's Most Hawaiian Hotel," and we find that's no exaggeration. Room prices are typically in the $400's and up.
Book This Trip to Hawaiian Resorts
Time to take a seriously relaxing vacation on one of the breathtaking islands of Hawaii? Find the best flights from around the world and exclusive prices through Hawaiian Airlines.
Then, start planning your trip with insider tips on how to get around, not-so-touristy beaches, local shops and more on TripAdvisor and Travelocity.
Of course, you'll want to book your activities in advance as reservations in Hawaii go fast. Check out GetYourGuide for thrilling rainforest fun and interesting cultural tours. See more tours and tickets here.
Hawaii Tourism – www.goHawaii.com
Inspire your next adventure with our articles below: