Dear Readers: This post may contain affiliate links, which means we may receive a small commission, at no cost to you, if you make a purchase through a link. All opinions are our own and we only share things we recommend. Thanks for your support.
The Kauai Island
Thumb through the glossy pages of Condé Nast Traveler magazine and the Hawaiian island of Kauai appears to be a rather upscale destination.
Indeed, this island has many of the high-end corporate-owned hotels one expects to find in Hawaii.
There is no shortage of well-healed tourists padding around the marble foyer of the Princeville Hotel in Tommy Bahama–brand silk resort wear.
Budget-friendly Destination
Yet Kauai, by nature, is a laid-back, shirt-off, toes-in-the-sand island. Locals don't normally pay US$ 350 a night for a room or US$ 70 for dinner, and you needn't either.
If you have more sense than dollars, with a bit of advance planning and knowledge of the island, you can keep costs down and enjoy the best of Kauai.
As with any Pacific island, your greatest cost is just getting there. Airfares to Kauai are not always cheap, so look around for the best deals from the U.S. West Coast.
Check Hawaiian Airlines for discount fares from major West Coast cities, Las Vegas or Phoenix.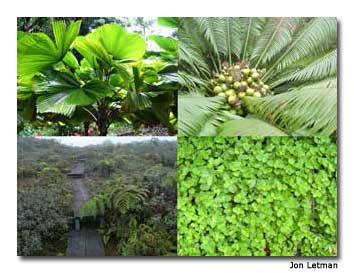 Once on Kauai, you can limit expenses by watching where you eat, stay and play. Admittedly, Kauai's hotels are not cheap, with average daily rates hovering just below US$ 200 a night.
Add on pricey meals of fresh seafood, Hawaiian-style luau feasts, and activities like whale-watching cruises and flight-seeing by helicopter and you have yourself a not-so-inexpensive holiday.
Before you strike Kauai from your list of potential destinations, however, consider this: Kauai's greatest attraction, the natural beauty found on long stretches of sand beaches, the breathtaking mountains, valleys, forests, dunes, cliffs and high-altitude swamps.
The Beauty of the Tropical Flora
All that tropical flora (Kauai is, after all, known as the Garden Island), are free. Likewise, Kauai's cool trade winds, warm sunny days and frequent rainbows won't cost you a thing.
Typically, more expensive accommodation is found on Kauai's south side (the Po'ipu area) and on the north shore in Princeville and Hanalei, but if you search online, you may find exceptions.
In addition to large corporate hotels and luxury vacation rentals, Kauai is blessed with countless wonderful and reasonably priced B&Bs that offer lodging for as little as US$ 75 a night for two.
The following east-side favorites are examples of inexpensive but comfortable lodging: K.K. Bed and Bath and Hibiscus Hollow (all in Kapaa).
The Hotel & Motel
There are a few cheap hotels in the county seat of Lihue, such as the Motel Lani and the Tip Top Motel for those who just need a place to lay their heads.
In Kapaa, the Honu'ea International Hostel Kauai, in the center of the island, has dorms for US$ 31 and private rooms for US$ 66.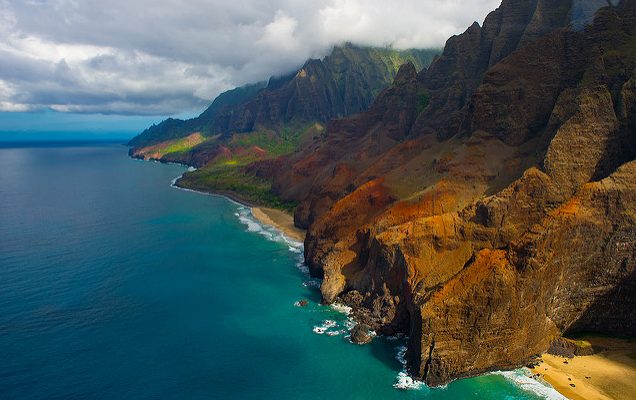 If you enjoy cool mountain air and hiking, consider camping at Camp Slogget in the highlands of Kokee State Park for as little as US$ 15 a night.
For those with their own gear, camping is possible (by permit only) in half-a-dozen state park locations and at seven Kauai County beach parks.
Now that you have a reasonably priced room on Kauai, how are you going to get around? The only public transportation on Kauai is the bus, which is certainly cheap (US$ 2), but it runs sporadically and you may have to wait more than three hours for a ride.
Kauai's buses are equipped with bicycle racks on the front if you are using your bike, but you may find that most of Kauai's narrow, two-lane highway is less than ideal for cycling.
An 18-mile-long (29 km) cycling path on the east side, from Lihue north, is currently under construction.
Hitchhiking on Kauai
Hitchhikers are still seen on the Kauai's roadsides and, if you are comfortable with this mode of transport, you will likely catch a ride before long.
While Kauai is generally a very safe place, hitchhiking has the same inherent risks here as anywhere else in the world.
The best way to get around for most people is by rental car. The usual companies are located at the airport and they charge the usual prices — not a bargain, nor is gas cheap on Kauai.
Having fun on Kauai inexpensively is as easy as finding the nearest beach or trail.
Geologically the oldest of the eight main Hawaiian islands, Kauai has seen the most erosion and had the time to form geologic wonders like Waimea Canyon and the famed Na Pali Coast.
Waimea Canyon cuts 13 miles (21 km) deep into Kauai's rugged interior, affording dizzying views of 4- to 5-million-year-old lava rock from a more-than-2,000-foot (610 m) chasm.
Popular with flight-seers, you can explore the canyon more intimately on foot through an extensive network of hiking trails.
Northeast of Waimea Canyon, only a few miles as the bird flies, the Na Pali Coast (pali means "cliff" in Hawaiian) attracts people in helicopters, catamarans, zodiacs and kayaks.
But the way to experience Na Pali on the cheap is a get-soaking-wet-covered-in-sweat-and-mud hike on the Kalalau trail, starting at Ke'e Beach where the road ends and the pali begin.
The 11-mile (18 km) Kalalau trail, which ends at Kalalau Beach, is popular for its unparalleled vistas as you weave in and out of the folds of sheer 1,400-foot-high (427 m) sea cliffs.
Remember to contact the State Parks office in Li'hue for permits if you go beyond the first two miles (3.2 km) to Hanakapi'i Beach.
Popular Activities of Kauai
The most popular Kauai activity is to simply enjoy the 111-mile (179 km) coastline, 47 percent of which is sandy beach (the highest proportion in the United States).
The area's beaches, coves and expansive stretches of romantic coast are perfect for snorkeling, boogie boarding, surfing, diving, fishing, kite surfing, shell hunting or just strolling blissfully, waiting for the elusive "green flash," an optical phenomenon at sunset.
when a green spot may be visible above the sun. Kauai's sea currents and surf can be treacherous and unpredictable however, so caution is strongly advised.
Hiking is another free activity, and Kauai arguably has the most extensive and varied hikes in the state. Check out the Department of Land and Natural Resources' Na Ala Hele trail-access system to learn more about some of Kauai's most popular hikes.
The Garden Island
The free Unofficial Guide to Kokee State Park has good information about the extensive network of trails at the western end of the island.
And while on the Garden Island, how could you not visit a garden? The National Tropical Botanical Garden has three locations on Kauai: The McBryde Garden, the Allerton Garden and the Limahuli Garden.
The McBryde Garden, on the south shore, offers a self-guided tour for only US$ 30 per person, and the Limahuli Garden, on the north shore, has self-guided tours for US$ 20. Both are not to be missed.
There is also a small, but beautiful (and free!) garden worth exploring in Poipu between the Sheraton and the Kiahuna Plantation called the Pa'u a Laka Cactus Garden, commonly known as Moir Garden.
Explore Local Nurseries
Another way to enjoy Kaua'i's incredibly diverse exotic and native flora is to explore local plant nurseries. Kaua'i Nursery & Landscaping in Puhi is one of the largest plant retailers in all of Hawai'i.
But there are many smaller nurseries around the island that offer inexpensive plants certified for export to the U.S. mainland.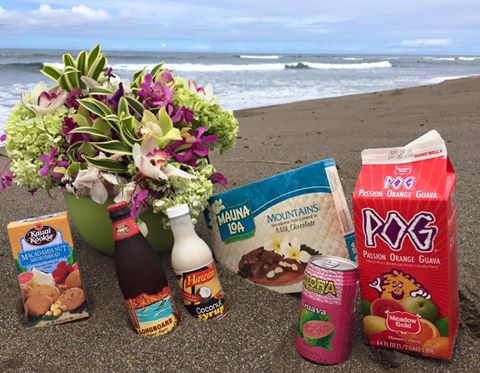 Learn about Hawaiian culture and Kauai's sugar-era history on the Grove Farm Homestead guided tour (US$ 5) on Mondays, Wednesdays and Thursdays at 10 a.m. and 1 pm.
For those who prefer to shop, or at least look, there are a number of craft fairs around the island.
Many colorful festivals at various times of year that often charge little or no admission. Check out Kauai Festivals and Events page for regularly updated information.
Farmer's Markets of Kauai
And when you get hungry, visit Kauai's sunshine markets (farmer's markets) held Mondays through Saturdays in various towns around the island for the best in local fruit and vegetables, as well as a good dose of aloha spirit.
Kauai also has many roadside fruit stands (just leave your money in the bucket and take what you pay for) as well as locally caught fish and shrimp sold on the roadside by fishermen.
If you don't want to or cannot prepare your own food, there are plenty of good, filling restaurants on Kauai where a tasty meal costs less than US$ 12.
The Tasty Local Foods
Local favorites include the Tip Top Café (famous for oxtail soup and macadamia-nut pancakes), Sushi Katsu (inside the Tip Top) and Hamura Saimin (Chinese-style ramen and delicious lilikoi, or passion fruit pie).
The Garden Island Barbeque in Lihue has big, cheap Chinese lunches and dinners; Pho Kauai has reasonable Vietnamese dishes; and Wrangler's Steak House, in Waimea, offers tasty local foods.
For a cheap, filling breakfast, try Portuguese donuts, called malassadas, with Kauai-grown coffee and a papaya.
Inexpensive bento (Japanese-style lunches) can be found around the island; favorites include Mark's Place in Puhi, Fish Express in Lihu'e and the Koloa Fish Market.
Another cheap eat is the ever-popular and uniquely Hawaiian musubi (a piece of grilled Spam saddled to a dense rice cake, wrapped in nori seaweed).
And for dinner? How about some ahi poke (tuna sashimi with sesame chili oil) from Ishihara Market in Waimea with a cold drink at the beach?
If You Go
Kauai at a Glance
Known as a lush, green island with abundant rainfall and unspoiled nature, Kaua'i is the oldest (5.1 million years) and fourth-largest of the main eight islands in terms of size (553 square miles; 1,432 km²) and population (approx. 60,000).
Highlights
Hiking the Na Pali Coast, seeing dozens of waterfalls on the face of Mt. Wai'ale'ale by helicopter, playing on Kaua'i's dozens of long sandy beaches, walking the cliffs to Maha'ulepu, watching spinner dolphins in the morning, sunset at Polihale Beach, the brilliant tropical flora and the laid-back pace.
Watch Out For
Traffic between towns of Puhi and Kapa'a during morning/afternoon rush hour, strong ocean currents, dangerous shore breaks, flash floods and centipedes.
Further Information
Kauai Visitors Bureau
www.kauaidiscovery.com
Love travel? So do we! Check out some of our other travel articles on destinations around the world at www.goworldtravel.com