Tia was lagging behind her sisters, her struggles apparent. She appeared disoriented and drained by her efforts. Suddenly, an errant wave slammed into her. She tumbled end-over-end and was pushed away from her destination in the opposite direction. There was no doubt she was in need of assistance.
Tia was less than 12 hours old at the start of her adventure as a 4" long Olive Ridley sea turtle, known as "Golfina" in Spanish. She was attempting to cross a debris-strewn beach to the Pacific Ocean, her eventual home. If she was to make her goal, a helping hand was required.
My wife, Kathy, grabbed a handful of beach sand to mask her scent and assist in imprinting the beach's unique characteristics upon Tia. She then gently picked her up by thumb & forefinger, feeling the tiny heartbeat ever faster. Placing her at the edge of the water, she watched her scamper after her sisters into the ocean.
The Four Seasons and Red Tortuguera AC
Kathy and I had just met Tia (and named her) some 30 minutes earlier. This was in a small conference room at the Four Seasons Resort in Punta Mita, Mexico, located 28 miles northwest of Puerto Vallarta. Here, Enrique Alejos, the Cultural Concierge, introduced us and 13 other eager participants, to the local world of sea turtles.
Enrique works with the Four Seasons and Red Tortuguera AC, a local preservation group, to raise awareness of the plight of the world's sea turtles.
The gregarious Alejos has been working to educate, conserve and protect turtles for nearly 26 years. His passion began after stumbling across volunteers on a local beach as they were collecting eggs from a nest to transplant to the nearby hatchery.
In his own words, "Placing my hands on those small bundles of life changed me."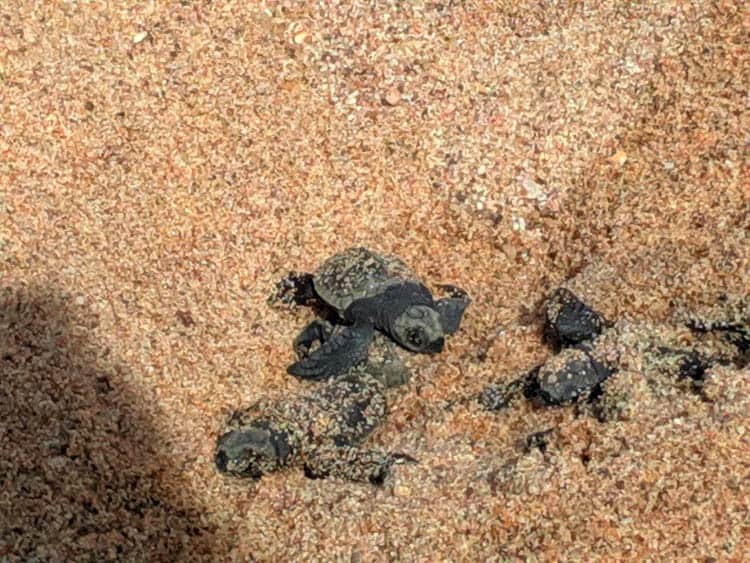 A Lesson in Sea Turtles and Their Struggles
Out of the seven species of sea turtles in the world, six of them arrive in Mexico each year between June and December to nest and lay their eggs. All are threatened and most of them are on the endangered species list.
Surviving hatchlings could grow up to 3 feet and 100 pounds and will return to the same beach in 15 years to lay their own eggs. Thousands of adult female Olive Ridley sea turtles return every year to the beaches they were born. They then build nests and lay their own eggs, perpetuating their circle of life.
A single sea turtle nest may contain as many as 100 eggs. The tiny turtles are threatened by predatory animals such as birds, skunks and raccoons during the short but dangerous journey to the sea.
However, the major challenge for turtle hatchlings is from man. On the "black market" turtle eggs can fetch between $5-8 each. That is an enormous amount of money for an area where the minimum wage is a little over $5.00 per day. Only 1 in 1,000 baby sea turtles survive to adulthood.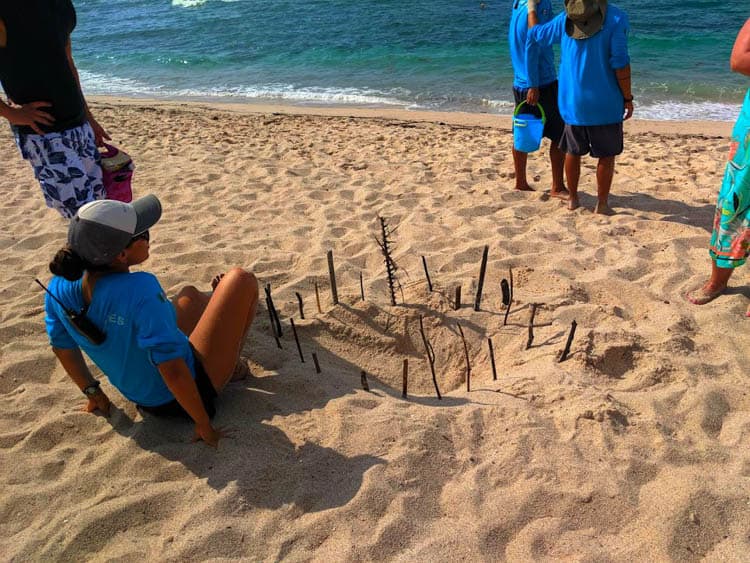 Turtle Sanctuaries in Riviera Nayarit
Riviera Nayarit, the region that encompasses Punta de Mita, is a sanctuary for sea turtles. Several hundred thousand are liberated during the nesting season.
Along its 190-mile coastline, there are more than a dozen turtle camps. These camps are managed by biologists and volunteers working to conserve and protect the different species of sea turtles that visit the beaches of Nayarit.
This includes the Olive Ridley, the hawksbill, the black and the leatherback. Careyeros-Litibú hatchery provided the turtles that we released. This turtle camp is located in Punta de Mita and serves two beaches of nearly 3 miles.
The beaches are monitored by volunteers during the laying season. As the females come ashore to lay their clutches, the eggs are gathered and taken to the nearby hatchery to incubate. Thereby increasing their odds of hatching.
Sand temperatures above 85 degrees Fahrenheit result in female turtles. Eggs hatch in 45 to 70 days and like the sex of sea turtles, the sand's temperature plays another important role. If it's hotter, the eggs hatch faster.
First Look at the Baby Sea Turtles
As Alejos educated us in the world of tortugas (Spanish for turtles), a mesmerizing sound enveloped the conference room. It took a few moments to recognize that the sound was emanating from 15 small boxes on the table in front of us.
A little larger than Chinese take-out boxes, each one contained 7 recently hatched Golfinas. The sound was that of their tiny claws as they scraped against the cardboard.
Enrique passed a carton to each one of us, encouraging us to peak into our boxes. Oohs and aahs swept through the room. One olfactory challenged woman exclaimed her turtles smelled like dark chocolate. The very patient Enrique dead-panned, "They smell like turtles to me".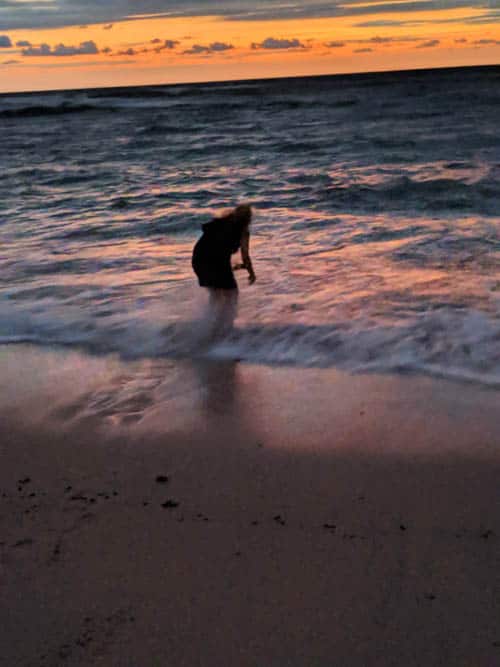 Baby Sea Turtle Release
Fully Indoctrinated, we traipsed after our leader into the evening's dusk, following him down to the empty beach. Once we arrived, Enrique traced a line in the sand a few feet from water line. Crouching behind it, we gently released our babies onto the sand, verbally encouraging them to seek out their new world.
Some, like Tia, needed more encouragement than others. But all eventually made it into the surf with their overly protective parents wishing them well as the last remnants of the day's sun faded away.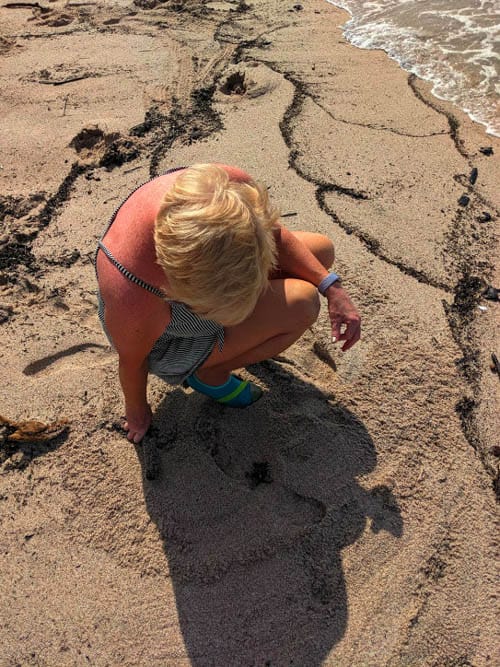 An Unplanned Rescue
Poignantly, 2 days later as we were ambling off a beach several hundred yards from the release area, a cry of consternation went up from a sun-worshipper. Apparently, a young hatchling had poked its head out of the sand at the base of her beach chair.
Unbeknownst and undiscovered by anyone, a mother had come ashore some 45 days earlier and laid her clutch. Now, with the intense heat of a late afternoon sun beckoning them, several dozen newly-minted turtles were attempting to crawl forth.
In moments, a dozen sun-drenched vacationers, including ourselves, sprang into action. The wee-ones clumsily scrambled over a foot-imprinted beach filled with various flotsam & jetsam toward the waves nearly 30' away. Some of us kept a wary eye on the circling gulls.
Others attempted to smooth a path to the ocean using bits of driftwood as graders.
With shouted words of encouragement, we urged our charges toward the waters of the Pacific. Triumphant smiles plastered our faces as the last of the initial batch entered into the waves. By this time, volunteers had arrived to address the balance of the eggs which could take up to another 24 hours to hatch.
There is immense satisfaction to be involved, even in so little of a way, in lending a helping hand to one of the earth's threatened species. We are already planning a return trip in 15 years in hopes of welcoming back Tia.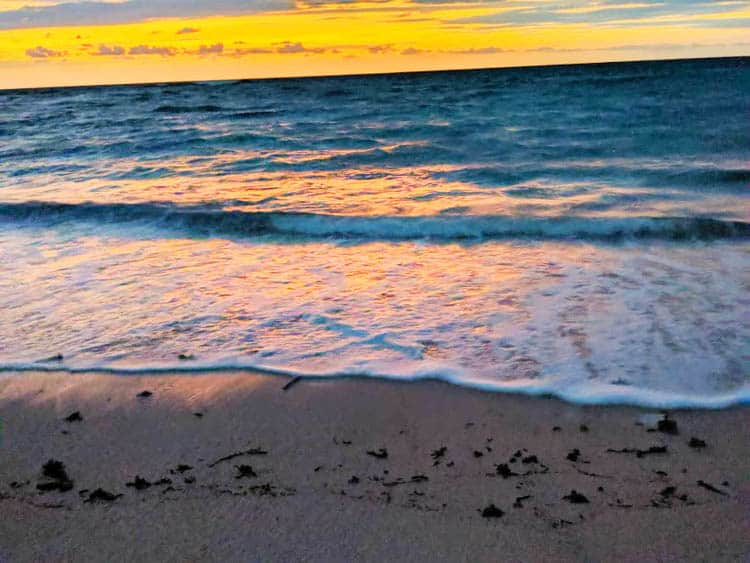 Book This Trip
The Four Seasons Turtle release generally runs from March through December. There is a small fee that is completely designated to support sea turtle conservation.
https://www.fourseasons.com/puntamita/
Punta de Mita, Mexico and the Nayarit Riviera area is reached via the Puerto Vallarta International Airport. You can find the best exclusive flight deals to Puerto Vallarta and car rental options through CheapOair.
Author Bio: Frank Hosek is a sometimes traveler who embraces the journey and the written word.