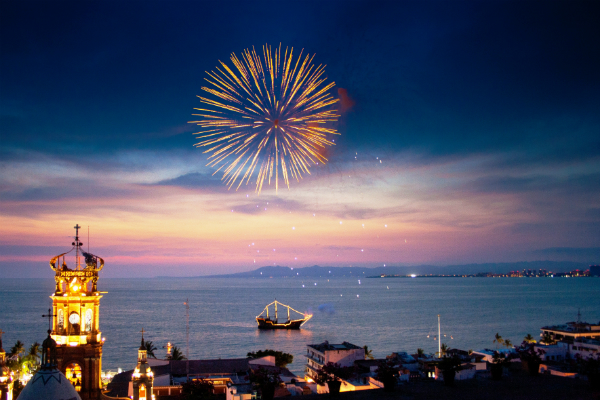 I've been told that you can spend from dawn to dusk on the Malecón in Puerto Vallarta, Mexico and never get bored. So on a recent visit, I decided that I was up for the challenge.
Well, maybe not the dawn part – I'm not a morning person – so I had no problem leaving those early hours to the joggers and those seeking an early start to catch their red snapper for dinner.
Puerto Vallarta Malecón
The Puerto Vallarta Malecón is a 12-block esplanade in Puerto Vallarta, a popular city in Jalisco, Mexico. This 1.5 mile delight provides many different ways to make the hours pass quickly.
Mid-morning: Start at the northern tip. The Hotel Rosita, built in 1948 and the oldest hotel on the island, is seeped in history. It is the famous locale of the even more famous illicit liaison between Elizabeth Taylor and Richard Burton during the 1963 filming of The Night of the Iguana. The resultant publicity put the very sleepy town of Puerto Vallarta on the map, and it became the only Mexican resort destination that grew up organically rather than created for the very purpose of attracting tourists. Take that Cancun and Mazatlan!
Rebuilt as a pedestrian walkway 10 years ago after Hurricane Kenna, much of the Malecón's old world charm has been maintained. Bordered by shops on one side and the Bay of Banderas on the other, I was first struck by the preponderance of unusual brass sculptures that dominate the landscape. First conglomeration: a boat signifying humans' desire to search, a whale symbolizing ambition, a combination of a bird/propeller/airplane denoting technological evolution and an obelisk representing time. There are sculptures everywhere – clowns, mermaids, unicorns, lovers – celebrating relationships, history, Spanish culture, religion, animals and just plain fun.
Chilo, our guide, transfixed us with many stories surrounding each and every creation, but after a while, they tended to flow together, not unlike the waves hitting the shore as we walked.
And brass is not the only source of creative expression. Sand sculptures also abound. Large depictions include a "Welcome to Puerto Vallarta" sign and a graceful Our Lady of Guadalupe, patron saint of the city. A sand sculpture wishing well was accompanied by the sign: "Your tips are my only salary."
That combination, I thought, was an interesting double-dipping marketing play. Both the tip jar and the well get coins tossed in them…
Encased in the pavement all around us were free-flowing Indian designs made from small pebbles. Even the tops of sewers provide artistic expression in the form of the town shields built into the stone. While oohing and ahing at every sculpture, I came to a whole garden of bronze benches in assorted sizes and shapes, each with a different symbolic, mythical or whimsical meaning. As enthralling as it was to see and hear, even better was the opportunity to sit and rest.
A quick turn of the head at any point brings you up against colorful assortments of plants, flowers and palm trees running the course of the Malecón. Look up instead and see five men atop a pole, about to perform an ancient Indian religious ritual in which one man plays the flute and drum while the other four descend from above flying in concentric circles, symbolizing the seasons and the cycle of life. Did I mention they are hanging by one foot upside down?  It looks a little like an amusement park ride, but Chilo explained they train their whole lives for the privilege.
The stores and shops also reflect Indian art. The Tierra Huichol sells animals of every variety and handmade wall hangings of miniscule multi-hued beads. The Opal Mine not only sells all varieties of the semi-precious stones, but it is set up to replicate the mining operation that produces them. There's history of Mexico reflected in every step of the Malecón.
Plus, of course, your de rigueur street musicians, painters, balloon makers and food vendors. Skeletons, a staple of Puerto Vallarta folklore, in assorted attire and assemblages are on every street corner. Yet, I was hard pressed to even find a T-shirt store.  Unlike most beach boardwalks, the Malecón opts for funky rather than tacky.
Continued on next page