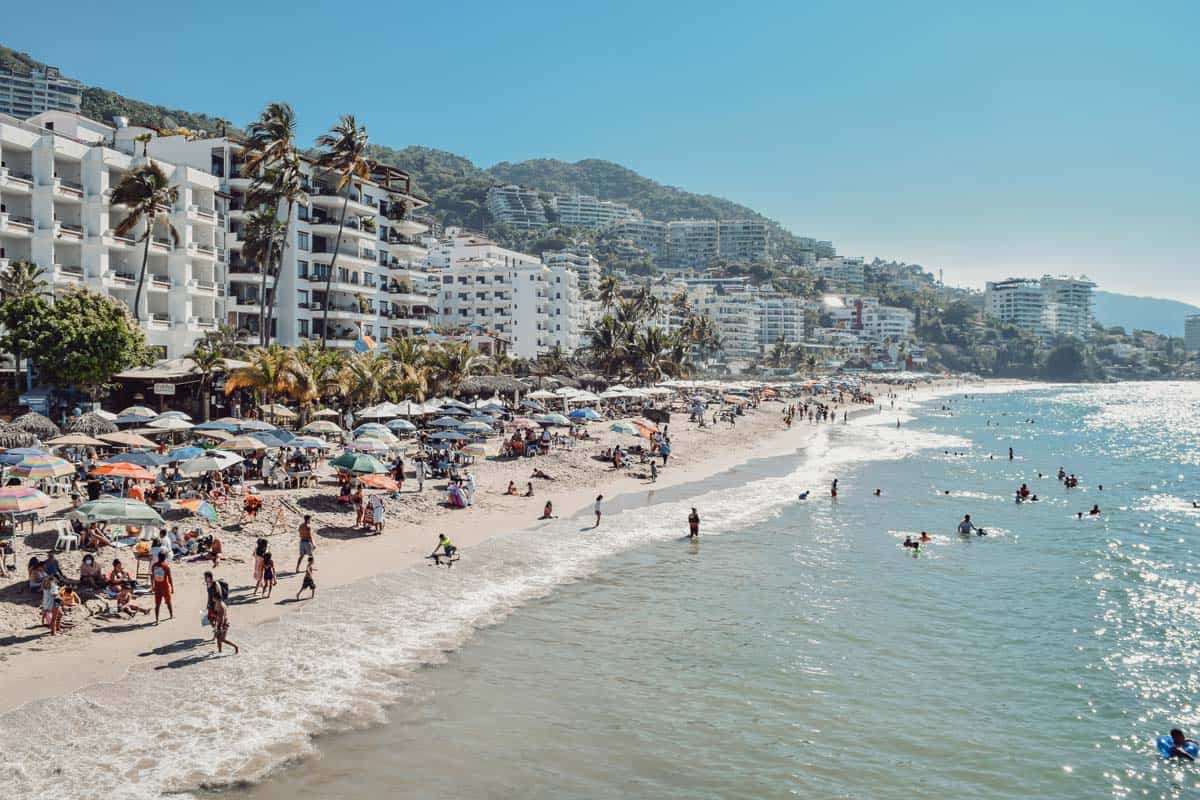 Editor's Note: We share travel destinations, products and activities we recommend. If you make a purchase using a link on our site, we may earn a commission.
I've been told that you can spend from dawn to dusk on the Malecón in Puerto Vallarta, Mexico and never get bored. So on a recent visit, I decided that I was up for the challenge.
Well, maybe not the dawn part – I'm not a morning person – so I had no problem leaving those early hours to the joggers and those seeking an early start to catch their red snapper for dinner.
Puerto Vallarta Malecón
The Puerto Vallarta Malecón is a 12-block esplanade in Puerto Vallarta, a popular city in Jalisco, Mexico. This 1.5-mile delight provides many different ways to make the hours pass quickly.
Mid-morning: Start at the northern tip. The Hotel Rosita, built in 1948, is steeped in history.
It is the famous locale of the even more famous illicit liaison between Elizabeth Taylor and Richard Burton during the 1963 filming of The Night of the Iguana.
The resultant publicity put the very sleepy town of Puerto Vallarta on the map, and it became the only Mexican resort destination that grew up organically rather than created for the very purpose of attracting tourists. Take that Cancun and Mazatlan!
Rebuilt as a pedestrian walkway 10 years ago after Hurricane Kenna, much of the Malecón's old-world charm has been maintained.
Unusual Brass Sculptures
Bordered by shops on one side and the Bay of Banderas on the other, I was first struck by the preponderance of unusual brass sculptures that dominate the landscape.
First conglomeration: a boat signifying humans' desire to search, a whale symbolizing ambition, a combination of a bird/propeller/airplane denoting technological evolution and an obelisk representing time.
There are sculptures everywhere – clowns, mermaids, unicorns, lovers – celebrating relationships, history, Spanish culture, religion, animals and just plain fun.
Chilo, our guide, transfixed us with many stories surrounding each and every creation, but after a while, they tended to flow together, not unlike the waves hitting the shore as we walked.
Sand Sculptures in Puerto Vallarta
And brass is not the only source of creative expression. Sand sculptures also abound. Large depictions include a "Welcome to Puerto Vallarta" sign and a graceful Our Lady of Guadalupe, patron saint of the city.
A sand sculpture wishing well was accompanied by the sign: "Your tips are my only salary."
That combination, I thought, was an interesting double-dipping marketing play. Both the tip jar and the well get coins tossed in them…
Encased in the pavement all around us were free-flowing Indian designs made from small pebbles. Even the tops of sewers provide artistic expression in the form of the town shields built into the stone.
A Garden of Bronze Benches
While oohing and ahhing at every sculpture, I came to a whole garden of bronze benches in assorted sizes and shapes, each with a different symbolic, mythical or whimsical meaning.
As enthralling as it was to see and hear, even better was the opportunity to sit and rest.
A quick turn of the head at any point brings you up against colorful assortments of plants, flowers and palm trees running the course of the Malecón. Look up instead and see five men atop a pole, about to perform an ancient Indian religious ritual in which one man plays the flute and drum while the other four descend from above flying in concentric circles, symbolizing the seasons and the cycle of life.
Did I mention they are hanging by one foot upside down? It looks a little like an amusement park ride, but Chilo explained they train their whole lives for the privilege.
Reflecting Indian Art
The stores and shops also reflect Indian art. The Tierra Huichol sells animals of every variety and handmade wall hangings of minuscule multi-hued beads.
The Opal Mine not only sells all varieties of the semi-precious stones, but it is set up to replicate the mining operation that produces them.
There's history of Mexico reflected in every step of the Malecón. Plus, of course, your de rigueur street musicians, painters, balloon makers and food vendors.
Skeletons, a staple of Puerto Vallarta folklore, in assorted attire and assemblages are on every street corner. Yet, I was hard-pressed to even find a T-shirt store.
Unlike most beach boardwalks, the Malecón opts for funky rather than tacky. By this time, I was delighted to imbibe in a refreshing glass of tuba, coconut milk flavored with pecans and apple.
Couldn't help but think how even better it would be mixed with tequila. But then, isn't everything? Near the end of the Malecón is a small amphitheater where performers entertain most weekend nights, but more on that later. Now, it's time for lunch.
The Large Beach at Malecon
The Malecón ends at a large beach, and the hotels lining the street, umbrellas crowding the sand, music blaring from the bars.
The cries of children playing in the waves add a very different character to the far more relaxing and less touristy stroll that got us here. I felt I had left the real Puerto Vallarta behind, but there was a beach bar, and hunger won out. Though not without its challenges.
The cordoned-off beach at our hotel protects its guests from the overly aggressive, ever-optimistic vendors hawking everything from purses to pottery, sombreros to sunglasses, trinkets to toys, jewelry to…hmmm…okay, junk.
Not so at the public beaches of which the Malecón is one. I was at a loss as to how they could come up with so many things to sell – some easily recognizable, others more questionable – and all of it "almost for free!"
Especially ironic are the many vendors selling food items – pastries, grilled fish on a stick, nuts and candies – to people actually sitting at tables and ordering food from the menu.
A poorly thought out coals-to-Newcastle marketing venture, I thought.
A Suggestion for Visitors
Do not make eye contact, and be prepared for some minor whiplash just from shaking your head no.
And do not order that third margarita – no telling what you may end up buying! Be prepared also for the bizarre — there was the woman at the table next to us having her hair braided into multiple strands while eating lunch.
Want some highlights with your hot dog? A little beauty parlor in your dining parlor? One more reason to love the Malecón. You can, of course, forego the pleasure of eating Mexican food with your toes in the sand and dine off the beach.
You may not hear the waves as well, but you'll dine in relative quiet. Lunch for two people with two beers will run you about $11 U.S. The entertainment is free. And post my margarita-laden lunch, a siesta on the sand was a perfect way to round out the afternoon.
Be sure to learn a bit of Spanish before you travel. With Babbel, you can learn a language on your time with flexible lesson plans for every level. Find more information on languages and deals here.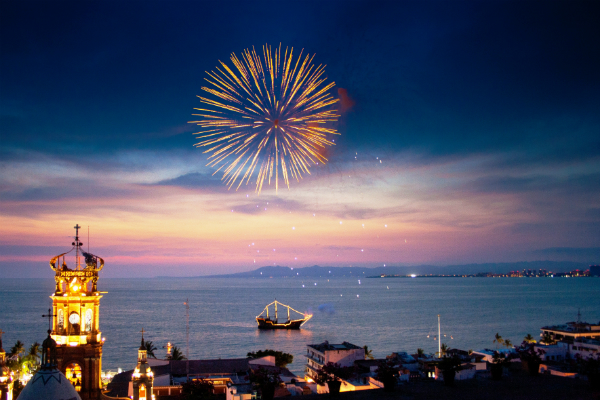 Puerto Vallarta Malecón at Night
So on to the Malecón at night, when yet another whole world emerges. The sun goes down, the lights go up, the crowds pour in – and the good news is they are not just tourists. Or at least not just American tourists.
You'll find families by the droves with balloons, light rays and ice cream; couples young and old holding hands.
People sitting at the water's edge gazing at the city skyline off in the distance and multitudes of all ages, sizes and ethnicities dancing to the music at the square, the variety of dance steps as diverse as the people executing them.
The amphitheater is home to entertainers ranging from folklore dancers to Mariachi bands to clowns – or as we were surprised to find ourselves in the middle of, a protest rally against Mexico's president.
It reminded me a little too much of home. I certainly didn't have to come to Puerto Vallarta for that!
That's the thing about the Malecón – it's unexpected. Sand sculptures are one thing – stone art another. Precariously placed boulders of varying size and shape balanced one upon the other. I had no idea what they meant but the visual was surprisingly impressive.
During the day, your attention is on the permanent appeal of the Malecón, shops and gardens and sculptures of various kinds; at night, it's all noise and moving parts.
At dinner in a second-story restaurant looking down upon the boardwalk, I watched a man in a monkey suit taking pictures with tourists, a violin player, bikers and inline skaters trying to keep from crashing into each other.
Grown-ups wearing outlandish hats made from balloons, as though coming from a toddler's birthday party, and a sculpture of a bronze man sporting a sombrero and a rifle – until he moved and became a mime instead.
I hardly had time to focus on my margaritas. And then, an unexpected explosion in the sky – fireworks! Who knows why – it's the Malecón. There doesn't have to be a reason.
Book This Trip to Puerto Vallarta
Ready to explore Malecón and the wonders of Puerto Vallarta? Start planning with the help of Omio for planes, trains and ground transportation booking. Then, you can learn more about the area, get hotel or VRBO reservations, see local restaurant reviews and more by checking out TripAdvisor and Travelocity.
For more information, visit https://visitpuertovallarta.com.
Author Bio: Fyllis Hockman is a multi-award-winning travel journalist who has been traveling and writing for over 30 years — and is still as eager for the next trip as she was for the first. Her articles appear in newspapers across the country and websites across the internet.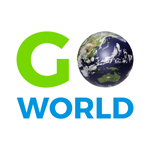 Latest posts by Go World Travel Magazine
(see all)