As I stepped off the curb onto Market Street, the raging waters enveloped my sandaled foot, rose past my ankle and threatened to sweep me off my feet. My wife Kathy stood under an awning clinging to her wind-whipped umbrella.
She awaited my estimation sheathed in a plastic garbage bag. "We can make it" I opined, "but you'll get wet". "I'm already wet" she stated in an obvious reply. Thus, we continued our merry but soggy exploration of Charleston.
Hurricane Ida was side-swiping one of the South's oldest cities. It was inundating it with torrential rainfall that threatened to overwhelm its barely above sea level sewer system. Still, with a limited amount of time to enjoy the charms of the seaside city of Charleston, we did not want to waste time holed up in a hotel room.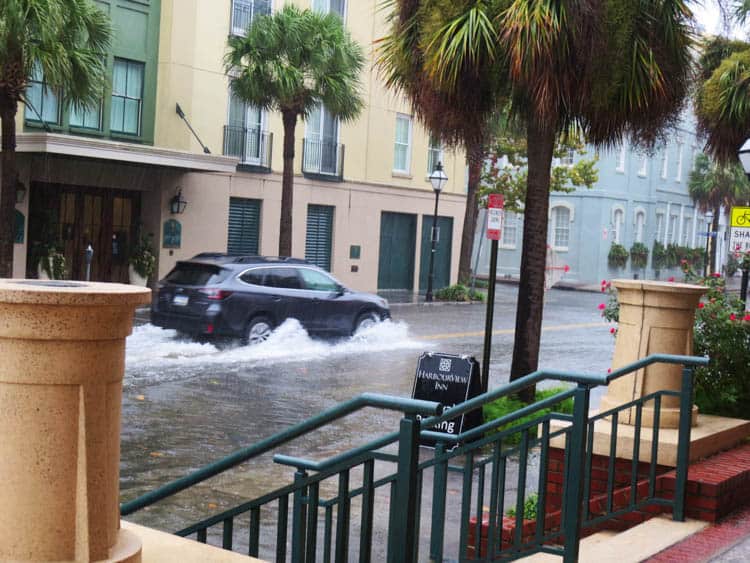 Historic Charleston City Market
We trudged across the watery thoroughfare and entered the Old City Market. Based on the occupants of the horse-drawn carriage that passed us by, we were not the only ones unwilling to be deterred by a mere hurricane.
The historic Charleston City Market is one of the city's more popular attractions. Local entrepreneurs sell a wide range of local wares at one of the nation's oldest public markets. The sprawling four-block retail venue has nearly 300 vendors selling beautiful handicrafts.
Although on this day it was apparent that more than a few had decided to sleep in late.
Arriving in the Holy City
Our damp adventure had begun 3 days earlier. It was a much drier afternoon when we had flown into Charleston, South Carolina. Our aim was to experience the allure of the Holy City's steeple-dotted skyline, colonial homes and cobblestone streets.
The occasioned nickname "The Holy City" appears to refer to the prolific amount of houses of worship whose many spires give it a distinctive look. It is said that no building can be built higher than Charleston's tallest church steeple.
We settled into the Harbor View Inn with its sweeping views of the Charleston harbor and Waterfront Park. The inn's Rooftop Terrace is one of the best places in the city to enjoy the vista.
Our late arrival on a busy Sunday found us searching for a table at one of the eateries on East Bay Street. Apparently, reservations are recommended. We stumbled out of the bright sunlit day into Poogan's Smokehouse and found two chairs at the bar.
The 19th-century exposed brick walls were bathed in a subtle hint of fragrant smokiness. With recommendations from our host, we settled on a couple of local Charleston brews. These were matched with their juicy pulled pork, chicken, smoked sausage, slaw and house chips. We felt we were off to a good start.
Afterward, we walked down to the waterfront. We passed the splash fountain filled with squealing children. Then headed onto the pier that reaches out into the depths of the harbor. Here we joined several onlookers and watched sailboats ply the calm waters.
Enjoying the Slow Pace of Historic Charleston
Morning found us on the rooftop terrace where we enjoyed breakfast along with a striking sunrise over the working harbor. Charleston embraces a slower pace and the lower peninsula of this historic city provides a perfect venue for a post-breakfast walk.
We strolled south through Waterfront Park with its well-known Pineapple Fountain and along cobblestone streets past the famed Rainbow Row of pastel-colored homes. This led us onto The Battery, a defensive seawall and promenade located on the lower shores of Charleston's headland.
At the southern point of the Battery is White Point Garden. The park is located at the confluence of the Ashley and Cooper Rivers as they flow into the harbor. It has several monuments, a gazebo, and massive cannons that date back to the Civil War.
Its wide grassy areas shaded by old oak trees proved perfect for a midday respite from the rising temperature.
A Must-Do Horse Carriage Tour
You don't need a car in the historic Downtown Charleston. However, if you want to get off your feet for an hour, you could always take a carriage ride. Call it touristy, but taking in Charleston history from a horse carriage is one of the most popular tours in the area. After all, we were tourists.
With the equestrian consort of Lilo & Boppy, our tour guide with Palmetto Carriage Works pointed out the famous and sometimes infamous homes of Charleston. The unique architecture, including the ornate wrought ironwork, decorated many of the homes.
Against a backdrop of soaring church steeples, past unique streets only four feet wide, we clopped along. During this time she regaled us with stories of the people who made Charleston. Also, why Charleston single homes with their wide piazzas are built as they are, the significance of earthquake bolts and much more.
It was easy to imagine ourselves being driven to one of these famed antebellum homes for a quiet afternoon's Southern interlude.
Seafood and Turtle Rescues
For dinner, we ended up at Amen Street Fish & Raw Bar seeking a taste of local fair. We discovered she-crab soup, a rich, creamy Charleston delight made with crab, roe and a hint of sherry. Combined with plates of fried green tomatoes and oysters we were in southern culinary heaven.
The following day we walked (and walked; an uber may have been appropriate this day) to The South Carolina Aquarium. Besides sharks, seahorses, wading birds, otters, and fish of all colors, it is also home to the Sea Turtle Care Center. This is a hospital for the care of sick and injured sea turtles.
When a sea turtle is found stranded or injured off the coast of South Carolina, the animal is brought to the Sea Turtle Care Center for treatment by a dedicated staff and volunteers.
On this particular day, there were a half dozen rescues in need of treatment for a variety of illnesses including injury from a boat strike. Three of the patients were released the day after our visit.
The Dark Side of Historic Charleston
History in Charleston is as thick as the humidity on a late summer day. Museums such as Forts Moultrie & Sumter ring the harbor. Several grand homes of the bellwethers of Charleston are open to the public, and architectural treasures explore the deep history in the city's past.
An effusive guide in historical costume coaxed us into one, the Old Exchange & Provost Dungeon. Built in 1771, it has a long history in Charleston's past. George Washington had greeted a crowd of Charlestonians from its balcony. After the British captured the city in 1780, its basement was used as a military prison.
Walking through the eerie confines of the dank brick barrel-vaulted rooms where as many as 120 prisoners were kept had a spectral quality to it. Some might say haunting.
You cannot ignore Charleston's contribution to the slave trade, considering that an estimated 40% of the enslaved people brought to the US passed through Charleston. A few blocks from the Old Exchange, the Slave Mart Museum tells that compelling story.
Ryan's Auction Mart opened on the site of this museum, and African-Americans were held and auctioned off here between 1856 and 1863. The building has a heart-breaking air about it that is difficult to ignore.
Southern Food and Southern Charm
Our final meal was at Slightly North of Broad, or "SNOB," as the locals like to refer to it. Located in a former 18th-century warehouse building of burnished wood floors lit by elegant chandeliers, we started with pickled shrimp and then I dove into a bowl of shrimp and grits, a South Carolina specialty for generations.
Kathy enjoyed seared flounder on a squash puree. It was epicurean magic for our last evening.
We fell in love with the charms of Charleston as we wandered the neighborhoods, marveled at the old-world homes and enjoyed the spectacular waterfront where hospitality and history came alive and embraced us.
Book This Trip to Historic Charelston
Ready to plan your historic escape to Charleston, South Carolina? Start preparing with local restaurant reviews, hotel and VRBO accommodations, insider tips on the best historic gems and more through TripAdvisor and Travelocity.
Charleston International Airport provides easy access to plenty of nearby attractions. Find the best flight deals and ground transportation options in Charleston through CheapOair.
Find more skip-the-line tickets, expert-led tours and unique historic activities in Charleston through GetYourGuide.
Things to do:
Places to eat:
Where to stay:
Author Bio: Frank Hosek is a sometime traveler who embraces the journey and the written word.