"You're crazy," the rental car agent told me. "Why would you want to visit Prince Edward Island in the middle of January?"
I had just run through the Montreal airport Home Alone-style to catch my flight to PEI. Tip: if you're flying internationally through Montreal and then flying elsewhere in Canada, make sure you have more than an hour between flights.
 I was not in the mood to explain my trip to the agent who had just mansplained to me that selecting "whatever is available" to save a few bucks when renting cars could get you stuck with…whatever is available. Who knew?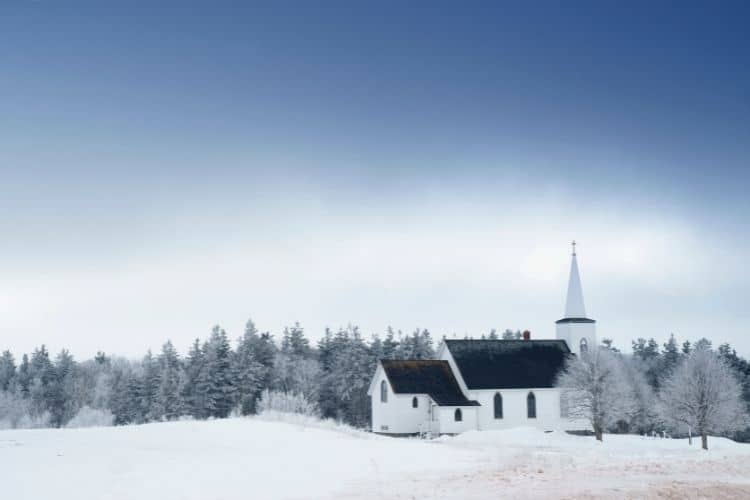 A Cold Welcome to PEI
The rental car agent wasn't the only person who thought I was crazy for spending two weeks in the smallest province in Canada in January. There was at least five feet of snow on the ground—that soft, moist snow perfect for snowballs.
Plus, the Gulf of St. Lawrence, the body of water that surrounds PEI and feeds directly into the Atlantic, was frozen solid.
Ships had to cut a path into the harbor. I'm still not sure how they navigated the thick ice. My entire family had questioned my sanity. Especially since my birthday was smack dab in the middle of the two weeks I was gone.
This was not my first time visiting Prince Edward Island. I had come in the summer of 2014 with my older brother Landon and his then-partner, Alex. We arrived on PEI late. Our first stop the next morning, after coffee, was to Green Gables. This is the real-life home in Cavendish, PEI, where Lucy Maude Montgomery set her immortal children's books.
Who Was Anne of Green Gables?
"I know the heroine of these books is some redhead," Landon said, as we queued at the entrance, "but what are they about again?"
For most of the trip, he had been the one to sound like the walking guidebook. He had given Alex and me every fact available on Google about the Highlanders who settled in Nova Scotia.
Also, the building of the Confederation Bridge to connect mainland Canada with Prince Edward Island. It's the world's longest bridge over ice-covered waters and it took four years to build.
You have to pay a hefty toll driving from the island to the mainland (it doesn't cost to enter PEI, just to leave it.) But today, I was in control, and I didn't have to Google anything.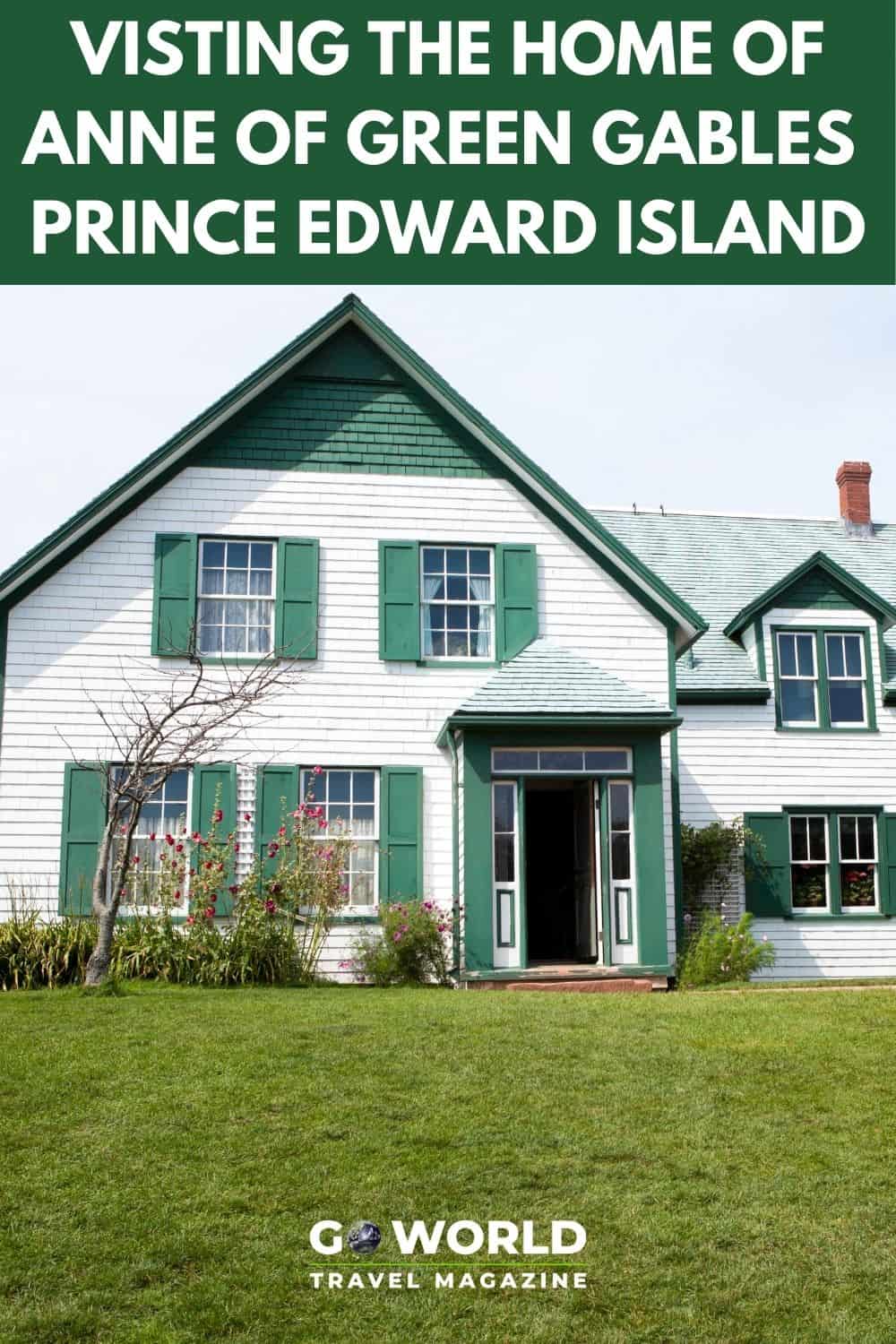 "A little orphaned girl gets taken in by unmarried siblings Marilla and Matthew Cuthbert in the late 1800s. They lived in their family home called Green Gables."
"I gestured up the path to the tip of green roof peeking out from over a barn; I was sure it had been placed there just to delay visitors' gratifications."
"They wanted a boy to help with the farm, but they fall in love with this over-the-top, love-starved little girl. Then it's all about all the ridiculous things that happen to her, her best friend, Diana and her eventual husband, Gilbert."
Seeing Green Gables for the First Time
The boys had tuned me out, but I didn't care. I was about to tread hallowed literary ground. My heart beat behind my eardrums and in my eyelids. My fingertips felt disconnected from my palms as we rounded the corner of the barn and I saw Green Gables for the first time.
The white clapboarded, green-gabled house sits nestled between rolling green hills and rustic fencing demarcating the preserved space of the old homestead.
The house has been repainted, refurbished to give it the appearance of the nineteenth-century home Montgomery visited as a child. Spongy, soft grass dotted with little white flowers spreads out around the house. The kind of grass that makes me want to take off my shoes and sink my toes between the blades.
The lawn slopes down to a stand of trees known as the Haunted Woods to Anne readers.  You cross a footbridge and follow a path, laden with flora and fauna I wish I knew the names of, to the homestead where Lucy grew up.
Here you can browse bookshelves and purchase merchandise. All funds go directly back to the Montgomery family who still own the property. It was a much less touristy place to spend money than the Green Gables gift shop.
The original buildings are all gone. But from this spot, you can look out over wide-open fields, wending paths that disappear into woods and dream in the same spots that Lucy herself loved as a child.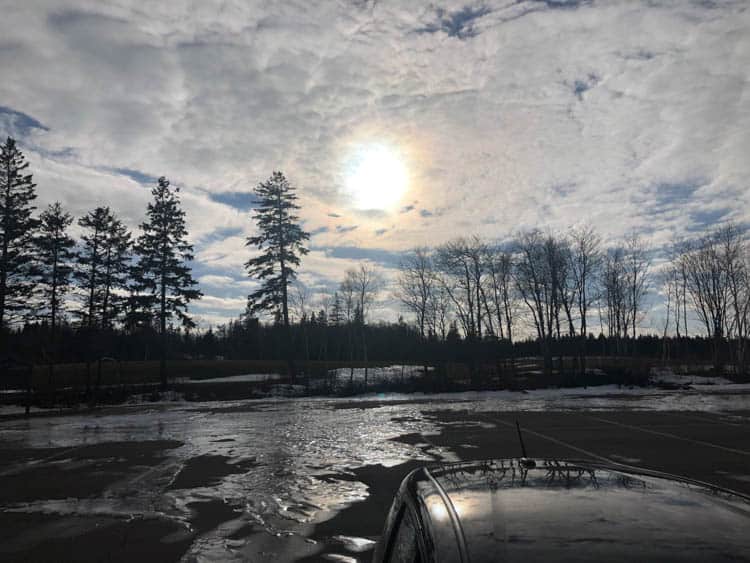 Cavendish (aka Avonlea)
However, in January, as I discovered, all those locations are closed—and covered in feet of snow. The province mainly makes its living off tourism. 
From roughly May to September, thousands flock to the tiny island to live out their Anne of Green Gables fantasies. The fictional city of Avonlea was inspired by the real city of Cavendish.
The town has since transformed itself into an Anne mecca. Nearly every shop and restaurant is Anne-themed and there is even an Anne amusement park.
Anytime that is not May to September, these businesses are closed-up tight, the proprietors not able to make enough money to survive without hordes of tourists. Few besides me are crazy enough to tour PEI in the dead of winter.
Here's the thing though—while the snow makes walking tricky and you have to save space in your suitcase for an extra-large coat, Prince Edward Island is gorgeous in January.
There is plenty of skiing to be had at places like Mark Arendz Provincial Ski Park or Mill River Resort. Plus, if you're into high-speed snow sports, there are snowmobile and ATV routes cut into the North Cape Coastal Drive and Confederation Trail.
Exploring Charlottetown
Not being an outside winter adventure gal though, I rented an Airbnb in Charlottetown, the capital and most populated city on the island. I enjoyed tramping up and down the main thoroughfares to find little haunts. Spots that in the summertime I would avoid due to overwhelming crowds.
My favorite place to write was The Kettle Black on Queen Street. They feature locally roasted coffee and an especially decadent chocolate cake that fueled many writing sessions. Brits Fish and Chips on Great George Street has some of the best fish and chips I've ever tasted.
My dad is a connoisseur of the meal, so I know my fish and chips. Plus, you can make the chips poutine; fries slathered in brown gravy and cheese curds. It's the most quintessential Canadian side dish.
Charlottetown also hosts a Winter Dine Festival, featuring special three-course menus at various restaurants around the city. I had my dream birthday dinner at Redwater Rustic Grille on Grafton St. I dined on scallops, beef ribs and a nutty chocolate cake with a dirty martini (or two)—it was exquisite.
Following the Path of Anne of Green Gables
On the actual day of my birth, I treated myself to a self-constructed trek around the island to follow the path Anne took when she first came to Green Gables.
I started at the Charlottetown Harbor where her fictional ship would have docked after its journey from Nova Scotia. The snow sparkled in the sunlight from my vantage point in Victoria Park. Red boulders lined the boundary between the frozen water and the walking path while a squat lighthouse stood guard to my right.
From there, I traveled by car to the train station in Hunter River and followed the PE-13 north to Cavendish. Although the thought of treading this path in a horse-drawn carriage as Anne did with Matthew was tempting, I was glad for my heated rental car.
I drove past the Cavendish Post Office (where L.M. Montgomery served as the postmistress) and parked at the Cavendish Visitor Centre. From here, I walked across to the Cavendish Cemetery. It's the type of cemetery that exudes history. 
Weathered grave markers you have to squint at to read are framed by trees that have stood guard over these souls for hundreds of years. An iron archway built into a low stone wall announces that this is the final resting place of Montgomery.
Luckily, the snow had melted enough for me to follow the cut-stone path that leads visitors to her headstone.
Visiting the Grave of Lucy Maude Montogomery
Standing in front of Lucy's grave, I was glad I had given this trip to myself as a birthday present. I stood there for what felt like hours staring at the worn stone, under which one of the people responsible for my wanting to be a writer now reposed. To the left, Green Gables peeked out just beyond the tree tops many yards away.
I missed being able to stand in the dimly lit corridors of the house, staring in awe at the puffed-sleeve, brown Gloria dress purchased by Matthew lying on Anne's bed. Sadly, I couldn't pretend I was Anne, tiptoeing into Marilla's room to try on her amethyst brooch.
But, I could still close my eyes and breathe in the clean, cold, snow-tinted air and share Prince Edward Island with my fictional counterpart and her creator in a way only crazy people like me have experienced—completely and happily, alone.
Book This Trip
Ready to plan a Gables-packed adventure to Prince Edward Island? Start preparing with local restaurant picks, hotel and VRBO accommodations, knowledge on the best shops and more with TripAdvisor and Travelocity.
Author Bio: Deidra Dallas is an MFA candidate in Fiction at Lesley University, set to graduate in June 2022. She lives in Ballinger, Texas, where she works as a freelance editor and quilter. When not in the middle of a global pandemic, she takes every opportunity to travel solo or with her older brother to experience the world outside of Texas.