Go World Travel is reader-supported and may earn a commission from purchases made through links in this piece.
Caught in a tropical downpour I sought refuge under the limbs of a breadfruit tree.  I was still there an hour later.
Then suddenly my patience was rewarded: I saw the bird I most wanted to see, a spectacular blue-and-orange Malachite Kingfisher. Moments later, it dove kamikaze-style into the water, snatched a small fish and was gone.
It was a metaphor for Saó Tomé and Principe Island in Africa. Here each day is filled with fleeting moments of eye-popping joy.
This two-island African nation is anchored on the equator in the Atlantic Ocean 150 miles west of Gabon. In many ways, it is an anomaly. Never part of the African continent, Saó Tomé and Principe Island evolved in isolation.
This resulted in no large animals or rodents and an exceptional level of endemic plant and bird species. Subsequently, it became a living laboratory for scientists.
There were not even any inhabitants when it was discovered by the Portuguese circa 1470. Today's Saó Toméans are descendants of slaves, and later contract workers.
They were brought over from other Portuguese colonies to work on the plantations. Despite being one of the planet's smallest countries, at the end of the 19th century, it was the world's biggest cacao producer.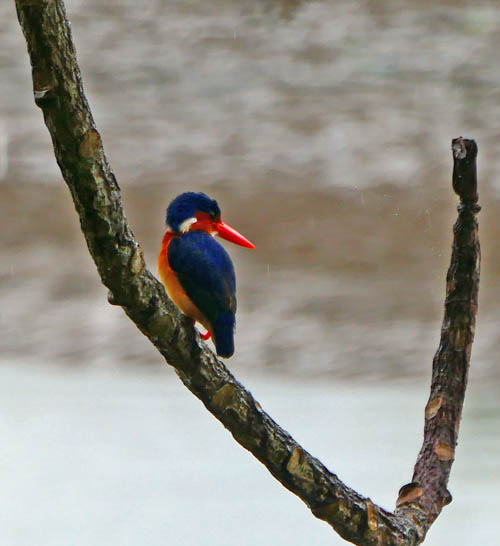 The Friendly Birder's Paradise of Principe Island
Today, this poor, undeveloped, remote nation is a birder's paradise. It is covered in dense emerald green forest with a kaleidoscope of exotic flowers and soaring tropical trees.
Furthermore, it is dotted with dramatic towering rock needles shrouded in mist and is graced with idyllic powdery sand beaches and sparkling clean, warm sea teeming with marine life. The entire Príncipe Island has been designated a Biosphere Reserve by UNESCO.
Best Tips & Tools to Plan Your Trip
It is this exceptional natural heritage, coupled with the atmospheric though soul-searching legacy of the colonial plantations, that lures a small number of visitors annually. While on these welcoming islands many called out "Bon Dia" or gave me a thumbs up as they passed by.
Distances are short on both islands. But there is limited local transportation and just a few miles of paved roads (most are rocky, rutted, red-dirt tracks with few signs).
Therefore, the only touring options are to rent a 4X4 and explore on your own or hire a guide. A guide may be preferable to really get to the heart of the place. Everyone speaks Portuguese, but English is rare; I communicated with guides mostly in Spanish.
Saó Tomé City
Small but bustling Saó Tomé is a breezy, friendly, ramshackle. But it's also a very safe city washed in a palette of pastel colors with a long oceanfront boardwalk and many Portuguese colonial buildings.
There is also a 446-year-old Portuguese fort guarding the bay, large colorful markets and many bars and restaurants. I sampled such local dishes as delicious bean and fish Feijoada stew and Calulú. It is a historic dish created by slaves with herbs and medicinal plants to boost their health.
The true national dish, however, is fresh fish ‒ generally marinated in white vinegar or lemon and grilled. The abundance of the local Atlantic waters means fish is on every restaurant menu. In fact, it is often the only menu item. It's served with rice and either fried bananas, sweet potato fries or breadfruit.
Volcanic Skyscrapers and Mouth of Hell
We set out for the Equator where we would stand with one foot in each hemisphere. The route was lined with sugar cane, banana and cacao, with lush forest beyond.
Meanwhile, the towns were mere strings of rickety wooden dwellings in bright primary colors. At Boca del Inferno (Mouth of Hell) we watched waves careen at high speed up a tongue-like channel in jagged black-basalt rock. Then hurl foaming white water into the air.  
The first glimpse of the islands' many volcanic plugs was the 2,175-foot Pico Cão Grande (Big Dog Peak). These plugs are phallic natural skyscrapers rising straight up from the forest floor. Steamy haze always blankets the shadowy summit and imagination runs wild with visions of lost worlds.
A launch across a channel brought us to Ilheu das Rolas (Turtledove Island). Then a 20-minute hike up to the Equator Marker provided an all-encompassing panorama of azure sea and the palm-fringed southern end of Saó Tomé island.
Another short walk brought us to a heavenly swimming spot: Praia Café (Coffee Beach). This is a small cove shaded by plane trees. It boasts soft sand, sparkling translucent aquamarine water and natural jetties on both ends of black volcanic rock.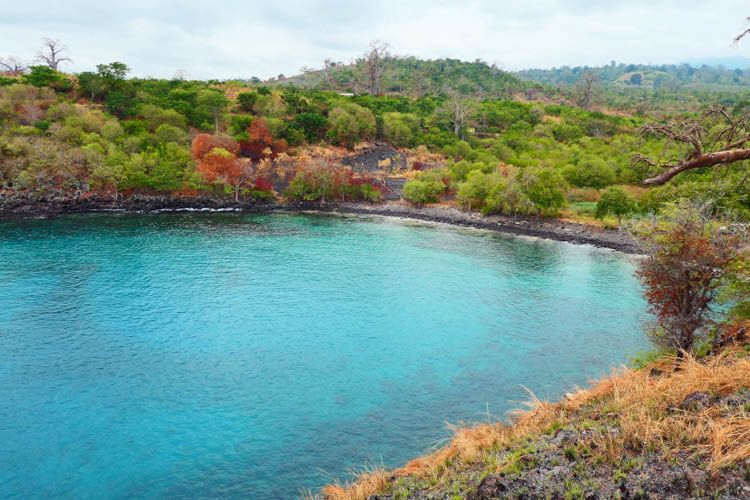 North Saó Tomé Island
In the savannah-like north of Saó Tomé Island, we swam in the Blue Lagoon. Here the grasslands are studded with majestic baobab trees and random bursts of the brilliant orange of flame trees.
A sheltered cove shaded by tamarind trees, the clear, blue water has a rock shelf perfect for snorkeling. While we were there a group of divers arrived and disappeared into the deep. Serpent eagles seemed ever-present above, gliding on the air currents.
Wild black-sand beaches on the west coast were a prelude to the breath-stopping view of Praia Jeni. The area is framed by brilliant green foliage, backdropped by tall swaying palms and a royal blue sky. Rows of colorful fishing boats lined the white-and-gray pebble beach with opaque turquoise waters rolling over ebony rock.
Just beyond is, literally, what is known as the "end of the road". A bridge over the river that empties into the sea collapsed here years ago during powerful rains and was never fixed. There is nothing beyond this point except for several remote villages.
A History of Plantations
The extensive system of plantations brings the history of the islands into sharp focus. The Portuguese developed the colony to grow coffee and cacao for export, using labor from Cape Verde, Angola and Mozambique. Following independence, the system collapsed. Some fell into complete ruin; others became thriving agricultural communities.
Roca Agostinho Nieto was once the largest of the plantations. It is now a vibrant farm but the original Portuguese buildings have mostly collapsed.
Working plantation Roca Diogo Vaz, with its restored grand manor house and red-tiled buildings, would not be out of place in the Portuguese countryside. Still others, particularly on Príncipe, have become the country's premier luxury hotels.
Hiking in Coffee Country
Driving up into the verdant tropical mountains from the sunny and humid coast, the weather changed immediately to cool, misty and drizzly. This is coffee country, and the town of Monte Café (Mount Coffee) is redolent with the aroma of java. It is a historic spot where the Portuguese first planted coffee around 1800, and then cacao 20 years later.
The original buildings are still standing but have long been forgotten. A fascinating coffee museum is highlighted by the large bean-processing machine imported from a Buffalo, New York manufacturer at the turn of the 20th century.
This is also hiking country. A trek to São Nicolau waterfall traverses a lush and wet primary forest resounding with bird calls. Damp earthiness fills the nostrils.
The path is crossed by streams and punctuated with many colorful blossoms and stands of bamboo. Plus soaring fig and ceiba trees with their fantastic buttress root systems.
The two-hour steep trek to the volcanic crater of Lagoa Amelia was a botany lesson with guide Francisco. We sniffed extraordinary fragrant blossoms and sampled wild raspberries and avocados. We also learned about many medicinal plants such as a bark that's a natural mosquito repellent.
Rimmed by towering trees and giant begonia bushes, the crater floor gives you pause. Spongey, squishy and wet, your shoes sinking in, it's like walking in a suspended reality. There are about two feet of damp earth held together by plant roots, below that is 24 feet of water. It makes you wonder if you're going to fall through and drown.
Principe Island
Approaching Príncipe, the "Green Island," by air it looms as a mysterious, forbidding place with brooding silhouettes of jagged coastline. Projectile pinnacles are veiled by dark clouds and haze.
But once on the ground, it's a bright, colorful and happy island ‒ with extraordinary flora, fauna and natural beauty. Repeatedly, there's a sudden panorama so stunning that your hand automatically goes to your heart.
Santo Antonio, the capital (the world's smallest according to Guinness), is really a big convivial village. It's noisy and full-throated with a shambly setting of crumbling Portuguese colonial buildings and clapboard wooden houses painted in bright hues.
Music is blasting at high volume throughout the day (much of it from Cape Verde and Angola). As they walk and drive, people are continuously shouting out greetings and messages to each other. They also gather in small groups to boisterously talk and laugh.
Pass under a yellow, crenelated arch to enter the tranquil world of the beautifully restored plantation Roca Bel Monte. It is a luxury hotel with the not-to-be-missed Forever Príncipe Museum. It offers detailed information and colorful graphics on all things Principe from flora and fauna to history and development.
Roca Sundry, arguably the most elegant hotel here, is still a working cacao plantation. It has a terraced restaurant offering dramatic coastal views and displays of rusted farming machines and tools from the past. Popular Roca Bom Bom is another restored plantation hotel set on a powdery-white-sand, palm-fringed beach.
Beautiful Beaches and Jaw-Dropping Views
Praia Banana is Príncipe's most famous beach. From the first glance, from a bluff above the ocean, it's obvious why.
There is a kaleidoscope of colors from the aqua and mint waters, the dark green contours of the reef, coconut-palm-covered slopes, an arc of tan sand and coal-black boulders. But more than a gorgeous sight it's the perfect swimming spot with its sparkling clean water and perfect 78F temperature.
A quick stop at a lookout point was jaw-dropping. A vast view of the island's southeast coast to the Bahia das Agulhas (Bay of Needles) was a Jurassic Park-like vision of inky mountains and stone towers erupting up from the dense forest.
All was veiled in rising equatorial steam and streaked with rays of light penetrating the clouds.  Another sudden heartstopper was a panorama of unique eponymous coastal formations. Two Fingers Mountain and Jockey Hat Islet are juxtaposed with a forest aflame with orange flame trees.
A several-hour hike in the rainforest of Obo Natural Park takes you to the ultimate natural swimming hole. Oque Pipi waterfall cascades nearly 100 feet down to a large rock pool with crystal clear, refreshing 75F water.
Climbing Pico Papagaio (Parrot Peak) is a challenging four-hour roundtrip. It's a steep trek on a dark, wet and muddy trail under a dense rainforest canopy.
There are a number of slippery, treacherous spots where you have to literally pull yourself up with vines and ropes (that have been attached to trees to aid hikers). But once on top, we enjoyed magnificent views of Santo Antonio and the north coast while munching on wild pineapple growing on the summit.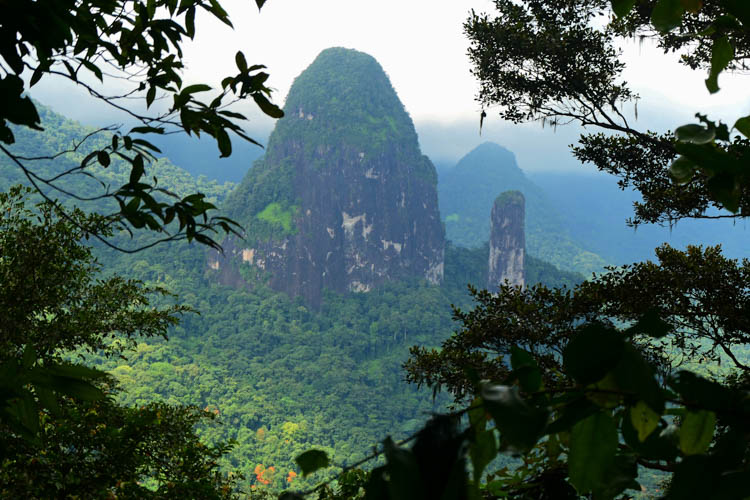 Reflections of Saó Tomé and Principe Island
The relaxed, easy-going lifestyle of Saó Tomé and Príncipe – leve leve in island speak ‒became a whirlwind of adventure, experiences, inspiring nature. Plus, of course, those moments of eye-popping joy.
Among my favorite moments was when I spotted enthralling endemic birds. This included Twin-Tailed White Tropicbirds, the Saó Tomé Oriole, the Paradise Flycatcher, parrots and pigeons of different colors.
Also the long-tailed Fiscal and the warbler-like Saó Tomé White Eye. But the best was saved for last:  that bewitching Malachite Kingfisher, a parting gift the day I was flying home.
Book This Trip
Ready to plan a Saó Tomé and Principe Island getaway? Get prepared with insider knowledge on how to get around, hotel and VRBO accommodations, local restaurant reviews and more through TripAdvisor and Travelocity.
Plan even more fun by booking unique island activities and expert-led tours through Viator. Book your dates in advance here.