After more than a 20-year absence, my husband decided he wanted to revisit the site where he spent his youthful summers, Prince Edward Island (PEI). It was time, he said, to show our four-year-old daughter where her relations came from and meet her namesake, 93-year-old Sadie MacKinnon.
We wanted to take our time, though, and not do the hellbent-for-leather drive his parents used to take, leaving Quincy, Massachusetts, before the sun came up and arriving at his relatives' house by dinnertime. The route they took was up through Nova Scotia and across on the car ferry.
Rob was eager to drive over the Confederation Bridge, which connects New Brunswick and PEI, and at eight miles long, it is the longest bridge over ice-covered water in the world. It also frees up travelers by eliminating the need to plan around the ferry schedule, plus you only pay the toll if you depart via the bridge.
Planning our trip, we decided on a circuitous route, from our home near Boston up through Maine, and on to the three Maritime Provinces. First we were to go to New Brunswick, then to Prince Edward Island, ferry to Nova Scotia, drive down the coast, then take the high-speed ferry back to Maine. After stopping at the Fundy National Park in New Brunswick, we set up camp for our first night in Canada.
The tides at the Bay of Fundy are the largest in the world, rushing in at the height of a five-story building at high tide. The water comes in at about six feet per hour. Low tide is when the real fun begins, though, when you can walk on the ocean floor. Our daughter loved squishing her toes in the mud (and so did many adults we saw!) From the park, it's just a three-hour drive to Prince Edward Island.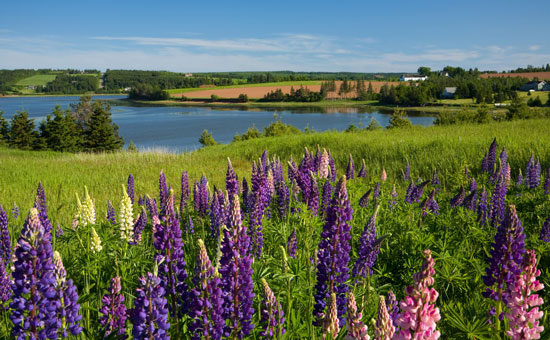 PEI is the smallest of Canada's provinces, but has the highest population density in Canada of about 135,000. The tourist board likes to say no spot on the small island (about 120 miles/193 km long) is more than 10 miles from a beach. The ?Prince Edward' part of the island's name started in 1799, after the duke of Kent, Edward, who would later father Queen Victoria.
We zipped over the bridge and headed straight for the PEI National Park to set up camp. Unfortunately for us, while the site was gorgeous, mosquitoes were running rampant, and we lasted just one night before hightailing it to the Rodd Royalty Inn in Charlottetown; which has the distinction of having a 105-foot waterslide at its indoor pool.
Even though we couldn't hack camping, we returned to the park to go to Brackley Beach, which is perfect for children, with ankle-deep water for what seemed a mile out. Surprisingly, despite its northern location, the water was relatively warm.
On our journey, Sadie had been listening to the Anne of Green Gables books on tape, so we made sure to hit many of the attractions dedicated to Lucy Maud Montgomery's popular fictional, pigtailed redhead.
The "Anne" books, the first one published in 1908, describe the life of a poor 11-year-old orphan who comes to the island and soon captivates everyone with her quirky charm. Once she saw Anne's signature straw hat, complete with red braids attached for sale, Sadie had to have it. She wore it the rest of the trip.
She was a big hit when we went to see Anne of Green Gables, the musical at the Confederation Centre of the Arts downtown. This year marks the 40th anniversary of the musical, which consistently sells out. The show was true to the book and a lot of fun to see.
The northern town of Cavendish, though, is really Anne Central, the main attraction being the Anne of Green Gables Heritage Site. The house, which belonged to Montgomery's relatives, inspired the setting for her novels and is charming to walk through.
Back in the capital city of Charlottetown, which is the main city on the island and located on the Northumberland Strait, the highlights include: Founders' Hall, where visitors can get the lowdown of why PEI is the "Birthplace of Canada." It earned this nickname after a series of meetings held in Charlottetown from 1864-1867 formed the basis for the founding of the nation (hence "Founders' Hall).
The historic waterfront district, packed with shops and restaurants, is great to explore. From June through October, the Charlottetown Festival is in full swing with performances and special events. We stumbled upon costumed interpreters from Founders' Hall singing songs on a street corner one day. When we visited Founders' Hall ourselves, we all enjoyed wearing headsets that narrated PEI's history as we walked through.
Seafood reigns supreme on this island, and we were thrilled that at the Olde Dublin Pub, our finicky four-year-old for the first time tried fish and chips and loved it! This Irish pub will forever hold a special place in our hearts. We grownups enjoyed our fresh oysters, too. My husband and I enjoyed seafood at practically every meal, in fact.
Other great restaurant choices include Fishbone's or Lobster on the Wharf, a hugely popular yet casual restaurant. Malpeque oysters, Island Blue mussels, and of course, island potatoes, are required eating.
Every September, the island celebrates its seafood with the PEI International Shellfish Festival, where great food as well as oyster-shucking contests, chowder championships and demonstrations and more offer seafood lovers a slice of heaven.
Lobster suppers are a long-time tradition, and it's not hard to find one, whether at restaurants or at a church on weekend nights.
For breakfast, we discovered Cora's, which we returned to each day, we so enjoyed the variety of crepes, fresh fruit and omelettes.
After meeting with Rob's family, who took his long gap between visits in stride, we headed south to the ferry and Nova Scotia. In Yarmouth, we boarded the CAT, the high-speed catamaran that gets you from Nova Scotia to Bar Harbor in about three hours.
For days, people had been calling Sadie, who refused to take off her straw hat, "Anne," much to her delight. Once we reached Maine, however, people started asking her if she was "Pippi Longstocking." We then knew then our vacation was over. Sadie put the hat away for safekeeping until next time. We promised ourselves it wouldn't be 20 years before we returned.
If You Go
Charlottetown Visitor Information Center
178 Water Street, Charlottetown
902-368-4444
www.peiplay.com
Tourism PEI
888-PEI-PLAY
www.peiplay.com