As a Millennial traveler, myself, if there's one thing I've come to learn, it's that travel is incredibly fulfilling at any age. But, there is something so life-changing and monumental about traveling when you're young.
That's why I always urge Millennials and Gen Z's to travel as soon as they can. It's a great way to learn about different cultures and different perspectives. But most importantly, learn about themselves in a way they never thought possible.
Many may think that young travelers are just looking to take pretty pictures to share on social media. However, we're looking for more than just a heart emoji or a "like." We're looking to fall in love with destinations, histories and their people.
Here are five of the best places for Gen Z and Millennial travelers to add to their bucket lists.
Top Spots for Gen Z and Millennial Travelers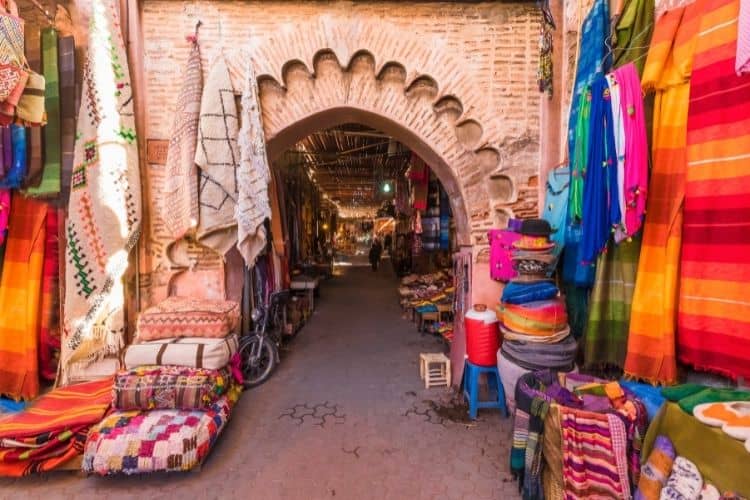 Marrakesh, Morocco
Marrakesh is every young traveler's dream. It's rich in history with a plethora of things to do and an abundance of natural and cultural beauty. It's been called "intoxicating," "magical" and a downright "mirage".
The city has become increasingly popular over the last couple of years and has become a symbol of wanderlust amongst those who yearn for travel. Gen Z and Millennial travelers are among those drawn to the exotic destination.
Located in Northern Africa across the Strait of Gibraltar from Spain, Morocco feels like a middle ground between Africa and Europe. Especially with influences from both continents seeping into the food, music and architecture.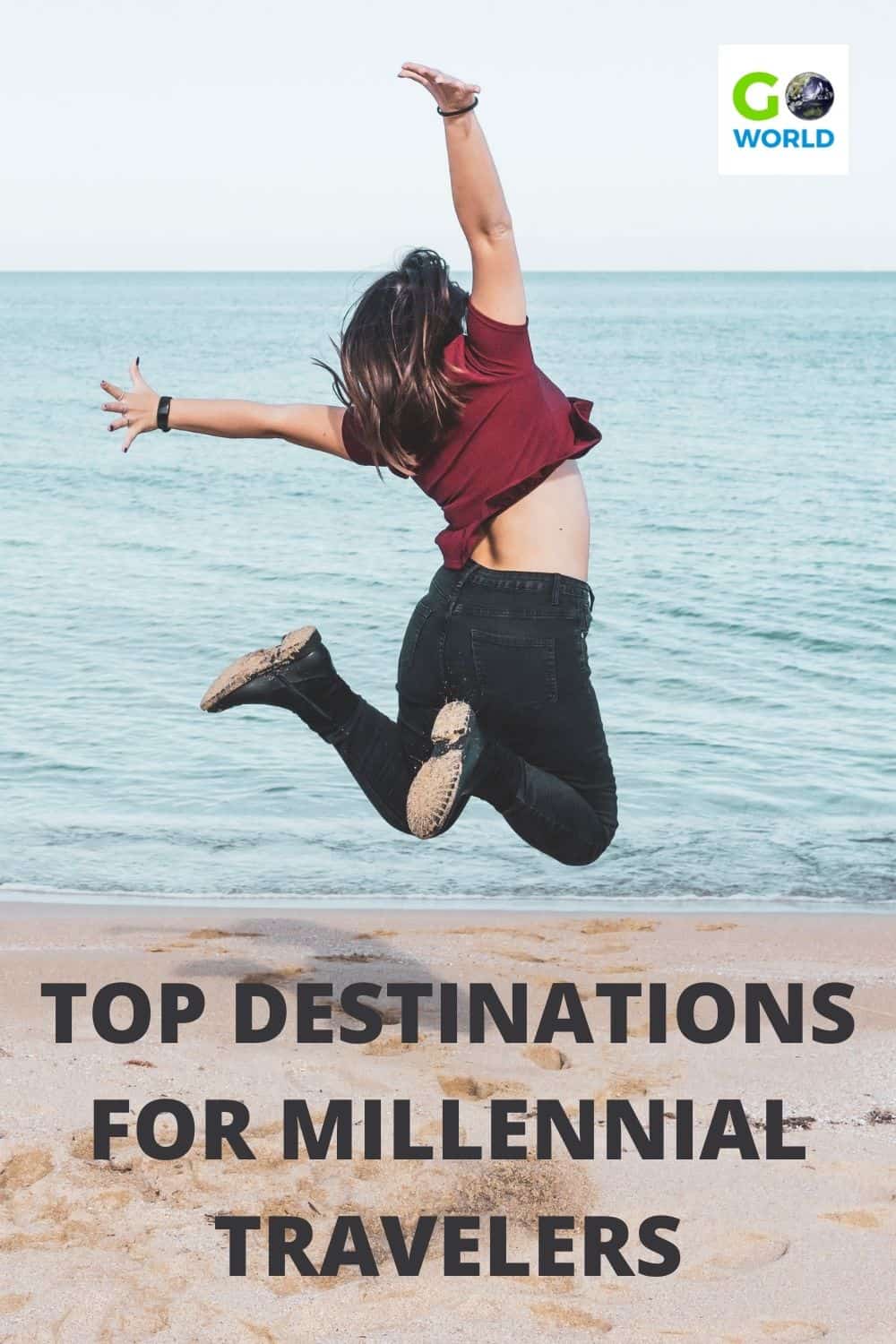 While Rabat may be the capital and Casablanca the largest city, it's Marrakesh that seems to have captured people's hearts. The "Red City", as it's referred to by locals, is in fact filled with color. There's vibrant color in the iconic mosaics, the ruins of a history frozen in time and in the people, themselves.
Known for its markets, no trip to Marrakesh is complete without a visit to the Jemaa El-Fna square in the Medina. You'll be overcome with a wave of wonder as you meander through the never-ending rows of stalls.
You'll find merchants selling their wares and spices while listening to the blend of local languages sharing stories and singing songs.
It's a city filled with history and tradition. A stop at Koutoubia Mosque, the largest mosque in the city, will give you insights into the way Islam has been a vital part of the charm and mystery of Marrakech for almost a thousand years.
And, no doubt, you'll uncover a few secrets from time to time. For instance, The Secret Garden, dating back over four centuries to the Saadian Dynasty. What was once reserved for great politicians and visiting royalty is now open to the public to discover its magic and wonders that lie within.
Budapest, Hungary
For anyone looking to travel Europe on a budget. Or, something that's not on the typical Eurotrip itinerary, look no further than Budapest, Hungary.
It was once three cities, Buda, Pest and Óbuda, separated by the Danube River. Today it is the bustling metropolis that continues to win over travelers from all over the world – especially the Gen Z and Millennial travelers.
The Hungarian capital is a wonderful introduction to the eastern part of the continent. It's the most fascinating blend of long-standing history and a zest for life to live each day as if it were the last.
This is definitely a city where you'll want to pack your best walking shoes. Not only is it a place that needs to be discovered by foot, but a city that continues to be discovered as you turn a corner and find yourself at another cafe, another market or another neighborhood. It may not have been the plan, but, like the locals, you'll just let the day take you where it leads.
That said, you'll want to have a few things on your list of essential stops in the city. Things like crossing one of eight bridges, especially the Széchenyi Chain Bridge, over the Danube River to see the city from both Buda and Pest.
Or, visit the Hungarian Parliament Building, easily one of the most spectacular and intricately designed parliament buildings in the world. Also, heading up Gellért Hill, a 235-meter high hill that allows you to take in the city all at once and really get a vantage point of these three cities coming together.
But by far what keeps Millennial travelers, and those young at heart, putting Budapest on their list is the nightlife. Budapest seems to take on a new life by nightfall and the city seeping with history turns into an all-night party.
Each night one for the history books, so it would seem. To the point where you'll find yourself partying in "ruin bars," like old bunkers or old Soviet buildings, blurring the lines between past, present and future.
It's definitely a very Bohemian take on nights out, but Budapest can also offer up the glam like its fellow European counterparts, with its swanky rooftop bars and hotel lounges.
Byron Bay, Australia
Pretty much all Millennial and Gen Z travelers have considered a trip to Australia at some point or another. It's a downright rite of passage when it comes to starting one's travel "career".
And literally, every one of those travelers who have gone to Australia has made their way to Byron Bay on the country's west coast and the pinnacle of backpackers everywhere.
Byron Bay is one of those places where you may plan to come for a weekend and end up staying a month or two … or twelve. Then again, time doesn't really exist in this part of the world, where the day is counted by the crash of the waves and the pull of the tide. And you wouldn't be the first person to do so, either.
The magic of the Bay has gotten to famous faces like Chris Hemsworth, Jack Johnson and Elle MacPherson for its totally relaxed and casual way of life.
It's an absolute surfer's paradise, with amazing waves for both the most experienced boarders and anyone new to the surfing world.
Another thing Byron Bay is good for is meeting people. With hostels galore, it's just pumping with hundreds of Millennial travelers from all over the world looking to meet others who share their passion for exploring.
Whether you're someone who's looking to break out of their shell or someone who's looking to pick up as many friends as there are souvenirs, you'll find it here. You're never far from someone who's willing to sit down and tell you about where they're from, where they've been and help you decide where to head to next.
Feel free to bring your new friends along as you cross off items on your Byron Bay bucket list. Items like a sunrise hike to the Cape Byron Lighthouse or heading to Clarkes Beach.
Plus, the town of Byron itself is packed with boutiques, cafes and watering holes for you all to discover together and compare stories over an Australian coffee or a beer.
Hoi An, Vietnam
When most people think of traveling through Asia, they think of vast markets, with beautiful lit lanterns of every color filling the night sky. Places like Hoi An in Vietnam.
Hoi An is another one of those places that have slowly but surely earned its rightful spot at the top for Millennial and Gen Z travelers. And, it seems to get better as the years go on.
Oozing with sophistication and grace in a way that transcends the rest of the already cool and composed country, Hoi An carries a certain level of poise for the once-major-port-turned-major-tourist-destination.
What stands out here is the way the town has maintained its roots and stayed true to its small-town charm. While at the same time leaning into the idea of opening its arms to the word and allowing its guests to offer their influences in the most authentic way possible.
The best place to see this is in the gorgeous market. By day it's a meeting place of locals and visitors and by night it turns into the most breathtaking night market. You'll find stalls of lanterns seemingly going on forever and dimly lit boats lining the river in a way that feels simultaneously mysterious and welcoming.
One of the most popular things to do in Hoi An is to visit the many tailors and seamstresses. They will make you custom-made clothing at a fraction of the price of what you'd get at home. You pick everything from the style to the fabric, to the alteration process.
While it's obviously great for photos, the best part is the abundance of compliments that you'll get when you come home. Furthermore, the incredible memories every time you wear them long after your trip is done.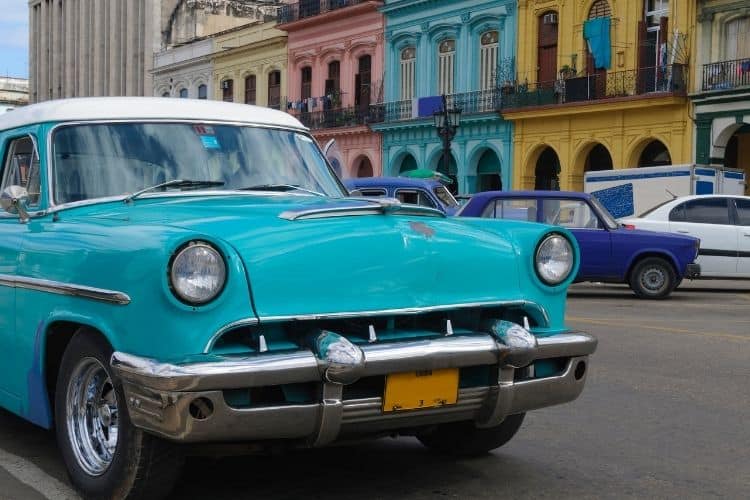 Havana, Cuba
Havana, a place of wonder, adventure and number one hit songs. But it's true, once you leave, half of your heart really will stay in Havana.
The Cuban capital and largest city in the Caribbean is slowly opening its doors to the world. Meaning more and more people are falling in love with the island country. It may be small but it's a big-time destination for many Gen Z and Millennial travelers.
If you're looking for a resort-style trip, Cuba is definitely on the cheaper side. There are all-inclusive resorts located throughout Cuba, making it popular for grad trips and trips with friends.
However, it's true what they say about the food not always being the most flavorful. So, pack your favorite spices and snacks to enjoy the taste of home.
Be sure to book a tour of Havana with one of the many tour companies that will pick you up in an old-school Cuban car.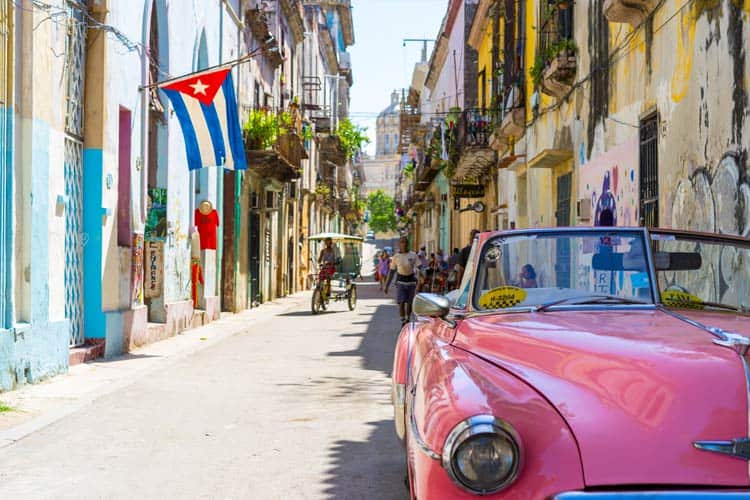 They will take you to the main city square, guiding you through the city to spots like the National Capitol Building, the Museum of the Revolution and the Plaza de la Catedral. Also to the outskirts, where you can request a tour of cigar and rum factories.
For those looking to backpack, you've come to the right place. There are lots of hostels filled with people wanting to learn more about the communist country that has remained a mystery for many years.
As for the architecture, imagine a cross between Spain and New Orleans in a slightly dusty and paler version, with pops of color from the many beautiful murals and, of course, the people themselves.
Speaking of the people, they're excited to finally get the chance to show off their charming part of the world and they know that visitors have questions. It can be an incredibly humbling and eye-opening experience to hear the different perspectives of life from the inside.
Havana, in particular, is the type of place that will answer everything you've ever wanted to know about Cuba and leave you asking more – in all the right ways.
For those who've never been, it can be difficult to imagine a bustling city with music playing and cafes overflowing with warm and friendly people. But, that is exactly what you will find in Havana.
Can Americans Travel to Cuba?
A note to American travelers: Due to current US policy, you'll have to go through some added requirements and paperwork to visit Cuba. Current US policy only allows American travelers to visit Cuba under 12 different categories of travel.
Many Americans travel to Cuba as an educational activity, one of the allowed categories. See the US Embassy website for more details. Believe me, once you get to know even 1% of the island, you'll know that it's 100% worth it.
Montreal, Canada
Montreal has long been considered one of the most unique spots in all of North America. It's a perfect mix of the casually sophisticated European lifestyle with the fast-paced passion of other major cities across North America.
It's one of those cities that is great to visit at any age. But, it's especially enticing for Gen X and Millennial travelers.
Being a bilingual city, with French and English, you can see the input from both sides of its linguistic history. It's infused in the architecture, the cuisine and culture. Plus, more and more influences from all of the Indigenous groups that are native to Quebec, Canada making their way to the forefront.
What surprises most first-time visitors is how truly French it is. From the signs to the people to the everyday way of life. But not to worry – Montrealers are proudly Franglais, so most people will not only be able to translate but will probably help you practice your French, too.
Be sure to pack your bag for a day filled with fun. This is one of those places with hundreds of neighborhoods. Like the artsy Plateau, the rustic Griffintown and, of course, the historic Old Montreal, with thousands of nooks and crannies just begging to be discovered.
Considered the culinary capital of Canada, the Montreal food scene is all about pushing the boundaries of bringing timelessness into the modern era.
You'll find dishes made proudly of Quebecois ingredients along with cuisines from the multicultural communities. This makes up a foodie-haven tapestry with a presentation that looks like it belongs in a museum.
There's always something new to add to the long list of places to try and culinary experiences to have on the island. You definitely can't leave without trying the classics, like Montreal smoked meat at Schwartz's, poutine from La Banquise and a host of iconic spots that are frequented by tourists and locals alike.
Summer. Winter. Day. Night. Montreal seems to take on a new life depending on the time of year and the time of day. This is especially true at night. If you want to be a true Montrealer, you've got to experience the quintessential 5 à 7 (a cinq à sept, which translates to "five to seven" happy hour)
Visit one of Montreal's cool bars, including stunning rooftop bars, with views of the downtown skyline or Old Montreal against the St Lawrence River. Or a live music bar with music ringing through the air as you sip expertly-made cocktails.
Then there are the local dive bars, easily one of the best ways to get to know where the locals hang. When in doubt, hit up the local dance scene, with a bar for every music taste and every type of partier.
In the winter, you'll feel the anticipation in the air when the Montreal Canadiens hit the ice or enjoy a snowy festival, like Igloo Fest.
In the summer almost every weekend is lined up with another event. Just for Laughs or Jazz Fest are two very popular summer events.