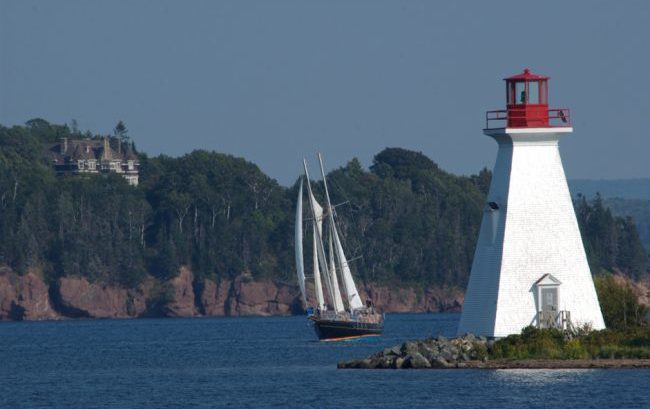 According to Cape Breton Tourism, the Island of Cape Breton, Nova Scotia, is rated as the top island to visit in North America. A green getaway dotted with lakes and washed by the blue waters of the Gulf of St. Lawrence and the Atlantic Ocean, it lures tourists from the four corners of the world.
One top spot is the village of Baddeck, the jewel of Cape Breton. Its population of 900 lives among green forests and along the deep blue waters of a shimmering bay. The village is at its best bursting with colors from spring to autumn, when the downtown shopping area is filled with baskets and boxes overflowing with flowers, ivies and all things colorful to celebrate the blossoming warm seasons.
With its identity as a bustling resort town during the high seasons, its special character remains as a quaint village. Instead of tourists changing the face of this destination, Baddeck turns the tourist into a Baddeckian – calm, at ease with nature, enjoying the cleanliness of unadulterated air  and water.
Outdoor activities abound – sailing regattas, bird-watching, hiking, biking, fishing, horseback riding and in the winter, dog-sledding. Even Baddeck's theatre productions or Ceilidhs are embedded in the culture of the village. Held during the evenings, the lively performances are reminiscent of the bygone days of public theatre. Go ahead and ask anyone in Baddeck about events and sites because in this center of the Cabot Trail, it is also the home and heart of hospitality in Cape Breton.
Sailing on Bras d'Or Lake: Nova Scotia
We had come to Baddeck to sail for a while on the rolling waves of the Bras d'Or Lake, the largest inland sea in Canada. Soon we were comfortably seated on Captain John Bryson's ship, Amoeba Schooner, a 20 m (67 ft) hand-crafted vessel. The schooner sleeps 8 comfortably, and can take up to 42 passengers per tour.
His voice boomed, "Sit down folks! Remember, this is not the Titanic. The schooner was built not to tip over."  The schooner which was built by John's father in the 1970s, and had already made six trips to the Caribbean.
Continued on next page