Ever since my first long-distance ride from Bombay to Lonavala, I've fallen in love with touring places on my bicycle and have started travelling with my bicycle where ever I go.
I love the joy of exploring places in slow motion. From touring places in India to countries in South East Asia, I've done it all in the last few years but I still don't feel like stopping.
India is witnessing a sudden rise in people opting to use bicycles as a preferred mode to travel places and therefore I thought it is the right time to enlist some of my favourite routes in India worth exploring on bicycle.
Manali to Leh India Cycling Route:
Touring on a bicycle from Manali to Leh is a dream ride for cyclists across the globe. The ride takes you through 5 treacherous mountain passes on the way, out of which 2 are above 5000 mts wherein Baralacha La and Tanglang La pass are notorious throughout the year.
It generally takes 7-14 days to complete the 474 kms long stretch between Manali and Leh, depending on your pace, motive and time available.
I completed the ride in 10 days as I wanted to do it at ease, with the comfort of stopping at places I feel like to enjoy the views, a cup of chai, or make conversation with locals on the way. There are lots of detours available for you in the route like a route to Zanskar Valley, Tso Kar and more.
These can be taken depending on the time available and how adventurous you wish to be. Read my Manali to Leh blog for more in-depth details.
Route:  Manali – Marhi – Sissu – Jispa – Zing Zing Bar – Sarchu – Whiskey Nala – Pang – Debring – Upshi – Leh
Distance: 500 Kms
Duration: 8-12 days
Difficulty Level: Difficult
Best month to Travel: June to September (August being my favorite)
Chennai to Pondicherry:
Cycling from Chennai to Pondicherry has been on top of my bucket list ever since I started touring. The total distance between Chennai to Pondicherry is approximately 150 km and we did it in two days. On day 1 we rode from Chennai to Mahabalipuram which is approximately 55 km and on Day 2 we did the final leg of the ride and reached Pondicherry.
You will be mostly riding on East Coast Road "ECR" which is an express highway, but its proximity to the ocean, less traffic and a lot of small detours make it a worthy ride.
Once you cross Mahabalipuram, the roads were much narrower with green covers on both sides, you would get closer to the ocean every now and then, and cross numerous bridges over the backwaters on the way.
Coconut trees, backwaters, all the migratory birds around and salt farming were definitely a sight worth falling in love with. The detour to the ruins of Alamparai Fort on the beachfront was spectacular with smaller village roads and fisherman's markets on both sides, long stretches of coconut farming and almost no traffic.
Route:  Chennai – Mahabalipuram – Pondicherry
Distance: 150 Km
Duration:  2 Days
Difficulty Level: Easy
Best month to Travel: September to February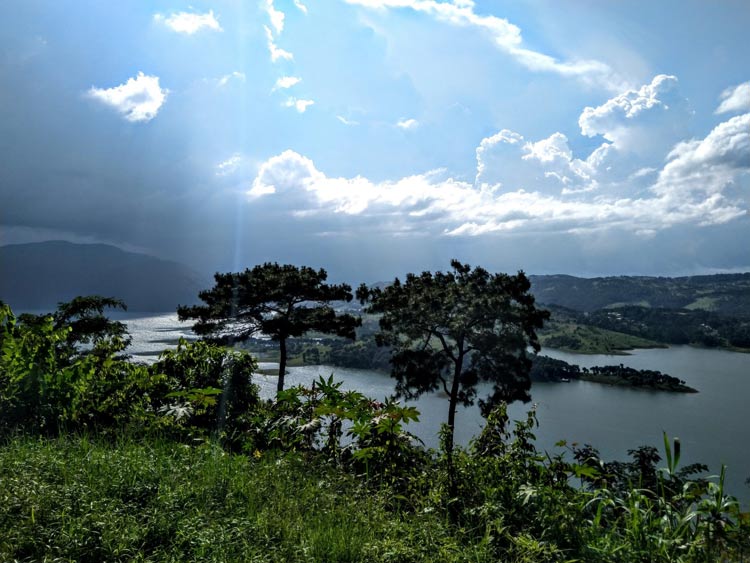 Guwahati to Shillong India Cycling Route:
From Guwahati being at sea level to Shillong at an elevation of 4990 ft, you ride up up and more up for an entire stretch of 100 Km between the two cities. And the entire climb you do is worth every sweat you shred.
The ride takes you through lush green mountains, changing weather, lakes and mesmerizing views. There are tons of restaurants and Dhabas on the way with local delicacies to enjoy at.
A quick stop to enjoy the beauty of Umiam Lake or maybe an overnight stay will definitely mesmerize you. Once you reach Shillong, you can ride further to Cherrapunji and Dawki to explore the untouched beauties of Meghalaya.
Route: Guwahati – Umiam Lake – Shillong – Cherrapunji – Dawki
Distance: 100 Kms between Guwahati and Shillong
Duration:  2-5 Days
Difficulty Level:  Moderate
Best month to Travel: November to March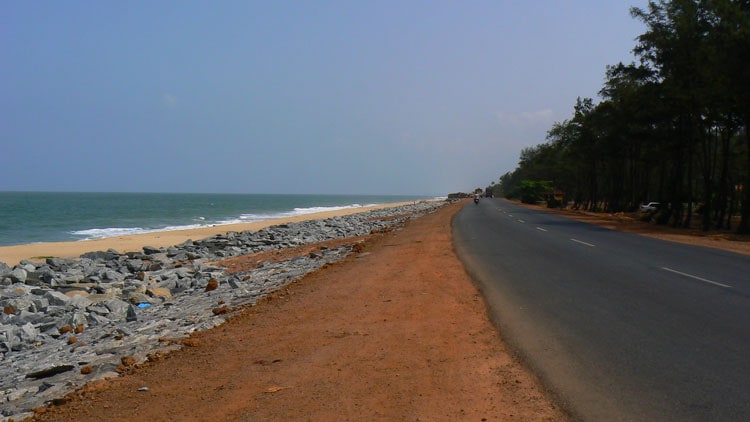 Mangalore to Goa India Cycling Route:
I still haven't done this route but I have literally planned it over a dozen times. I guess I have something for riding across the ocean. The route is mostly flat and takes you through some of the most beautiful villages, cities and beaches of India.
Once you start from Mangalore, make a stop at Udupi, a place famous for its local delicacy and temples. The stretch of road around Udupi is even more mesmerizing with the ocean on one side and backwaters on another side.
Going forward you further stop at Murdeshwar which is famous for a life-size Shiva Statute on the coast and then relax on Om Beach in Gokarna before entering Goa from the southern end.
The total distance between Mangalore and Goa is approximately 400 kms and can easily be done in 4-5 days considering all the long laid backstays at each place on the way.
Route:  Mangalore – Udupi – Murdeshwar – Gokarna – Goa
Distance: 450 Kms
Duration:  4-6 Days
Difficulty Level: Easy to Moderate
Best month to Travel: September End till March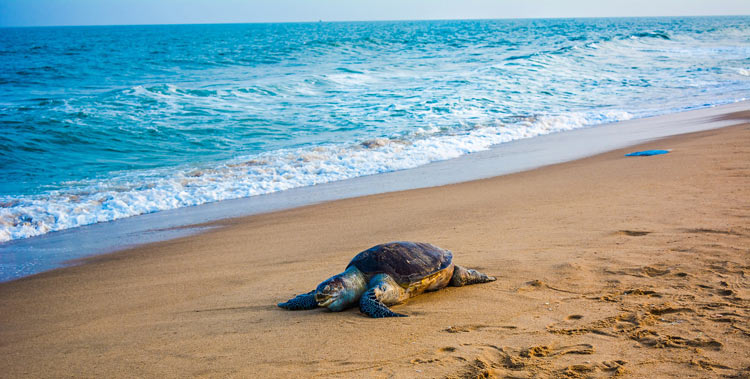 Bhubaneswar to Visakhapatnam:
Coming back to the eastern coast of India, a ride from Bhubaneswar in Odisha to Visakhapatnam in Andhra Pradesh takes you to the most unexplored stretch of the Indian coast.
You will be able to explore some of the most beautiful and historically famous places of eastern India starting with Puri just 60 kms off Bhubaneswar, Chilka Lake, Konark temple and Gopalpur in Odisha.
If you are in the right season, you even get to witness Olive Ridley Turtle which comes to these beaches for breeding every year.
The ride then takes you to Srikakulam which is a very important tourist place for Buddhists beside all the beautiful villages and beaches along the way. After riding for approximately 500 kms, you will reach Visakhapatnam in 4-5 days.
Route:  Bhubaneswar – Puri – Gopalpur – Bhrampur – Srikakulam – Visakhapatnam
Distance: 450 Kms
Duration:  4-6 days
Difficulty Level:  Easy
Best month to Travel: September End till March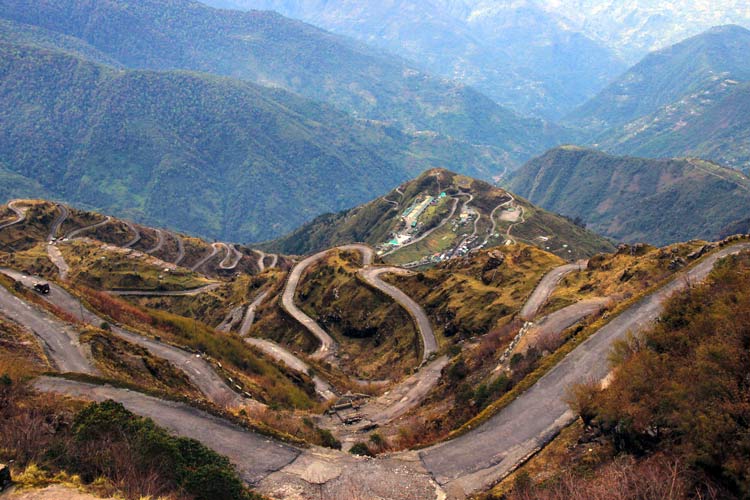 The Silk Route – Sikkim:
The part of the ancient trade route which started from all the way to Lhasa to the port of Tamluk in West Bengal while crossing the Chumbi Valley and Nathula Pass in North Sikkim is called the Silk Route.
The stretch of silk route that passes through Sikkim is most unexploited and unexplored by tourism and getting to explore it on a bicycle is a dream ride for every cyclist. The ride starts from Siliguri and you head towards Kalimpong before you start your ride on the Silk Route and reach Zuluk, a secluded village nestled in the hills of the Eastern Himalayas.
The ride to Zuluk takes you through 32 hairpin turns with jaw-dropping terrain and mesmerizing views one after another. From Zuluk you head to Gangtok and end your ride in this beautiful capital city of Sikkim. You will be covering a distance of approximately 250 kms in over 5-7 days while riding on this route.
Route:  Siliguri – Kalimpong – Zuluk – Gangtok
Distance: 245 Kms
Duration:  4-6 Days
Difficulty Level:  Difficult
Best month to Travel: August and September when the wild flower gives a show. Beside that June to November
Spiti Valley India Cycling Route:
Unlike the ride from Manali to Leh, you will witness more harsh terrain and a lack of accessibility to modern connectivity and comfort on this route.
The ride starts from Shimla with a gradual incline as you start riding towards Kaza via Narkanda and Sangla and then move towards Manali where you will be ending your ride.
The circuit really helps with acclimatization as Kaza is above treeline at 4000 mt elevations and therefore would never recommend you to start from Manali. In the route, there are lots of beautiful places worthy of detours and overstay like Chitkul – the last Indian village, Nako, Tabo and more.
The total distance you will be covering is approximately 600 kms and will take anything between 10-12 days to complete it with ease. There are plenty of options to stay and camp in this region but do make sure that you have the right gears for the season.
Route:  Shimla – Narkanda – Sangla – Kaza – Manali
Distance: 600 Kms
Duration:  8-12 days
Difficulty Level:  Difficult
Best month to Travel: May to November
There are definably more to India than these 7 routes to explore and I will continue to write about them as and when I get to explore them myself.
Author's Bio: Kanishka Poddar, Bicycle Mayor of Ranchi – Kanishka runs a design studio for men's ethnic wear in his hometown at Ranchi, India. He loves bicycle touring, playing with words, sketching and cooking. Traveling has always been the balancing factor in the juggle between work and life. 
Kanishka is also a published author wherein he has published a book titled You & me, a collection of poetry penned by him mostly during the CoVID pandemic. The poems are an expression of his personal experiences, cycling adventures, places and conversations, himself and his world.
www.veloventure.in | Instagram/Twitter: @kp1200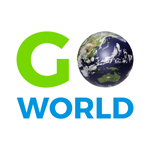 Latest posts by Go World Travel Magazine
(see all)