Editor's Note: Our readers come from all over the world, and travel for each of us is different these days. Whether you can travel to Croatia or just plan for the future, here's a helpful piece for those who love camping. Enjoy!
Did you know that more than two million people visit Croatian campsites every year? Practically 90 percent of the campgrounds in Croatia are located on the beautiful Adriatic coast and the Croatian islands. Airports in Zagreb, Split and Dubrovnik are the most common starting points for anyone who wants to explore the Croatian coast.
Camping in Croatia
The largest camping regions in Croatia are Istria, Kvarner and Dalmatia. You can find different types of camps: from small, family campsites with a capacity of up to 200 people, to large ones that can accommodate up to 5,000 people.
These large camps are practically small towns, with swimming pools, aqua parks, sports facilities, restaurants, shops and private beaches.
You can stay in campers, caravans, tents, mobile homes and bungalows. For glamping lovers, there are also more luxurious campgrounds in Croatia, which offer accommodation in apartments and villas.
Tourists come to this Mediterranean paradise because of the incredible natural beauty. In Croatia, you can explore interesting old towns, visit some of the eight national parks and enjoy countless beautiful beaches, bays and islands. Here are some of the best camping destinations in Croatia.
Camping in Istria
In search of the best campground destinations in Croatia, we start from Istria, a peninsula near Slovenia and Italy. One-third of the peninsula is covered with pine forests, and the sea around Istria is the warmest temperature in Europe. There are 50 beaches awarded the Blue Flag.
Istria has many restaurants with excellent food, as well as dozens of wineries. You can also spend time on bike paths or tennis, golf and volleyball courts. Also, Istria has beautiful places for snorkeling and windsurfing. There are, in a relatively small area, as many as 26 camps, most of which near Umag, Porec, Rovinj and Pula.
Park Umag, one of the largest campsites in Istria, is located near the border with Slovenia. It is known for numerous quality awards. It's a great place for families with kids; they will be impressed with the pool with a giant pirate ship.
This campsite can accommodate about 6,000 guests. The caravans, tents and around 700 mobile homes are provided for accommodation. Campers have 10 sanitary blocks, washing machines, showers on the beach and a dog-washing area.
During the day you can spend time at numerous sports courts. An entertainment program awaits you every evening, and the campsite also has several bars and restaurants, two fast-food restaurants and grocery shops.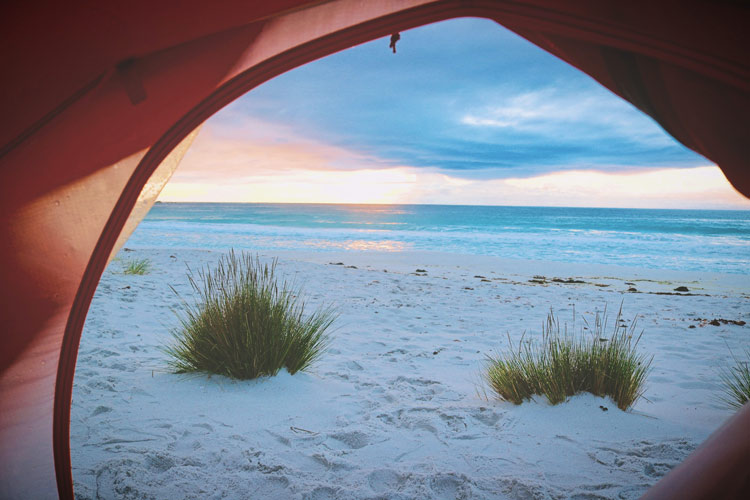 The Most Prestigious Campsites
Camp Bijela Uvala, near Porec, is of similar size as Park Umag. This four-star campground in Croatia also has received the prestigious ADAC quality award, international recognition for campsites that go beyond the usual range of offered products and services.
Camp Bijeva Uvalafeatures four swimming pools, restaurants, pastry shops, a supermarket and a souvenir shop. Kids can have fun at creative workshops, and there are also courts for football (soccer), volleyball, table tennis and golf.
One of the best European campsites is located in Istria. Lanterna Premium Camping Resort is located in a Mediterranean setting, surrounded by pine and oak forests. The capacity of this camp is around 9,000 guests.
It is one of the exclusive campsites, with glamping tents, mobile homes, caravans and tents, as well as a mega luxury plot. It features a water park, 16 sanitary blocks, three supermarkets, five restaurants, six pastry shops and fast foods. Amenities for guests include boats for rent, hairdresser, tennis and golf courts, and babysitting.
There are several other good campsites in Istria, such as Istria Premium Camping Resort, Camp Zelena Laguna, Valkanela and Bi Village camp near Brijuni National Park. There are also two famous naturists (nudist) camps: Solaris Camping Resort and Koversada Naturist Park.
When camping in Istria, be sure to visit the city of Pula. You can see numerous monuments from the Roman era and the amphitheater Pula Arena, where gladiator fights took place a long time ago. Today, Pula Arena is the place for various concerts and film events.
The old town of Rovinj and small-town Vrsar are also worth visiting. Don't forget to visit Porec as well, a UNESCO World Heritage Site where you can see the Euphrasian Basilica.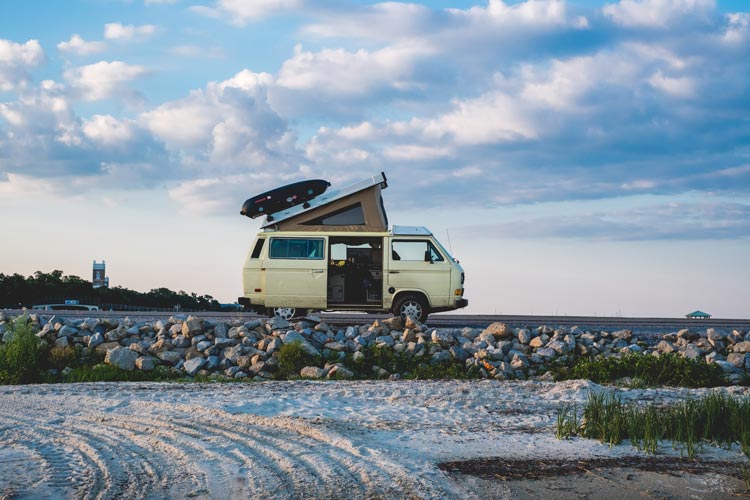 Camping in Kvarner
Kvarner is one of the best European camping regions. In addition to the largest Croatian bay, Kvarner includes the islands of Krk, Cres, Lošinj and Rab. There are 28 Blue Flag beaches. When it comes to gastronomy, you have to try local dishes like lamb and Kvarner's shrimp. In Kvarner, you can enjoy various activities such as sailing, canoeing, rafting, windsurfing, cycling and beach volleyball.
Krk Premium Camping Resort is a family camp on the island of Krk. It can accommodate 1,300 campers. For those who like a little more luxurious accommodation, modern mobile homes are available.
This campground in Croatia has a rocky 800-meters-long (2,624 feet) beach. If you love cycling or jogging, you will be delighted with numerous trails.
Like other high-quality camps, Krk Premium Camping Resort has tennis and mini-golf courts, bars, restaurants and a supermarket. Staying there can be exciting for the kids as well because the camp has a children's playground and organized entertainment.
Camping Resorts on Rab and Mali Losinj Islands
San Marino Camping Resort is located on the island of Rab. It is categorized with four stars, and its specialty is that it has one of the most beautiful beaches on the Croatian coast. Paradise Beach is excellent for families and non-swimmers.
An animation program awaits you in the evening, and during the day you can enjoy recreational facilities such as beach volleyball, table tennis, rock climbing and fitness studio.
Padova Premium Camping Resort is another excellent campsite in Rab. With a capacity of 1,500 people, it also offers accommodation in the shade of a pine forest, a 500-meter-long (1,640 feet) pebble beach, as well as boat and bicycle rental.
Camp Cikat is located on the island of Mali Losinj. When it comes to accommodation, the camp's capacity is 2,500 guests, and they can choose between tents, bungalows, apartments and mobile homes.
This camp's beach is 1 km (.62 of a mile) long, and there is also a playground for kids. Nearby is an amusement park with swimming pools. You will certainly not be bored at the Cikat camp, because you can go diving, sailing or pedal boating.
Other good choices for camping in Kvarner are Jezevac Premium Camping Resort, Poljana Village camp with a boat dock, sports courts and excursions to nearby islands, and 5-star Omisalj camp.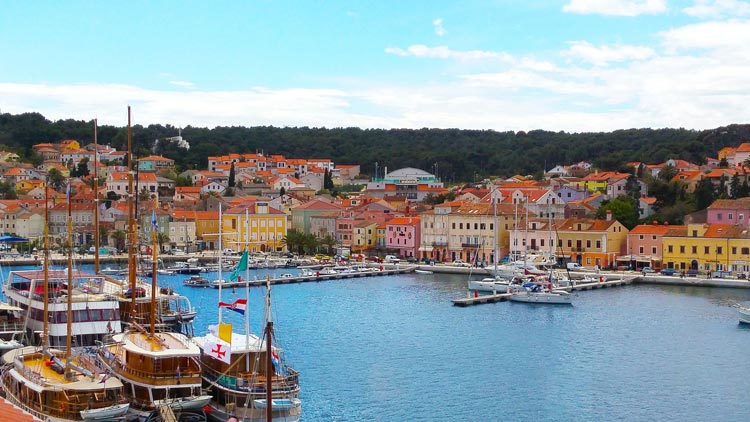 Camping in Dalmatia
Mediterranean climate, pine forests, numerous olive trees and, of course, vineyards are something you can enjoy in Dalmatia. This part of Croatia is known for its excellent wines and Dalmatian specialties. In addition to many islands, bays and beaches where you can relax and forget almost all that's bothering you, Dalmatia has about 20 campsites. They are mostly located near larger cities such as Zadar, Sibenik, Split and Dubrovnik.
The Island of Pag is known for its cheese, but it also has excellent spots for camping enthusiasts. Camp Strasko is a 4-star campsite with a 2-kilometer-long (1.24 miles) beach, and it can accommodate around 6,500 people.
Campers can enjoy football, beach volleyball, tennis, badminton and bowling, as well as the entertainment program. You can also rent a boat or sailboat, or take a swim in the outdoor pool. Kids can attend various workshops and a swimming school. Other offerings include shops, restaurants, pastry shops and a hair salon.
With almost twice the capacity, there is another attractive camp on the island of Pag – Simuni Camping Village. Although it has only two stars, it offers excellent camping facilities. In addition to bike trails and sports courts, this camp has an open-air cinema, baby-sitting, sailing and diving schools, as well as a water park.
There is also a wellness center nearby that you can use, and from this campsite, you can go on excursions and get to know beautiful surroundings. The most popular tours that you shouldn't miss are those to Plitvice Lakes and the Krka National Park.
Campsites Near the Town of Zadar
One of the best Croatian camps and the holder of the highest European awards is located near Zadar. Zaton Holiday Resort can accommodate 4,500 people.
It is excellent for families with kids due to the pool complex and numerous sports and entertainment facilities. You can enjoy archery, horseback riding, cycling, sailing and many other activities. It also has an ambulance, ATM, hairdresser and massage room. If you want more luxurious accommodation, modern apartments are also available.
Falkensteiner Premium Camping Zadar is located within a hotel complex 3 km (1.86 miles) from Zadar. Although there's room for only 720 guests, it offers wellness facilities to campers. There are pools with various effects, saunas and a relax zone.
As in other campsites, you can use tennis courts and a children's playground, as well as attend diving and sailing school.
Near Sibenik is the Solaris Camping Beach Resort, a four-star campsite with a capacity of 2,700 people. It boasts olive and pine forests, as well as a 1-kilometer-long (.62 of a mile) beach. You can use a seawater pool, fitness studio and sports courts, and the kids will be thrilled by the pirate ship, water slide and water park.
Dalmatia has several other very good campsites such as Belvedere Camping, Jezera Village Camping and Nevio Camping. If you are coming to Dalmatia for camping, be sure to visit and explore Dubrovnik, Split, Trogir and Zadar.
Campsites in the Continental Part of Croatia
There are not many campgrounds in the continental part of Croatia. Among them, the best is undoubtedly the Plitvice Holiday Resort. This campsite is located near the Plitvice Lakes National Park, which attracts many visitors every year.
Plitvice Holiday Resort has a capacity of 200 guests and is located only 1 ½ hours from Zagreb, the capital of Croatia.
Most campgrounds in Croatia are located on the Adriatic coast. Whatever campsite you go to, you will be close to the beach. All camps have Wi-Fi internet, enough sanitary blocks, restaurants, bars, supermarkets and sports courts.
Pets are allowed everywhere. Many campsites also have pet-friendly beaches and playgrounds for pets, as well as places where you can give them a bath.
It is up to you to choose the accommodation type that suits you best: tent, mobile home, caravan or luxurious apartments if you are a glamping fan. If you plan your arrival a few months in advance, you will probably find special offers with a discount. Waking up in the shade of a pine forest and a fantastic view of the Adriatic Sea simply has no price.
Author Bio: Based in Serbia in Europe, Marija Stojanovic Petkovski worked as a journalist but realized writing about the most beautiful places in the world is something that inspires her. She is sure that a pint of good craft beer perfectly accompanies a tasty homemade lasagna. In her spare time, she enjoys playing with her children and spending time outdoors with her family.