Fall is a great time to visit Yellowstone National Park. Not only is the autumn landscape in all its glory, there are fewer people, less cars, and more availability at the various lodging venues. Many are open into October.
Surprisingly, there are nine places to stay, each one very different from the other, and 12 campgrounds. You can choose from rustic cabins to a classic elegant hotel.
Lake Yellowstone Lodge
Lucky me. . .I was fortunate to stay at the latter last summer, the beautiful 125-year-old Lake Yellowstone Hotel on Yellowstone Lake, the oldest lodging in the park. Its Colonial Revival design with huge white columns reminds me of the grand old hotels you find on the east coast.
You can watch the sun set over the lake from the spacious sun room while live music plays. . .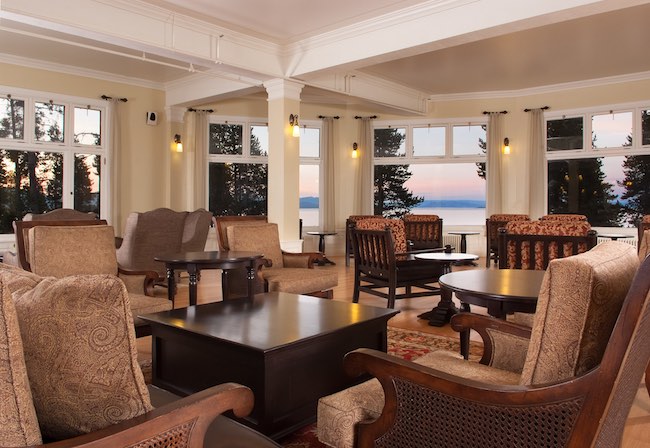 or from the veranda.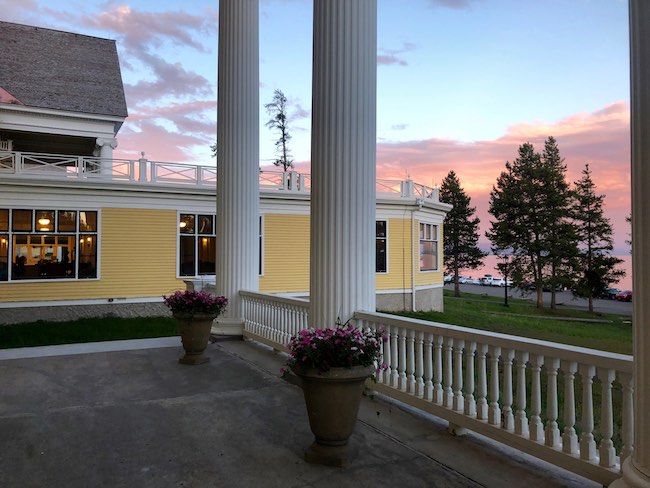 It's so refined!
The dining room is equally as upscale, serving gourmet dishes prepared with food sourced within 500 miles or with sustainable and/or organic ingredients.
Other Lodges in Yellowstone
Built in 1903-04, this intricate log and stone building is the largest log structure in the world. The huge stone fireplace in the center of its massive lobby makes me wonder: did they build the fireplace first and then build the logs around it or vice-versa?
The 327-room inn features modern rooms as well as rustic rooms in the original Old House with shared bathrooms down the hall. Book as early  as a year ahead, as this is the most popular lodge in the park.
The dining hall is almost as massive as the lobby and has a stone fireplace as well. They serve breakfast, lunch and dinner here.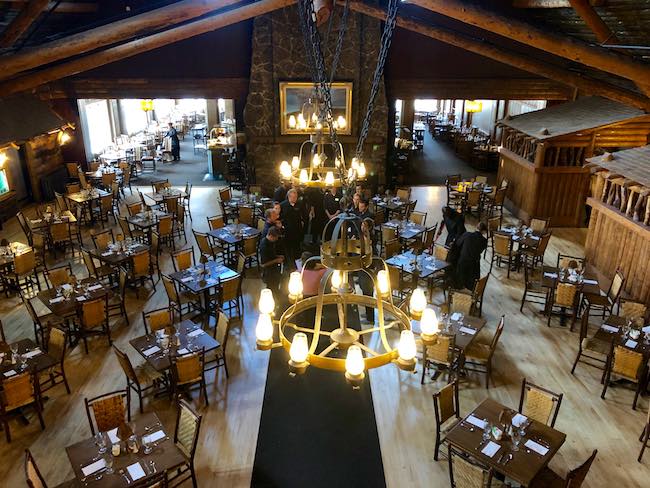 The Inn is close to Old Faithful Geyser that erupts regularly about every 60-110 minutes. This clock in the Inn's lobby lets visitors know approximately when the next eruption will be – give or take 10 minutes.
Close to Old Faithful Inn, this log and stone cabin built in the 1920s also has great views of the Geyser.
Named for President Teddy Roosevelt who used to camp near where these cabins were built in 1920, they have an Old West vibe.
Rustic cabins surround a main lodge with rocking chair views of Lake Yellowstone.
Six two-story buildings make up this lodging complex that has two restaurants, a lounge and a gift shop. No elevators in each of the 50-room buildings that were named for President Ulysses Grant.
Sustainability
Canyon Lodge near the Grand Canyon of the Yellowstone is the largest (500 rooms/cabins) complex in the park and the most sustainable of all the national parks. All five new lodges are LEED certified and feature recycled or renewable materials. For example, the carpet pad is 100 percent pre-consumer recycled content. In addition, an original mid-century modern building has been converted into a restaurant, lounge and gift shop. The parks are doing a good job of being green.
Winter Lodges in Yellowstone
Though winter can be severe in the park, it's also a unique winterscape, full of mystery and beauty.
And plenty of wildlife.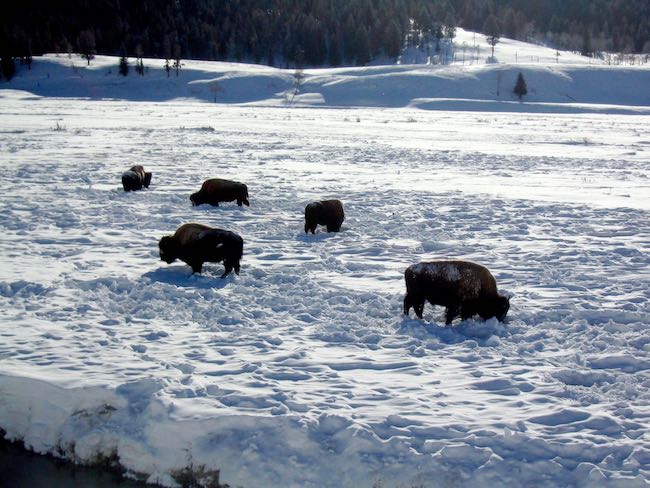 It's also a lot of fun with winter activities like cross-country skiing, snowshoeing, and excursions on the snow coaches. This photo is from January, 2008, when our snow coach got stuck!
Two summer lodges reopen for the winter season in mid-December.
Mammoth Hot Springs Hotel & Cabins
Old Faithful Snow Lodge & Cabins
Off the Grid
Be mindful that Yellowstone has no TV or radio and very limited WiFi and cell service. "This is something we are working on," said Rick Hoeninghausen, director of marketing and sales for Xanterra Hospitality, the company that runs the parks' lodging operations. "But we're not there yet."
For more information on Yellowstone lodging, visit YellowstoneNationalParkLodges.com
Claudia Carbone is an award-winning travel writer based in Denver. Read about other hotels she's visited in Sleepin' Around.
Latest posts by Claudia Carbone
(see all)