If your last Milwaukee visit was several years ago, consider revisiting Wisconsin's largest city—or add seeing it for the first time to your bucket list.
With summer temperatures averaging 77 degrees, Milwaukee is a delightful summer destination. Located at the junction where three rivers flow into Lake Michigan, Milwaukee is a study in blue water and green foliage.
Milwaukee's lakefront has morphed into a stellar culture and recreation mecca. Visitors can walk, jog or bike on a broad scenic paved trail than runs along the lakeshore for miles.
The 3-mile RiverWalk flanking north and south sides of the Milwaukee River connects downtown hotels to dozens of traditional and trendy eateries, brewpubs, parks, historic sites, retail outlets, boutiques, boat tours and other attractions.
During my September visit, I walked from the Hyatt Regency Hotel to the Shops at Grand Avenue, Wisconsin Cheese Mart, the Spice House, Usinger's Sausage, Milwaukee Boat Tours, and several restaurants. Along the way, I passed attractive small parks and public art displays.
The six square blocks of the Historic Third Ward contain an eclectic mix of art galleries, theaters, restaurants, bars, antique shops and specialty stores typically found in much larger cities. A Visit Milwaukee spokesperson said Milwaukee's revitalized warehouse and manufacturing district compares to New York's trendy SoHo district.
Delightful year-round sights and aromas in the indoor Milwaukee Public Market put a fresh spin on the Third Ward's grocery marketing tradition. Focusing on Wisconsin products, this attractive market purveys fresh bakery and produce, freshly-ground coffee, home-made candies, artisan cheeses, decadent sausages, sushi, $14.99 lobster dinners, and a wine bar. Visitors can also find a demonstration kitchen where Milwaukee's top chefs share their trade secrets.
Deserted warehouses lining the river were converted to classy waterfront condos, some with boat docks. Throughout the city former breweries were repurposed into boutique hotels, fitness centers and eateries.
Prime attractions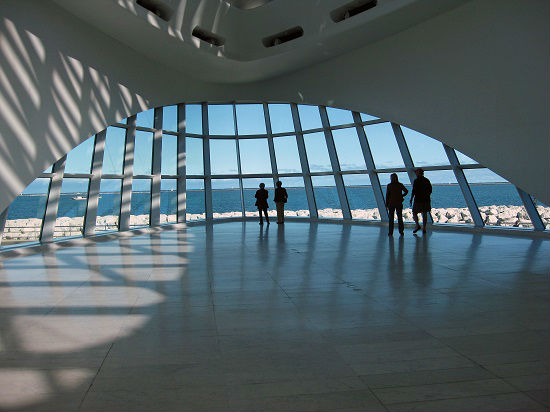 Milwaukee's beautiful lakefront is accented by the contemporary Milwaukee Art Museum featuring a stunning 90-foot high glass-walled entrance hall enclosed by a "wing-like" sunscreen that opens and closes three times daily. Forty galleries on four floors hold the museum's 30,000 works.
Nearby Discovery World, a gem for all ages, focuses on technology, automation, energy uses, fresh and saltwater aquariums, plus a multimedia virtual reality theater. Music lovers enjoy the Les Paul exhibition of guitars and artifacts. See www.discoveryworld.com.
From mid-May through September, the S/V Denis Sullivan docks next to Discovery World. The recreation of a 19th-century Great Lakes schooner does 2-hour Lake Michigan day sails. See www.discoveryworld.com
Grohmann Museum at the Milwaukee School of Engineering displays 850 European and American paintings and sculptures documenting the evolution of organized work in agriculture, construction, manufacturing, retail, medical and dentistry from 1580 to the present. Be sure not to miss the revolving rooftop sculptures.
Antique and fine arts lovers will enjoy touring the 1892 Pabst Mansion, the private family home of Captain Frederick Pabst, famous beer baron, sea captain, philanthropist and arts patron. www.pabstmansion.com
If you ever rode a motorcycle, or wanted to, don't miss the Harley-Davidson Museum's displays of legendary military, industrial, law enforcement, and racing bikes. The Women at the Handlebars display features bikes, leather jackets and stories about lady motorcycle pioneers. See www.h-dmuseum.com.
Perched on a Lake Park bluff overlooking Lake Michigan, the1912-era North Point Lighthouse holds a treasure trove of maritime artifacts. Explore the keeper's quarters, climb to the top for a bird's eye view of the lake and learn about the brave keepers who watched over the sometimes treacherous shoreline. Open weekends. See www.northpointlighthouse.org.
Milwaukee boasts a lively performing arts scene with a professional symphony, ballet and opera. Talented theater groups perform at numerous venues throughout the city and suburbs.
Terrific tours
Milwaukee Food & City Tours enables visitors and locals to discover the sights and flavors of the Milwaukee area's most delicious and historic neighborhoods on themed walking or bus tours. Examples: Christmas bakery tour, Churches & Chocolates, Ghouls & Spirits.
My Old World Third Street walking tour visited Usinger's Famous Sausage and the Spice House. We sampled cheese and beer at Wisconsin Cheese Mart, had a tasty German lunch at Mader's Restaurant followed by dessert and coffee at Turner Hall Restaurant. See www.MilwaukeeFoodTours.com or call 800-979-3370.
While breweries made Milwaukee famous, some prefer spirits. Great Lakes Distillery is Wisconsin's first craft distillery since prohibition to hand-produce fine spirits in small batches. For tours and tasting times, call 414-431-8683.
Milwaukee on the water
Using two large vessels, Milwaukee Boat Line offers several excellent narrated sightseeing tours on the Milwaukee River, breakwater, lighthouse, and Lake Michigan harbor. The narrator covers Milwaukee history, architecture, and how former abandoned warehouses lining the river have morphed into trendy waterfront condos. See www.MkeBOAT or call 414-294-9450
Adults can take the nation's only brewery tour by boat aboard the Brew City Queen with RiverWalk Boat Tours.
Anglers can go sport fishing on Lake Michigan with Blue Max Charters or Crabby Charters.
Romantics can take a moonlight cruise or design your own charter sail on a 34-foot sailing yacht operated by Sea Dog Sailing.
Festivals and sports
With a different ethnic festival every weekend from May through September, Milwaukee has earned the "City of Festivals" moniker. Festivals are held in a 75-acre lakeside park with 10 permanent stages plus a 23,000-seat amphitheater.
Home of professional Milwaukee Bucks basketball and Milwaukee Brewers baseball teams and dozens of sports bars, Milwaukee is a well-established sports magnet.
If you go
Located on Lake Michigan's western shore, Milwaukee is 90 miles north of Chicago at the intersection of Interstates 94 and 43. The city is served by eight airlines and is a regular Amtrak and Greyhound stop.
Mitchell International Airport's used book store, post-security seating area and genuine Midwest hospitality make the airport experience pleasant. Taking GoRiteway shuttle from the downtown Hyatt Regency to Mitchell Airport cost only $14.
Learn more from www.VisitMilwaukee.org or 1-800-554-1448.