Mount Victoria
Then, there is the nature surrounding Wellington. You can start the walk up Mount Victoria to the lookout a little to the east of Courtenay Place or do what I did and take the Nr. 20 bus to the top and walk back down.
The view from Mount Victoria is indeed awe-inspiring, but any view is improved by having gravity as your ally rather than your enemy on the way there. Or don't do what I did and take the bus back as well.
I walked down through the bush with the knowledge that a key scene from The Lord of the Rings in New Zealand, where the hobbits hide from the Ring-Wraiths, was filmed here, only a stone's throw away from Peter Jackson's studio at Miramar.
The whole of Mount Victoria is criss-crossed by paths, some especially for mountain bikers, a few of which rushed by me, taking a few near-vertical shortcuts down to the city's edge. On foot, it's a bit rough going just for a picture of a filming location when the whole area is equally scenic.
For those keen on more Tolkien, the Weta Workshop in Miramar is also accessible by public bus. The shop is filled with beautiful souvenirs of Middle Earth (and other projects Weta has worked on), and there are regular tours of the workshop itself, where orc swords and hairy hobbit feet and more were made.
Wellington Botanic Garden
A more civilised walk is through the Wellington Botanic Garden, complete with rose garden and duck pond. Also passing through here is the cable car, a charmingly rickety funicular which trundles its way down up and down again from Lambton Quay to a viewing platform on top of the hill, where there's a space observatory, and entry to the gardens.
You can wind your way down to the city in a miniature version of the Mount Victoria walk if you don't want to take the cable car back down again. The cable car was opened in 1902 to entice people to the new neighbourhood of Kelburn on top of the hill, and it has been a landmark of the city ever since. It isn't just tourists who use it, either; it's remained in use for commuters, and Victoria University is on the way as well.
Zeelandia
Zealandia, a preserve for local flora and fauna (chiefly of the avian variety) is much advertised around town, and there's a shuttle to it from the top cable car stop. But something of a hidden gem is the Wellington Zoo, which is just a quick bus ride south of the city centre.
Wellington Zoo
The Wellington Zoo has been built not so much on top of the hill as on its side, so even walking between the cheetahs and the giraffes can make for some fairly steep climbing. It does make for some very scenic views, however.
My favourite spot is the chimpanzee habitat, where you can see our closest relatives resting, playing and politicking (the keeper in attendance told us the alpha male and female have recently relinquished their positions to younger apes, apparently without much hassle), while beyond you can see a sports ground where other apes test their strength (chimpanzees outmatch us seven to one on that score).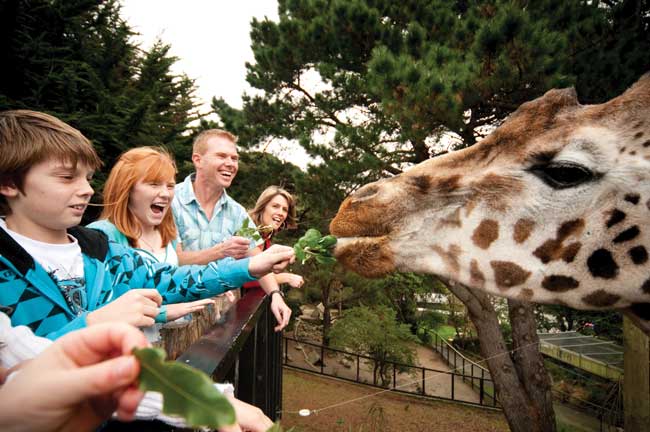 Catching a couple of the zoo keepers' talks at the various animal enclosures is also worth your while, because they are engaging and will answer your questions afterwards. Often, this time includes the feeding of the animals, and for some of the more camera shy, like the tiger, this may be the only chance to see them up close.
The whole zoo has a naturalistic design, animals being separated from humans by streams, brushwood fencing and rock features rather than cages wherever possible.
Wellington at Night
By night Wellington comes alive. Courtenay Place and Cuba Street, in particular, fill up with revellers of a mainstream and boho bent respectively. For the last few years, Friday and Saturday nights have played host to the Night Market, a little bit of Asia in Wellington, although the food stalls serve food from plenty of other corners of the globe. Live music tops off the evening.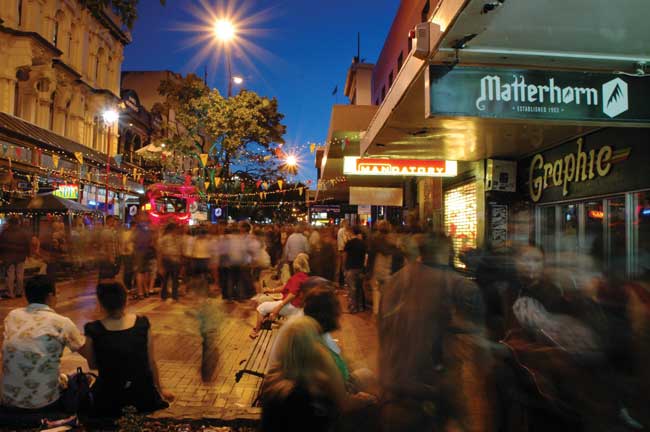 Wellington Creative Scene
Wellington is the creative and performance capital of New Zealand. Though Auckland has the edge in terms of work because of all the TV shows, Wellington hosts much of the talent. Toi Whakaari, the country's drama school, is based here, and both it and Victoria University supply the local scene with plenty of fresh faces, both actors and playwrights.
The city has a number of theatres, from an opera house which also hosts musicals and touring comedians to more experimental, and often local work. Circa Theatre, scenically located on the waterfront next to Te Papa, specialises in quality, smaller scale work and showcasing actors. BATS is Wellington's home for new and experimental work, and hosts events like the New Zealand Improv Festival.
And it is not just theatre, but also film, which has become Wellington's and New Zealand's main cultural export over the years. From the quiet suburb of Miramar, Peter Jackson built a cinematic behemoth in the Lord of the Rings films. And Weta Workshop, which helped him do so, has been a go-to supplier of props and costumes to Hollywood ever since.
No wonder, then, that the city has also become known as Wellywood, although when the city council got the idea to place this nickname in large white letters on a hillside it met with strong opposition.
Wellington is too scruffy to make a good ersatz LA, and it is fine with that, instead taking great pride in the title given it by Lonely Planet, the coolest little capital in the world.
Returning to the airport, the weather has improved. A nearby hillside spells out Wellington in large, white letters (the marketers mostly got their way in the end, it seems), permanently in the process of being blown away by a self-mocking gust of wind. But the city itself endures, and is worth returning to.
If You Visit Wellington:
Where to Stay in Wellington
The Cambridge Hotel is cheap, but in a charming way; a recently restored heritage building with dorm beds from $28 and private rooms from $70. It's been around since 1883, and played host to Queen Elizabeth II in the 1960s. A statue of her great-great-grandmother Victoria stands across from the hotel, and Courtenay Place is just around the corner.
The QT Museum Hotel has views of Lambton Harbour, and it used to be even closer, having been moved from its waterfront location lock, stock and barrel for the benefit of Te Papa. It's taken the move in stride, though, and is now filled with quirky modern art pieces itself, hence the name. Rooms start at $259; more expensive ones have private balconies.
Where to Eat in Wellington
The coffee is famous and omnipresent, and Wellington is said to have more cafes per capita than New York. Wellington's cafe culture does have a tendency towards hipsterdom, which has its up and downsides; you'll find unusual ingredients and options free of meat or gluten or other things, but you'll also be paying for the privilege, and you may find your cocktail served in a mason jar.
Wellington wears its progressive politics on its (tattoo) sleeves, and on its storefronts. Fidel's and Pravda provide the proletariat with sandwiches and burgers at bourgeouis prices.
Towards the top end of Cuba Street, Aunty Mena's serves all-vegetarian Asian dishes in an unfussy (even bare bones) atmosphere. The counter-intuitively named Fisherman's Plate is more known for its Vietnamese pho soup (according to a newspaper clipping on the wall, even Viggo Mortensen is a fan). And from its permanent stand on Courtenay Place Tommy Millions sells pizza by the slice.
Shopping in Wellington
There is a department store called Kirkcaldie & Staines which fits in the Harrod's mould (though, naturally, smaller), but the city's forte is in small boutiques, whether fashion, home and design, or vinyl and comic books.
Wellington has a broad choice for literati, from the swanky new releases at Unity Books, to the geek collection of genre fiction and role playing supplies at Arty Bee's Books, to Pegasus Books, which is filled to the rafters with tomes dusty and otherwise, and feels like nothing so much as stepping into the office of an eccentric humanities professor. Or, appropriately to the place, a wizard.
Author Bio: Michael de Clercq is a writer and traveller who was born in the Netherlands and is currently based almost exactly on the other side of the planet in New Zealand.