We all know the pain of finding a great deal on a flight only for the airline to charge an extra $100 for bags. Traveling abroad is expensive enough, so it is extra irritating when there are hidden costs and a la carte add-ons that you didn't budget for. A great way to reduce the cost of your trip is to pack both lightly and strategically.
In addition to being a budget-savvy traveler, I firmly believe that packing light is the best way to travel abroad, no matter how long the trip. This ensures a more painless transportation experience, especially if you will be moving around a lot. In airports, train stations, and on the streets, you don't want to be hauling around 50 pounds of luggage causing stress and back pain.
Read on to learn about minimalist-inspired packing tips and strategies.
Scroll below to download my Ultimate Packing List for Any Length Trip Abroad PDF
My History of Packing Light
Right after I graduated high school, I was itching to go on an adventure. I was able to find a $200 ticket to Paris that only included a "small personal item." At the time, I did not have the means to upgrade to a carry-on let alone a checked bag. I took this as a challenge. For my three-week trip, I was able to bring everything that I needed in just a backpack. And I had the time of my life.
Flash forward five years, and now I am embarking on a three-month-long journey to Europe. I will be experiencing a wide range of temperatures, conditions, and activities that warrant proper attire for each.
So, I bought a one-way ticket to Paris (again. I can't stop going back) but this time the ticket included one 10kg handbag (a 22-pound carry-on in American) in addition to a small personal item like a travel backpack. While I knew this was going to be quite the challenge, I had confidence that not only would it be possible but it would greatly improve my overall experience.
So, join me on my journey of attempting the seemingly impossible: packing for a 3-month European adventure with a 22-pound bag limit.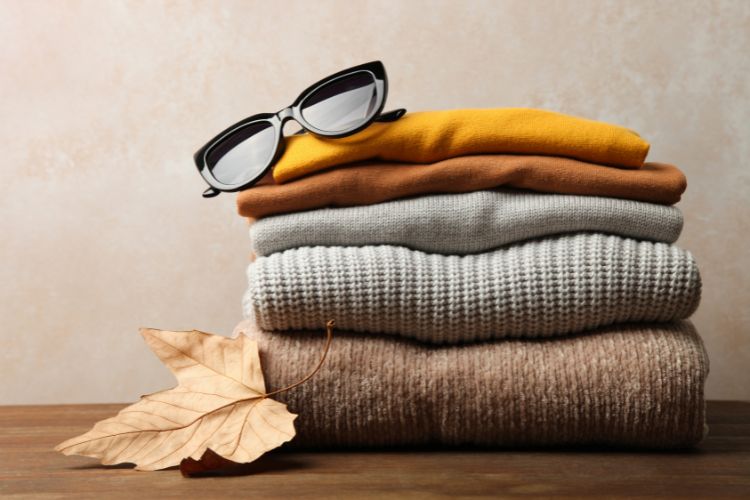 Getting Comfortable with the Bare Minimum
The first thing that I like to do when I have a packing challenge is to make a list of the destinations I'll be visiting, the average weather conditions for each place according to the time of year, and the activities that I expect to do in each place. This gives me a rough idea of the range of items I'll be needing and what I should expect.
Because of the bag limit, you will not get to bring everything you want. You have to be comfortable only taking what you need and seeing what leftover space you have to bring what you want. Everyone prioritizes differently, but here is my guide to basic packing prioritization.
Tier 1
Medications
Travel Documents
Toiletry Essentials
Tier 2
5 tops
4 bottoms
3 shoes
2 dresses
1 bag
Tier 3
Electronics
Charging Cables
Comfort Items
Tier 4
Toiletries
Makeup
Hair supplies
Skincare
Tier 5
Anything else you want to bring that fits
Prioritize, Prioritize, Prioritize
Once I analyze the locations and conditions of where I'll be, I sort everything into a five-tier priority system.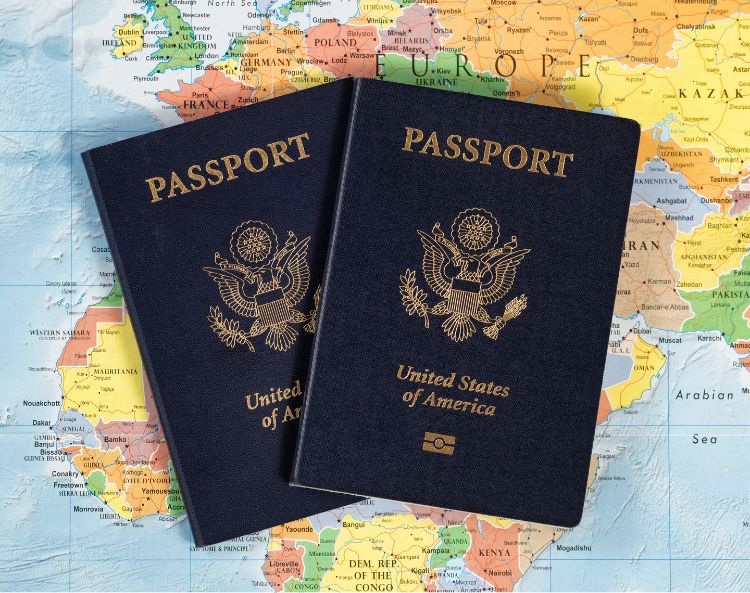 Tier 1
The first tier includes necessities that you can't easily get abroad. This includes medications, toiletries that can't be purchased abroad, and vital identification documents such as visas and passports. Basically, anything you need to get on the plane in the first place and essentials that keep you alive and well.
Tier 2
Tier 2 includes essential clothing that would really be an inconvenience if you forgot. This doesn't include those heels you'd wear once a month or the dress you're really gonna miss. Put those in the tier 5 category and bring them only if there's room. I'm talking about all the clothes that cover your bases. A versatile jacket, underwear, bras, pairs of socks, pairs of shoes, t-shirts, short sleeves, long sleeves, cardigans, sweaters, pants, pajamas, swimsuits etc.
This is highly dependent on where you're going and what you're doing. For me, it feels like I'll be going everywhere and doing everything so my best advice for a case like this is to learn how to layer and build a capsule wardrobe. I'll discuss clothing packing strategies more below.
Tier 3
Items you might need for work (if you will be working), staying in contact with friends and family, or other things you deem necessary beyond toiletries and clothes belong in tier 3. For example, I need my laptop, iPad, Kindle and all their respective chargers for both work and joy. These can also be small items for additional comfort during your travels, such as an eye mask, earplugs, wet wipes, etc. Many of these would be packed in my backpack rather than my carry-on bag so they're accessible during transportation.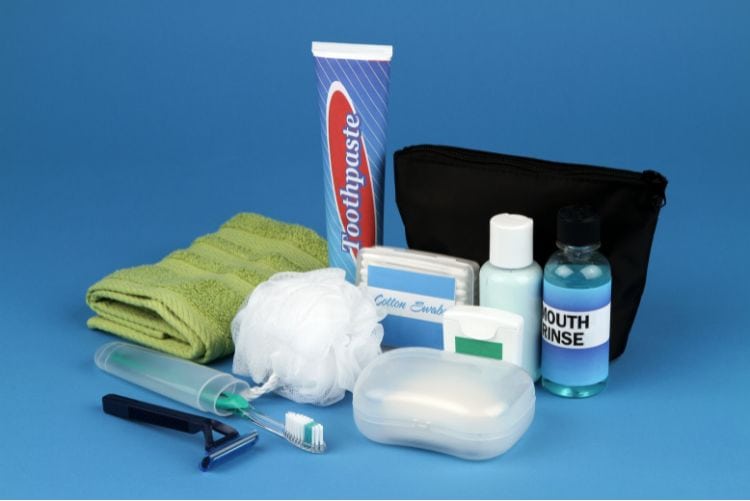 Tier 4
I consider toiletries to be in the tier 4 category because you can buy mostly everything abroad. I like to bring products that have multiple uses like this face sunscreen: Elta MD. It not only has 50 spf, but it has a slight tint that gently evens skin tone, moisturizes and provides a nice glow without seeming like you're wearing makeup. They have different kinds based on your skin needs. This is great for all genders.
For those who love makeup, it's important to narrow down what you really think you'll want to carry around. I have my bare minimum makeup routine that includes face sunscreen, eyebrow gel, blush, lip liner and gloss, and mascara. Simple, but effective. I bring some extras to jazz up the look and some for a nice night out. Luckily, makeup is small and light, but it can definitely add up.
As for shampoo, soap, and everything else, I find it both easier and more exciting to get this locally. Unless you really care about your hair, face, and body products (or have allergies), it can be fun to try out what the locals use. Also, many hotels provide soaps and lotions that you can take from place to place.
Tier 5
This category includes things you don't necessarily need but would be nice to have along. If you pack up everything on your list and these items add too much weight or don't fit, they're the first you can cut. Plus, many small inexpensive items could be purchased abroad as needed, like toiletries.
You Don't Need:
Expensive jewelry. You would be heartbroken if it got lost or stolen and there's too high of a risk for that happening when traveling. If you wear attractive bling, that also makes you a target for pickpocketing.
Hair Dryer, Curling Iron, Straightener Etc.: Many hotels have hair dryers. For me, I opt to bring a hair-drying towel, heatless curlers, and a hair bonnet to protect my hair in my sleep. These eliminate the need for bulky hair products. There are also mini curlers and straighteners that do the job when you need them. Everyone's hair is different, so if this is a priority for you, just think of some ways to reduce what you need.
Too Many Shoes: This is a tough one that many people struggle with. Especially when there is so much variation in weather and activities, it's hard to select the shoes you need. I will discuss more about shoes below, but it is always a good rule of thumb to stick to one pair of comfortable walking shoes that go with everything, and something that is a little dressier but still sturdy and walkable.
Towels: Most hostels and hotels provide towels. The only time when it would be nice to have one is if you're going to the beach. There are some compact microfiber options here for that purpose.
Paper guidebooks are nice, but they do add weight and take up space. Read them beforehand, take pictures of what you want to do, or write down your plan in advance. eBooks are also a great way to save space.
Selecting Your Bags
Carry-On Luggage
For a trip like this, I advise sturdy carry-on luggage, a versatile backpack, and a small purse that would be able to fit into a backpack. I use a trustee carry-on bag that has survived through many flights, cobblestone streets, and a fair share of conveyor belt hurling. TravelPro is an amazing brand that my entire family uses.
My favorite is purchasable through Amazon here.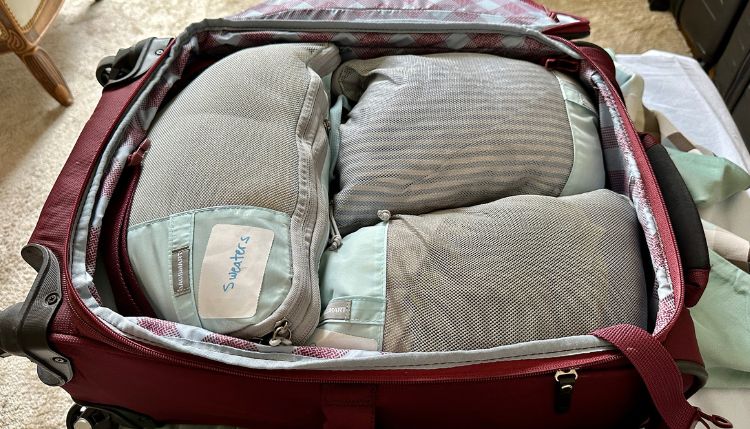 Organization
In terms of bag organization, which in my opinion is essential for a long trip, I love packing cubes, specifically the ones that compress even further down to save space. I've had great success using these which come with a laundry bag, a shoe bag, and a range of sizes for all your clothes. I've converted a daunting pile of clothing into a manageable stack of organized cubes. An absolute lifesaver.
If you are traveling with a lot of electronics, I recommend this Electronic Organizer which keeps all your chords cleanly sorted. It can fit portable chargers, earbuds, hard drives and any additional power chords. I also recommend this Universal Power Adapter, which has ports for both USB types, a traditional plug and is compatible with outlets in the EU, UK, and Australia. While it can fit into the electronic organizer, it is a little bulkier so it might be better to keep in a backpack.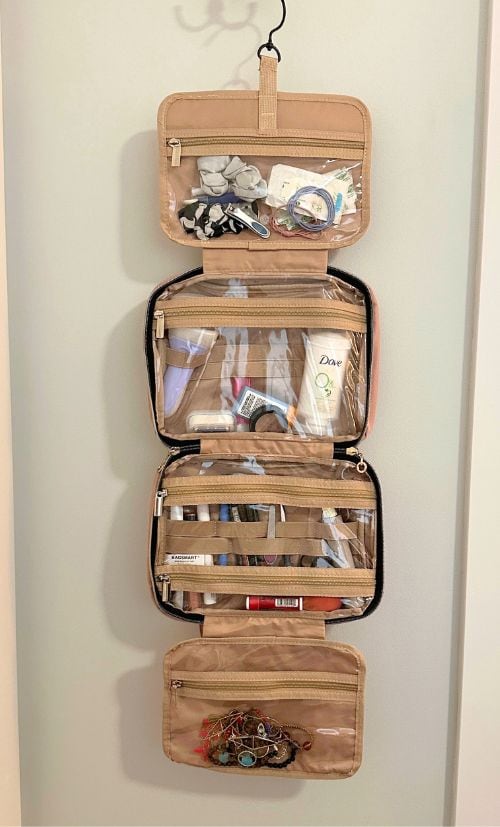 Toiletries
For toiletries, I suggest this BAGSMART Toiletry Bag which has enough compartments for anything from jewelry to hair supplies to makeup. It is water resistant with a convenient handle and is 12.6 inches by 9.1 inches. It still can fit into your carry-on luggage or a backpack. If there isn't space, it can attach to the outside of your bag as well.
Necessary toiletries include a toothbrush, toothpaste, a small brush, and deodorant. All of which could also be purchased abroad if need be.
Bag Security
While I've never had issues traveling without locking up my bags, it's always good to err on the safe side to protect your valuables. Pickpocketing is unfortunately common in many countries across Europe. These bag locks can work for backpacks and other luggage. I prefer combination TSA-approved locks to keys because you'd be in trouble if you lost the keys.
Travel Insurance
I also advise looking into getting a travel insurance plan that covers anything from lost luggage to health concerns and overall travel safety. I chose Safety Wing for my trip because of its affordability and the wide range of coverage. For three months, it only cost $150. Travel insurance is worth it, especially if it is a long-term trip.
The Fine Art of Packing Clothing
Clothing is 80% of what you'll be bringing. It is crucial to know what to take and what to leave at home according to weight, size, and necessity. For my trip, I will be traveling in the Fall, which brings a wide range of temperatures and conditions. I'll be traveling anywhere from Iceland to Southern Italy, so it is quite a challenge to consolidate everything to fit the needs of those destinations.
The temperature range that I will be working with will likely be between the mid-30s and the mid-70s (Fahrenheit), so a very wide range. In terms of activities, I will be hiking, city strolling, wine tasting, and more.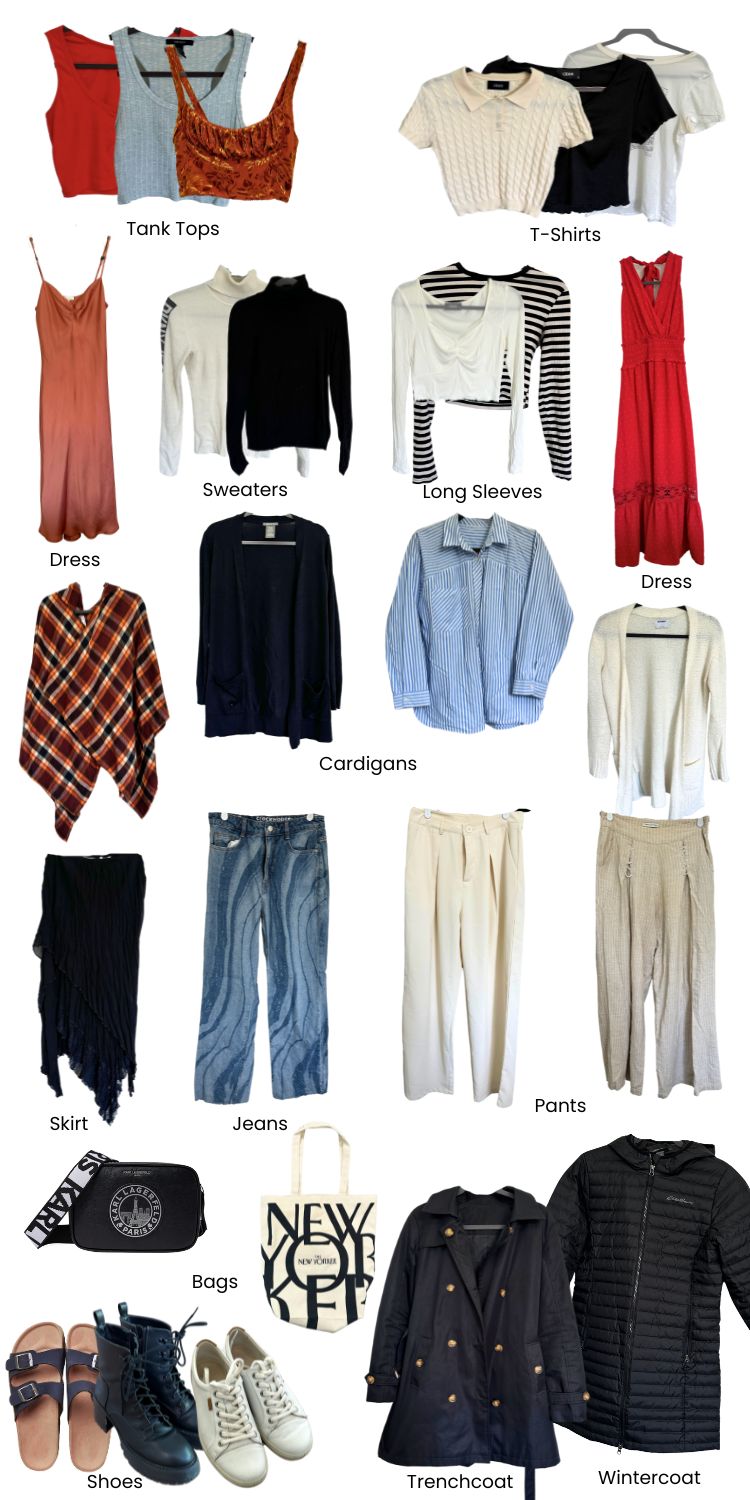 Capsule Wardrobe
A capsule wardrobe is one of the best ways to strategically pack for a trip and make the most out of your wardrobe. The principles of a capsule wardrobe are grounded in minimalism and finding pieces of clothing that can be matched and worn in many different ways. This way, you can maximize the amount of outfits you get out of a small selection of items.
Not only does refining your wardrobe lessen decision fatigue with packing, but it is the best way to travel light. When choosing what to bring, it is important to select items that are comfortable, timeless and layerable for various weather conditions.
Clothing List
A traditional travel capsule wardrobe should include around 15 pieces. You can add a few more if you're going on a longer trip like me. In the photos above, I came up with 4 outfits that cover most of my bases in terms of temperature and activities.
Tops: Two base layers in a neutral color and two others that could be worn without layering. Always throw in some sweaters if you're traveling somewhere with cold weather. I love turtlenecks because they're sleek and stylish.
Bottoms: Two Pairs of jeans, comfortable yoga pants or leggings, and a skirt or two for dressy occasions
Outer Layers: I like to bring two jackets; a dressier trench coat that could double as a rain jacket, and a warmer waterproof winter coat.
Shoes: I have narrowed my selection down to three pairs of shoes, all very walkable. On the airplane, I'll wear my bulkiest ones, my black combat boots. I'll pack a pair of Birkenstocks and some white city walking shoes that go with everything. I waterproofed all pairs so they can handle rainy conditions.

If you want something dressier, I recommend this unique brand called Pashion Footwear. These shoes are convertible and double as heels and flats. There are many custom choices and comfort is prioritized.

I know that I'll be doing some hiking on my trip but hiking boots are too bulky for me to pack. Many places offer rentals, so just be sure to bring some compatible socks.

Dresses: I like to include one or two dresses in my wardrobe. Dresses are versatile, easy, and comfortable. I'm bringing an elegant black dress for going out to dinner. I'll also bring something more casual for everyday exploring. Some of the hotels I'm staying at require nice attire for dinner.
Pajamas: This is something a lot of people forget. It's smart to use some of your comfortable outfits as pajamas but I really like a good pajama set. It's stylish, comfortable and includes a tank top, shorts, pants, and a long sleeve. Everything you'd need for a comfortable night's sleep.
Accessories: For purses, I will only be bringing a small black purse that goes with everything and a little tote bag that weighs hardly anything. For jewelry, I'll be keeping it minimal and choosing a few things that go with most outfits. For hats, I'll be bringing a simple baseball cap and a warm winter hat in addition to some gloves and scarves. The brilliant thing about scarves is they can easily dress up an outfit and add an additional layer.
Swimsuits: Don't forget a swimsuit or two. My dad has trained me from a young age to bring a swimsuit no matter the trip. You'll never know when a pool, lake, or beach might magically appear.
Everything should be suitcase-proof (meaning not wrinkle-prone and compactable).
Color
When I put together my capsule wardrobe, I like to choose 5 core colors that go with one another. The go-to base colors are definitely white and black because they go with everything and offer a sleek look. I love some bright colors in my wardrobe that are also slightly seasonal. For this trip, my colors of choice are sky blue, pumpkin orange, and bright red. All of these colors go well with white and black and can be paired together as well.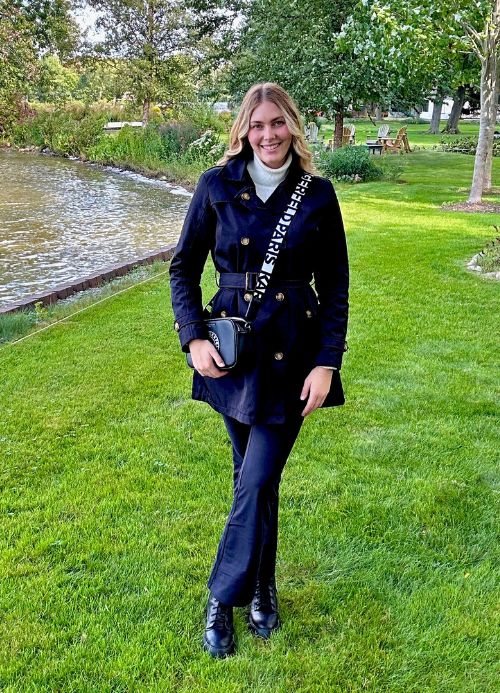 In Transit Outfit
With such an intense weight limit, it is always advised to wear your bulkiest items when in transit. My airport outfit includes some comfortable yoga pants, a white turtleneck, my black combat boots, my trench coat, and a sweatshirt or cardigan. Yes, I do get hot, but flights are always freezing anyway and layers can double as blankets and pillows. It's not hard to carry a jacket through the airport or tie a sweatshirt around your waist.
What Else Should I Bring?
Water Bottle: Water is oddly hard to come by in Europe and other destinations and always costs money. I recommend taking a collapsible water bottle that could easily fit in a purse and get filled up at water fountains or sinks.
Money: Convert money ahead of time. There's usually a much smaller exchange rate through your bank. Most places take credit cards, but it's good to have 100 euros (or equivalent in another currency) or so as a backup. Have travel-friendly credit cards that accumulate travel awards and don't charge international transaction fees.
Small First Aid Kit: Include some bandaids, Neosporin, basic over-the-counter medications like Advil and Tums, antiseptic wipes, tweezers, gauze, tape, hand sanitizer, and mini scissors.
Additional Travel Tips from my Other Travel Savvy Friends and Family
Sarong: Have you ever heard of a sarong? My friend and her mother swear by them. A sarong is a large versatile piece of fabric that can tie around your waist, act as a cover-up, or a scarf. See all the different ways you can wear a sarong.
Bring along mini-games such as cards to entertain yourself along the way.
It's smart to bring along homemade sandwiches for train rides to save money. My friend recommends bringing a mini salt and pepper shaker for this reason.
She also recommends saving little containers from food you get along the way. Funnily enough, kinder egg containers are leakproof and are the perfect size for moisturizer or hair gel.
Advice from my mother: If you can't wear a piece of clothing more than one way, don't bring it.
Laundry Abroad: Most places have easily accessible laundromats. Some hotels and hostels have them as well. There is almost always seating and Wi-Fi in laundromats. It's recommended to stay in the laundromat while washing your clothes so that they don't get stolen. All laundromats have washing machines but dryers are few and far between in Europe so I recommend bringing a clothesline to hang up your clothes.
Ultimate Packing List For Any Length Trip Abroad PDF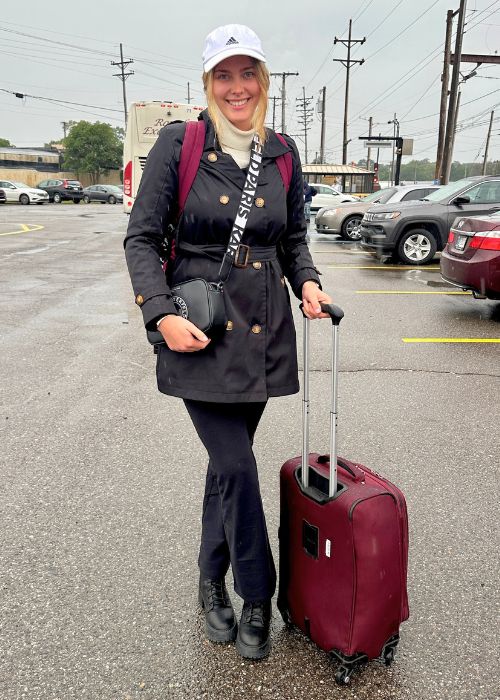 So Did I Accomplish My Mission?
After some tough decisions, trying to practice what I preach and some baggage finagling, yes I accomplished my mission. I finally feel ready to embark on my adventure with a peace of mind that I have everything that I need.
The final words I'll leave you with is that overpacking is simply not worth the extra back pain, costs, and hassle. More often than not, you bring items you never even touch. I've never once regretted packing light. Happy traveling!
Read More:
Author Bio: Isabella Miller is an enthusiastic world explorer with a passion for telling stories and making travel more accessible, budget-friendly, and service-oriented. She believes that this planet is one enormous classroom and that there is so much to be learned through traveling, meeting people, and experiencing aspects of life that are unfamiliar. She is thrilled to continue expanding her repertoire and accumulating stories and insights from all over the world.