"No darling you don't have time to have another bowl of cereal. We need to leave now if we're to make it in time to Hyannis and catch the 8:30 am ferry to Nantucket."
My 7-year-old doesn't need to know that the journey to Hyannis is only 25 minutes from our campsite near Nickerson State Park on Cape Cod.
I have allowed 45 minutes, fully anticipating, like so many parents do, that getting a child out of the door can be delayed by a myriad of reasons.
Our rented RV from Cruise America is a big reason to delay. There are just too many interesting compartments for a curious child to investigate.
Normally, he'd be allowed to press the various buttons, sit up front and pretend to drive. But on this morning I am allowing nothing to give us any reason to miss the ferry to Nantucket.
How to Visit Nantucket
Nantucket is an island that has beckoned me since I first read about it in a novel during my teens. The title of the book is long forgotten but the images the author conjured in her writing stayed with me. It has remained firmly on my bucket list ever since.
It took several attempts to get the USA to take the trip. The pandemic forced us to cancel multiple times which had my husband questioning whether visiting Nantucket was worth the trip over from London.
Best Tips & Tools to Plan Your Trip
The Hy-Line cruise terminal is well-signposted from the highway and easy to find, and the local staff is friendly and organised. As we are in an RV we park in one of the larger parking lots.
But the lot is only a 5-min walk away from the ferry terminal and the whole process couldn't be easier. The denial of the second bowl of cereal back at the campsite is mitigated by a croissant and a 'babychino' from a lovely little café adjacent to the terminal.
At only an hour long, it's a short and pleasant boat crossing from Hyannis. The soft grey shingle style houses which line that stretch of the Nantucket coast come into view far quicker than we expected.
We get talking to a friendly Cape Cod-based father and his children who tell us they do this journey a lot, especially during the summer. Their sun-kissed skin tells of beach picnics, games on sunny verandas and an outdoor lifestyle that is hard to beat.
Sand Dunes and Cobbled Streets
Against the bright blue sky and brilliant sunshine, cobbled Main Street with its various stores, ice cream shops and cafes is exactly as I imagined.
As we disembark the boat, we find the immediate area to be a buzzy, lively area with boats coming and going from the harbour. 'Thump, thump, thump' fills the air as cars and bikes negotiate the cobbles that form the island's streets.
Grand Greek revival-style properties line the streets off Main Street, their enormous pillars reminiscent of the Parthenon in Athens.
Smaller but equally attractive Quaker cottages sit beside them. As clumsy as that sounds the incongruous juxtaposition of real estate somehow works, and the different architectural styles offset each other magnificently.
At only 15 miles long and 3–6 miles wide, Nantucket isn't large. Exploring the island by bike is easy and fun especially as investment has been made into decent bike paths.
Of course, you can't visit Nantucket without going to the beach. So our first stop with the bikes is Dionis Beach, a straightforward 15 min ride along the Madaket Bike Path. The sand dunes rise up from the parking area and we stumble in our eagerness to get up and over the top, so keen to see what view awaits us on the other side.
It is idyllic. The white sand and clear blue sea are just as described in the novel all those years ago. It's not quite mid-morning so the beach is quiet, and we have our pick of sunbathing spots, the sand warm between our toes as we walk along looking for the perfect place to base ourselves.
Eating in Nantucket Town
Back in the Town of Nantucket, there is an abundance of eateries. Wood-grilled swordfish, clam bake, lobster rolls and grilled shrimp sliders all vie for our attention.
None of the staff are pushy, if you want to eat there then come in, you're welcome. But if you don't, that's ok too. We're sent off with; "Have a good day! Enjoy Nantucket! Don't miss out Brant Point Lighthouse!"
We walk along to our chosen restaurant, inhaling air which is a delightful combination of seafood, salty sea water, sun cream and something sweet that we can't quite place.
Our ears fill with the sound of tourists and locals chatting or laughing together. They seem to be reveling at finding themselves on this isolated island and enjoying the little slice of paradise which Nantucket has served for the day.
Brant Point Lighthouse
As instructed by the waitress, we don't miss out Brant Point Lighthouse. It's worth the 20 min walk from downtown. The street leading to it is quieter than the other streets we have travelled along so far on the island. It gives us a better feel for what life on Nantucket must be like once the ferries have returned the tourists to Cape Cod and beyond.
It's an attractive lighthouse, established in 1746, and the second lighthouse to be established in colonial America. Its faded beauty against the backdrop of the white sandy beach appeals to those on Instagram and our arrival coincides with two girls from Japan who ask us to take their photo. They immediately filter and upload the image for the world to like and follow.
In reality, Brant Light House doesn't need any kind of filter – it remains a captivating sight in spite of, or perhaps because of, the weathered appearance it now has.
Like an elegant older lady with a gleam in her eye and stories to tell. The US flag hangs proudly up against the cyclical structure and proud it should be – it's a lighthouse owned by the U.S. Coast Guard and despite its age continues to be an active aid to navigation, ensuring safety for all those who sail along the shore.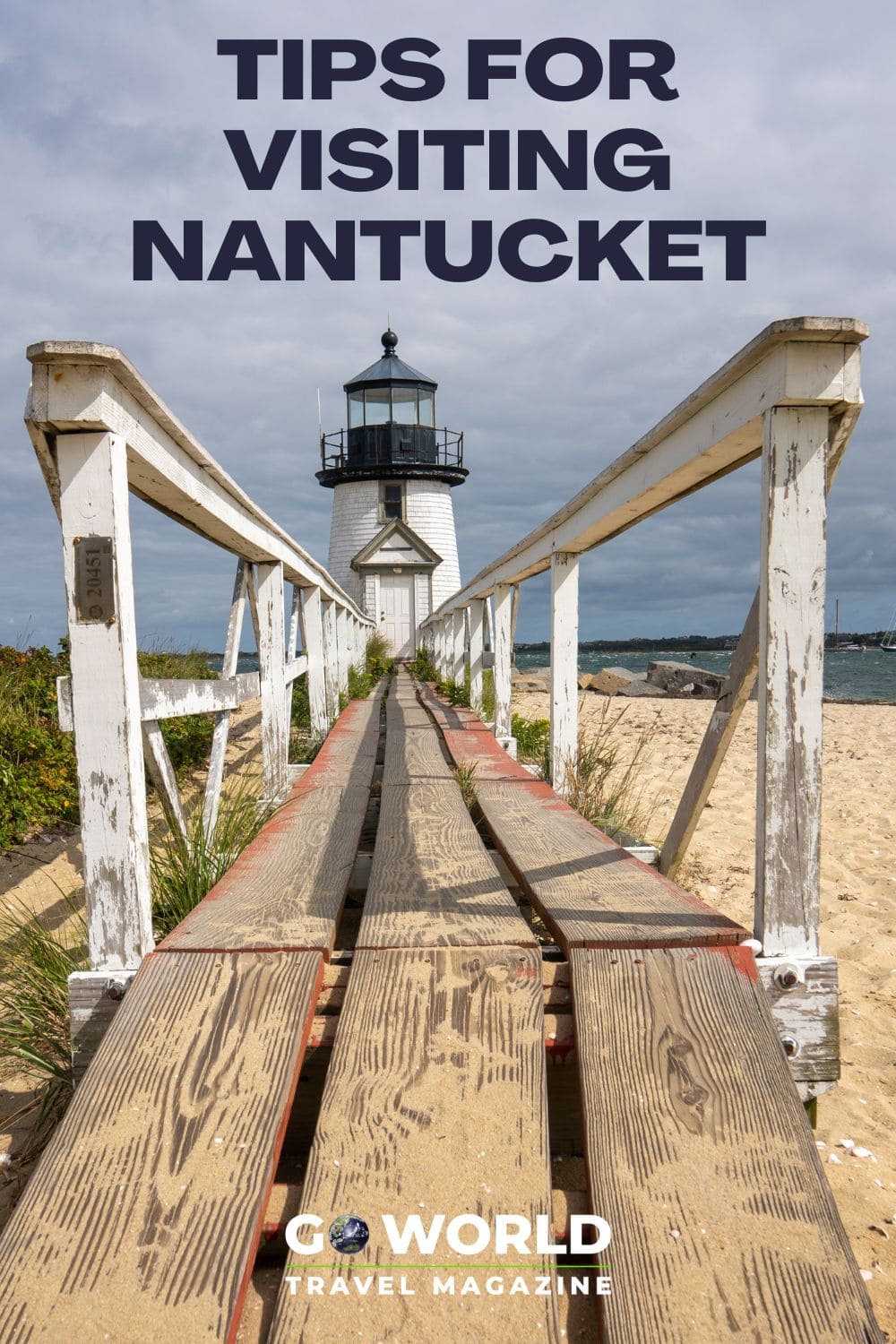 A Promise to Return
Our time here is nearly up and we hasten towards the ferry terminal. But whilst queueing we realise we still have just enough time to get a quick drink in a tiny bar we spot close by.
The sun-bleached deck boards bask in the last rays of the evening sun and upon seeing a couple finish and leave their table our decision is made. We hastily order a couple of Aperol Spritz, disappointed we won't still be on the island to see the party that is getting underway in the bar.
As the music spills out of the open windows, we seize our last few minutes on this tiny island, determined to squeeze everything we can from our time here. We chat about returning in a couple of years and staying longer.
Our son is animated in his suggestion that perhaps we can learn to surf the stronger waves on Cisco Beach. Or maybe hire one of the open-topped jeeps we've been admiring all day, visit the Loines Observatory and pop into the Whaling Museum.
The opportunities for exploration and discovery are in abundance on Nantucket. I love it. It was worth the 15-year wait to visit Nantucket.
If You Go
Author Bio: Joanna Archer caught the travel bug at 18 when an unexpected gap year led her to New Zealand. During that trip she accidentally booked herself onto a retirement but in doing so, found that it isn't just the backpackers who are having all the fun. Over the course of 20 years, wanderlust and a desire to learn as much as possible about other cultures have led her across the globe to participate in various experiences including cookery courses in Thailand, sailing in Australia, hiking in Alaska, volunteering with pandas in China, kayaking in the Cayman Islands and snorkelling in the Cook Islands. During a road trip in Canada she met the man who would later become her husband and they now live with their young son in Sussex, England. New to travel writing, Joanna hopes others will find her pieces useful for planning their own bucket list adventures.