Ever wonder what happens to airline luggage that is never claimed? Well, for the last 50 years, it has ended up in Scottsboro, Alabama at the Unclaimed Baggage Center. This huge store sells items from unclaimed airline luggage, including jewelry, clothes, bags and much more.
Shop at the Unclaimed Baggage Center
Until this past week, you would have had to travel to Unclaimed Baggage Center's Scottsboro location to go on a treasure hunt of its inventory. The Unclaimed Baggage Center's new e-commerce site at UnclaimedBaggage.com will feature the same shades, iPads, headphones, jewelry, sporting equipment and who knows what else in its online store.
"Our customers have long requested an online version of our in-store shopping experience," said Unclaimed Baggage CEO Bryan Owens. "We're glad that as part of our 50th anniversary, shoppers are now able to experience the thrill of the hunt online."
Airlines and travel businesses do their best to reunite lost luggage with its rightful owners, but it sometimes goes astray. I can personally speak to this as my luggage has been separated from me seven times during my travels (I mostly carry-on these days and especially during COVID-19) and I have been fortunate enough to have been able to lay claim to my suitcase and its contents.
A Thrift Store with Unusual Finds
But not everyone is that fortunate, and while the travel industry has certainly upped its systems and processes to locate lost luggage, some baggage still falls through the cracks for one reason or another.
Enter Unclaimed Baggage which was born 50 years ago and today boasts a 50,000-square-foot retail space and its newest online store featuring some ahem….unusual categories.
Weird and Wonderful Items at Unclaimed Baggage Center
When you go to the site the very first thing that pops out is the category section leading with the "Weird and Wonderful" segment. Curiosity got the best of me and I scrolled through this section only to be led down another retail rabbit hole with everything from soldering irons to a Bluetooth hover-board labeled as "unusual finds"— indeed.
Unclaimed Baggage Buys
In the "Luggage & Bags" category (located on a pretty easy-to-navigate site), I expected to see more actual luggage, but the selection seemed to be heavily focused on mini backpacks, leather toiletry bags and some new and lightly-used purses.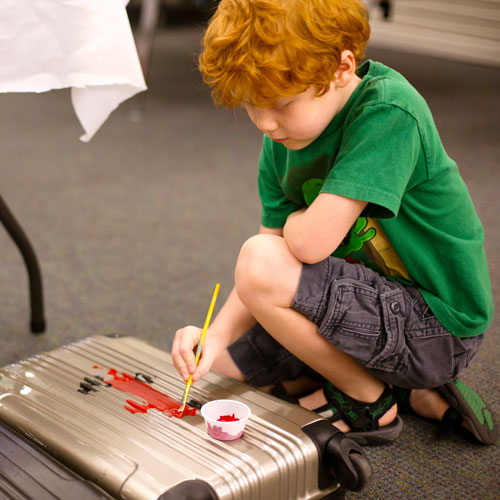 My favorite section had to be the pet accessories, which seemed to have better bargains since I am not in the market for a diamond tennis bracelet just yet. Not that my pug would enjoy wearing a mock turtleneck sweater or a dinosaur pizza dog vest, but it's never stopped me from purchasing one, either.
For those who love designer brands, this site would be a great place to score some deals on anything from Gucci glasses (located in the Unusual Finds section) or Adidas James Harden sneakers.
In another section of the site, board games and toys are also up for grabs, but the selection seems pretty limited for the time being. However, from a voyeuristic standpoint, you can't help but notice the "Costumes" category and, like, the "Toys & Games" section has a limited inventor.
I'm sure curiosity will once again get the best of me and I will be returning to see if the inventory selection has grown and changed.
Happy hunting!
Author Bio: Angie Cavallari is a Lifestyle & Pop Culture Expert and author of Trailer Trash: an '80s Memoir. She has authored thousands of blogs and articles, with some of her work featured in Huffington Post, The Reset and, Go World Travel, among others. When she is not traveling, she is spending time with her kids and her precocious pug, JJ.
Latest posts by Angela Cavallari
(see all)