Historic Oregon Trail
In the mid-1880s pioneers traveled The Oregon Trail to emigrate west. Bit by bit the trail was extended until it covered approximately 2,000 miles from Independence, Missouri, to Oregon City, Oregon.
At first, travelers came by horse or foot—contrary to popular legend, Conestoga wagons were too big and heavy so they gave way to the Prairie Schooner, a smaller wagon pulled by mules or oxen. The trail was an arduous five-to-six month slog and only one in ten people who began the trip made it.
My 2020 Experience on the Trail
Unlike the pioneers, I covered 1,200 miles of Oregon in four days starting from Portland and traveling in a friend's Toyota Forerunner. I came from New York City putting my faith in the very low Covid rates in both my state and Oregon.
For a longer trip along the whole trail, an RV can make life on the road feel like home. Learn more and check out Camping World here.
Bridge to Nowhere
Our first stop was Astoria, the oldest city in the state, located on the south shore of the Columbia River. The city, named for fur entrepreneur (and New Yorker) John Jacob Astor, connects, via the stunning Astoria–Megler Bridge, to the state of Washington.
The 4.1-mile bridge, first envisioned in the 1930s was completed in 1961. Originally it was ridiculed as the "Bridge to Nowhere," by critics assuming it would never cover the total cost of roughly $43 million. (Wrong– by 1993, tolls paid off the cost.)
A pit stop at the Cannery Pier Hotel, built out into the Columbia River in the shadow of the hotel, revealed a great collection of old photos of the 1940 Salmon Derby; salmon processing in the many canneries and the Finnish community which began arriving in Astoria in the 1880s.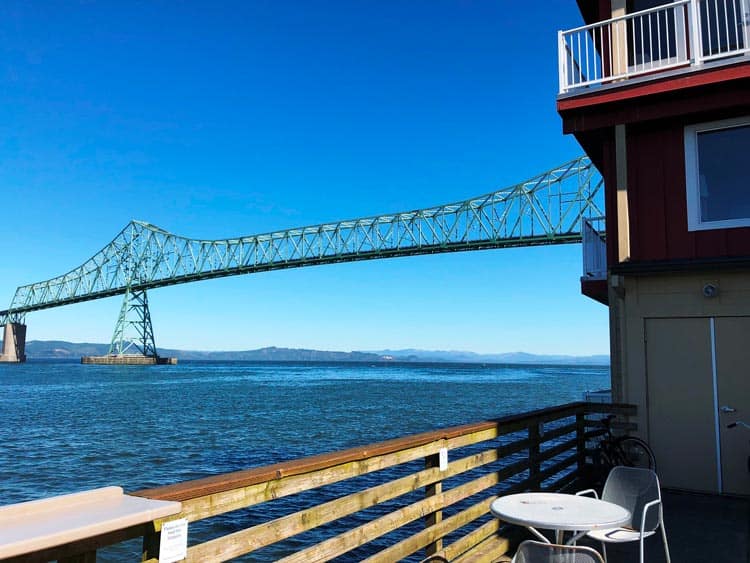 Living Lawnmowers
We stopped at Cannon Beach to admire the "tame" rabbits serving as furry lawnmowers on the grass of The Stephanie Inn. The Pelican Inn directly on the beach was the only place on our route that gave me Covid concern as it was pretty packed with unmasked drinkers and beachgoers.
Overnight in Lincoln City
We stayed at The Inn at Spanish Head in Lincoln City — no bunnies but lovely oceanside rooms where a balcony provided a great view of the beach under a brilliant sky. (Following unbearable air quality due to the raging fires, my entire eight-day stay starting September 27, 2020, was uniformly glorious with sun and clear air except in northernmost California from which we turned back.)
I didn't make use of the Inn's ocean-view pool but wolfed most of a huge breakfast at the Pig 'N Pancake, a small, Oregon coast, family-dining chain featuring Swedish, Buckwheat, and Sourdough pancakes as well as crepes, French toast and more. The Junior Plate (eggs, pancakes and bacon) won.
Oregon Cheese Making
The just-reopened Tillamook Creamery, built on the land of the indigenous Tillamook and other native peoples, insisted—as it should– on masks and social distancing managed by a perky staff. The free visit was brief as many parts of the operation like cheese tasting were not in service but there was enough see for about an hour.
After watching huge blocks of cheddar being cut, vacuum packed and boxed, there was the inevitable gift shop and ice cream and food area for grab-and-go. Horrifying some Oregonians, three Tillamook cheeses are now made in Wisconsin from Midwest milk—so much for buying local.
Trail Meets the Sea
Don't bring your pet, do check on the current advance ticket policy and don't miss the Oregon Coast Aquarium in Newport. Although Covid has closed some exhibits and policy dictates following arrows, the Aquarium is beautifully designed with areas where fish swim up and over your head in transparent arcs.
There are informative labeling and terrific aquatic sights Including harbor seals; anemones and jellyfish; various eels and incredibly bright-colored fish like the convict tang in prison-like stripes.
Cleaning from inside out
While looking at a rock- and-coral-filled tank, suddenly two pairs of human legs ending in flippers appeared. At first, I thought them entertaining props until they descended fully revealing two women each equipped with scrub brushes. Cleaning day! One diver scrubbed (cement) rocks while her companion got busy shining the tank's window.
Pristine State Parks Along the Trail
While we didn't visit all two hundred fifty- plus Oregon State Parks, we pulled into plenty along the coast. These beautifully maintained parks are free with a senior pass and many have clean easy-to-access restrooms. Covid has closed most visitor centers, cabins, yurts, hiker/biker sites, and group facilities and some parks are not open due to the September wildfires. If you want to visit a specific park first check https://stateparks.oregon.gov/index.cfm?do=visit.status.
Pacific City has a towering sand dune should you feel like climbing while Honeyman State Park has many dunes; Manhattan Beach offers a trail down to the beach; Boiler Bay is where a schooner's fuel tanks exploded in 1910 with ship remnants visible at very low tide.
Visiting a Lighthouse
I loved Hecata Head, registered on the National Register of Historic Places in 1978, where the lighthouse is accessed via a half-mile mildly uphill trail. Climbing with a few others, some with dogs, I passed the Lightkeeper's house where a man was noisily blowing leaves out of the yard. The lighthouse itself is attached to a smaller, square building where kerosene was stored.
A sign asks if you would like to be a lighthouse keeper—my answer was a resounding 'no' what with the solitude, hauling oil up to the light frequently and cleaning soot off the light to keep it in good condition. All along the coast, we pulled over to look at the sea stacks, steep rocks that are no longer attached to the mainland.
Posh Overnight Post
Near Gold Beach on the Rogue River, we stayed at The Tu Tu' Tun Lodge named after the Tututni Native Americans. The Lodge is elegant with beautiful plantings and deer as living lawnmowers. Rooms are named for parts of the river, (ours was Coal Riffle with a map pinpointing the location).
Tu Tu' Tun has a chi chi air that extends to the bathroom where the toilet seat lifts and glows as you approach. It should come with a manual as figuring out how to use it requires an engineering degree. Dinner here is also fancy with four courses starting with an amuse-bouche, a tiny hors d'oeuvre meant to "amuse the mouth'; stuffed, we quit before the entrée.
In-and-Out of California
After driving through some of Jedediah Smith Redwoods State Park we crossed the border into California. For now, I'd give this a pass as it was desolate with evidence of the recent fires along roadsides and a strong smell of smoke. Ten minutes into California we turned back.
Rivers Edge in Grants Pass was a perfect spot for lunch outdoors on the deck overlooking mild rapids in the Rogue River. There is also indoor dining.
Deepest U.S. Lake
Afterward, we drove to Crater Lake set in Crater Lake National Park. The lake, the deepest in the U.S., is technically a caldera formed in the belly of a volcano that erupted 7,700 years ago.
The lake's water is dazzlingly blue because it is almost totally pure and there is a lot of it. We ventured into the Crater Lake Lodge where we managed a lake view from the porch and a look at the woodsy interior. In season there is hiking for all levels, biking, fishing and plenty of nature to absorb.
Find all of your outdoor gear needs, like layers, goggles, hiking packs and even leashes for your furry travel companion, from Outdoor Master here. (Use code GravityFed15 for an extra discount!)
If butterflies and moths are your thing, the park will delight you with hundreds of species. In non-Covid times there are boat trips around the lake. Currently, visitors' service centers are closed. We drove around the rim stopping to gawp at the lake from different angles.
Army Post Turned Resort
Our final stop was Sunriver Resort, a little over an hour north near Bend. Set in meadows, during WWII the U.S. Army used the area to build Camp Abbot, a training camp named after a Pacific Railroad surveyor, Lt. Henry Abbot. Today it's a big resort with several golf courses, pools, a kids' camp and a spa offering typical amenities (in non-Covid times) as well as tennis and pickleball.
Dinner was at Carson's American Kitchen in the main lodge where I ate surprisingly delicious elk meatloaf with BBQ sauce and caramelized onions. Most dishes hew to the fish and chips, burger, steak and chicken pot pie line.
We returned to Portland with a lot of windshield time behind us but in relative luxury, a far cry from the intrepid pioneers.
Along the Trail:
Inn at Spanish Head: Oceanfront room $240 and up depending on the season. Dinner at Fathoms on property: Blackened Pacific Rockfish topped with Dungeness crab, tomatoes, white wine $24; local pan-fried oysters, $23, strawberry and spinach salad with caramelized walnuts and feta $14. Wine, beer, cocktails. www.spanishhead.com
Pig 'N Pancake: Buttermilk pancakes 8.95, veggie omelet with Swiss cheese, fresh fruit and a bran muffin, $11.75, Mr. Pig's 8 oz. burger with cheese on grilled French loaf $11.95. www.pignpancake.com
Oregon Coast Aquarium: Admission, adult $24.95, child 3-12 $14.95, senior $19.95. Advance reservations a must. 2820 SE Ferry Slip Rd, Newport. https://aquarium.org/
Oregon State Parks: Day admission $5 for a vehicle or $30 for an annual pass. When open other charges for campsites etc. https://stateparks.oregon.gov/
Rivers Edge, Grants Pass: Reuben sandwich $14, beer-battered cod and fries $16, wedge salad with blue cheese $12, wine, cocktails and beers. www.riversedgerestaurant.net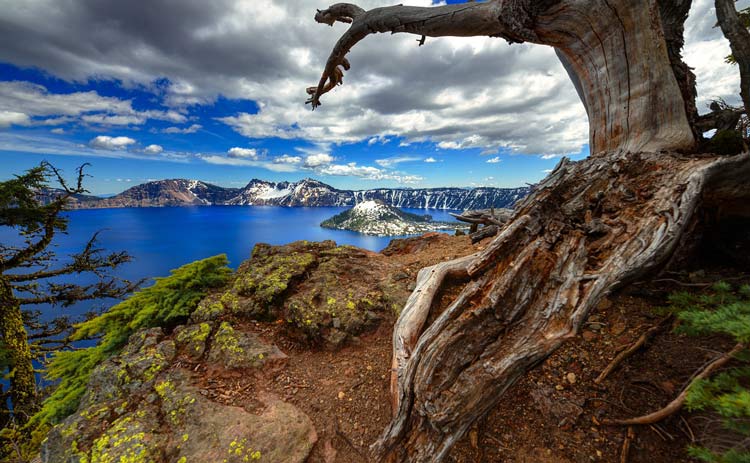 Crater Lake National Park: Car admission, $30 May 22-October 31, $20 November 1-May 21. Good for seven days. Lower rates for bicycles, motorcycles and pedestrians. https://www.nps.gov/crla/index.htm
Crater Lake Lodge: open mid-June to mid-October. https://www.travelcraterlake.com/lodging-camping/crater-lake-lodge/
Sunriver Resort: 4 stars, rustic, from $125 up for standard room depending on time of year. https://www.destinationhotels.com/sunriver-resort
Carson's American Kitchen: Elk meatloaf with bacon, caramelized onions, BBQ sauce (delicious!) $24; fish and chips, $25, Caesar salad $7. Desserts, kids' menu, full bar. Eat in or grab-and-go. https://www.destinationhotels.com/sunriver-resort/dining/carsons-american-kitchen
Author's Bio: Mari S. Gold is a freelance writer whose work has been published in The New York Times, American Profile, Go Nomad, Passport, Stratton Magazine, Go World Travel, Passport Newsletter and other outlets. A life-long New Yorker and avid traveler, pre-Covid she wrote on New York museum exhibits, restaurants and events for Davler Media's City Guide and reviewed theater and dance for www.newyorkarts.net. She writes for the New York Landmarks Conservancy. Her blog, But I Digress… is at www.marigoldonline.net