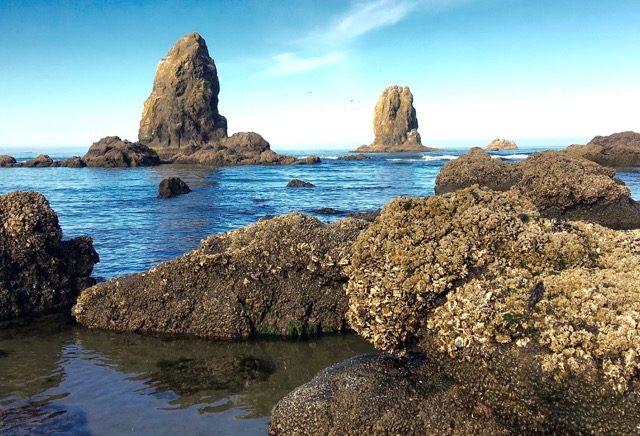 Cannon Beach, Oregon, is possibly the most visited beach in the Pacific Northwest, and there's a reason: It's a four-mile-long stretch of golden sand studded by off-shore rock formations, including the iconic, 235-foot-high Haystack Rock.
In every season, you'll find events in Cannon Beach for all interests — including a yoga festival (February), a wine and culinary festival (March), spring whale-watching (mid-March through mid-April), an arts festival (May), a sandcastle contest (June), a puffin watch (July), and an arts festival (November).
Whether you visit in sunny summer or stormy winter, here are eight must-do pastimes, most of which center around Cannon Beach's main attractions: the sea, the sand and the scenery.
What to Do at Cannon Beach
Spot seabirds on Haystack Rock
You can spy Haystack Rock from miles away, but get up close and you'll find that it's home to scores of seabirds, many of which nest among the monolith's crags. Part of the Oregon Islands Wildlife Refuge, this huge basalt rock is home to pelagic cormorants, pigeon guillemots, common murres and the Western gull. Tufted puffins nest here from April through August, and you can watch them dive into the ocean to catch fish. (They're dark with white faces topped by tufts of white feathers and bright-orange beaks.) Nearby Ecola State Park is also great for bird-watching. (Download a PDF guide to Pacific Northwest seabirds: cannonbeach.org/documents/seabird-brochure-final.pdf.)
Wake up at the Sleepy Monk coffee shop
Opening daily at a leisurely 8:00 am, this spot is popular with locals and visitors alike, which means there's usually a line to get in. Never fear, its relaxed Irish-monastery atmosphere is the perfect spot for caffeinated conversation — or just some quiet time with the morning newspaper. The fresh-baked scones (and other goodies) and the organic coffee, made from locally roasted beans, are worth the wait. (1235 S Hemlock St.; www.sleepymonkcoffee.com)

Sleepy Monk coffee ©Laurel Kallenbach

Discover the wonders of tidal pools
Hotels in Cannon Beach post the tide schedule, and for good reason: Low tide means that tidal pools around Haystack Rock will be exposed, revealing the ocean life — starfish, crabs, barnacles, sea urchins and sea anemone — that are hidden underwater during high tide. Volunteers and staff from Cannon Beach's Friends of Haystack Rock are usually present during low tides. They're on hand with fun facts about tidal-pool creatures and tips on how to observe colorful marine life without harming it. Friends of Haystack Rock wear red jackets: Ask them questions or attend a free Saturday tour. (friendsofhaystackrock.org)
Continued on next page