As I spewed saltwater and thrashed about in the warm Caribbean sea, my fellow snorkelers in their bright orange vests were swimming away. Their shiny chartreuse snorkels slicing through the water like so many fins.
Every so often you learn something about yourself that is so unexpected and surprising that you are caught completely unaware. Simply because you never suspected it.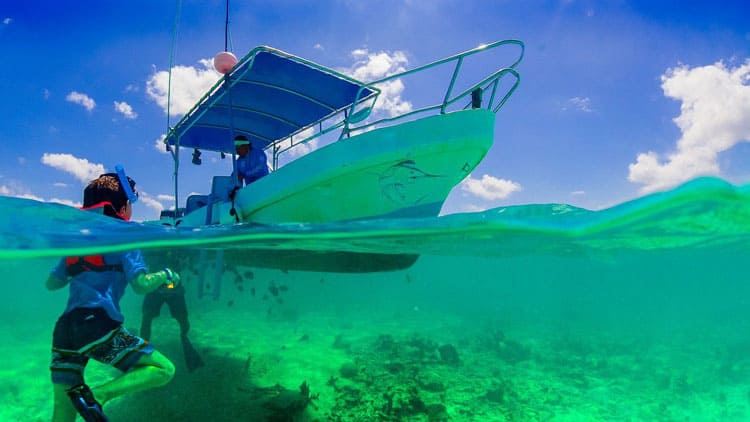 Bobbing about in the crystal-clear waters, I realized I was undergoing a panic-attack. I love the ocean; I enjoy swimming and the snorkeling gear didn't bother me at all. But, as soon as I submerged my head beneath the waves and attempted to breathe through the tube, my mind completely rebelled.
My brain refused to allow my body to breathe underwater. I learned to swim both recreationally and competitively as a wee lad which was many a moon ago. One of the first lessons was, do not attempt to breathe under water.
This was not how I had envisioned my first snorkeling adventure. But, let's start at the beginning.
Finding Our Travel Legs
As we were fully vaccinated, worries had begun to subside. Life was edging closer to whatever the new normal is.
We boarded the claustrophobic cylinder of an airliner and endured the chaotic cacophony of several airports. All of which stretched the rules of social distancing mercilessly.
And off we went, with a group from work to Mexico's Riviera Maya region and its abundance of all-inclusive resorts. All of us more than ready for a much-needed release from a very trying year.
Our destination was the Excellence Riviera Maya/Cancun Resort. With excellence in its name, it had quite the reputation to live up to. Its 6 pools, 11 restaurants and ample bars overlooked a gorgeous stretch of beach. The azure waters of the Caribbean said that it was up to the task.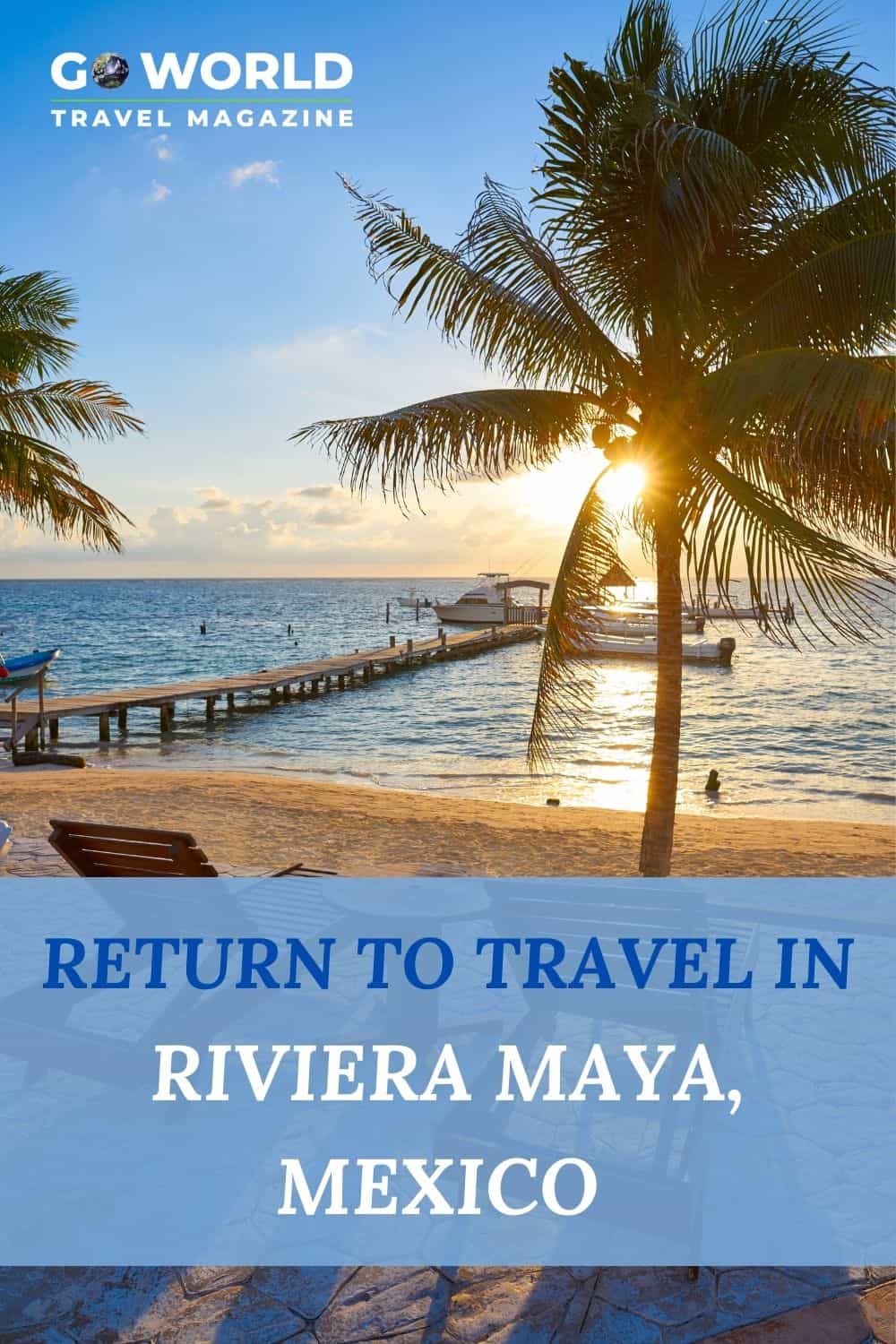 The resort layout made social distancing easy and the all-inclusive aspect meant there was no need to leave the property for dining, entertainment or outdoor activities. Add to all these the resorts' obvious attention to COVID sanitization protocols and we felt any leftover ill ease slip away.
Entering the hacienda-inspired grand lobby with its Mayan overtones, we were greeted with a cold, welcoming cocktail. And, after an easy check-in, we were escorted to our room.
Our home for the next four nights was a spacious suite awash in soft neutral shades and terracotta floor tile. The bright and airy space opened onto a private furnished balcony overlooking the resort.
On the bed was an enigmatic but amusing towel sculpture left by our maid. The refrigerator was fully stocked with refreshments of every nature and the dry bar presented an array of spirits and an espresso machine to address all needs.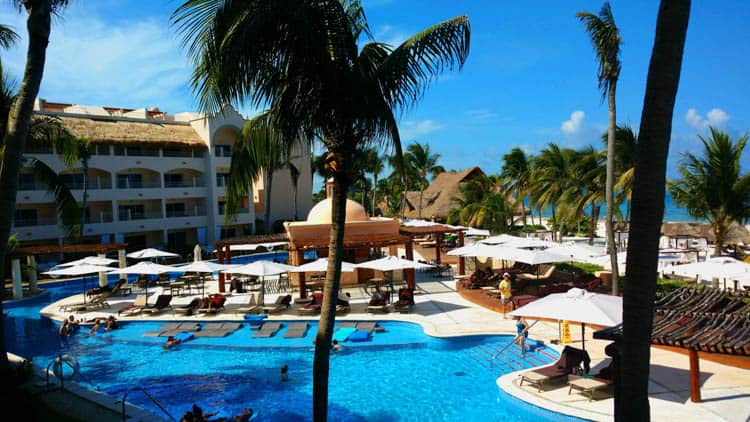 Relaxing at the Excellence Riviera Maya Cancun Resort in Mexico
Our first morning, after a sunrise visit to the well apportioned gym, was spent walking the luxurious grounds. We passed palm trees and banana plants on our way to the white sands of a beach that extended for thousands of yards.
The tropical scents of colorful flowers and the rhythmic sounds of the nearby waves provided a simple pleasure we had not experienced for some time.
On our way back, we were greeted by a local family of iguanas. Once my wife, Kathy, realized they were more afraid of us than we were of them, it became a daily ritual to bid them hello.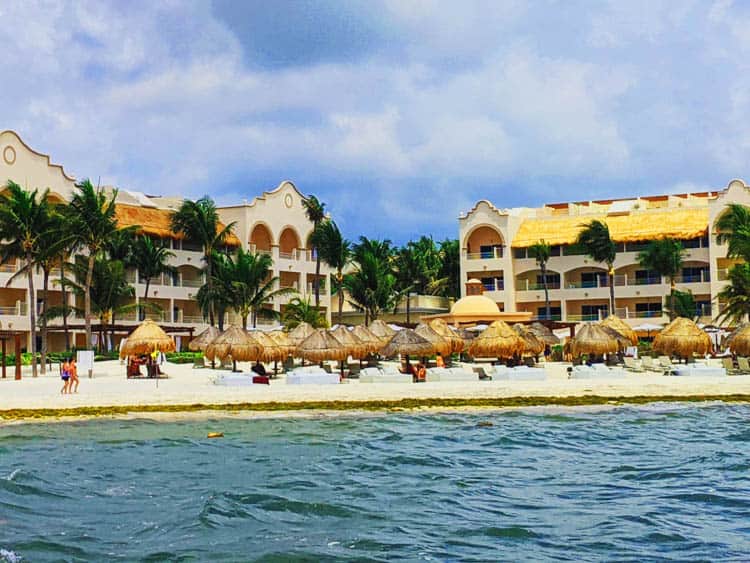 We did not spend a lot of time deciding how to spend our morning. In lieu of beach volleyball (too strenuous), mastering new culinary skills (too much like work) or learning the latest rumba step (two left feet), we opted for the serenity of the beach.
Our companions slipped into one of the numerous pools to enjoy the convenience of a swim-up bar. Meanwhile, we secured a couple of loungers beneath a palm- thatched canopy.
We then broke out some classic reading material and embraced the warm breath of a steamy sun and the soothing kiss of the tropical breezes. Keeping well hydrated with numerous frozen concoctions supplied by the very attentive and smiling Maria, the stress of the last twelve months melted away.
Our most difficult decision each day was choosing which restaurant to dine at for our evening meal. Lunches were generally a light affair involving the beach grill.
The compact lunch menu (the fresh fish tacos were especially delicious) or their daily beach luncheon (I recommend the kebabs from an open brazier) provided just enough to ease the hunger pangs mid-day.
However, evenings provided a wealth of tantalizing choices. From French infused fare, Indian imbued plates to, of course, Mexican inspired eats.
We found the Agave restaurant to be especially tantalizing. It featured local fare in an open air format. Kathy chose the orange marinated Costillas (pork ribs.) I went with the Pulpo Tatemado (grilled octopus with plantain puree.) The octopus grilled in a honey glaze was excellent. The orange suffused pork burst with flavor.
After sunset, live shows filled the stunning central plaza. Each evening you might find a live mariachi band, talented singers or themed entertainers who would regale us with enthusiastic performances.
An energetic trio costumed in the ancient dress of the Maya provided an exhilarating night of entertainment with drums, dance and the man-handling of fire.
We found the resort to be truly relaxing. But, I finally decided to stir myself from my torpid existence and take advantage of one of the many offerings the resort had. This brings us back to my snorkeling escapade.
A Snorkeling Adventure in Riviera Maya Mexico
It seemed such an easy exercise. Lighthouse Tours, which provided the boat and crew, was conveniently located right on our beach. The warm inviting waters, the Great Mayan reef just off shore and the promise of a venture I'd never experienced before sounded like so much fun. Little did I know.
As I struggled with my growing panic, Kathy, who had come along for the boat ride, looked on with equal parts of concern and bemusement. Romario, the boat's captain, attempted to calm my fears. Our guide, Nayo, circled around and reassured me that this could be done.
Eventually, with his patience and my realization that I needed to simply take deep breaths before submerging myself, I was able to snorkel and enjoy the treasures below.
Treasures they truly were. It was a captivating world. Schools of yellowtail snapper and parrotfish. A solitary silver-sided juvenile barracuda and a stingray that briefly settled onto my hand before flapping its wings and flying off into the distance. And all around, great clumps of stony coral of all shapes, colors and sizes. It was mesmerizing.
I never truly mastered the snorkel nor overcame my aversion to breathing underwater. But, by adjusting to what I was comfortable with along with the much-appreciated help of Niles, I was able to thoroughly relish the undersea delights of the reef.
Feeling Free and Ready for More Travel
That evening we enjoyed the white-tabled cloth ambience of the French-themed Chez Isabelle. We shared our adventure, or misadventure, with friends over excellent plates of sea bass, beef tenderloin and well-deserved margaritas.
Our final morning the sun broke across the horizon in a veil of spectacular hues. On the balcony, as we sipped our morning espresso, we were serenaded with the melodic calls of a Great-tailed grackle as the breeze ruffled his feathers.
A burden of sorts had lifted from our shoulders. It was as though we had thrown caution to the wind and had feasted with wild abandon on a freedom not felt for some time.
We had come to test the waters of travel and had found them to be quite agreeable.
Author Bio: Frank Hosek is a sometime traveler who embraces the journey.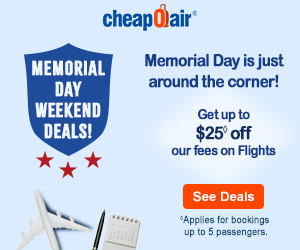 Book This Trip
Time to start planning your trip to the Excellence Riviera Cancun Resort in Mexico? Learn more about the area, local restaurants and ocean activity tips on TripAdvisor and Travelocity.
The Excellence Riviera Cancun Resort is just north of Puerto Morelos, about a 20-minute drive from the Cancun International Airport. You can find exclusive flight deals and ground transportation options here through CheapOair.
American travelers should remember they will need a negative Covid-19 test result taken 72 hours or less before travel to return to the US.