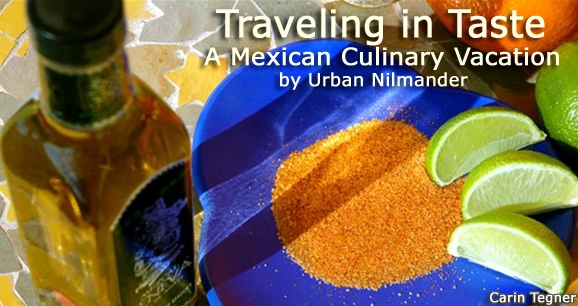 It began eight years ago. A guest at her restaurant wanted a recipe for one of the dishes served. An idea was born.
Pilar Cabrera is sitting at her restaurant, La Olla, in Oaxaca, Mexico. She has become one of many chefs around the world who is part of the rapidly growing movement of culinary travel.
"I felt I wanted to show some people how you really cook Mexican and arranged a few courses. Now, I'm doing courses two days a week year-'round," Cabrera says. "When I'm traveling, food is the most interesting part.
"Different cultures are reflected very clearly in the art of cooking. "That was also one of my major reasons for starting food courses. Unfortunately many Americans and Europeans think Mexican cooking is equivalent to Tex-Mex," she says."
We walk a couple of blocks from La Olla to La Casa de los Sabores, or The House of Tastes. Built in a typical Spanish colonial style, an open patio is set in the middle, which Cabrera has transformed into a large kitchen for culinary travelers.
In the area surrounding the kitchen are four small apartments, rented primarily to participants of her cooking courses.
In our class are Carl and Jennifer Moeller, from California, and Dorothy Elton, from Canada. Including us two Swedes, we are five curious cooks who want to learn to do it the Mexican way.
"I don't want more than six participants. A few times I've had 10 but that doesn't work. I want everybody to be part of the practical cutting and cooking," Cabrera says.
My classmates Carl and Jennifer have been on numerous culinary travels in the last five years, including trips to Asia and a few European destinations.
"I'm a huge chile fan and grow some at home. When we heard about Pilar Cabrera and her cooking school, we booked it immediately. We wanted to be able to cook real Mexican food," Carl says.
Dorothy, our Canadian classmate, has recently returned from a long trip through Africa where the final segment of her travels included attending a cooking school in Morocco.
"I couldn't think of a better way of getting to know a country than through the cooking," she says.
Our course begins with Cabrera handing out lists of items to purchase and small plastic bags to carry them in, before walking together to one of Oaxaca's small markets, Mercado Democracia. Everything at the market is daily fresh and many of the products are only found locally.
"What you see there is quesillo, a fresh cheese with a very special consistency. And over there you have tomatillos, green tomatoes that are not really tomatoes. And at the end you'll find all different brands of chile," Cabrera says, while we do our shopping.
Back in the open-air kitchen of The House of Tastes, we get a lesson in chiles. To create good Mexican food you need to know the difference between chile de agua, chile pasado, chile pasilla de Oaxaca, chile de arból, chile morita, chilhuacle and ancho chile.
"Once again, unfortunately a lot of tourists think that we Mexicans always use very hot chiles in everything we cook. Chiles that kills the taste. But a lot of the chiles are used to give different tastes and colors," she says.
Often, Oaxaca is known for its mole. Usually translated as a sauce used in chicken dishes, it's actually more like a mixture that doesn't have to be mixed to a sauce. According to legend there are seven different moles. American chef, Susanna Trilling, has even written a book calledMy Search for the Seventh Mole.
Cabrera makes a distinction between what she calls a "heavy" mole, which can contain more than 20 different ingredients (the most famous is the mole poblano, the black sauce where chile and cacao are the most prominent tastes) and what she calls a "light" mole.
The latter is what we are learning. We are making yellow mole, mole amarillo, which is made with special yellow chiles.
Since we are to cook a whole menu with a first course (quesadillas de champinones), a soup (crema de flor de calabaza), a main course (mole amarillo with chicken), and a dessert (arroz con leche), we have to do the cooking parallel.
The dessert, which takes the longest time, is made first and the chicken has been cooked beforehand.
All of us are soon involved in different parts of the cooking. We cut coriander, garlic and onions, fry tortillas, and learn how to cook the flowers from the squash.
"How is it possible that the flower from the squash can give such a clear yellow and so much taste? I'll have to try that when I get back to Canada," Dorothy says. When it comes to how much garlic, herbs and chiles to use in the food, Cabrera just laughs.
"There's no short cut. It's all about testing, letting yourself be inspired by different spices and not be afraid to fail," she says.
Cabrera has certainly not failed when it comes to popularity. Her courses bring in culinary travelers from around the world. However, while there is often a waiting list for Cabrera's courses, she doesn't plan to make it her focus.
"I could be doing this full time but I don't want to leave my restaurant, La Olla. I don't feel well if I can't go there every day, invent new dishes, talk with my staff and meet the guests," she says.
The difference between the restaurant and the courses is that the latter is more traditional while La Olla is experimental.
"I like Indian and Thai food and I also travel a lot to different places in Mexico to get new ideas and try new combinations. For example, the food in the Yucatan and here are totally different," she says.
Her travels outside Mexico has allowed her to explore new foods such as salmon.
"To me it's a new and very exciting discovery and I don't really know how to use it. I'm used to buying everything fresh at the markets here in Oaxaca and that's not possible with the salmon," she says.
The reputation Cabrera has received with international crowds of gourmets has created a demand for her to teach her fellow Oaxacans.
"It's very nice that people from here want to learn how to cook in a traditional way. Unfortunately, it's the same thing here as in other countries, that we lose the knowledge of our own culture."
Finally the food is ready. The local drink of mescal, an agave spirit, is poured to accompany our meal, accented with a piece of lime and a mixture of chiles, salt and dried crushed worms. Silence lies over the table as we begin to eat. The flavors are excellent and unexpected.
"But how am I gonna' get those fantastic products in Canada?" Dorothy asks. Pilar Cabrera smiles.
"Guess you'll have to come back again," she says.
If You Go
La Casa de Los Sabores (The House of Tastes)
www.mexonline.com
International Culinary Travel
Shaw Guides
www.cookforfun.shawguides.com
The International Kitchen
www.theinternationalkitchen.com
Culinary Vacation Travel Guide
www.foodvacation.com
Urban Nilmander, author of 10 non-fiction coffee table books, maintains a base in both Sweden and Spain. He is a freelance writer for various Scandinavian publications, but also works more than half the year focusing on Spain and northern Africa.
Swedish photographer Carin Tegner has spent the last couple of years capturing food, lifestyle and interior design images for various Scandinavian magazines. She has plans to create a photo-book about Mexico next year.