Cancun has been Mexico's go-to since the 1970s, when it was carved out of the Yucatan jungle, specifically designed and built to be just what it became, the most visited destination in Mexico.
As a very young Director of Public Relations at the now-defunct Cancun Sheraton, I was able to experience the area in its infancy, in 1980, when just seven hotels dotted the strip.
I'm happy to report that while today's Cancun is full of endless swinging nightclubs, upscale shopping malls and restaurants, and a Miami Beach-like strand of hotels, it still offers miles of magnificent white-sand beaches with clear, turquoise waters, considered by many to be among the most beautiful in the world.
Located on the northern coast of the Yucatan Peninsula, Cancun is easily accessible via the state-of-the-art Cancun International Airport (CUN), with direct flights from many U.S. and other international cities. The region is home to fascinating archaeological sites, 13 top-rated golf courses, multiple sumptuous spas and a wide range of accommodations for every price range and taste, including the ultimate in luxury.
The region beyond Cancun (loosely known as the Riviera Maya starting just south, and stretching down for some 86 miles) boasts many eco-themed parks and other attractions, including a new Cirque de Soleil dinner theatre show, called Joya, www.cirquedusoleil.com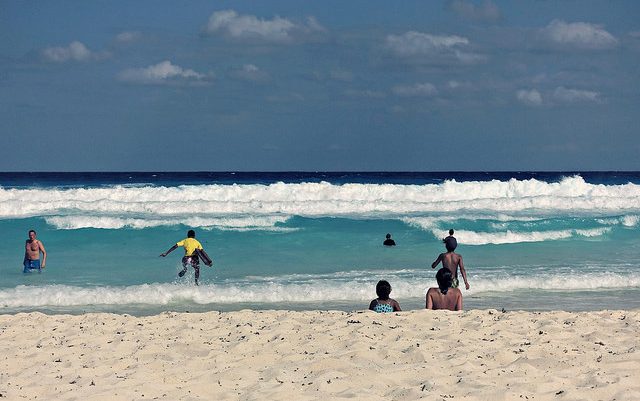 Travel in Cancun
Cancun's mainland city is fronted by a 14-mile-long hotel zone that extends out between the Nichupte Lagoon and the glittering Caribbean. Many resorts are fabulous palaces and pyramids that boast highly regarded restaurants and gorgeous swimming pools and spas.
This gateway to the Mayan world has enjoyed recent enhancements to the infrastructure of many local Mayan ruins dotting the hotel strip and surrounding areas, including the famed Chichen Itza and Tulum, both reached by rental car, taxi or tour bus. Adventurous visitors can explore the vast nature and culture of the region's unique islands (Holbox, Isla Mujeres, Isla Contoy and Cozumel), all within reach for day trips.
In the heart of Cancun's Hotel Zone, the well-designed Mayan Museum of Cancun (Museo Maya de Cancun,) is a fascinating study into the culture and practices of the ancient people of the Yucatan Peninsula. Spend an afternoon out of the sun, exploring precious alabaster, obsidian and jade burial masks, weapons and artifacts collected by the National Institute of Anthropology and History. Airy walkways and latticework lead visitors to the neighboring archaeological site of San Miguelito, which dates back to 1250 A.D. www.inah.gob.mx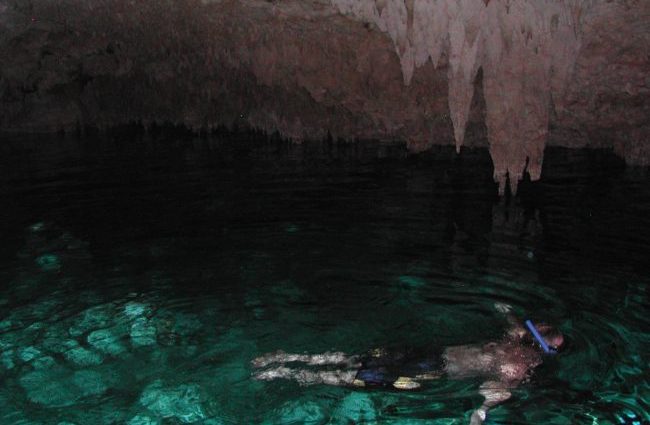 The vast river-filled caverns (cenotes) at Ecopark Kantun-Chi are reached by ladders descending deep underground. Visitors can experience four of these natural pools during the Xenotes Oasis Maya excursion, viewing stalactites hanging over the grottoes and pre-Hispanic artifacts submerged on the limestone floor. Snorkels are provided to explore the underwater gardens, and an optional zipline takes guests through the jungle canopy, ending with a cooling splash. ww.kantunchi.com, www.xenotes.com
For a culinary and folkloric adventure, visit the local market, Mercado 23 in downtown Cancun. Top finds at this public market include hand-painted Hidalgo pottery, embroidered blouses and mementos, all at better prices found elsewhere in touristy shops. The true fun is the incredible display of fruits and veggies which you've probably never seen before. If you'd like to learn how to prepare them, and/or other Mexican dishes, check into a full-day Mexican cooking class with Chef Claudia at Can Cook in Cancun. www.cancookincancun.com
Cancun's Interactive Aquarium, located in the La Isla Shopping Village just west of the Hotel Zone, is a family-friendly attraction with a hands-on approach about local marine life, from touch tanks to dolphin swims to shark feedings. A perfect rainy day activity for families, the Interactive Aquarium is open every day from 10:30 a.m. to 7:30 p.m. Admission is about $14 USD, but you can save a bit by booking online.
Where to Stay in Cancun:
While there is a dizzying number of all-inclusive hotels in both Cancun and Playa del Carmen, Playa Hotels & Resorts (made up of 14-hotels in Mexico and the Caribbean,) offers a distinctive mix of included activities and amenities not always found at other hotels. In Cancun, Playa features the 470-room Gran Caribe Resort, on a beautiful stretch of pristine white sands in the heart of Cancun's famous Hotel Zone, within walking distance of the most popular shops and nightlife. Welcoming, couples, families, friends, and groups, guests can enjoy Gran Caribe Cancun's Oki® Splash Water Park, with a giant pirate ship and castle water slides. The complimentary Oki Kids Club features supervised activities for ages 4 to 12 and the Oki Fun World Mini Golf The T-Zone for Teens is another favorite feature of this family oriented all-inclusive resort, as well as a wide range of included activities and amenities – even in-room liquor dispensers! https://www.playaresorts.com/Gran-Caribe-Cancun
Continued on next page