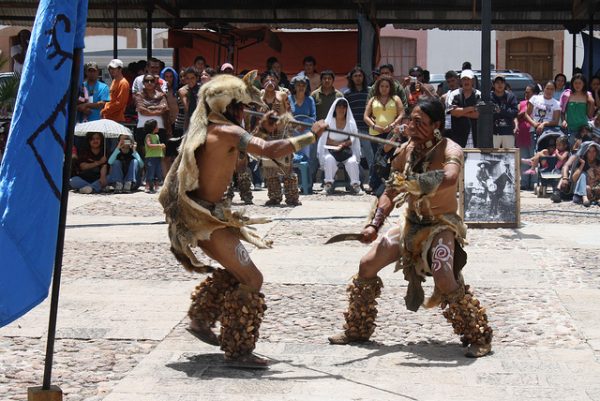 Artists from central Mexico, with their creations of ceramics, hand-painted gourd instruments, and jewelry lined the square. Video cameras, amplifiers and microphones stood in the center. The high-tech equipment blazed in a time warp backdrop against crumbling colonial buildings lining the 19th century plaza. Something was up. Indigenous people, costumed in their ancient dress assembled for what seemed to be a formal presentation. I asked a bystander about the activity.
"Oh this is the annual Toltequidad Festival, held in celebration of the indigenous cultures of Mexico, with an exposition of their paintings, dances and rituals" he explained.  "It's fortunate that you visited today."
I nodded in agreement, with a huge smile, as I realized we had stumbled upon the (not so secret) ceremony, without hiring a guide. Judging from the crowd, the California group must have realized by now that the 'privileged few' had multiplied tenfold.
Flute and drum music played in the background and burning copal incense wafted through the air, preparing the ceremonial atmosphere for a historical progression of indigenous cultures of Mexico. Each group reflected the relationship between the sky and the earth through dance, music and narration in their native language.
The plaza teemed with an assortment of old and new, cluttered together without any semblance of congruity; amplifiers bounced sounds off tin corrugated roofs, cymbals clashed against the faint beat of goat-skinned drums, indigenous people mixed with police security guards.
I spotted California girl in the crowd. Her face turned sour when I skirted her group saying, "Oh, I see you made it." She turned pale, trying to hide the high-priced guide behind her flock.
Following the ceremony, we walked around town to sense the isolation when visitors go home and festivals end. Amidst the row of paint faded tiendas with dark interiors and customary, single light bulbs hanging from the ceilings, a large structure stood out as restored to past elegance.
Bright and inviting against the blight, the Posada de Las Minas Hotel, magnificently revamped to its original colonial opulence, provided a glimpse into the past and what could be in the future. The elegant rooms, exquisite artwork, gourmet cuisine and manicured gardens provide a stunning overnight stopover or an exquisite place for lunch to recapture Mineral de Pozos during its heyday. (www.posadadelasminas.com)
As we drifted farther from the central plaza, the aroma of marijuana permeated an alley as a gathering of 21st century hippies passed a joint around. A meager market near the church showed how this arid soil and climate offer farmers little more than subsistence.
Pozos is being touted as the upcoming escape for artists and writers and indeed a renaissance is unfolding in building restoration. A slight sensation of rebirth and resurgence of energy drifted through the dusty streets. Pozos may travel back to the future one day to reclaim its presence of fame and beauty. For now, it remains a place to hide, a place to be creative or a place to let imaginations run wild with scenes of 1895.
When visiting San Miguel de Allende, Mexico's opulence of the present, head to Mineral de Pozos, Mexico's opulence of the past and envision the potential magnificence of its future.
Author's Bio: After a life-long profession of treating the mentally ill at a PA psychiatric hospital for 33 years and also serving as its Director of Admissions, Carol retired to Lake Chapala, Mexico in 2006 with her husband, to pursue more positive passions. Her family thought that she, too, had 'gone mad.' She's been teaching English to Mexican adults for ten years, in a program operated by volunteer expatriates and writing for local on-line and print publications. Using her adventures experienced during visits to over 80 countries to capture a niche in travel writing, Carol also dabbles in 'memoir.'  A frequent contributor to Lake Chapala English magazine, "El Ojo del Lago," she's won several literary awards from that publication, including Best Feature in 2010 and Best Fiction in 2014. She also netted a story regarding her psychiatric field work in the published anthology, "Tales from the Couch."  
[mappress mapid="989″]