A full yellow moon rises over the shimmering turquoise Caribbean. At dawn, no one strolls the ivory beach. No one splashes in the cerulean pools. But out in the deep, the largest fish on Planet Earth are waking.
Two hours later, onboard a Solo Buceo dive boat, our guide Gabriel hands out life jackets, masks, snorkels and fins. The sea roils with 35-foot-long ten-ton giants, swimming gracefully like plus-size ballerinas.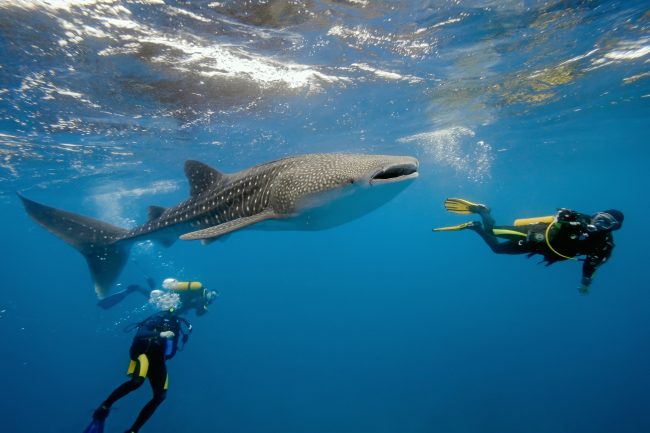 Whale Shark Sighting in Mexico
"Wow. We've got 40 whale sharks around our boat. Stay close to me and watch out for their tails," cautions Gabriel. When your guide is named after an Angel, you don't have to worry, just follow instructions.
Looking into the sea of giant fish, I force myself to jump off the boat. A grey-white spotted creature the size of a school bus is in my face. Her huge hula-hoop mouth vacuums in the plankton and krill soup.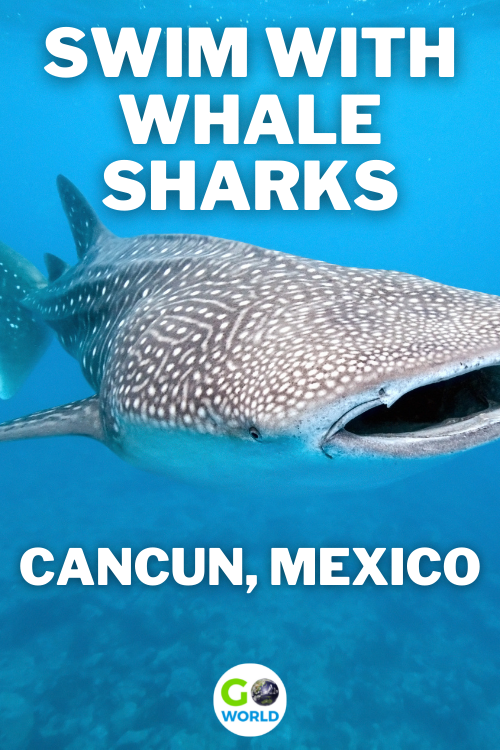 Feasting and birthing babies, these whale sharks come to Cancun every May through September. You can also swim with whale sharks near La Paz, Mexico from October to February. Swimming among them is an incredible joy. I held Gabriel's hand, trying to stay calm.
One whale shark swims right at me for a closer look. These fish don't eat humans, I remind myself. Take a deep breath. I'm frightened and thrilled.
A wise calm eye regards me with curiosity. Underwater, she's witnessed our Planet's madness and marvels, navigating the globe at 2500-foot depths. I don't belong here, but she does. As a rainbow arches over our whale shark party, I can only murmur "Thank you."
Climbing back into our boat, she follows me and lifts her massive head. I'm given a really big whale shark smile. What a gift.
The Whale Sharks in Mexico
After our dramatic whale shark encounter, we crave some relaxation at LeBlanc Spa Resort. We immerse our feet into a small tank for the Fish Spa pedicure. Tropical Garra Rufa fish surround our feet and ankles, nibbling gently to remove dead skin cells.
These fish from Turkey are tiny beams of colorful energy. In 5 minutes, my feet are smooth, soft and feel ½ size smaller. Relaxed and recharged from this unusual treatment, I'm ready for more Cancun adventures.
Delish Fish
A comfortable airconditioned ferry takes us to Isla Mujeres. Erika Mitzunaga Magana, Cancun PR Manager for North America/Asia describes the island as "a picturesque Mexican Caribbean island, perfect for relaxation, authentic cuisine, and great prices on handicrafts and silver."
We wander past charming rainbow-hued houses, browsing outdoor stalls selling hats, dresses and souvenirs. Inside The Silver Factory, owner Adolfo Fabian Beltran and his family welcome us.
They offer us chicken and posole, as Erika and I try on every necklace and bracelet in the tiny shop. All fine quality silver from Taxco, Mexico. I finally choose a delicate sea star pendant with matching earrings. A perfect souvenir for time well spent with the Beltran family.
For lunch, we take a taxi to Museum Capitan Dulche. This hip outdoor Beach Club offers gorgeous Caribbean views, thatched roof cabanas, a private lagoon for swimming, and an outdoor bar/restaurant.
Los Metates Restaurant serves authentic Mexican dishes like "tikinxic," a fresh grouper fillet marinated with achiote paste, sour oranges, wrapped in banana leaves and cooked on a wood fire.
Owner Iddar de la Parra Vargas tours our group through his "Museo Capitan Dulche," featuring photos of his grandfather Captain Ernesto, a legendary naval officer and maritime explorer, and models of famous ships from England, Norway, Spain, even Jacques Cousteau's "Calypso."
Nearby the Beach Club, we snorkel at Cancun's new Underwater Museum, a fascinating collection of 400+ sculptures on the bottom of the ocean. Internationally acclaimed eco-sculptor Jason de Caires Taylor has created an incredible underwater world of life-sized humans, an Urban reef, even his interpretation of "The Last Supper."
All sizes of fish and coral live happily within this innovative reef, a successful marriage of helping the environment and providing new homes to Cancun's marine life.
There's a reason Cancun is Mexico's world-renowned number-one tourist destination. Hospitality is genuine, beaches are stunning, resorts luxurious, spas pampering, and the international cuisine is delicious.
And once you've been eye to eye with whale sharks, gentle giants of the seas, you'll return every year to play with them.
Book This Trip to See Whale Sharks in Mexico
I highly recommend Fiesta Americana Condesa Cancun. This AAA Four Diamond all-inclusive resort offers beautiful spacious guestrooms, balconies with spectacular Caribbean views, six restaurants, Miiluma Spa, a teen club, jewelry/gift boutiques, and poolside dance lessons.
Celebrating Mexico's traditional culture, the gracious staff offers excellent service. An onsite Concierge coordinates your adventures in Cancun, Riviera Maya, Isla Mujeres, and Tulum. www.FiestaAmericana.com
For the best exclusive flight discounts and car rental packages in Cancun, check out CheapOair.
Be sure to book even more fun activities in Cancun, skip-the-line tickets and expert-led tours during your vacation through GetYourGuide. Find more information and book your dates for these popular tours in advance here.
More Information: www.cancun.travel