How often does your family vacation planning sessions go like this? Mom and Dad want to relax on the beach. Baby brother wants to visit a water park. Big sis wants to go rock climbing and zip lining and whatever other adventure she can find. And everyone has different tastes in food.
Seadust Family Resort in Cancun
What to do? Located just 20 minutes from Cancun International Airport, Mexico's all-inclusive Seadust Family Resort is everything they need.
Seadust stands out from other Cancun resorts because it resembles a cruise ship with rounded corners, a long lean profile and 12-story open atrium inside. Docked on a strip of sand in the Cancun Hotel Zone between the Caribbean Sea and Nichupté Bay, every room and suite are on the building's perimeter, providing some sort of water view.
Seadust offers guests what most cruise ships have without all that rolling and rocking, because this ship never leaves the shore.
All Aboard
When our vacation family enters their Seadust Family Suite, they find a unique space.
Seadust Resort family rooms feature a set of bunk beds separated from the main area. Big Sis calls the top bunk, and once up the ladder begins texting her friends back home, while Baby Brother watches his favorite cartoon on the kids' TV.
Mom and Dad can watch something else on their 50-inch TV in the main room. This arrangement means kids are close, but not too close. These rooms have either one king or two double beds holding families up to five.
Everyone can enjoy the view because of floor-to-ceiling windows and a spacious balcony. With well-appointed beds and luxurious bath products, this is the type of room people actually want to spend time in. All rooms have a smart-TV entertainment system, and the resort has 24-hour room service.
Seadust also has wristbands to open room doors instead of keycards. No worries about digging a keycard out of a beach bag or fumbling for a wallet because it's all on your wrist. Kids 17 and under also get bands, but do not have the door chip. Their bands come in a different color from adults to identify them as underage, so no alcohol.
Activities at Seadust Family Resort
This vacation family is ready for some fun, but they all want to do something different. Seadust has options for all.
Big Sis visits the Teen Club (open from 9 a.m. to 11 p.m.) for Xbox video games, ping pong, air hockey and making new friends. Mom wants to read her novel in the sun at the quieter adult pool, and Dad and Baby Brother go to the main pool where Dad can chill in a poolside lounge chair while watching Brother do cannonballs.
After a while, Mom sends a text to Big Sis saying to meet her at the main pool, while Dad and Baby Bro visit Treasure Island Water Park. Here Baby Brother can live out his pirate dreams on the giant sailing ship with water cannons or venture down the water slide from a two-story castle. There is also a wading pool and zero-entry point for the littlest ones. Next to the water park is the Kids Clubs where parents can register children ages 5-12 for supervised crafts and games from 9 a.m.to 10 p.m.
Big Sis and Mom quickly grow tired of sunning and call Dad and Brother to join them at the kids' adventure zone. In this area they all play a round of mini-golf. Then Big Sis and Baby Brother take turns on the resort's supervised climbing wall and zip line.
Wanting even more adventure the family walks to the water sports desk by the main pool to arrange a lagoon kayak trip the next day before spending the rest of the afternoon on the soft white sand of Cancun's beach. Baby Brother builds sandcastles, Big Sis joins a game of volleyball, and Mom and Dad relax nearby in lounge chairs under an umbrella with some umbrella drinks from Squalo beach bar.
Seadust Theater
With the sun setting, this family isn't ready to end their fun just yet. That evening they enjoy a performance at the Seadust Theater. This evening's show is Mexican fiesta night with traditional singing and dancing and a vaquero performing lasso tricks, a fun way to experience the local culture. Every night is a different themed show featuring popular musical numbers.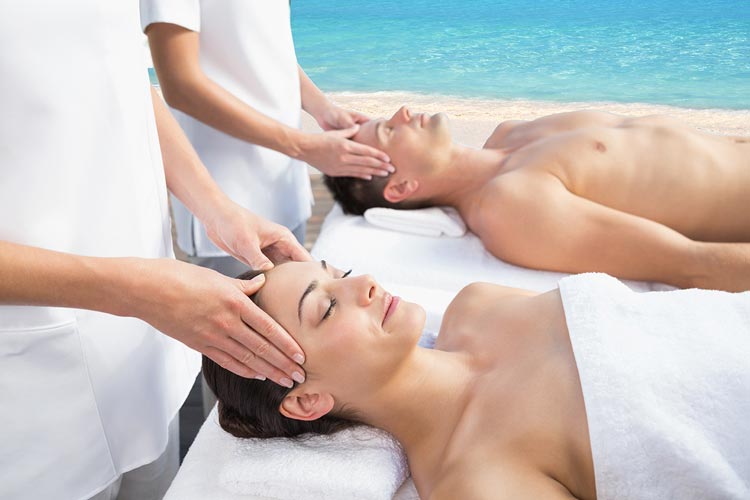 Aaah, The Spa at Seadust Family Resort
Wanting some girl time, Mom and Big Sis spend a morning at The Spa, Seadust's luxurious relaxation station. Kids are welcome at The Spa for pedicures, manicures, facials and massages with their parents. While the ladies enjoy The Spa, the boys shoot hoops on the resort's outdoor basketball court.
Later in the trip, Mom and Dad send the kids to their respective activity clubs because they have booked an afternoon couple's massage. The attentive staff pampers Mom and Dad with salt wraps and organic mineral oils. Afterward, they sip cups of hibiscus tea in plush reclining chairs for a last bit of respite before meeting the kids. The Spa's massage services can also be booked in-room or on the beach.
No Drama Dining at Seadust Family Resort
Seadust's many activities work up this family's appetite, but like many families, no one can agree on what to eat. To please all palates, they often dine at the resort's Food Gallery near the pool where each person can get whatever they want because the buffet has 11 different food stations showcasing world cuisines.
Big Sis, the vegetarian, has her own section. Dad wants sushi. Mom enjoys fresh soups and salads, while Brother gets a heaping plate full of ravioli. No one passes up the dessert station. Open for breakfast, lunch and dinner, this easy stop leaves everyone satisfied.
When the family wants a restaurant experience, Seadust has nine options to choose from and everyone agrees on El Maguey for traditional Mexican cuisine. At this bright, festive restaurant the kids sip Mexican colas while it's margaritas for Mom and Dad. They also enjoy red snapper tacos and chicken in mole poblano served family-style. They don't forget the Mexican chocolate cake for dessert. One piece is big enough for all to share.
The family go-to for lunch is Carousel near the waterpark, where they can get quick meals of chicken nuggets, fries, nachos, and hot dogs. Lighthouse is another favorite. This Italian restaurant offers a spectacular seafood buffet, but also has an a la carte menu of pastas and pizzas for finicky eaters. Because Seadust is all-inclusive, anyone can dine anywhere most anytime because all restaurants are first-come, first-served, no reservations needed.
On the last night of vacation, Big Sis babysits Brother with room service and an in-room movie while Mom and Dad enjoy a quiet evening at Le Maison de Michelle, Seadust's adults-only French restaurant. After a filling meal of French onion soup, rack of lamb and an apple tart, they finish the evening with a flaming glass of Mexican flan liquor coffee. It's an unforgettable experience.
At Seadust Cancun Family Resort every member of this family got what they wanted on vacation. What will your family want?
Blvd. Kukulcan Km. 17 Hotel Zone, Cancun
Local +52 (998) 287 1400 Toll Free USA / CAN: 1-800-233-5162
https://www.seadustcancun.com/
Author Bio: A member of the North American Travel Journalists' Association, Carrie Dow is a freelance travel writer based in Lakewood, CO. She is the local editor of DrinkDenver, a part of The Drink Nation, a website devoted to finding the best happy hours in cities across the U.S. She is also the founder of What's Pawsitive, a website covering animal welfare issues and animal-based travel around the world.