There's a lot to love about Playa del Carmen. It seems that Playa del Carmen offers a perfect mix of different activities for everyone.
Playa del Carmen is a Mexican coastal city located along the Caribbean Sea, on the Riviera Maya in the state of Quintana Roo. It's 45 minutes away from the international Cancun airport. Thanks to its great location and excellent climate conditions, today it is one of the fastest-growing cities in Mexico.
There are numerous hotels and all-inclusive resorts, restaurants with traditional Mexican food, and nightclubs like worldwide known Coco Bongo. You will love wonderful white sand beaches, Cenotes, and other natural beauties of the Yucatan peninsula. There are many fantastic spots for snorkeling, scuba diving with sea turtles, catamaran, and jet-ski rides.
Stroll the famous 5th Avenue street in the city center and visit many galleries, bars, souvenir shops, and boutiques. You will be enchanted by themed parks such as Xcaret and Xplor, where you can experience an unforgettable adventure.
If you want to learn more about Mexican history from ancient times, you can visit the famous Mayan archaeological sites like Chichen-Itza, Coba, and Tulum Ruins.
Here are our picks for the top things to do in Playa del Carmen during your holidays.
1. Explore Mayan Ruins in Tulum
If you are looking for a perfect place for stunning views of the rising sun, you must visit Tulum ruins. In the middle ages, Tulum was a big trade center. That ancient city is located on the edge of a cliff, along the popular Mayan Riviera tourist route.
At the archaeological site of Tulum, you can see the main pyramid El Castillo, The Temple of the Frescoes, and other old stone structures. Under the cliff, you can find a beautiful beach and spend several hours swimming or sunbathing.
2. Go on a Cave Tour at Rio Secreto
An incredible adventure is waiting for you at Rio Secreto nature reserve! Rio Secreto is a grid of semi-flooded underground caves. You can explore them with a small group of max 10 participants.
You can get all the necessary equipment and instructions from experienced guides at the start. Put on your wet suit, helmet, and headlamps, and you are ready for an unforgettable adventure.
During a 2-hour tour, you can swim and snorkel in the clear waters, admire caves' stalactites and stalagmites, and enjoy exploring hidden caves and underground rivers.
3. Visit Frida Kahlo Museum
After exploring the Mayan ruins and spending an adventurous day in caves, take a break to visit the Museum of Frida Kahlo, the most famous Mexican artist.
It is located on the corner of 5th Avenue and 8th Street in Playa del Carmen. You can peek into Frida's life and art, as well as hear the exciting stories behind her art. Keep in mind that there are no original Frida works of art, but the museum has photos, diagrams, and audiovisuals worth seeing.
Museum also has a gift shop with ceramics and clothing items that could be nice souvenirs from Playa del Carmen.
4. See the City's Hotspot La Quinta Avenida
You can go directly to the famous 5th Avenue from the Frida Museum. La Quinta Avenida or 5th Avenue is the 4-mile long pedestrian and Playa del Carmen's main street, parallel to the beach.
In the morning, you can drink coffee in peace in several cafes, while in the evening, this place becomes the most vibrant part of the city and tourists' hotspot.
There you can find some of the best restaurants, bars, and hotels in Playa del Carmen. You can also visit many souvenir shops, such as the large Hacienda Tequila & Tequila Museum shop with Mexican beverages, candies, and coffee. Thanks to the many street performers, the overall atmosphere is fun and enjoyable.
5. Experience a Coco Bongo Party
Coco Bongo is just one block away from La Quinta Avenida. It is the most popular nightlife spot in Playa del Carmen, with a capacity of 1,800 people. This nightclub provides the best entertainment in the city with dancers, flying acrobats, many confetti and bubbles, extraordinary musical mix, and video production.
Shows usually last about 4 hours and guarantee an amazing time. The regular entrance ticket includes ample alcoholic drinks and one snack. So, if you long for a crazy party experience in Playa del Carmen, the Coco Bongo show is the right choice.
6. Explore Amazing Cenotes
A cenote is a natural sinkhole with fresh water. Swimming in a cenote is an excellent way to cool off during the hot days at Playa del Carmen.
With an entrance ticket priced at $5-20 USD, you will get a bracelet, with which you will have access to the water, lockers, changing rooms, showers, and a snack bar or restaurant. You can swim, snorkel, jump into or just dip your feet into the cold water.
On the Yucatan peninsula, there are thousands of cenotes. Chaak Tun is probably the most popular, and other famous cenotes near Playa del Carmen are Cenote Cristalino, Cenote Azul, and Cenote Chikin Ha.
7. Have Fun at Theme Parks
Playa del Carmen and Riviera Maya are full of fun outdoor activities. There are several adventure parks with many attractions, like riding a zip-line, driving amphibious vehicles, and paddleboarding through the caves.
Some of the parks are located in the middle of the jungle, like the Xplor Theme Park. You can visit the dolphinarium at Xcaret Park, walk through ecological trails and visit a zoo at the Bel Air Animal Park, or get your adrenaline going at Xenses Park.
We also recommend visiting Xel-Ha, a natural wonder with reach marine life and underground rivers.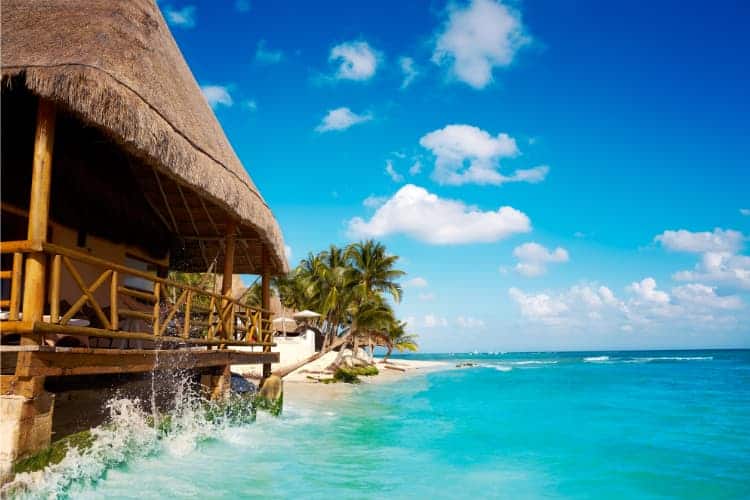 8. Relax at the Playa del Carmen's Best Beaches
Gorgeous beaches are one of the main reasons travelers come to Playa del Carmen. We all love turquoise water, fine sand, and sunny weather.
Playa del Carmen beach is a white sand beach, easy to reach on foot from the center. It has numerous bars along the shore where you can try favored Mexican drinks.
Parque Fundadores is also very popular beach in Playa del Carmen, well-known for gigantic "Playa del Carmen Arch". It is often crowded, active, and a bit loud.
Mamitas Beach features a good time thanks to many beach clubs with DJs. Punta Esmeralda beach is an excellent choice if you want a place with a shade of palm trees and lush vegetation. We recommend Puerto Morelos beach for a family vacation, with fresh seafood restaurants and cocktail bars.
Other famous beaches in Playa del Carmen are the quiet Playacar beach and Paradise Beach, one of the loveliest beaches in the Yucatan peninsula.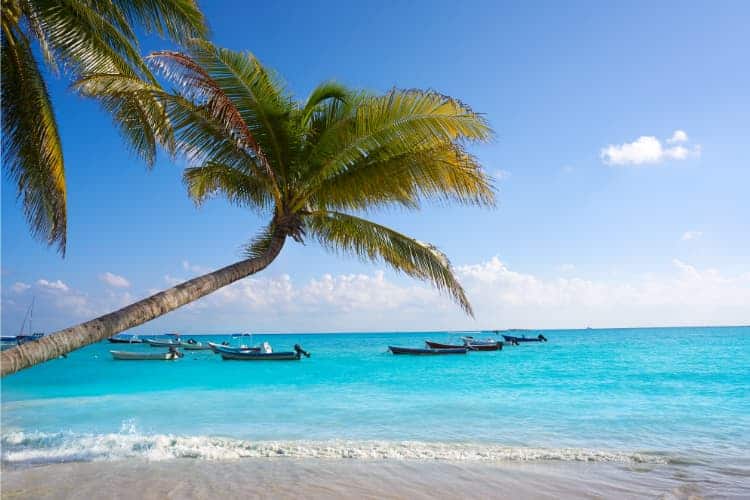 9. Discover the Best Snorkeling and Scuba Diving Spots
Playa del Carmen is an ideal starting point for exploring Riviera Maya's best diving and snorkeling locations. There is perfect underwater visibility, beautiful coral reefs, and good weather conditions all year round.
The most popular diving areas are 10-20 minutes by boat from Playa del Carmen, and there are dive centers for experienced divers as well as for beginners.
One of the diving sites is Mama Vina, which offers wreck diving. The reef Jardines also has impressive underwater creatures like trumpet fish and lobsters. There are also Tortugas and Barracuda. Many diving excursions include visiting famous Cenotes or Cozumel Island, diving with bull sharks, and night diving.
Snorkeling is also very popular in Riviera Maya, with El Cielo, Akumal, and Isla Mujeres as the best snorkel spots in the area. Organized snorkeling tours with guides usually include hotel pickup, snorkeling equipment, boat transfer, snacks, and outings to famous beaches and cenotes.
10. Day Trip to Chichen Itza
Trip to Chichen-Itza is the most popular full-day tour from Playa del Carmen. It is a 2-3 hour drive from the city. Chichen-Itza is the ancient capital of Mayan civilization, a UNESCO World Heritage Site, and one of the Seven wonders of the world.
You can learn more about Mayan heritage from guides and see the Kukulcan Pyramid, the Great Ball Court, the Temple of the Warriors, and more than 20 other stone buildings from ancient times. We recommend visiting a night show where the history of the Maya empire is explained in a spectacular performance of lights and sounds.
Some tour operators include a visit to Coba ruins and stunning Cenote Ikil as part of a Chichen-Itza day trip. 
Book This Trip
Start planning your sunny getaway to Playa Del Carmen today. Get prepared with insider knowledge on how to get around, hotel and VRBO reservations, local restaurant reviews, insider beach spots and more through TripAdvisor and Travelocity.
Plan even more fun by booking some beach activities in Playa Del Carmen, expert-led tours and skip-the-line tickets to the most popular attractions through GetYourGuide. Find more information and book your tours here.
For exclusive flight discounts and car rental options, check out CheapOair.
Read our other articles about exciting destinations here:
Author Bio: Based in Serbia in Europe, Marija Stojanovic Petkovski worked as a journalist but realized writing about the most beautiful places in the world is something that inspires her. She is sure that a pint of good craft beer perfectly accompanies a tasty home-made lasagne. In her spare time, she enjoys playing with her children and spending time outdoors with her family.