If you are longing for nice weather, sandy beaches, turquoise sea, and a good vibe, Cancun would be the perfect place for your vacation. 
Cancun is located on the Mexican Yucatan peninsula. You can explore the unbelievably beautiful Riviera Maya south of Cancun, with all-inclusive resorts, theme parks, and major Maya archaeological sites.
This area offers numerous activities, including going on a sunset catamaran cruise, parasailing adventure, and swimming with whale sharks. Exploring Garrafon Natural Reef Park at Isla Mujeres by kayaking and snorkeling is another activity you can embark on while absorbing the outstanding natural beauties of Riviera Maya.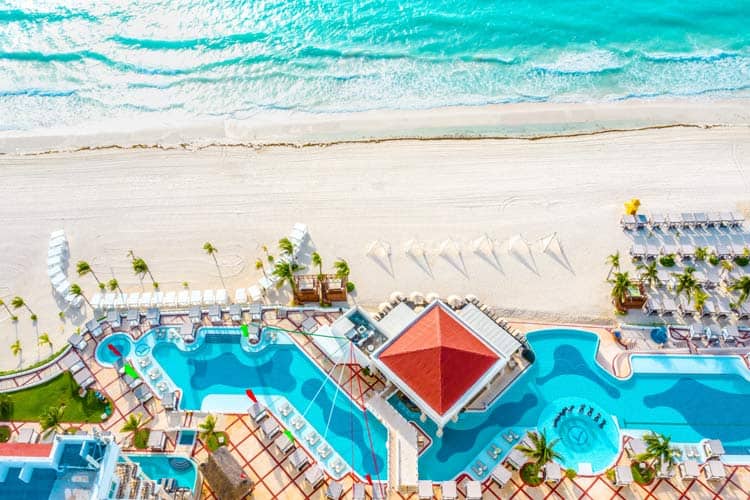 If you want to learn more about the Mayan civilization's rich cultural and historical heritage, make sure to visit the San Miguelito ruins, Museo Maya, and El Rey archaeological site near Cancun Airport.
Family amusement Ventura Park and Xel-Ha park with their interesting mangrove tours are just two of dozen adventure parks along the Mexican Caribbean coast area. You can enjoy a zip-line ride, go rafting with friends, go sightseeing, or take your kids to the Children's world.
After daily outdoor activities, relax in the evening at the Parque las Palapas, the central park in downtown Cancun. The nightlife scene of Cancun is also great. We recommend visiting a well-known Coco Bongo nightclub, with music shows and acrobats.
Top 10 Things to Do in Cancun
Here are our picks for the top 10 things to do in Cancun that deserve to be in every travel guide about this Caribbean paradise. You can learn more at Odigoo Travel: a guide to the best ecotourism activities and things to do in Cancun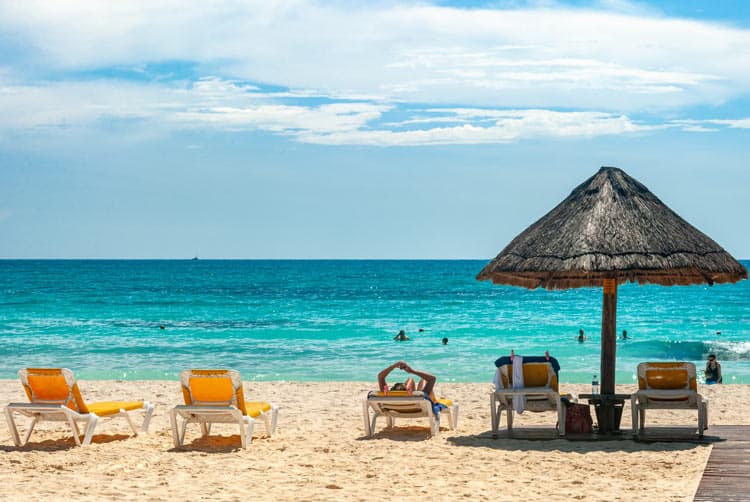 1. Visit the Best Beaches in Cancun
Exploring white sand beaches is one of the top things when you are visiting Cancun. The good news for you is that most beaches are public. Playa Delfines is the largest beach, located near Cancun's Hotel Zone. It is also well-known for its colorful Cancun sign, a hot spot for Instagrammers.
You can also visit Playa Norte in Isla Mujeres, where you can rent a golf vehicle to explore the surroundings. Playa Maroma is well-known for its turquoise water and Playa X'cacel as an ideal place to view sea turtles.
Playa del Carmen, located in Riviera Maya, just one hour ride south of Cancun, hides some of the most beautiful beaches where you can soak up the sun and as well as walk along the Quinta Avenida their own version of New York's Fifth Avenue.
We recommend buying a day pass to a beach club, so you can relax overlooking the Caribbean sea and let all your senses enjoy it.
2. Explore Amazing Marine Life on a Trip to Cancun
Cancun's impressive coral reefs belong to the Mesoamerican Reef Barrier System. That is the second-largest reef barrier globally, which is spread from Isla Contoy to Honduras.
The best way to explore Cancun's reefs is to book some of the snorkel-guided tours. Local English-speaking guides can take you to do best snorkeling spots in Cancun, like Punta Nizuc, Puerto Morelos, and Cozumel.
Coral reefs in Cancun are a bit far-off from public beaches, but amazing marine life is definitely worth your visit.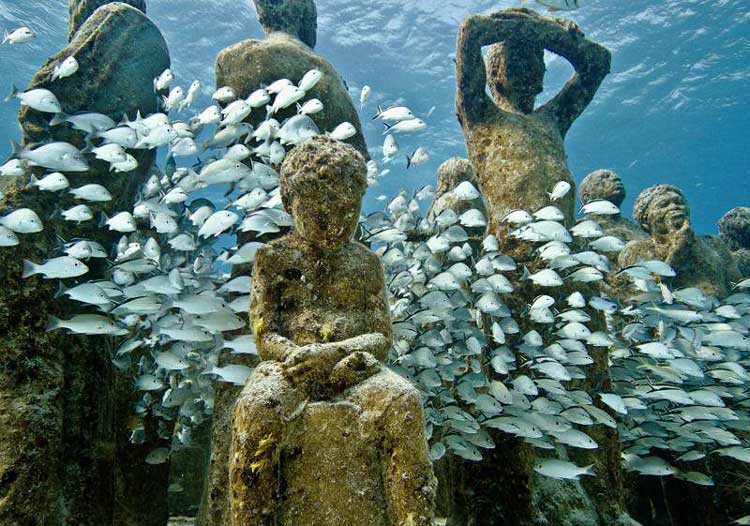 3. Dive Near the Astonishing Underwater Carvings
To protect the coral reefs, in 2010. artist Jason deCaires Taylor made an alternative place for diving. At a depth of 3 to 10 meters, 500 sculptures were dragged in the ocean, divided into three galleries.
In addition to basic human figurines, Musa Underwater Museum also contains entire scenes from everyday life and a Volkswagen Battle car.
You can visit this incredible underwater museum by a submarine with glass windows or during scuba diving tours, which begin at Nichupte Lagoon and proceed to the ocean.
4. Take Part in a Festive Mexican Party
For those who want to get to know Mexican tradition and folklore better, visiting Xoximilco and going on an unforgettable gondola ride is a must. That is one of the most fun things you can do in Cancun and a great nightlife option.
A local host will entertain you and your company with fun games and exciting stories. You can taste authentic Mexican dishes, including tacos, while drinking beer or tequila in an open bar.
Musicians will create a great atmosphere, so you can dance and sing with the rhythms of various genres of Mexican music during a 3-hour party.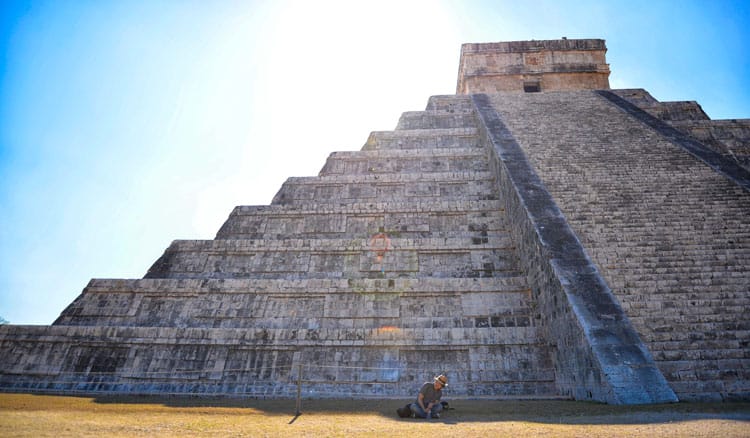 5. Discover the Amazing Mayan Ruins
Chichen Itza is one of the most significant Maya cities, located in the Yucatan Peninsula, near Valladolid. A day trip from Cancun to Chichen Itza is a great way to learn more about the impressive Mayan civilization.
On that UNESCO World Heritage Site, you can see The Temple of the Warriors ruins, the Osario pyramid, stone sculptures, and a well-preserved ball court from ancient times. Temple of Kukulkan (El Castillo) is the central and the most famous building of this archaeological site, with more than 2 million visitors annually.
Thanks to rich cultural and historical heritage, Chichen Itza was announced as one of the New Seven wonders of the world in 2007.
6. Explore the Tulum Ruins on a Trip to Cancun
Tulum ruins are one of the most famous ancient places in Mexico, thanks to their fantastic location. That coastal fortress is situated on a high cliff above the blue waters of the Caribbean Sea.
At Tulum, you can see several ancient landmarks, like the Temple of the Descending God and the Temple of the Frescoes. Don't be surprised if you also see giant iguanas around the ruins.
You can go to Tulum with organized day tours from Cancun or other popular places on Riviera Maya, like Playa del Carmen. After visiting Tulum ruins, you can go down to the beach under the cliff and take a swim in the Caribbean Sea.
7. Swim in Clear Waters of Mexican Cenotes on a Trip to Cancun
The cenotes are deep natural pools. Underground rivers from the extensive cave system were the only clear water source for ancient Mayans. Also, Mayans used cenotes as spiritual places. On Yucatan Peninsula, there are 142 cenotes available to visit. You can find them in different sizes and shapes.
The most popular cenotes are Ik Kil and Suytun near Chichen Itza and Cenote Xkeken with unique cave decoration. You can also visit cenote Zaci in Valladolid and underground cenote Samula, with a hole in the ceiling through which light illuminates the turquoise water.
There are also underground cenotes with no natural light. You can find some of them near the Coba ruins, like Tamchach-Ha and Multum-Ha.
8. Xplor is a Paradise for Adventure Travelers
Xplor is a phenomenal adventure park, just one hour from Cancun. It is worldwide known for its 14 zip-lines, the highest in the Riviera Maya region and the most visited ziplining destination in Mexico.
You can also experience several exciting activities like underground rafts, hammock splash, and extraordinary road adventures with amphibious vehicles – a kind of ATVs – through the jungle and a flooded cavern.
The ticket price for the Xplor theme park also includes unlimited drinks, a buffet lunch, and complete equipment for your chosen activities.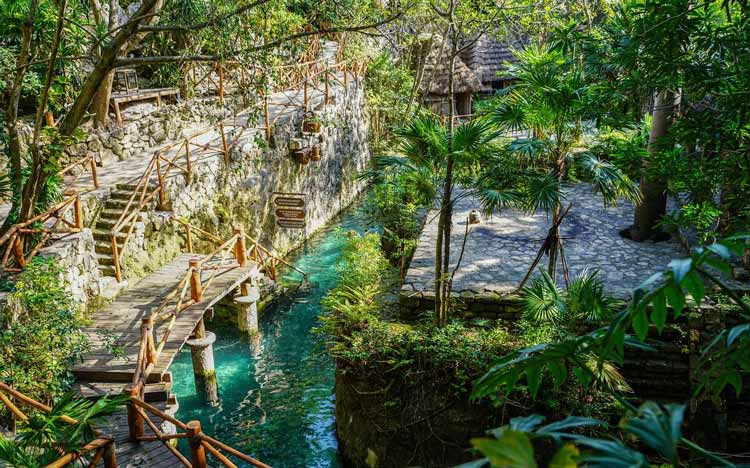 9. Enjoy Water Sports at the Magnificent Xcaret Park
Xcaret theme park is one of the biggest attractions in Riviera Maya. It is located between Playa del Carmen and Tulum, just 70 km south of Cancun. With many natural and cultural attractions, Xcaret Park is an excellent choice for an all-day family escape. 
In that fantastic eco and water park, you can explore underground rivers and cenotes, Mayan village, multiple natural pools, caves, and beaches, as well as jungle trails and coral reef aquarium.
Swimming with marine life and dolphins, speedboat tours, snorkeling, and wine tastings are also available but for an extra charge. Also, we recommend you experience a live "Xcaret at Night" performance show to learn more about Mexican folkloric dances.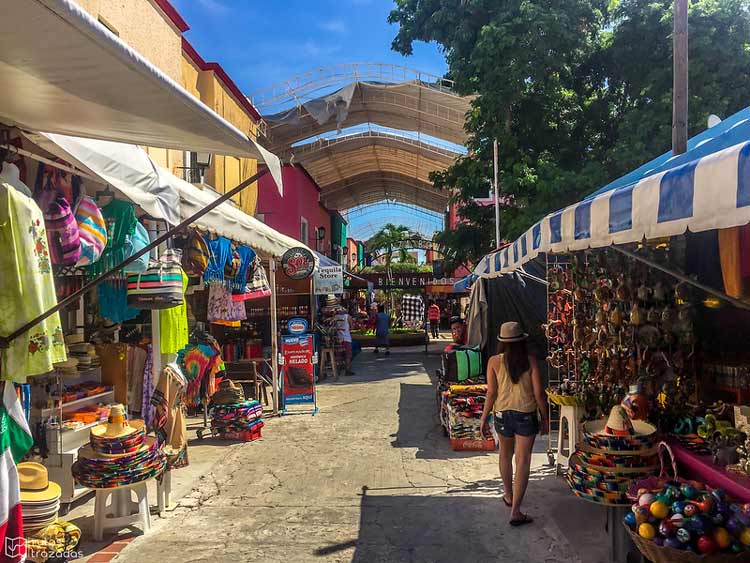 10. Buy Interesting Local Goods at Mercado 28
More than 600 stands with various products await you at Mercado 28, a huge market situated in downtown Cancun.
Don't rush with your purchase. Take enough time to look around as many stalls as possible. Local sellers will offer you clothes, handicrafts, jewelry, pottery, wooden items, and various colorful gewgaws.
You can buy quality things at a very reasonable price if you know the art of bargaining and want to practice your Spanish.
You can start learning Spanish now with Rosetta Stone. Plan your lessons around your schedule and be able to get around and have interesting conversations with local people when you travel to Mexico. Check out their different plans and lifelong special here.
There are also many restaurants with tasty classic dishes or local Mexican specialties.
Book This Trip to Cancun
Ready to enjoy an exciting beach trip to Cancun, Mexico? Start planning your trip with hotel and VRBO reservations through TripAdvisor and Travelocity.
Use Promo code CUN24 at CheapOair for exclusive flight deals to Cancun and the best car rental options.
Author Bio: Based in Serbia in Europe, Marija Stojanovic Petkovski worked as a journalist but realized writing about the most beautiful places in the world is something that inspires her. She is sure that a pint of good craft beer perfectly accompanies a tasty homemade lasagne. In her spare time, she enjoys playing with her children and spending time outdoors with her family.