Whether you're celebrating your honeymoon or you've been with your sweetie for decades, it's fun to travel with the one you love. There's nothing better than a romantic stroll on the beach or a leisurely dinner at sunset.
Four Romantic Getaways
But even if your travels aren't all romantic moments, these shared experiences can still strengthen your bond. Travel is the perfect way to reconnect and enjoy each other's company. Romantic vacations are as varied as the destinations you can visit, but here are a few of my favorite romantic getaways.
Romantic Island Hideaway: Maui
Perfect weather, natural beauty and a wealth of outdoor adventures; these are some of the reasons that travel in Maui is at the top of my list. Life is slower on this lush Hawaiian isle, and it's easy to relax and savor your time together. You can lounge away the day on the beach, or bike down a volcano — whatever suits your fancy.
Where to stay in Maui
Accommodations of all kinds can be found on the island, from beachside resorts to quaint bed-and-breakfasts. If you're looking for quiet solitude and a place to unwind, The Hotel Wailea Maui fits the bill. Located on the slopes of Mt. Haleakala, this secluded, all-suite resort is spread across 15 lush acres. Most suites have an eating area, living room, huge bedroom and a deck overlooking the sea.
If you want to learn more about Hawaiian culture, stay at the Ka'anapali Beach Hotel, a well-respected resort with a long history on the island. Daily entertainment and events immerse visitors in authentic culture.
If you'd prefer to stay at a Bed & Breakfast, try the Plantation Inn in Lahaina. The establishment's turn-of-the-century architecture hearkens back to the romantic days of yesteryear.
Where to eat in Maui
Hawaii is known for beautiful sunsets, and two good places to watch the sun set during dinner are Capische? at the Hotel Wailea and Tropica Restaurant at The Westin Maui Resort & Spa. Both provide fabulous cuisine and patio dining with views of the sea.
For dishes that will wow your taste buds, head to the Mala Ocean Tavern. Master chef Mark Ellman is well-known for his culinary masterpieces. And for a romantic dinner in an intimate setting, Gerard's in Lahaina is sure to please.
What to do in Maui
There are many ways to enjoy Maui. Some of my favorite activities include the snorkel tour to Molokini with the Pacific Whale Foundation, and the Alii Nui Sunset Sail.
Want the ultimate in relaxation? Try the romantic couples massage at the beautiful Heavenly Spa at The Westin Maui Resort & Spa. Enjoy this side-by-side experience in an ocean cabana to the sound of the ocean waves, or in the private couples suite by candlelight.
And for a little adventure, make the drive across east Maui to the little coastal village of Hana. The journey is part of the fun, as you drive through lush rainforest, past gorgeous beaches and tiny Hawaiian farms. Be sure to stop for banana bread at one of the local stands along the way.
Sophisticated City Escape: San Francisco
San Francisco is the perfect spot for a long weekend getaway, especially if you love the arts. Here you can combine world-class theater with the experiences of an urban city for an unforgettable vacation.
Where to stay in San Francisco
The "green-from-the-inside-out" Orchard Garden Hotel, San Francisco's only LEED certified hotel, has comfortable rooms and a great location. This boutique property is centrally located just a few minutes' walk from Chinatown.
My favorite hotel is the newly renovated Hyatt at Fisherman's Wharf. The 313-room hotel is just across the street from the Mason/Powell Cable Car line, and within walking distance of Fisherman's Wharf.
What to do and where to eat in San Francisco
There's plenty to do in San Francisco. Pier 39, Alcatraz and Fisherman's Wharf are some of the city's top attractions, so most people add these to their must-do list. Fisherman's Wharf is synonymous with great seafood. You'll find a wide range of restaurants, from street vendors selling steaming clam chowder served in sourdough bowls to fine restaurants offering romantic views of the harbor.
If you're a die-hard chocolate lover, be sure to stop at Ghirardelli Square, where the world-famous chocolate got its start in 1852. You can sample this delectable delight at the Original Ghirardelli Ice Cream and Chocolate Manufactory.
Learn about another San Francisco icon at the free San Francisco Cable Car Museum. And after you've walked up some of San Francisco's steep hills, you'll have a new love for these slow but effective cars. A day pass to ride the cable cars is only $11 – and well worth it! A weekend just isn't enough to sample all that San Francisco has to offer. But it will give you a pretty good taste of this beloved American city, and it will make you want to come back for more.
Cozy Mountain Retreat: Vail, Colorado 
The Rocky Mountains' splendor can be seen all year round, but there's something romantic about a light-falling snow under a full moon. Vail is a great place to experience that mountain magic.
This upscale mountain village is tucked in the scenic Vail Valley two hours from Denver. Adventure is just outside your door, no matter what the season.
Where to stay in Vail
The Lodge at Vail, a AAA Four Diamond property, is reminiscent of a European chalet. Known for their attention to detail and personal service, the Lodge will pamper you so well that you won't want to leave! The Lodge is located in Vail Village, and just minutes from the slopes. In the summer, it's a quick walk to several hiking and biking trails.
The luxurious Antlers at Vail is another top pick, as is The Lion, another popular high-end condo hotel.
Want to ease your sore muscles after a day of activity? Visit the Colorado-style 11,000-square-foot RockResorts Spa. The spa has a romantic couples room with a fireside soaking tub for two.
Where to eat in Vail
The Lodge at Vail has two exceptional restaurants. The Wildflower has a AAA Four Diamond rating and features eclectic American cuisine, while Cucina Rustica offers Italian food.
But you'll still want to sample the eateries in Vail Village. One of my favorites is Pepi's Restaurant. This Austrian restaurant and bakery is a landmark in Vail. If you can't make it for dinner, at least stop by for a pastry.
What to do in Vail
One of the world's top ski resorts is just outside your door. Snowshoeing, cross country skiing and other winter sports are nearby. During the summer, guests come for the golfing, hiking and biking.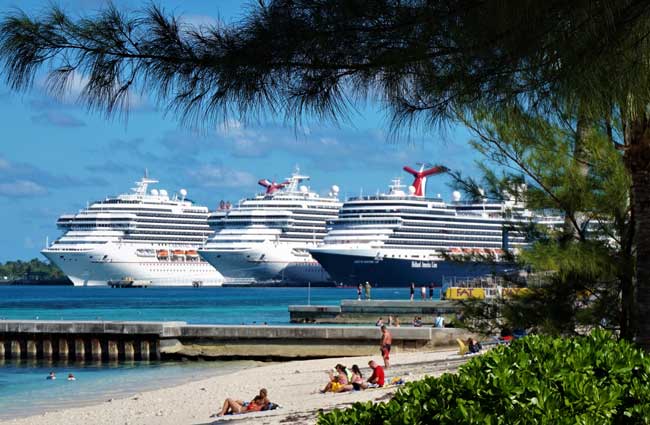 Relaxing Couples Cruise: Caribbean
There's no worry or planning that has to go into a Caribbean cruise. Simply pack your suitcase (one swimsuit or two?), bring your sunglasses and get onboard. Dining, accommodations and entertainment are all provided.
Several top cruise lines ply the waters of the Caribbean, and all that competition equates to excellent prices for cruisers. Shop around and you're sure to find a good deal.
Where to cruise
Caribbean cruise itineraries usually follow one of three routes – the Eastern Caribbean, Western Caribbean or the Bahamas. Cruises from Florida to multiple islands in the Bahamas are among the least expensive, but don't offer the variety of port destinations that the Western and Eastern Caribbean itineraries provide.
What to do on a cruise
The beauty of a cruise is that you can do whatever you want, whether that's sitting by the pool, enjoying a day at the spa or exploring a new port. (See 6 Things I Wish I'd Known About Cruising.) You can book them through your cruise line or directly with the activity company at your destination port.
If you've ever wanted to hug a dolphin, now is your chance. Dolphin Encounters on Blue Lagoon Island in the Bahamas is affordable, and a great way to spend the day.
Jet skiing across a crystal blue sea is a thrill. It's also a nice way to see the Florida Keys. There are several companies on Key West that will take you out for a tour by jet ski. A tour guide will lead your small group, or even let you go out on your own.
In Cozumel, the desert meets the sea. A 4 x 4 jeep tour allows visitors to experience both sides of this Mexican port town. The driving is seriously bumpy, to put it mildly, but it's safe and fun. The drive ends at the sea on a white-sand beach, where your tour guides make a tasty lunch. Several companies provide this tour. Ask your cruise line or travel agent for more information.
Read More: Romantic Hawaii – Kauai for Couples
Read More: Naked in Antiqua, Luggage in Aruba