History of The Antlers
As an older property, The Antlers at Vail, in the central Rocky Mountains of Colorado, has kept up with the times very well. The condo complex was built back in 1972 just after Lionshead, the then new base area of Vail Village, was completed. By that time, Vail had become an internationally known ski resort after opening ten years earlier. When the resort installed a gondola in Lionshead for the '68-'69 season, that spurred on more construction in the new modern village, and The Antlers and Lionshead became destinations in their own right.
But by the late '90s, the town council deemed Lionshead was lacking the charm, character and appeal of the rest of Vail, saying "the architecture lacks a unique identity or reference to Vail's historical antecedents and its alpine environment." So it appealed to the public and private sectors to act collaboratively to review and revitalize the Lionshead area.
In an amazing spirit of cooperation, during 2000 through 2002, the 70 condo owners of The Antlers poured $22 million into a high-end redevelopment project that upgraded the property to the sleek contemporary condo-hotel it is today. By 2013, homeowners renewed their commitment to reach a platinum lodging rating with significant improvements to their units. The only tell-tale sign of years we noticed was the aging elevator, but it was recently replaced along with the 2019 remodel of the lobby and front desk.
With its ideal location on Gore Creek, just 150 yards from the (new) Eagle Bahn Gondola and next to the free town shuttle, it is now one of the premier properties in Lionshead Village.
Having skied at every major resort in North America, I rank Vail as one of my favorites. So when I brought three generations of my family there recently, I knew we'd need a large condo that we could call home for a few days. The Antlers was perfect!
Amenities at The Antlers
At checkin, we were thrilled to hear about the multiple amenities that came with no extra resort fee that so many hotels charge: free parking, use of a GoPro camera to record our adventures, complimentary bike rentals in summer and snowshoe and sled rentals in winter (limited number); ski rentals and ski valet; free WiFi and free parking. Though they have a fitness center and complimentary yoga classes twice a week, they throw in the use of Vail Athletic Club during your stay. And you can bring your dog!
The Units at The Antlers
Each of the 87 units—studios to four bedrooms—are individually owned and furnished to reflect the owners' tastes. Since our visit, many have been updated , as shown in the following photos.
The living room opens to a large patio (with a gas grill and furniture) overlooking the mountain.
The kitchen is fabulous with up-to-date appliances and fully stocked. Anything you might need that isn't there is just a phone call away to the front desk. They are extremely accommodating. Also, if you don't have a car, a staffer will give you a free lift to get groceries.
If you're not keen on cooking but want to stay in, you can order meals from the Antlers website, prepared by Chef Barry Robinson, the Antlers personal chef who provides this service to guests. He delivered our meal—Roasted Herb Chicken, Rice Pilaf and Mixed Green Salad with Citrus Mustard Dressing (about $70 for 8-10 people)—ready to be re-heated when we wanted. It was delicious!
The sleeping accommodations were roomy and comfortable, with spacious closets and plenty of drawer space.
The bathrooms are especially nice. A Jacuzzi tub in the master bath got lots of use. The second bedroom has an equally nice bathroom with a huge separate shower.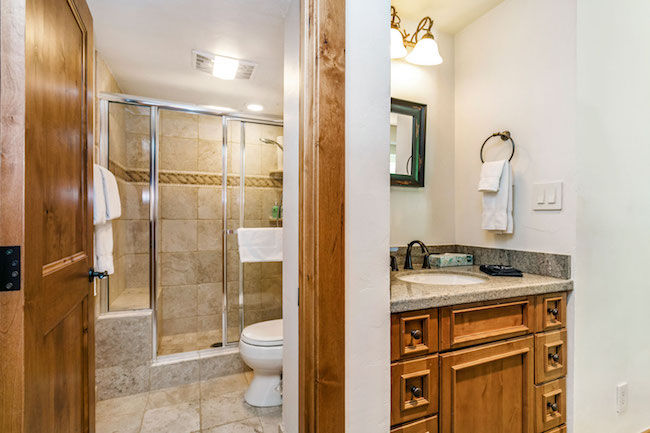 We spent a lot of time in the outdoor pool and two hot tubs.
What to do in Vail while at The Antlers
Recently, Vail launched Vail Epic Discovery, a outdoor summer adventure playground on top of the mountain. In addition to a year round alpine roller coaster (below), it features zip lines, ropes courses for kids and adults, summer tubing, bungee jumping, wall climbing, and interactive learn-by-play activities. Other summer activities in the Vail Valley include concerts and dance performances at the Gerald R. Ford Amphitheater, golf, and all the mountain sports like biking, whitewater rafting, hiking, horseback riding and more.
In winter, Vail is a world renowned ski resort with 5,289 skiable acres of mixed terrain, including enormous bowls on the backside of the mountain that provide long, uninterrupted runs on pristine snow. Besides skiing, there's Adventure Ridge, a football stadium-size snow park with snowshoeing, ski biking, kids snowmobiling, tubing and the coaster ride. You can ride it in your ski boots. Just hop on!
Vail is also known for its exquisite boutiques, fabulous restaurants, and Bavarian-style pedestrian villages with heated streets linked by a reliable free bus system. It's a magical place to stroll when snow softly falls and lights are aglow! Skating at the beautiful Arrabelle Square in Lionshead is even more so.
For more about what to see and do in Vail, visit Vail.com.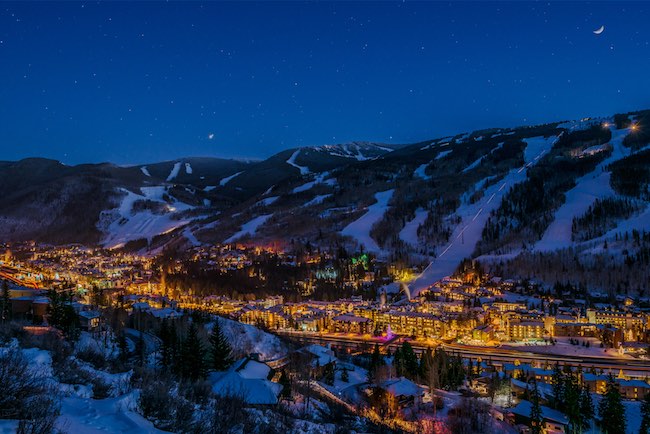 Vail and The Antlers are an easy two-hour drive from Denver International Airport on I-70 and about a half hour from the Eagle County Airport.
The Antlers at Vail, 680 Lionshead Place, Vail, Colorado, CO 81657, USA; 800-843-8245, (local) 970-476-2471, www.antlersvail.com.
Claudia Carbone is an award-winning travel writer based in Denver. Read about other hotels she's visited in Sleepin' Around.