Throughout the years, my husband Rob and I have driven our own vehicle to San Francisco. More frequently, we searched for reasonable airfare and rented a car. Eventually, though, we found a much easier way to revisit our beloved City by the Bay.
If you're lucky enough to be on a West Coast cruise, San Francisco offers a wealth of port attractions. We have gone on three very enjoyable California or West Coast cruises with San Francisco port visits. So what can you see and do if you only have a day in San Francisco? It turns out, a lot!
For maximum time ashore, we fuel up with a hearty breakfast before our ship docks. The cruise ship terminal at Pier 27 is about a 20-minute walk on flat pavement from Fisherman's Wharf.
From the wharf, we caught the 9 am San Francisco City Sightseeing luxury bus for the narrated Sausalito and Muir Woods tour. As the bus meandered through the Marina District and the Presidio, the driver gave a running commentary. While we crossed the famed Golden Gate Bridge, we sang along to the recorded San Francisco song.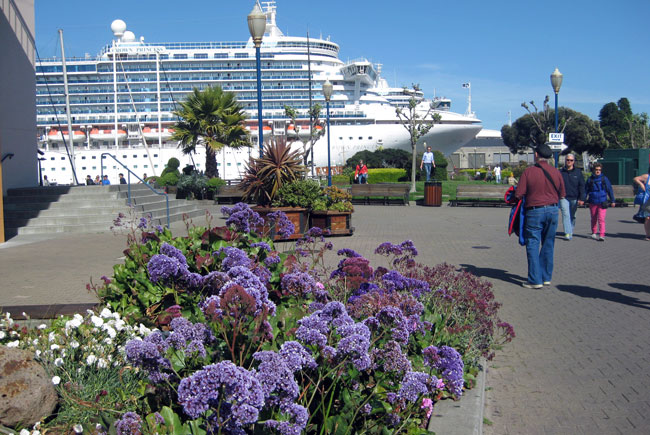 After a 10-minute photo stop at Vista Point, we passed through Marin County's natural beauty. Next we marveled at Sausalito's gorgeous ocean scenery and gazed in awe at pricey homes clinging to the cliffs.
We never tire of the fragrant, clean piney scent of the giant Coastal Redwoods in Muir Woods National Monument just 30 minutes from Fisherman's Wharf. The redwoods massive height reminds me of an outdoor cathedral where sunlight filters through the branches. Walking among these cherished giants is pure joy. The fresh earthy scent and peaceful environment are great for the soul.
Continued on next page