Editor's Note: Travel is complicated right now, we hope this will inspire your future trips. Please check local regulations and location openings before you go.
Gone are the days when visiting Maui solely entailed attending a luau and drinking a mai tai on the beach.
While both activities are terrific fun, more and more people are far more inclined to seek out an authentic Valley Isle experience—one that involves deepening their knowledge of Hawaiian history, diving into its rich culture, and appreciating its local quirks and natural beauty.
The question is, how can you experience authentic Maui?
Here are 12 top things to do in Maui:
1. Witness Maui Nui's Incredible Marine Life
Part of Maui's magic rests in the fact that its leeward coast faces four other islands: Kaho'olawe, Lanai, Molokai, and Molokini.
Not only does this supply stunning views but the latter—the partially submerged volcanic crater, Molokini—boasts some of the best snorkeling in the state.
Located roughly two and a half miles away from Maui's South Side, the waters around the crescent-shaped islet house over 250 species of fish, many of which are endemic.
Translation? You can jump in and witness a completely different—and completely dazzling—planet.
Redline Rafting Co. is your ticket to get there. Based in Kihei and manned by a super-friendly crew, their Molokini & South Maui Snorkel Tour takes guests to Molokini aboard their 35-foot rafts while providing information about Hawaii's culture, history, and ocean life
What's more, they'll take you to Molokini's Back Wall—where some of the larger creatures in the Pacific roam—before shuttling you to the magnificent coast of Maui's most recent lava flow. Best part yet? You'll have the chance to swim near turtles in Makena's "Turtle Town."
2. Savor a Panoramic View of the Island
It's one thing to hike or drive through Maui's loveliest spots; it's another thing entirely to peer at it all from up high. Skyline Hawaii offers just that on their Haleakala Classic Sunrise Tour, which pairs one of Maui's most alluring activities—watching the sun ascend from its highest top—with a guided tour of Haleakala National Park.
The "guided" here is key, as each of the leaders in Skyline's troupe is specially trained to bestow their knowledge of Hawaii's history and culture onto their guests.
Following your Haleakala adventure, you'll dine at Kula Lodge—a historic restaurant and inn that, situated 3,200 feet above sea level, offers sweeping views of flower farms and the Pacific.
Find a Hotel or Airbnb in Maui
3. Paint an Island Landscape
Awesome photo ops abound around the island, from waterfalls spouting from rocks on the legendary Road to Hana to volcanic mountains rimmed in fog. And while you'll surely fill your phone with one excellent capture after another, you can build a more lasting memory at Island Art Party.
Based on Maui's South Side, this part-cocktail party, part-painting class invites guests to unwind with a glass of wine while creating a vista reminiscent of Maui (think: palm trees, sunsets, canoes, and hula dancers).
Not exactly a Picasso? An experienced art teacher will walk you through the process and help you gain a more textile understanding of the island.
4. Relish Maui From a Bird's-eye Perspective
Enjoying Maui's exquisiteness from the air will grant you indelible memories. Fly Maui offers just that with their Vacation Flying Tour.
A perfect option for aspiring pilots, this hands-on flight lesson will not only help you hone your crosswind landing skills, but you'll also have the chance to delight in the diverse sights Maui has to offer, including hidden waterfalls and epic sunsets.
5. Partake in a Pā´ina
If there's one way to describe Andaz Maui at Wailea Resort's "Feast at Mokapu," it would be not your average luau.
Nestled on the South Side of the island, the understated, elegant resort strikes a different luau chord with their authentic—and luxurious—pā´ina (or gathering).
Blending culture with the culinary, the event includes a plated, 14-course family-style meal that highlights the flavors of the Pacific while interactive storytelling and gorgeous performances take you through the history of Polynesians arriving on Maui.
Traditional lei making and washable tattoo inking enhances the feast's authenticity, while you can't beat the location's up-close view of the ocean.
6. Get Your Feet Wet
Get your feet wet on the beach, of course, during a session with Capture Aloha Photography.
Helmed by the talented Jalena, this family-friendly photography business knows how to help you put your best foot forward in front of the camera so that you can take home a collection of photos that portray you amidst Maui's landscapes.
Have children? Jelena is known for her playfulness and creativity with keiki.
7. Reel Yourself Back into The Past
When Polynesians arrived in the Hawaiian Islands between 400-500 A.D., they brought more with them than just canoe crops: They also came equipped with consummate fishing skills.
Indeed, ancient Hawaiians drew their sustenance from the sea that encircled them, while fishermen (as well as others) held deeply personal and spiritual relationships with the waters.
You may find a similar feeling of both peace and accomplishment with Maui Fun Charters. Aboard one of their charters, you'll have the chance to reel in a number of fish, possibly including Blueline Snapper, Ulua, Hawaiian Hogfish, and/or UKU—a prized Gray Snapper that typically sells for $40 a plate at Maui's beloved restaurant, Mama's Fish House.
Throughout your adventure, the crew at Maui Fun Charters will present you with knowledge about Maui's waters and the marine life that inhabits it. (Plus, hello views.)
8. Find the Road Less Traveled
The West Maui Mountains—with their undulating, gem-green slopes and misty tops—are sights to behold, seizing your attention the moment you arrive on the island.
Responsible for creating the western quarter of Maui, and the recipient of 400 inches of rainfall per year, they're home to a number of historical and sacred sites in Hawaiian culture.
While they can surely be appreciated everywhere from Iao Valley to Launiopoko, Hoaloha Jeep Adventures can give you a unique perspective. Their West Maui Mountain Private Tour will take you through some of the lushest and most scenic spots on the island, including Ololwalu and Ukumehame Valleys, the Nakahele Blowhole, and Honolua Bay.
The best part of your trip may be Hoaloha's tour of Honokolua Bay, a secret location that can only be accessed on a 4 x 4 on a rough dirt trail. What's more, you'll be given in-depth knowledge about Maui's fragile eco-system and storied culture—all while out having rowdy (but safe) fun. In other words: Paradise found.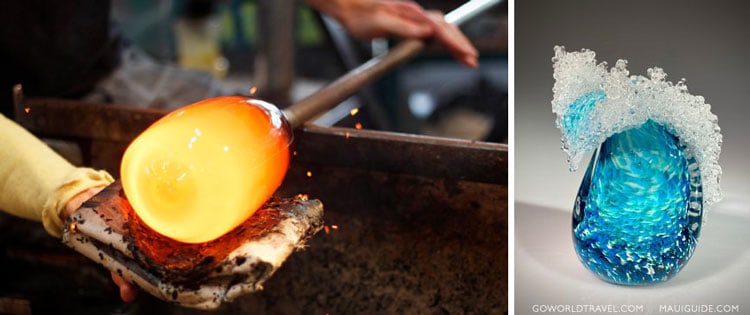 9. Watch Art in The Making
Hawaii has long been considered a hotbed for creatives and consistently lures painters, writers, ceramicists, jewelers, and the like to its shores. (One reason of many: There's inspiration in every direction.)
Makawao, an unassuming and charming town upcountry, is considered the center of it all, housing the Hui No'eau Visual Arts Center and galleries galore—including the distinctive Hot Island Glass.
Inside this sweet spot, you can view striking glass creations and the artists at work, who heat, blow, shape, and decorate glass objects that honor the islands. Among the many pieces you'll see—either made or in the making—are fish, turtles, jellyfish, waves, and seashells.
Chances are you'll find just the right thing for yourself while you're at it.
10. See the Splendor of Whales
One of the highlights of living on Maui is the annual opportunity to see North Pacific Humpback Whales migrating to its shores, where the 66,00o pound behemoths calve in the area's warm, shallow waters.
Seeing them breach—or slap the sea with their fins—is an immense pleasure to watch from the beach. But witnessing such a marvel from a closer perch? That's another story entirely.
Four Winds Maui offers just the opportunity to do so on their Maui Whale Watching Afternoon Tour. The marine naturalists they have on board will educate you on these enormous creatures, while their hydrophone will allow you to hear whales sing, live, as you're on board.
Trust us: It's one of the most beautiful sounds in the world.
11. Sip Happily
Historically, Hawaii has been one of the greatest coffee purveyors on the planet, supplying the globe with the bright, happy notes of their Kona blends.
In recent years, however, coffee has exploded well beyond the Kona region, resulting in over 790 coffee farms across the major Hawaiian Islands and numerous coffee shops. Maui is home to both, with roughly 50 farms creating artisan tastes and hip cafés from Ka'anapali to Kihei.
Experience the sumptuousness of coffee beans grown on the Valley Isle from Aloha Rise, where you'll find 100% Maui coffee (which can be delivered straight to your door). One bean to try: Maui Mokka is becoming as popular, and harder to get, than Kona Coffee.
12. Get in The Know
Maui is synonymous with tranquility and bliss, to be sure, but it's also a happening place, filled with breaking news, fascinating characters, and its own complicated political and cultural issues.
To get the island's full range of flavor, check out The Aloha 360 Podcast, both before your arrival on Maui and during your stay. Its lively episodes contain a wealth of information about all things Maui (and Hawaii), from which Hawaiian words and phrases you should familiarize yourself with to the island's best camping sites, beaches, small businesses, and products.
You'll glean plenty by tuning in and will be able to dive that much deeper into what authentic Maui genuinely means. Now there's an unforgettable vacation.