As a fan of the Swedish TV series Kurt Wallander I had always wanted to visit Ystad, the hometown of the fictional police detective created by author Henning Mankell.
The opportunity presented itself while travelling from Stockholm to Copenhagen by train. It was easy to make the necessary diversion to the stunningly beautiful town on the Swedish south coast.
I arrived in June when the Swedish spring should have been giving way to summer. However, Scandinavia had been experiencing one of the coldest springs on record and Stockholm had been no exception.
Expecting the worst, I alighted from the train only to be met by a relatively mild 17° Celsius, with a pleasant breeze blowing in from the Baltic Sea.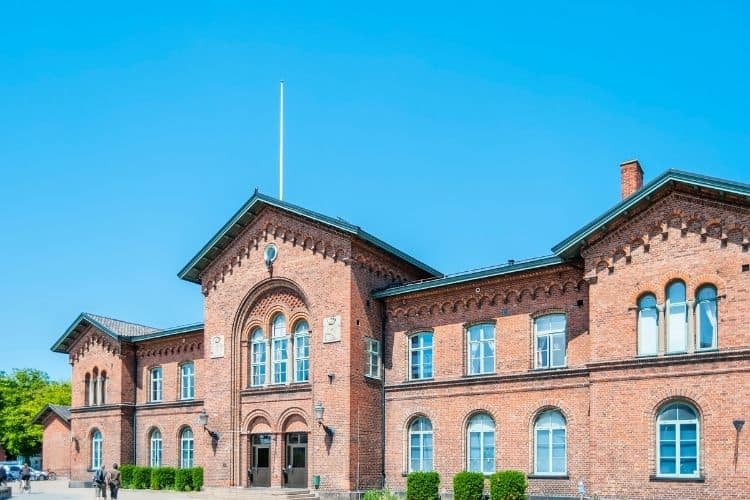 Introduction to Ystad, Sweden
The tourist information office was conveniently located across the street from the railway station in a square called St Knuts Torg. I headed there to get directions to my hotel as well as other attractions in Ystad.
A strong and enticing smell of coffee wafted across the square from the right. I turned in that direction and spotted Wallander's favourite coffee shop, Fridolfs Konditori. A must-visit spot for later. But first I had to get my bearings.
With a population of some 19,000, Ystad is big enough to provide for a diversity of interests but small enough to allow for a slower pace of life.
Armed with a map and brochure from the tourist office I headed towards my hotel, just a two-minute walk from the train station. After checking in at the charming, old-world Hotel Intercontinental, I set out to explore the town.
Self-Guided Tour of Ystad
I had read about the Wallander guided tours and I wanted to take one Unfortunately, I found they didn't start until July. However, the tourist office gave me a map with all of the locations featured in the TV series marked on it so that you can design your own walking tour.
Which I did. Turning right from the hotel onto Hamngatan I walked up to Stortorget, the town square.
Here I saw see several locations featured in the TV series such as restaurants Store Thor and Upp Eller Ner. Also, the old town hall facade, Gamla Rådhuset, that became a bank in one episode.
Plus, the bookshop where Wallander is supposedly a loyal customer.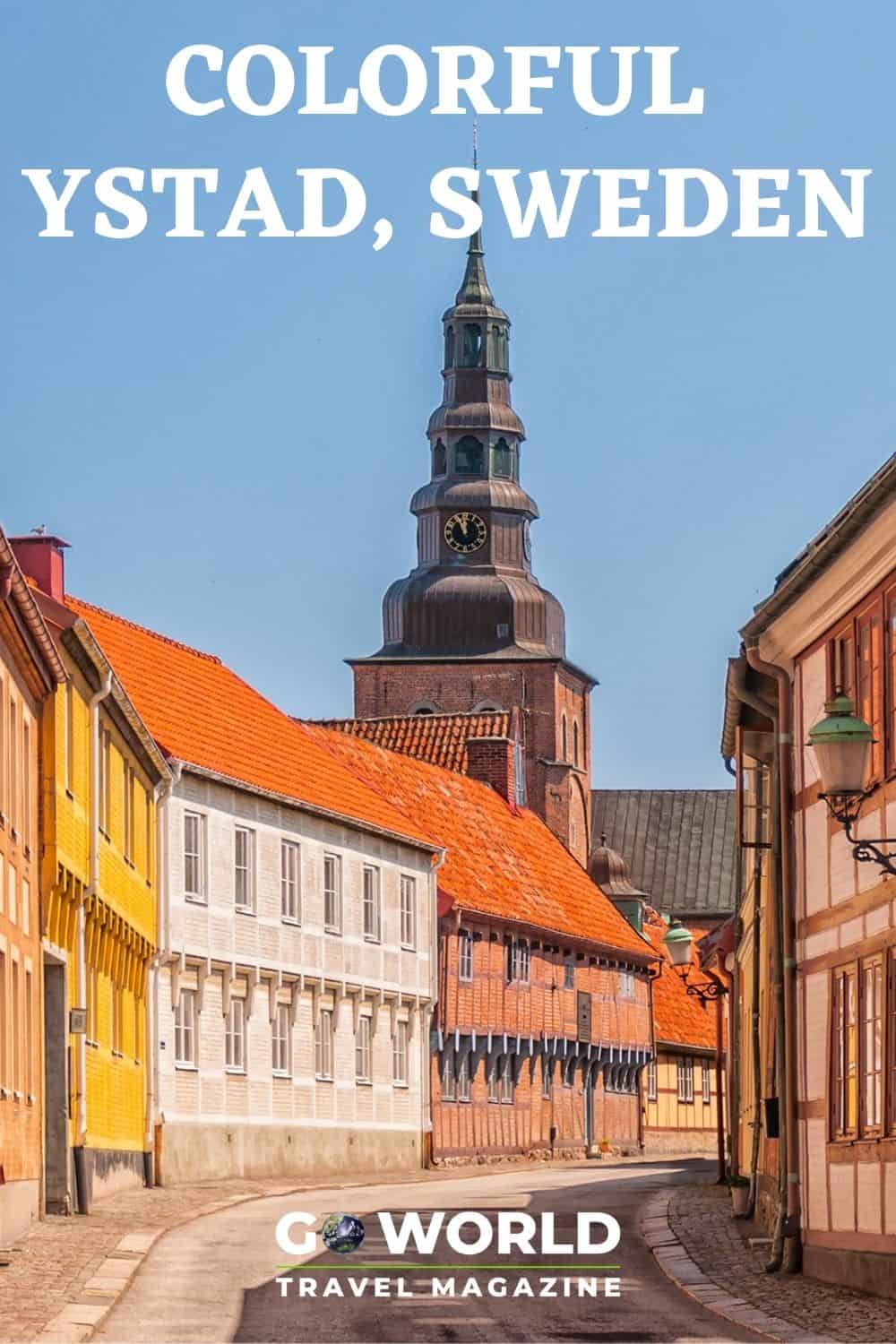 From Stortorget I walked along Stora Östergatan, Ystad's busiest retail street packed with shops, cafes and restaurants. At the end I crossed over to Regementsgatan, spotting along the way Pilgrändhuset, Österportstorg and the Kings Head Pub & Restaurant.
These are all places featured in various episodes. Finally, I reached the building at Mariagatan which doubled as Wallander's apartment.
In the opposite direction, a walk along Sjömansgatan overlooking the harbour brought me to the Ystad Theatre. This is where a car bomb explodes in the episode entitled The Cellist. Only a fan of the series will understand how satisfying it was to see all of these locations.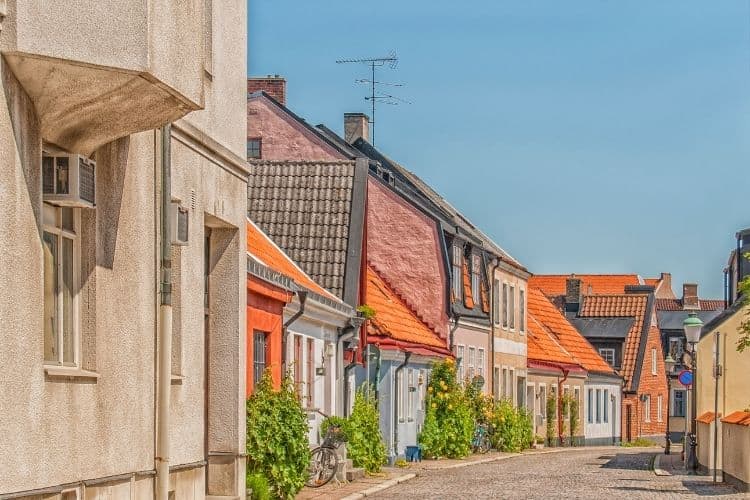 Colourful Ystad Architecture
But enough about Wallander. Even if you don't follow the TV series, Ystad has many attractions in addition to the landmarks just mentioned. It is also unlike most of the rest of Sweden in terms of its architecture.
This is because, in its early years, it belonged to Denmark along with the rest of Skåne, the province in which it's located. In 1658 the Treaty of Roskilde ended centuries of Danish rule and Skåne was ceded to Sweden.
The early Danish influence has produced a charming and colourful town full of delightful half-timbered houses. There are literally hundreds of these striking buildings dating back to at least the 15th century.
Everywhere you look you can see this reminder of medieval times. Yet the streets also buzz with contemporary shops, cafés, bars and restaurants. Many of them are incorporated into the old buildings, along with museums and art galleries. The result is a charming small town that is a pleasure to wander around.
Eating and Drinking in Ystad
After a day of such wandering, you will likely have worked up a healthy appetite. However, eating out in Scandinavia is expensive. Subsequently, the cost may tempt you to take something back to your lodgings.
If you plan to wash it down with a few beers or a bottle of wine, be aware of the restrictions on buying liquor for home consumption in Sweden.
Full-strength alcoholic drinks, spirits, wine and most beer, can only be purchased at the state-owned Systembolaget chain of stores. There's only one of these in Ystad. It is open from 10 am to 6 pm on weekdays (7 pm on Thursdays), from 10 am to 2 pm on Saturdays. It's closed Sundays and most public holidays.
Getting to Ystad
Ystad can be reached from Stockholm by high-speed train, changing at Lund or Malmö to a regional train. The entire journey takes about 5½ hours. Or if you happen to be in Copenhagen, it's even closer.
A train ride across the magnificent Øresund Bridge that connects eastern Denmark with Sweden will get you there in 1½ hours. This was the subject of yet another Scandinavian TV series, The Bridge, later remade in the US. The less frequent direct service takes little more than an hour.
If you want to use Ystad as a jumping-off point for other parts of the Baltic region, there are regular ferry services to the Danish island of Bornholm and to Świnoujście in Poland.
I went back to St Knuts torg before I left Ystad and had that coffee in Fridolfs Konditori. The locals are ambivalent about Wallander; they know he's a work of fiction but they're mostly happy about the fame he's brought their town. I felt happy as well to have experienced such a unique part of Sweden.
Book This Trip
Start planning your adventure to Ystad, Sweden today. Get prepared with insider knowledge on how to get around, hotel and VRBO accommodations, local restaurant reviews and more through TripAdvisor and Travelocity.
For the best flight deals, train tickets throughout Europe and car rental options, check out OMIO Travel Partner.
Pack all your favorite travel essentials and still have room for your Ystad shopping with the ultimate carry-on bags from AWAY. Look through their selection of top-rated travel bags here.
Ystad Tourist Information Office http://www.visitystadosterlen.se/en
Author bio: Barry Barford has been a government policy adviser and a journalist, and in an earlier career travelled the world working in the maritime and aviation industries. Now retired, he travels at a more leisurely pace and likes to write about the places he visits. He lives near Sydney, Australia.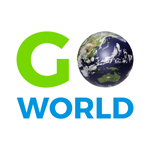 Latest posts by Go World Travel Magazine
(see all)