World's First Ice Hotel

Sweden's ICEHOTEL was the world's first hotel built of ice. This unique property, which is both art and functional hotel, is now in its 27th season. It continues to draw travelers from around the world – and for good reason. The stunning hotel is recreated and rebuilt each winter in a unique design. The walls, floors and ceilings of ice are blank canvasses for an ever-changing list of designers, artists and engineers.
To build the hotel, more than 4,000 tons of ice is harvested from the Torne River. Construction begins as soon as the temperatures are below zero. The hotel has more than 50 rooms, as well as a chapel for weddings and an ICEBAR.
It takes two months to complete the hotel, and the ice chapel opens just in time for Christmas. Located in Jukkasjärvi in Swedish Lapland some 200 km north of the Arctic Circle, the hotel returns to Mother Nature when it melts in the spring.
Art Suites at ICEHOTEL
Although the hotel also offers warm rooms, the most popular rooms are the 19 individually themed ice art suites. Each of these hand-crafted rooms is a design masterpiece with many individual touches.
Each room is a piece of art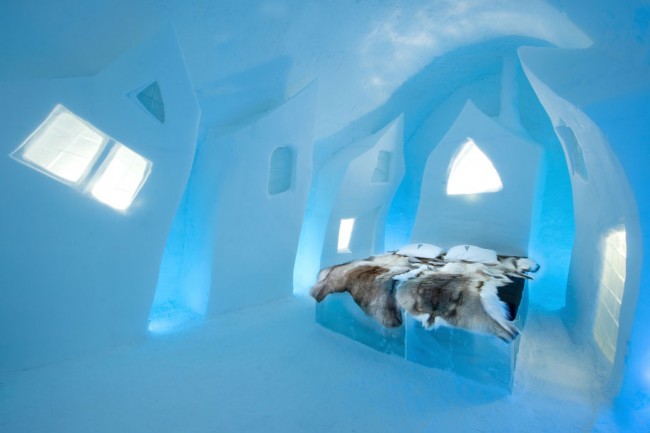 More Art Suites
ICEBAR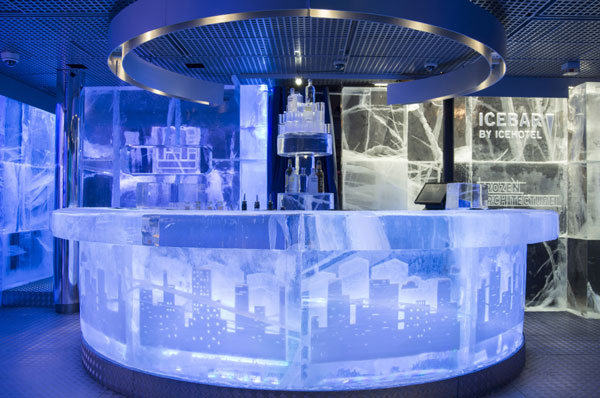 At this bar that doubles as art, visitors drink custom cocktails, Champagne, sweet lingonberry juice and more from glasses made entirely of ice. Each year's ICEBAR is different.
Restaurant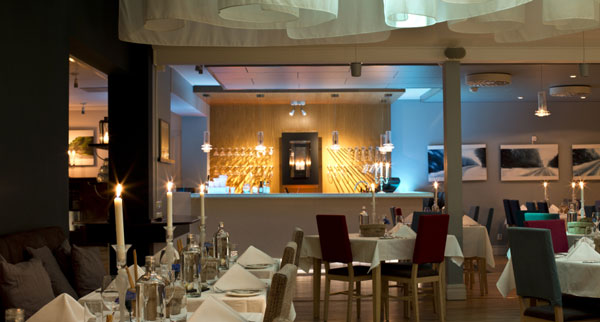 Dining is a pleasure and best enjoyed in a warm environment. That's why the ICEHOTEL Restaurant serves up its delectable cuisine in a cozy traditional dining room.
The Northern Lights by Snowmobile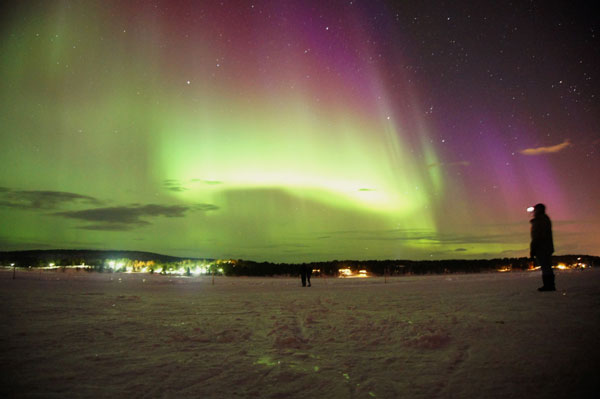 Even with beautiful rooms at the hotel, you'll want to get out and explore. Hop on a snowmobile and follow your guide into the Swedish wilderness. The Aurora Borealis can be seen in Kiruna between September and March. The four-hour trip includes a rustic dinner at a wilderness camp.
Meeting the Sámi People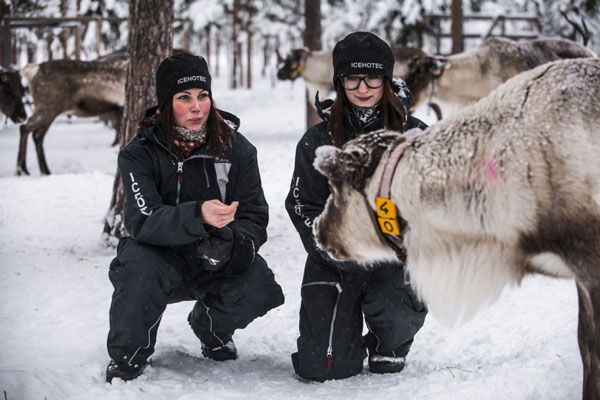 The Sámi people have called the far reaches of Northern Scandinavia home for centuries. Known in English as Lapps, they live in harmony with nature, following herds of reindeer and preserving their rich culture. ICEHOTEL offers a unique opportunity to get to experience Sámi culture through Nils Nutti, whose company Nutti Sámi Siida allows visitors to meet the reindeer, taste the food and try driving the reindeer sled.
Overnight Dog Sledding Excursion
In this part of the world, getting around by dog sled is possible – and fun! Guests at ICEHOTEL can sign up for an overnight dog sled excursion. The cost includes transportation to the kennel, training on how to drive your own sled, breakfast and an overnight stay in camp. (Sleeping bags, sheets and towel for sauna provided. Minimum age to drive a sled is 15.)
Cross-Country Skiing

In Northern Sweden, cross country skiing is almost a religion. Visitors to the ICEHOTEL can strap on their skis and head into the Narnia-like woods with a guide. True to Swedish culture, the group will stop for "fika" (Swedish for coffee break) along the way.
If You Go to ICEHOTEL
icehotel.com