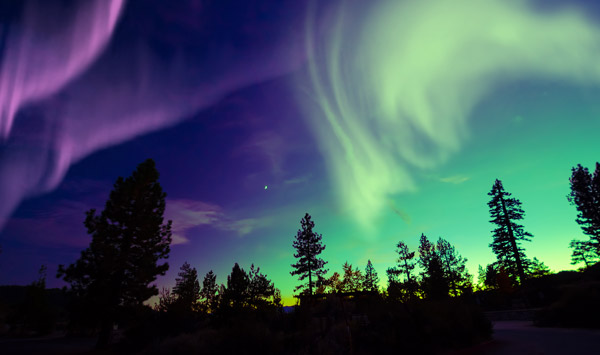 The Northern Lights – that celestial phenomenon that delights and confuses in equal measure – has been fueling imaginations for millennia.
Seneca speaks of auroras as 'holes in the sky' while, in Medieval Europe, they were believed to be an omen from God.
Today, they're big business with people traveling long distances to get a glimpse of what is a once-in-a-lifetime experience. We've even got a fairly good understanding of what causes them; charged particles from the sun strike atoms in the atmosphere, energizing them.
When this energy dissipates, they release photons of light creating those ethereal swoops – one of the world's most impressive natural wonders.
Best Places to See the Northern Lights
However, given that this is an inherently temporary occurrence, it's important to know when to turn your eyes skywards. Indeed, the Northern Lights are notoriously difficult to predict, but following these timescales will give you the best chance.
With the lights visible only when the sun sets, it makes sense to chase them from January to March, when nights are at their longest.
The winter season also brings plenty of snow to sled, snowmobile or ski through during the day. Some may prefer the slightly warmer spring or autumn months but be prepared to stay out later as days are longer.
Remember to avoid the full moon when the extra light can wash out the aurora. Also, look to the weather forecast to find clear skies – conditions are best when it's cool and dry. Now, you just need to decide where to go.
Northern Lights in Swedish Lapland
Sweden has been welcoming stargazers for decades meaning that its lights are some of the most accessible. They're also realized in a beautiful wilderness setting.
Try out some traditional snowshoeing as you make your way through dense pine forests and ranging wilderness landscapes to reach your evening camp. Warm your feet by the fire and your hands with a hot lingonberry juice as you wait for the show to begin.
You'll get a full introduction to Scandinavian culture with everything from smoked reindeer meat to husky sledding and ice fishing.
You can also stay in some of the world's most unique accommodation, including the original ICEHOTEL, modernized Sámi tents and the innovative Treehotel, a collection of modern art installations strung among the canopy of an evergreen forest.
Northern Lights in The Yukon
The Yukon in northwest Canada is sparsely populated and known for its outdoor pursuits. Chase the lights on a snowmobile to a backdrop of Canada's five tallest mountains and the world's largest subarctic ice fields.
For those looking for more comfortable viewing, there are cosy log cabins, purpose-built for viewing or, for the more adventurous, guided dogsled trips out to secret spots.
In the day, perhaps go on a canoe expedition down the mighty Yukon River, set on both sides by majestic coniferous giants and snow-capped peaks.
Northern Lights in Finnish Lapland
This is one of the most family-friendly Northern Lights destinations. With its optimal winter viewing time from September through to April, it's the perfect Christmas opportunity to visit Santa.
In Harriniva, elves welcome you to Santa's cabin and days are spent on reindeer rides, the same steeds that can take you out on a lights safari.
There's also excellent skiing as après entertainment includes outdoor hot tubs and jacuzzis, the perfect way to enjoy the lights show. This being Finland, there are also traditional saunas to enjoy as well.
In terms of accommodation, custom-built glass igloos offer bedtime viewing under the stars from the comfort of your own bed.
Northern Lights in Tromso, Norway
Saving the best till last, Tromso is widely considered as the top place to see the Northern Lights. Located north of the Arctic Circle, the aurora are often at their most impressive and occur with relative regularity.
The weather is also surprisingly good as the warm currents from the Gulf Stream foster an anomalously temperate climate. Although the lights, when they are at their most active, can be seen from the city, it's sensible to head out of Tromso for the best viewing.
There are multiple operators offering everything from four-wheel drive and snowmobile tours to dog sledding and hikes. As with the rest of Scandinavia, guides speak perfect English and are friendly, welcoming and knowledgeable.
You'll also enjoy a lively atmosphere with the center featuring more pubs per capita than anywhere else in the country; it's not hard to find yourself a cozy Norwegian tavern or beer hall serving some of the local craft brews.
On top of this, the city is also the jumping off point for skiing holidays in the nearby Lyngen Alps or a cruise along the coast of Norway.
On the latter, pass through plunging fjords and dramatic winter scenery with a good chance of the lights dancing above your head.
This article was developed in partnership with Best Served Scandinavia.