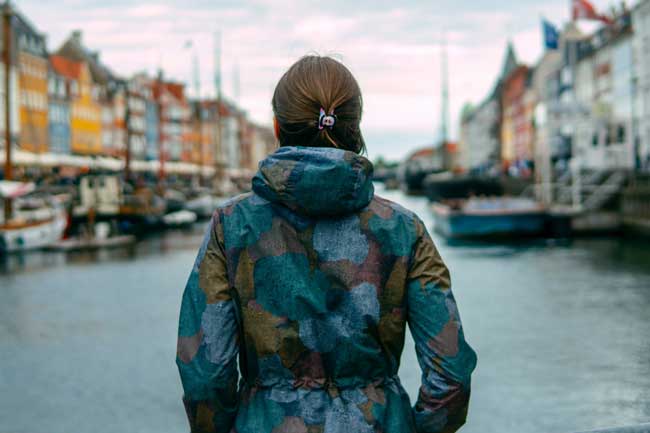 What do you do when you embark on a much-needed vacation and the weather does not cooperate? Adding to your woes is the reality that it is winter, and you only have two days to see a city.
This is what my family and I coped with on a short weekend trip to Copenhagen, Denmark. Confronted by incessant rain, moody grey skies and incredibly short daylight hours, we decided to focus on the fact that it was nearing Christmas, and Copenhagen was resplendent in glittering lights and Christmas décor, all of which would be viewed best in the darkness.
We relinquished our wishes of canal tours, which in glorious weather would have provided idyllic city views. We abstained from walking sight to sight to get the feel of a new culture.
Instead, we spent time in palaces and museums during the gloomy, rainy daytime and dedicated precious moments to department stores and Christmas Markets that dot the city during the winter months.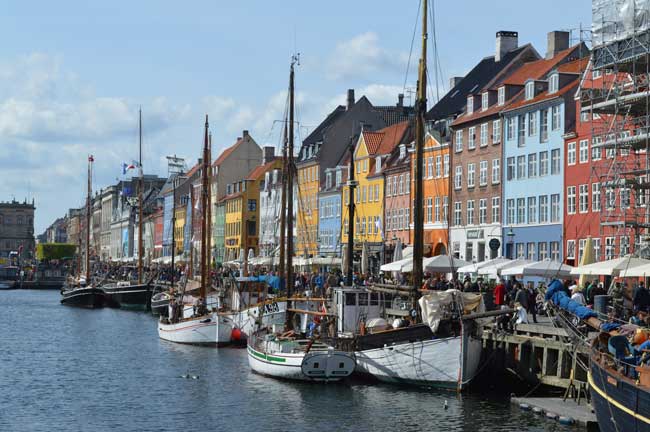 Museums and Palaces of Copenhagen
Copenhagen is a city filled with palaces, castles, museums and gardens. While at first glance it may seem quite easy to visit every place within a short time, as it is a relatively small city, we discovered otherwise. Because downpours and drizzles accompanied our trip, we skipped a visit to Christiansborg Palace, the official events venue of the Queen.
Rosenborg Castle
The sky was overcast when we reached Rosenborg Castle, but that did not dampen my pleasure seeing the gorgeous green turrets, almost fairytale like, rising up in the gloom. The castle architecture exemplifies the Dutch Renaissance style with its sandstone-adorned red brick walls, high towers and windows positioned in perfect symmetry. Inside was the piece de resistance, the Crown Jewels, located in the basement of the castle.
Amalienborg Palace
Holding our umbrellas, partly soaked in the freezing rain, we walked into the giant cobblestone square in front of Amalienborg Palace. The square was almost empty due to the bad weather and we walked inside to the ticket booth of the palace. Once inside, we spent a wonderful hour touring the residence of the Danish royalty. The royal family still resides in the palace.
Design Museum of Denmark
The Design Museum of Denmark is a must-visit for anyone interested in Scandinavian design and architecture. I walked through room after room of awe-inspiring objects and collections exemplifying the hallmarks of Danish design.
A standout exhibit is one called "The Danish Chair." I entered a long, rectangular room where chairs, both Danish and international, both historic and modern, were displayed from the floor to the ceiling as works of art. The museum shows all aspects of design from furniture and fashion to product and graphic design.
Hans Christian Andersen Museum
The Hans Christian Andersen Museum is dedicated to possibly the most prominent Dane. The museum shares an entrance with Ripley's Believe It or Not, which confused us a little. You can buy separate tickets if you intend to visit only the H.C. Andersen museum and that is just what we did.
Soon we were walking through a collection of his fairytale world tableaux. We looked at tiny Thumbelina, or Tommelise, as she is known in Danish, watched the movements of the undressed emperor from The Emperor's New Suit and saw the marching soldiers from The Tin Soldier.
The museum also holds an enviable collection of Andersen's personal memorabilia like letters, books, personal items and photographs. I loved seeing old copies of "The Little Mermaid," perhaps the ultimate famous story by Hans Christian Andersen.
Stroget, the Shopping District
Stroget, in Copenhagen, is one of the longest vehicle-free shopping boulevards in Europe, starting at Radhuspladsen at one end and finishing at Kongens Nytorv on the other. Despite the chilly weather, I stared mesmerized at the twinkling garlands of lights, glowing stars and bright red hearts festooning the complete length of the thoroughfare.
The entire area was busy with people shopping and walking on the cobblestone streets that forked off into tiny passageways and lanes lined with shops and restaurants that came in all shapes and sizes.
Shopping in Copenhagen
Copenhagen, Denmark may not pop up on your radar as a shopping mecca. However, Denmark is the home of minimalistic design and nowhere can this be better experienced than in this capital city. The Danish concept of hygge, or comfort, is well illustrated in the innumerable stores and boutiques selling clothes, jewelry, accessories and home goods.
We visited Magasin du Nord, Illum and Illums Bolighus, each offering everything from high fashion to housewares. The free chocolate samples offered to every visitor at the superb grocery and delicatessen at Magasin du Nord were a huge draw for tourists and locals alike. Illums Bolighus is a Royal Shopping store that supplies to the Danish royal court and gives a museum-like feel with its display of housewares.
The Christmas Markets of Copenhagen
A winter trip brings up the opportunity of visiting Christmas Markets, of which there are many in Copenhagen.
Our hotel receptionist directed us to the largest of them at Tivoli Gardens, the amusement park and garden that is the most visited in all of Scandinavia. Open also during summer and Halloween, the garden transforms into a magical Nordic wonderland in winter.
We walked under archways with twinkling lights, enthralled by the lavishly decorated Christmas trees around us and entered stores selling gifts and goods. People were lining up for the many rides and attractions as a marching band went by, playing Christmas tunes.
The Hans Christian Andersen Christmas Market, near Stroget, was smaller but equally delightful, with stalls named after his fairytales.
The Kongens Nytorv Christmas Market, between Nyhavn and Stroget, provided a great experience of Danish Christmas culture. We waited with the surging crowd for a lighting ceremony to take place, not knowing what it was about.
We were going to witness a traditional Danish Christmas custom of the lighting of the façade of the Hotel D' Angleterre. We counted down the minutes along with everyone else and suddenly the windows of the hotel lit up with a tribute to Hans Christian Andersen, and the entire building front dazzled in twinkling yellow Christmas lights. The crowd erupted in cheers.
The Nyhavn Christmas Market comes up along the harbor, transforming the picturesque old harbor with lights and stalls selling food and Christmas specialties.
Day Trip from Copenhagen
The sun shone brightly on our second and final day in Copenhagen, and we sought to make good use of the sunshine by traveling outside the city. We boarded a regional express train from Copenhagen Central Station to visit two towns, about an hour away from the city.
Helsingor
The first stop was Helsingor, home to the famed Kronborg Castle from William Shakespeare's immortal play, "Hamlet." Known as Elsinore Castle in the play, it has been a UNESCO World Heritage site since 2000.
The Renaissance fortress with its unique green spires hugs the edge of the Øresund, the strait that lies between Denmark and Sweden. The town of Helsingor is quaintly distinctive, with its cobblestone streets, colorful row houses, medieval era cathedral and a town square filled with bustling cafes, restaurants and stores. You can also board ferries here for a short trip to Sweden, or if you're strapped for time like we were, just enjoy the views of the Swedish coast from the ramparts of the Kronborg Castle.
Humlebæk
Returning from Helsingor to Copenhagen, we stopped at Humlebæk to visit the Louisiana Museum of Modern Art. The museum, about a ten-minute walk from the station, is a spectacular combination of art and architecture surrounded by stunning scenery. An essential stop in the museum is the dazzling and ever-changing magical infinity room installation by the avant-garde artist Yayoi Kusama.
Dining in Copenhagen
Exploring on a tight schedule will most certainly rouse your appetite, as it did ours. Take a break at one of the many restaurants and eateries that dot the areas. My family and I ate a fine Indian dinner of feathery soft naan, piquant tandoori chicken and biryani at Shahi Restaurant, on a quietly lit, cobblestone side street off Stroget.
At the Tivoli Gardens Food Hall, there is a wide selection of food stalls offering fare from around the world. While we ate Vietnamese delights, you are free to choose from Danish cuisine to Icelandic meals to simple pizzas or burgers.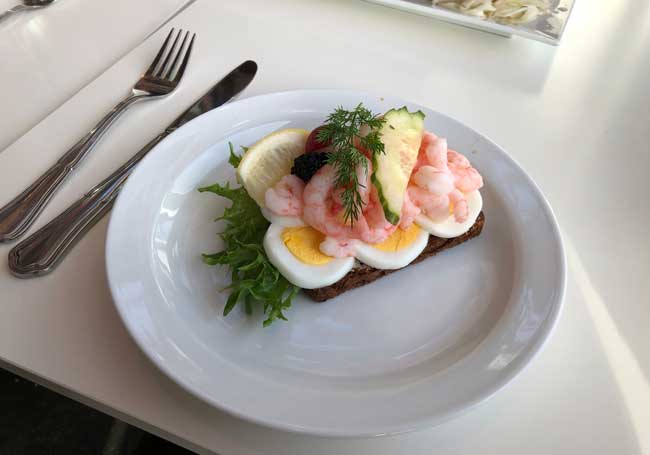 Helsingor has an array of cafes and restaurants but pressed for time, we ate our lunch at The Culture Yard, where we had our first delicious taste of Danish smørrebrød and fiskefrikadeller.
We ate dinner at the Louisiana Café at its namesake museum in Humlebæk, a stroke of luck as the café stays open until 9:30 p.m. on weekdays (Mondays closed) and 5:30 p.m. on weekends and holidays. The café was huge, with an enormous array of unusual choices like fennel soup, barley risotto, cod mousse and comfort food like roast chicken dishes and smoked salmon and a variety of cakes, pastries and sweets.
Of course, one can have the most sublime trip if things go according to plan. But I discovered that even otherwise, it is possible to enjoy a new city and come away with memories to last a lifetime.
If You Go to Copenhagen
Copenhagen Tourism:  https://www.visitcopenhagen.com/copenhagen-tourist
To plan your trip to Helsingor and Humlebæk: https://rail.cc/en/copenhagen/copenhagen-central-railway-station/l660
Author Bio: Susmita Sengupta, an architect by background, from New York City, loves to travel with her family. She has traveled to various places in Europe, USA, Canada, the Middle East, India and South East Asia. Her travel writings have been published by travelthruhistory.com, gonomad.com and travelsignposts.com.