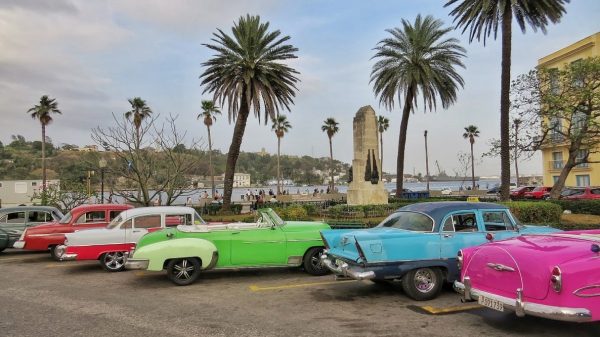 A rocking chair creaks as an elderly woman sits on her front porch fanning herself from the wet heat. Across the street, two women are getting their hair done on the sidewalk. Laughter belts from a group of men in the street huddled around a game of dominoes, cigars hang from their mouths.
A hairless stray dog runs by and a little boy cheerfully chases after it. A group of children play baseball in an alley with a bottle cap and a strip of scrap wood. Every couple of blocks stereos blare out infectiously catchy variations of Raggaeton's repetitious beat, dembow riddim.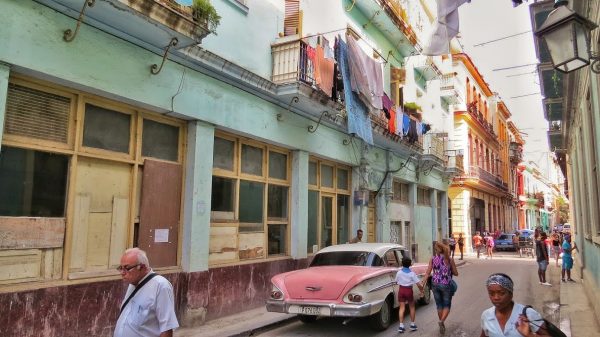 Travel to Cuba
A teal painted 1957 Chevy Bel Air belches its smoky exhaust as it putters by, battling through the narrow alleyways and the oncoming traffic of bicycle taxis, pedestrians and potholes. The clanking of fragrant rum bottles echoes as the atmosphere of bongos, horns, maracas and an orchestra of rhythm spills into the street from the restaurants lining Obispo.
Front doors and windows remain open and everyone is outside. I've arrived in a land where the clocks froze half a century ago, and these are the daily rituals that make this city's heartbeat so vibrant.
There's no mistaking it, I'm in Havana, Cuba.
Cuba: A Contentious History
Cuba is a country that has for centuries existed under the thumb of a more dominant power, from the Spanish colonists settling in the east in the sixteenth century, to the Russian influence and American occupation in the twentieth century. Don't forget the stronghold of dictatorship, revolution and socialism; this country has weathered an ongoing fight for independence. Cuba has several times been liberated only to fall under the rule of a stronger force.
Yet, astonishingly, the Cuban zest for life is alive and thriving. For a place that's endured such economic warfare and political turmoil, the music blares with buoyant life as if it never knew it was supposed to sound sad. But the presence of moldered remnants and a history of struggle deceive the jovial aura in the air.
"I can still remember the blackouts," said Suzy, a historian and my tour guide through Old Havana.
As we walked through the crumbling streets she spoke about her childhood years. Her family would go weeks — sometimes months — without power. Accessing basic human necessities was even a struggle.
"There was no food, people had money but they couldn't buy food because there wasn't any in the stores," she said.
Change has occurred in at least one way: there is now electricity, but no money.
The whisper of communism doesn't belt out its presence either, but the economic balance is a little too keen across the board. The average monthly salary at a government job is $20-$30, depending on who you ask. Neurosurgeons make less than cab drivers. Suzy is a college graduate who makes the equivalent of $16 a month.
Survival is a required skill set for the Cubans. While they struggle to meet basic needs, there is some government assistance along with free healthcare and education.
Monthly ration cards are issued to use at local bodegas to get goods like rice, beans and a half dozen eggs. Once the ration is up, all other expenses are paid out of pocket. Comforts like deodorant, shampoo and toiletries, including feminine hygiene products, are very difficult to get.
Continued on next page