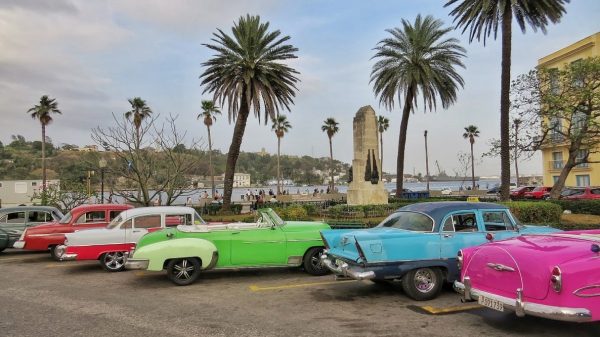 A rocking chair creaks as an elderly woman sits on her front porch fanning herself from the wet heat.
Across the street, two women are getting their hair done on the sidewalk. Laughter belts from a group of men in the street huddled around a game of dominoes, cigars hang from their mouths.
A hairless stray dog runs by and a little boy cheerfully chases after it. A group of children play baseball in an alley with a bottle cap and a strip of scrap wood.
Every couple of blocks stereos blare out infectiously catchy variations of Raggaeton's repetitious beat, dembow riddim.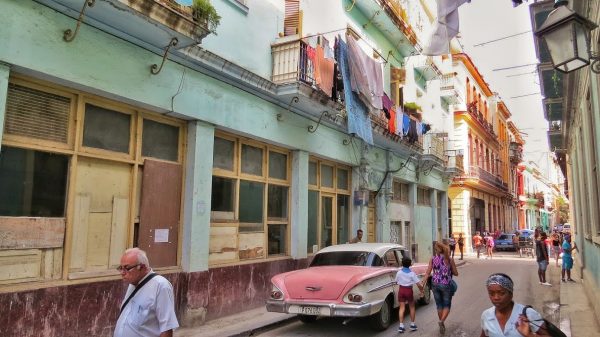 Travel to Cuba
A teal painted 1957 Chevy Bel Air belches its smoky exhaust as it putters by, battling through the narrow alleyways and the oncoming traffic of bicycle taxis, pedestrians and potholes.
The clanking of fragrant rum bottles echoes as the atmosphere of bongos, horns, maracas and an orchestra of rhythm spills into the street from the restaurants lining Obispo.
Front doors and windows remain open and everyone is outside. I've arrived in a land where the clocks froze half a century ago, and these are the daily rituals that make this city's heartbeat so vibrant.
There's no mistaking it, I'm in Havana, Cuba.
Cuba: A Contentious History
Cuba is a country that has for centuries existed under the thumb of a more dominant power, from the Spanish colonists settling in the east in the sixteenth century, to the Russian influence and American occupation in the twentieth century.
Don't forget the stronghold of dictatorship, revolution and socialism; this country has weathered an ongoing fight for independence. Cuba has several times been liberated only to fall under the rule of a stronger force.
Yet, astonishingly, the Cuban zest for life is alive and thriving. For a place that's endured such economic warfare and political turmoil, the music blares with buoyant life as if it never knew it was supposed to sound sad.
But the presence of moldered remnants and a history of struggle deceive the jovial aura in the air.
"I can still remember the blackouts," said Suzy, a historian and my tour guide through Old Havana.
As we walked through the crumbling streets she spoke about her childhood years.
Her family would go weeks — sometimes months — without power. Accessing basic human necessities was even a struggle.
"There was no food, people had money but they couldn't buy food because there wasn't any in the stores," she said.
Change has occurred in at least one way: there is now electricity, but no money.
The whisper of communism doesn't belt out its presence either, but the economic balance is a little too keen across the board.
The average monthly salary at a government job is $20-$30, depending on who you ask. Neurosurgeons make less than cab drivers.
Suzy is a college graduate who makes the equivalent of $16 a month.
Survival is a required skill set for the Cubans. While they struggle to meet basic needs, there is some government assistance along with free healthcare and education.
Monthly ration cards are issued to use at local bodegas to get goods like rice, beans and a half dozen eggs.
Once the ration is up, all other expenses are paid out of pocket. Comforts like deodorant, shampoo and toiletries, including feminine hygiene products, are very difficult to get.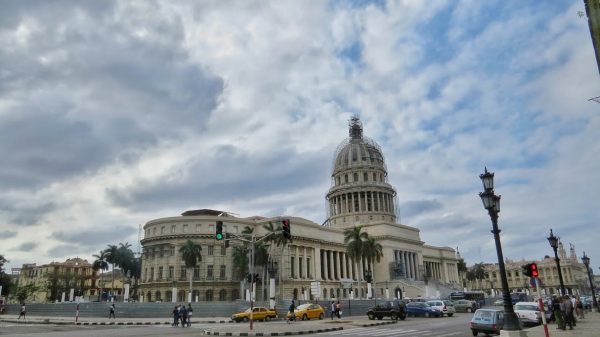 Havana: An Ubiquitous Paradox
Yet even still, living without many comforts, Cubans take pride in what they do have.
Cleaning is a round the clock activity of window washing, mopping floors, hanging laundry and other chores. Hard work is a daily commitment done with a smile, despite the obvious hardships.
Meals are served abundantly, as if no expense was spared. Women strut stylishly in their tight fitted, brightly colored clothing and the men are equally groomed and fashionable.
The Cubans have accomplished the art of eloquence on a dime. But no matter how manicured they keep themselves, there's no hiding the scars of the city.
Shoveled piles of debris and gravel lie scattered throughout the streets.
The innards of once thriving buildings exist only as a shadow of the extravagance they once were, as if the skeleton was removed and all that's left is hanging skin.
A visual paradox vividly represents the constant tug of war between progression, and limitation.
While a large part of the city lies in waiting, decrepit, desperate for renovation, there is a beauty hanging around these streets.
UNESCO agreed and in 1982 inscribed Old Havana as a World Heritage Site.
The initiative serves to "to ensure the proper repair and conservation of the built fabric of Old Havana that is in disrepair due to decay, chronic neglect and the elements."
But not all of Havana is hurting.
Beautifully renovated colonial buildings in hues of white and pink stand stalwartly above Corinthian columns, embellished with European reliefs and imported Italian marble.
They barely thwart the mold and tree roots permeating the border of the decrepit next door neighbors.
The juxtaposition is like mixed media, and only adds to the intrigue of this mysterious and provoking place.
As a visitor, the city is completely magnetizing and perplexing all at once. But what about the people who live here?
A Fight for Cuban Identity
Cubans come from generations of farmers; sugar cane, coffee and tobacco. In this way, the country sustains itself with local goods produced from organic farming.
These people are derived from the indigenous occupants of a Caribbean island with tropical forests and a myriad of nature.
But constantly shifting cultural influences made many Cubans wonder what their true heritage is. Spanish? African? American? Russian?
The Spanish guitar strums, the American cars and Russian Ladas share the roads. Santería, an African religion brought to Cuba with slavery in the 19th Century, is still widely practiced.
Enshrined on murals throughout Cuba are the words "Socialismo o muerte," with a portrait of Fidel Castro.
Contrary to the singular depiction of Cuba as a communist nation that makes the best cigars in the world, there is more going on beneath the surface.
Daily life in Cuba is not the postcard of classic cars driving down the Malecón either.
Reality is weighted in abandoned infrastructure and shifty circumstances.
Is this truly what the Cubans wanted from the revolution? Does socialism bring equality to an unfair level?
Cuba provokes many questions, and answers serve to open the door to more questions.
Which is probably why 4 million tourists visited Cuba in 2016, according to Cuba Business Report.
What is clear is that somehow, against all odds, the Cubans have managed to not only find their own identity, but accompany it with a pride evident in nearly any Cuban you meet.
And despite the constant obstacles of daily life, tourism is a prospective industry which Cuba is rapidly gaining the capacity to cater to.
The Cubans own this culture now, and they don't want anything to change that.
But the influx in tourism is increasingly growing. Cuba finds itself again on the brink of a major shift.
Internet is becoming more available. A 600-room luxury Chinese hotel is opening, paving the way for U.S. Marriott's to break ground in the future.
High end boutiques are moving into Old Havana, just around the corner from Hemingway's old watering hole, El Floridita.
"We need change for the Cuban people… we need to make more money," said a security guard at the fortress in the bay of Old Havana over a smoke break. "But we don't want a McDonalds."
A rooster crows in the middle of the city. Women on the sidewalks hang their arms through the opened windows of their neighbors to chat.
A wave of tourists stampede the street flashing their Canons in doe-eyed fascination.
It's not a matter of if, but when and how fast will the clocks fast forward to the 21st Century.
If You Travel to Cuba:
Bring everything you think you'll need for toiletries and first aid, as supplies are hard to get.
Check with your airline to get information on obtaining the mandatory Tourist Visa to enter Cuba. If you're American, you'll have to obtain an Affidavit, and can check with the U.S. Embassy in Cuba for resources regarding American travel to Cuba.
Head down Calle Obispo for nightlife and shopping and be sure to drink a Mojito from the rooftop bar of Hotel Ambos Mundos, where Hemingway stayed in the 30s.
Author Bio: Christina Lyon is a Southern California native with a fervent travel addiction. She's a budding travel blogger and adventure enthusiast who loves being thrown into new environments accompanied by awkward moments and resonant connections. She'll die for a good taco and always fight for the underdog, keep up with her travels at www.chasingchristina.com and on Instagram @chasing_christina.